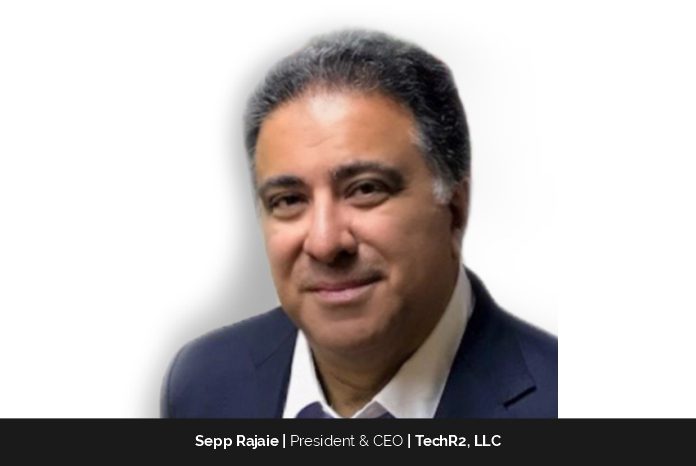 Sepp Rajaie, Founder and CEO of TechR2, came to the United States from Iran at the age of 18 in pursuit of higher education. Shortly after his arrival, the political revolution in Iran changed the course of his life. With violence erupting in his home country, Sepp applied, was granted asylum and then was able to gain his citizenship in the United States. "With no means of financial support from my family in Iran, I quickly learned that I had to work hard to put myself through school while juggling numerous full-time jobs. This valuable experience paved the way for my future endeavors," he states.
Innovation and drive: the Foundations of TechR2
After graduation, Sepp's education combined with experience in sales and marketing for a technology company led him to start his own business in 1989. As data distribution and processing continued to grow, Sepp predicted that the concept of data security would become a very important component of technological advancement. "My vision was always clear that data security would be essential and that there was a gaping hole in the industry that continued to get bigger and bigger. This was the foundation of how TechR2 was born—I knew there was a crucial necessity – so we began building," he explains.
It is this foresight that has led to TechR2's pioneering approach to data security. TechR2 does not
follow, nor does it endorse the old mentality of "if it is not broken, don't fix it." Fortunately, one of TechR2's key service offerings is risk assessments, through which TechR2 can pinpoint customers' security weaknesses and improve their practices. This provides TechR2 the perfect opportunity to advise, consult, and protect client vulnerabilities. They provide a customized Cybersecurity Framework tailored to client needs by industry, activity, and size; this demands a culture built upon innovation and proactive mindset. "Our engineering department is on pace for 10 patents this year alone. Along with other stringent ISO accreditations, we are proud to be International Standards Organization (ISO) 31000 certified, allowing us to conduct professional assessments for data security across the U.S. and the world.  As reported by the U.S. Inspector General (2019 and 2020), organizations continue to utilize non-compliant practices and uncertified vendors because organizations are still learning how to protect client healthcare, financial and personal data," says Mr. Rajaie.
The company's patented TechR2 Tear-A-Byte® solution closes data security holes in old, non-compliant processes. Every day, data security breaches, failed data destruction processes, and e-waste failures are reported throughout the U.S. TechR2 has been preparing for this storm and has been on a continuous journey of progression in response to the demands of the industry. From a small operation as a local technology recycler, they've grown into a global leader in IT Asset Destruction. They continue to push that envelope even further by re-inventing the ITAD industry in the form of Data Destruction as a Service (DDaaS).
Stepping Into The Vast Field Of Technology
Sepp states that he has always been passionate about technology and innovation. Among the many reasons why he fought hard to immigrate to the United States was the fact that the US has always been the world leader in technology and advancement. "I'm so fortunate to have had the opportunity to come to the United States!" he exclaims.
His degree in Electrical Engineering combined with his innate ability to develop relationships has helped build TechR2 into an innovative, disruptive technology company with a focus on the lifeblood of all technology –  data security. Being a leader and innovator in the field requires TechR2 to be extremely well versed in modern technology. More than ever, modern technology (computers, the internet, the cloud, etc) has become the lifeblood of all types of businesses. It seems like only yesterday that giant storerooms of paper files would dominate regulated industries whereas today, the entire Library of Congress can now be stored on a single thumb drive.
Data that businesses deal with is incredibly valuable. The convenience, flexibility, and power of having all that data available at a moment's notice are remarkable and fuel advancement. However, with those incredible benefits comes added risk. As data is more available, it also presents more opportunities for that data to fall into the wrong hands.
Sepp says that his career has been well planned and a calculated risk at the same time. "Getting into the industry was planned. Making the bold moves in thought leadership and shaping the industry into what it is has been a risk, but as any other entrepreneur would probably tell you, calculated risks are what drive innovation, advancement, and success" he adds.
Changing the Landscape Of Data Solutions Over time
The rise of corporate crime, brazen hacking, and ransom attacks is alarming and increasing every day. 17 years ago, the internet was still gaining more traction, and the idea that it was a fad had finally faded away. People knew it was here to stay. Unfortunately, this meant that hackers could get at just about any data they wanted from the privacy of their own homes as security and any set processes were still quite lax. When security became tighter online, social attacks became more dominant (phishing schemes to get a password, etc.)
In today's landscape, multi-factor authentication has become nearly ubiquitous and as a result, hackers are running out of easy options. "The simplicity of a trash can is a very easy target. If a data-bearing device is thrown out, the owner of the device is more liable than the person who plucked it out from the trash! This is the next major target of vulnerability in IT Data Security," states Sepp. So much attention is paid to devices when they are in use but they are quickly forgotten when the power is unplugged.  This massive gap and vulnerability is what spurred TechR2 to develop the Tear-A-Byte® Process.
National and Global regulatory bodies are focusing on this dangerous vulnerability by strengthening existing laws/standards or aggressively enforcing existing penalties: GDPR, NIST, PCI, HIPAA, and ZTA all impose obligations on organizations and are in the news daily issuing hefty fines. "With the recent attacks on our infrastructure, our top government officials are frantically sounding the alarm, highlighting the need for secure processes and End-of-Life solutions.  It is now part of their everyday vocabulary. Meanwhile, private industry is playing catch up and may not even be aware that most of the current solutions are non-compliant. They need TechR2 and the Tear-A-Byte® solution more than ever," he further states.
TechR2's Tear-A-Byte® solution has truly revolutionized the industry. It is pertinent to mention that TechR2 utilizes hundreds of security controls in their products and services to meet NIST, GDPR, and ISO requirements. What TechR2 has seen across the country is that CIOs, CISOs, and I.T. managers who have implemented the TechR2 Tear-A-Byte® solution are given more opportunities to lead other Cybersecurity projects because they made a significant, positive impact on their organization and greatly improved data security processes and controls. In today's world of breached networks, it is certain that partnering with TechR2 has a positive effect on all of its customers as they navigate these challenges.
You Win with People
"Assembling a diverse first-class team is my biggest responsibility and joy. I've always maintained that if I am the smartest person in the room, then I am in the wrong room. TechR2's mission of protecting data is my passion and mandate," Sepp explains. He has gone through great pains to ensure that he surrounds himself with dynamic individuals who bring energy, passion, and unique traits to the table. He also has endeavored to ensure there is a diversity of thought in his management team and he supports a collaborative effort.
"I don't need to hear a chorus of an agreement to every idea—an echo chamber runs contrary to innovation. If we all thought the same, then we wouldn't be effective. We aren't successful despite the differing opinions and ideas– we are successful because of our diversity. Whenever an idea is brought to the table, each question about it, each challenge to it, every debate chips away and molds it into its best possible form. If we've done our job well, we're left with a pure truth that we can all get behind. We don't need votes; we don't need directives. A unity of purpose and a drive to be the best ensures the best decisions are made," he says. This environment of encouraging openness and debate is something Sepp is most proud of.
Challenges & Inspirations of A CEO
Sepp's drive supports continuous innovation and ensures that customers receive best-in-class service. His daily challenges revolve around always making sure that his team is equipped with everything they need—the best– to achieve these goals. Continuous education and self-improvement are his passions. This is applied to TechR2's valued team members and the company as a collective.
"My greatest inspiration is my father. I was able to witness firsthand his love and passion for self-betterment, spirituality, humility, and hard work. His actions always spoke louder than his words. My father taught me that nothing is given, it is earned. He encouraged me to start my own business and instilled in me a higher purpose than financial success. I miss him dearly and the lessons he taught me continue to inspire me as well as my family," he recollects fondly.
Empowering Employees & The Younger Generation
Empowerment is recognizing a skill or capacity in someone that they may not recognize in themselves, making it clear that you expect that they live up to that capacity, and then trusting them to do what is needed in their sphere of influence. Empowerment is railing against learned helplessness and challenging employees to resolve their issues instead of being the hero to save the day. "My job as CEO is to facilitate the creation of a comprehensive vision and then manage the execution of that vision by my highly capable staff," exclaims Sepp.
He also says that one must never underestimate the value of discipline. Specifically, disciplined
thought: it is what will allow you to find, attract, and add the best people to your team. It allows you to choose against the comfort of being the smartest person in the room, to recognize that opportunities born of good luck when they arise and seize them with ferocity. Finally, disciplined thought allows you to capitalize on opportunities born of bad luck and come out ahead when others are stumbling. TechR2 constantly promotes from within, and all their staff is reminded of the importance of that brand of discipline.