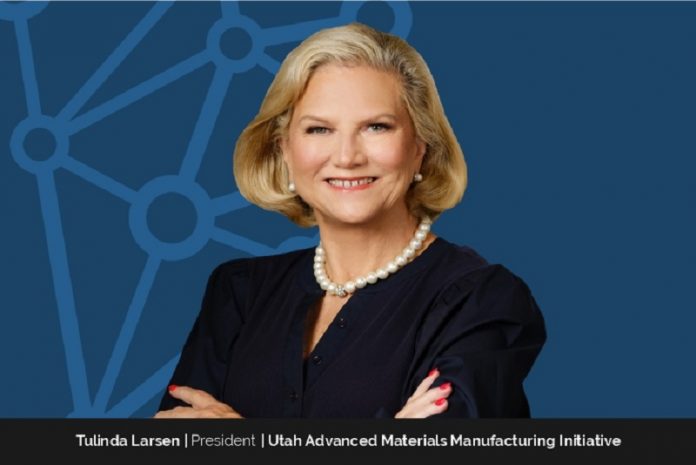 Dr. Tulinda Larsen, President of the Utah Advanced Materials and Manufacturing Initiative (UAMMI), was so inspired by the way that Sheryl Sandberg, in 2013, succinctly presented the societal hurdles women face, set by both themselves and organizations, in her book, 'Lean In: Women, Work, and the Will to Lead', that it changed her thoughts on equality for women in the workplace.
Some of the key points that resonated with her are listed below:
A career path is more like a jungle gym than a ladder – Very few people stay with one company for their entire career. New opportunities pop up or through mergers, companies change.
Take a seat at the table – To be in leadership, women must take a seat at the table for meetings. When I'm in a meeting, I make sure the women in the room sit at the table, even if we need to pull up chairs.
Make your partner a real partner – Women can have it all, but we cannot do it all! We need our partner to be there to share home life responsibilities and to cheer and support us in our careers.
Women need to work together toward equality – We need to elevate each other, share our experiences, and mentor each other, to move our society toward equality for women.
The Journey to Mentoring Women to Achieve Life Fulfillment
In her 20s, Dr. Larsen began her career as a staff economist for the US Department of Transportation, Office of the Secretary, serving on the in-house task force on regulatory reform for the trucking and aviation industries. Later, she became Vice President of the Regional Airline Association (RAA) and was responsible for government relations as a key industry spokesperson presenting and providing testimony to Congress, federal agencies, and industry organizations.
From 1980 to 1982, Dr. Larsen took a two-year leave of absence from RAA and served as the President of the Alaska Air Carriers Association and Executive Director of the Alaskan Aviation Safety Foundation, where she secured a grant from the state legislature to develop a flight safety program still in operation today. She was awarded the FAA Alaskan Region Special Commendation by the FAA Regional Director for outstanding contributions to Alaskan Aviation Safety and an FAA certificate of appreciation for contributing to a better understanding of Hazardous Materials. She also earned her private pilot's license while in Alaska.
At this time in her career, Dr. Larsen was a novelty and not viewed as a threat. But in her 30s, things became more difficult as she was balancing career and family, and family life was not discussed in the workplace. In her 40s, she started to face headwinds, was passed over for promotions, and often felt unheard and inadequate resulting in imposter syndrome.
In her 50s, Dr. Larsen decided to address these issues and launched her business, Skylark Services LLC, a certified Small Business Administration Women Business Enterprise (WBE) and Woman Owned Small Business (WOSB). She became a licensed drone pilot and her research focused on drones and uncrewed aircraft. She also took on leadership positions in industry organizations, such as President of AeroClub of Washington, D.C., and President of International Aviation Club, and earned a Doctorate of Management from the University of Maryland Global Campus.
In her 60s, Dr. Larsen was recruited to Utah to lead an economic development organization to encourage drone companies to test aircraft in Utah, to have them set up manufacturing. In February 2020, she was asked to serve as President of UAMMI and is now focused on mentoring girls and women to achieve fulfillment in their lives, careers, and families.
How UAMMI Advocates For Women's Equality In Utah
According to the consumer research company, WalletHub, for the fifth year in a row, Utah ranked as the worst state for women's equality, based on factors like income gap, executive positions gap, work hours gap, educational attainment gap, and political representation gap.
For example, women in Utah earned 25.5 percent less than men, with 18.9 percent of men earning $100,000 or more, while 5.9 percent of women earning $100,000 or more. A minuscule 0.8 percent of working women held executive positions, in comparison to 2.1 percent of men. Men owned 60.3 percent of Utah businesses, while women owned just 15.6 percent. 10.6 percent of non-elderly Utah women lived on or below the poverty line, compared to 8.3 percent of non-elderly men.
The Utah Woman & Leadership Project, led by the dynamic Dr. Susan Madsen, took on the challenge of understanding the elements of the rankings and launching the Bolder Way Forward movement to accelerate women's equality in Utah. UAMMI is a public-private partnership non-profit with the mission to elevate Utah's advanced materials and advanced manufacturing industry.
Advanced materials include carbon fiber, polymers, and other materials. Advanced manufacturing includes digital engineering, 3D printing, and robotics. The key markets include industries and jobs in aerospace & defense, outdoor recreation product manufacturing, and medical products, many of which are traditionally male-dominated.
From its inception, UAMMI has been committed to elevating women in advanced materials and manufacturing and supporting women in business throughout their careers. Three years ago, Dr. Larsen started recognizing women at the Forefront of Advanced Manufacturing. This year, she featured 15 women from 13 companies leading the way forward in the industry.
In addition to championing women at the top, UAMMI has a return-to-work program for Utah women, and integral to the organization is hiring and mentoring women who took a break from the workforce. It has few employees, including a female President and several other high-level roles filled by capable women, but its impact on women in the workplace is making a big impression.
UAMMI partners with other Utah-based businesses to encourage confidence and understanding of women's place in the workforce. In 2020, Utah won a grant from the Department of Defense to strengthen national defense manufacturing. As part of this Grant, UAMMI implements programs to introduce manufacturing to girls and women in Utah and help girls develop the skills they need to succeed in the manufacturing business.
Along with its partner, America Makes, a Department of Defense Manufacturing Innovation Institue, UAMMI works to support and create programs such as getting the Girl Scouts of Utah to develop an Additive Manufacturing Badge; STEM Action Center to create modules for educational organizations across the state to bring manufacturing to life; Utah 4-H programs to increase awareness of engineering careers; supporting Women Tech Center to expand programs to Northern Utah; holding welding camps; funding Tech-Mom cohorts; and holding Women Leadership Seminars to help women in defense manufacturing advance their careers.
"I took time off from work to be a stay-at-home mom," said Catherine Blomquist, Member Services manager. "When my daughter graduated high school, I found myself looking to re-enter the workforce. So much has changed in 15 years, and I am grateful for UAMMI's time and patience as I caught up. I have since been promoted."
Based on these successful programs, Dr. Larsen was named by Utah Business as one of "Utah's 2023 30 Women to Watch." Serving as President of UAMMI gave her a platform to advocate for women's equality in Utah. From its focus on empowering partnerships with the Girl Scouts of Utah to its returnship program for women re-entering the workforce, UAMMI supports women of all ages.
Partnering with Utah's 100 Companies Championing Women
Dr. Larsen also highlights the Utah Governor's program to recognize 100 Companies Championing Women and UAMMI's partner organizations. The collaborative "InUtah" initiative from the Utah Governor's Office of Economic Opportunity (GOEO) is part of the state's response to the COVID-19 pandemic, a public information and education initiative funded by federal pandemic dollars to establish intentional connections between consumers, businesses, and experiences in Utah.
InUtah is positive to the core, non-apologetic, inspirational, and informative. It encourages Utahns to shop and buy local goods, services, and cultural experiences to help support local economies. The Utah Governor's Office also launched "Inspire InUtah" as an initiative to help support women entrepreneurs and women in the workplace at every level.
As part of this initiative, 100 Companies Championing Women focuses on recognizing and highlighting the stories of 100 Utah companies that offer family-friendly policies and practices, as well as women-specific initiatives known to impact the recruiting, hiring, retaining, and advancing of women employees, managers, and leaders.
The 100 companies represent a variety of sectors and industries, including marketing, healthcare, insurance, nonprofit, technology, finance, retail, manufacturing, and arts. Over half are small businesses and the majority have been in business for more than a decade. Here are some lessons learned from the Utah 100 Companies Championing Women:
Flexible work hours and location, remote work, pay equity efforts, Utah companies working to diversify their managers and leaders at mid to senior levels, and paid family leave were the most commonly noted family-friendly policies and women-focused initiatives, while tuition reimbursement, return-to-work programs, childcare support, job sharing, and part-time work with benefits were the least-selected policies and initiatives.
Family-friendly policies and developmental programs to advance women are linked to improved recruiting, hiring, retaining, and advancing women at all levels. The "Family-Specific Policies and Benefits" specifically included paid family leave, back-to-work maternity support, unpaid family leave, adoption and fertility benefits, and childcare support, with the last one a top concern for women employed in Utah. All organizations that offered childcare support believed it was critical to recruit, hire, retain, and support employees.
Flexible work was among the top three benefits selected, with 90 percent of companies offering flexible work hours and flexible location work options for some employees.
Over half the organizations provided professional development aimed specifically at women, as well as practices and policies for pay equity and providing tuition reimbursement.
Utah Companies Championing Women
The following profiles were developed by the Utah Governor's Office for UAMMI and the twelve organizations supporting advanced manufacturing in Utah, which are included in the 100 Utah Companies Championing Women.
#1. Women's Leadership Insitute of Utah (WLI)
Formed in 2015, The Women's Leadership Institute of Utah (WLI) supports women in business and shines a light on the lack of women in leadership roles in corporate and political settings. Supporting women is in the organization's DNA through career and leadership development. It is continually recognized for empowering women and is committed to political encouragement and the career development of women.
How WLI Champions Women
WLI champions women in business through educational seminars and the ElevateHer™ Challenge which initiates company improvement by ensuring women are encouraged to apply for senior leadership positions. It also increases the understanding of the organization's value of women leaders and its direct correlation to the organization's success.
WLI accomplishes this by increasing women's retention, offering political encouragement, encouraging women to serve on corporate and community boards, and other actions. It empowers women in the workforce with a career and political development series and a rising leader series to help women build stronger leadership pipelines and confidently step up as leaders.
Why Supporting Women Is Important to WLI
WLI worked with numerous companies committed to elevating and empowering women within their organizations. The result of this work is invaluable and encourages hard conversations that positively impact the company's culture, help develop programs within corporations that directly build leadership skills in women and offer inclusive solutions.
#2. IsoTruss
IsoTruss is an innovative company at the forefront of researching, developing, and manufacturing stronger, lighter, more durable, and less expensive building materials compared to traditional materials like steel. Innovation is crucial to the business's success, not just regarding its products, but also the company culture – specifically regarding building a culture of support for working women.
How IsoTruss Champions Women
IsoTruss highlights the importance of supporting women in the workplace with flexibility with work location, hours, and schedules; mentorship programs with experienced female mentors; and part-time professional roles. One IsoTruss employee has worked with the company to craft her professional role as head of research and development as a part-time position where she can work remotely and on her schedule, allowing her to balance life outside work while encouraging professional growth.
Why Supporting Women Is Important to IsoTruss
When creating an excellent product, the team at IsoTruss wants the best candidates for each role, period. So, building policies, procedures, and a company culture that supports all employees based on individual needs helps keep the best and brightest on the team, regardless of gender. Creating innovative solutions to common problems for working women, like remote work, part-time professional roles, and mentorship programs, helps them develop excellent products.
#3. Women Tech Council
Women make up a staggeringly low 25 percent of the technology industry, despite representing 52 percent of the general workforce. Technology careers can be more flexible, higher paying, and have more work-from-home options that benefit women. The Women Tech Council is dedicated to making the tech industry accessible to women of all ages.
How Women Tech Council Champions Women
The Women Tech Council develops programs to help women find their place in the tech industry. From its Shatter List showcasing companies that are helping to break the glass ceiling, to its SheTech program, an outreach program to engage and inspire high school girls to pursue tech careers, it creates multiple ways to encourage women in technology.
Before participating in SheTech, 90 percent of girls did not think STEM was for them, but at the end of the program, 95 percent were interested in pursuing STEM. The Women Tech Council created the Women Tech Awards, now in its 15th year, to recognize women who trailblaze new technology paths and practices what it preaches – flexible work, pay equity, leadership opportunities for part-time employees, return-to-work programs, and more.
Why Supporting Women Is Important to Women Tech Council
The Women Tech Council focuses on the economic impact of women in technology. Employers who hire women with technology backgrounds realize many benefits, including empowering women to take control of their lives. The tech industry offers varied schedules, flexibility, and personal growth opportunities. Companies and communities' benefit when women have the structure to pursue their goals.
#4. World Trade Center Utah
The World Trade Center Utah (WTC Utah) is connected with 2,200 trade and business partners worldwide. The organization provides market expansion strategies for businesses looking to increase profits as they connect to a global market. Its mission is to accelerate growth for Utah businesses through global networks, programs, and services.
How World Trade Center Utah Champions Women
WTC Utah supports women professionally and personally with flexible and remote working options that allow employees to attend appointments and address the needs of caring for a family. It provides maternity leave, transition-back-to-work programs, and other resources for nursing mothers including a welcoming, quiet, and private space for nursing mothers to use. The mothers' room includes a personal fridge, a white noise machine, comfortable seating, and a full-length mirror.
WTC Utah also supports and encourages ongoing development opportunities to help team members grow personally and professionally. It encourages women to participate in leadership training programs, such as the Career Development and Political Development series hosted by the Women's Leadership Institute and Leadership Utah programs. Women on the WTC Utah team serve on boards and committees with community organizations, including the Utah Council for Citizen's Diplomacy, Utah's New American Task Force, South Valley Chamber, UVU's International Committee, and Salt Lake County's Career Services Council.
WTC Utah accepted the ElevateHER Challenge in April 2022 and pledged to elevate the stature of women's leadership in their organization. It committed to increasing the retention rate of women at all levels and is doing so by increasing the number of women on its board, encouraging women to serve on community and corporate boards, and establishing a leadership development and/or mentoring program for women.
Why Supporting Women Is Important to World Trade Center Utah
As a global company based in Utah, WTC Utah must empower women to succeed as it works to accelerate business growth for every client. Diversity is more valuable as businesses expand their global reach, and WTC Utah understands that women's perspectives and experiences will improve their overall success.
#5. Tech-Moms
Three tech-savvy Utah women founded Tech Moms, and its business model is solely focused on women. By boldly proclaiming, "You can have a rewarding career and still make it to your kids' soccer games," the organization supports Utah women in business with robust training programs that provide training, community, and networking opportunities.
How Tech Moms Champions Women
Tech Moms is serious about providing women with jobs in the business world. The Tech Moms community often provides references for, promotes, and hires fellow graduates – resulting in a tight-knit community. Every employee is an alumnus, and Tech Moms understands the impact a solid internship has on building a career.
Its mentorship programs for women, like Tech Mom and Ready To Work, give Utah women a running start. Tech Moms is also committed to intersectional diversity, encouraging diversity among its students and over 30 percent of its staff are women of color.
Why Supporting Women Is Important to Tech Moms
Returning-to-work mothers often need a professional network and access to solid job opportunities. Teaching tech skills to women and developing rock-solid networks and communities for its students is why Tech Moms excels at championing women.
#6. EDCUtah
For more than 35 years, the Economic Development Corporation of Utah (EDCUtah) has worked to promote Utah and attract businesses to the state. With its focus on building and strengthening local communities, the work it does in supporting women not only benefits economic development in Utah but also sets a visible example for other companies, thus benefiting all Utah women in business.
How EDCUtah Champions Women
EDCUtah's policies like flexible work hours for Utah women and men make it a great place for women to work. While all employees are expected to be reachable during regular business hours of 8 a.m. to 5 p.m., it only asks employees to be in the office from 9 a.m. to 3 p.m. on Monday, Wednesday, and Thursday.
These "core office hours" allow parents to get kids to and from school and avoid peak rush hour traffic. Employees can work from anywhere for all other hours, including Tuesdays and Fridays. These flexible hours for working women and men allow employees to balance work and personal lives better.
EDCUtah also offers paid family leave benefits for mothers, extending the same benefits to fathers so they can provide maternity leave support. It also offers full-time benefits for part-time employees. The company's chief financial officer and senior vice president have utilized these benefits.
Why Supporting Women Is Important to EDCUtah
EDCUtah aims to provide a safe and respectful workplace for employees that value diversity, inclusion, and equality. It has a diverse board of advisors who ask companies to appoint an "emerging executive from an underrepresented background" — including women — to participate in that leadership level.
#7. Catalyst Campus Utah
Catalyst Campus Utah creates ecosystems where government and private contractors' interface to advance programs with new technologies. Small contractors, entrepreneurs, academics, and government employees collaborate in research and development labs to accelerate innovation services and increase economic development.
How Does Catalyst Campus Utah Champion Women
To accelerate innovation and increase economic development in every community, Catalyst Campus Utah prioritizes programs that empower women with various backgrounds to develop and contribute their expertise to the tech industry and the U.S. Department of Defense.
It works closely with The Rosie Network for military entrepreneurs at Hill Air Force Base to cultivate a daycare program that allows women to complete internships that will evolve into full-time positions at the base. Additionally, it launched a women-in-tech mentoring program for Utah women that helps them navigate challenges as they arise with host mentors during regular coffee sessions.
Catalyst Campus Utah also offers paid maternity and family leave, integrated daycare, and return-ships that support women gradually returning to work. Its remote and flexible work options enable women to design a schedule that aligns with their family priorities while advancing their careers.
Why Supporting Women Is Important to Catalyst Campus
Championing women in tech aligns with Catalyst Campus's commitment to providing its employees with opportunities to grow, contribute, and be rewarded. As a leader in collaborative innovation with stakeholders from different backgrounds, it facilitates conversations that bring men and women together to remove outdated barriers to women in tech.
Its Mother Hackers podcast amplifies the conversation about women-specific barriers in tech and the DoD and highlights ways men can contribute to a female-supportive environment in the industry. Catalyst Campus believes in creating opportunities and engagements for traditional and non-traditional factions of the aerospace and defense industry, especially for women.
Its commitment to helping military spouses become certified in one of the highest-demand positions in the Department of Defense aligns with its mission to cultivate innovation and collaboration while stimulating business growth between the economy's private and public sectors. As an industry-leading program acceleration lab, it shows other companies how championing women can improve their innovation ability.
#8. Northrop Grumman Space Systems
Northrop Grumman Space Systems designs, develops, builds, and supports some of the world's most advanced products, from innovative aircraft to next-generation spacecraft, cyber security systems, and all-seeing radars. From the B-2 Spirit stealth bomber to developing and producing naval systems, Northrop Grumman's products and logistics transform public and private services in every context: air, cyber, sea, space, and land.
How Northrop Grumman Supports Utah Women In Business
Northrop Grumman provides multiple programs and benefits that support women in their careers through every phase of life, including adoption and/or fertility treatments, childcare support, and back-to-work flexibility and care after maternity leave. Women can access paid family leave, remote work options, a compressed work week, and unpaid family leave. Part-time workers are also qualified to receive full benefits.
It hosts a women's conference every other year exclusively for women to enhance their leadership skills and created a robust employee resource group, The Northrop Grumman Women's International Network. It connects employees domestically and internationally and creates opportunities for advancement and support.
The Northrop Grumman iReturn Program empowers women, enhances skills, and helps restore confidence with support and assimilation into the workforce as they return to work after a period of leave to focus on personal life events. It offers women access to a formal mentorship program with guidance and insight to benefit both the mentee and the mentor.
Why Supporting Women Is Important to Northrop Grumman
Northrop Grumman understands that collaboration between scientists, technologists, manufacturers and marketers, leaders, and interns is essential for innovation, and attributes its success to bringing together people with different backgrounds and experiences. Its recruiters keep a pipeline of qualified female candidates to consider future roles as the need arises, and its recruiting strategy ensures women are considered and elevated at every stage.
Northrop Grumman ensures it has a team that will help push boundaries and question what's possible and impossible. Championing women helps it stay competitive and at the forefront of the industry. The company challenges what's possible for products and systems in space, on land, and in the ocean, including past work practices. Flexible work options and support for returning to the workplace allow employees to bring experience and creativity to the drawing board in innovative and unique ways.
#9. Kinect Capital
Kinect Capital found the disparity in investing in women-led startups problematic. In 2018 only 2.8 percent of investment capital went to women entrepreneurs even though women-led startups deliver twice as much per dollar invested versus those started by men (78 percent per dollar versus 31 percent), and women own 38 percent of the businesses in the USA. With such staggering numbers stacked against female entrepreneurs, the organization is addressing these disparities.
How Kinect Capital Champions Women
Kinect Capital increased its female board membership from 13 to 38 percent in just a few years. It intends to build on that momentum and bring it to over 50 percent by the end of 2024. It expanded with strategic recruiting, from a team of three men at the end of 2019 to a team of 10, with 70 percent female.
Kinect Capital introduced programs like WeGOLF, WeAngles, and the Women's Entrepreneur program, which support women entrepreneurs to help women-led startups. Each program educates female entrepreneurs about funding opportunities, helps them secure them, and mentors them through building their businesses with C-level executives.
Because golf is where many current executives network, Kinect Capital created WeGOLF, a program that brings in pro female golfers to help participants feel more confident on the golf course; this partnership helps women feel included in crucial relationship-building experiences.
Why Supporting Women Is Important to Kinect Capital
Kinect Capital believes that it makes financial sense to back female-owned businesses since they deliver twice as much per dollar invested vs. those founded by men, and funding these businesses adds jobs to the market.
However, an even deeper reason to support women in the workplace was the discovery that, with female leadership and teams, the company has access to different solutions, ideas, and management styles that ultimately lead to better outcomes for the whole company. So empowering women adds another layer of insight to every problem and leads to innovative solutions.
#10. Spectrum Recruiting Solutions
Diversity in the workplace can lead to more innovation, creativity, and revenue. However, fewer than 20 percent of engineering jobs in the United States are held by women. Spectrum Recruiting Solutions supports women by helping them find careers as a strategic recruiting partner with a focus on manufacturing and engineering.
How Spectrum Recruiting Solutions Champions Women
Spectrum Recruiting Solutions is committed to diversity, equity, and inclusion in the manufacturing and engineering industries and was founded to shake up traditionally homogeneous work environments in these industries. In 2022, the company's diversity fill rate was 42 percent – nearly double the industry average.
The company searches extensively for qualified candidates to fill positions in the engineering and manufacturing industries and is laser-focused on empowering and championing women with mentorship and professional development programs. It aims to include women at the table where important decisions are made.
Why Supporting Women Is Important to Spectrum Recruiting Solutions
Spectrum Recruiting Solutions believes placing women in manufacturing and engineering jobs does not just benefit Utah women in business but elevates the entire industry. It practices what it preaches, as most of its employees are women. The company builds up its employees and provides them opportunities to develop as individuals, employees, and women in the industry.
Spectrum Recruiting Solutions also helps other companies do the same. It believes as they lead in supporting women, other organizations will be more receptive to diversifying workforces.
#11. My Tech High
My Tech High gives families access to a flexible, student-tailored education program. It celebrates the unique strengths of each young person as it focuses on technology and entrepreneurship. Parents can decide how, what, when, and where they want their students to learn.
How My Tech High Supports Utah Women in Business
My Tech High's fully remote environment celebrates a work-from-anywhere culture. This enables women to cultivate family-focused lives that allow them to best support their families while simultaneously growing their careers. Scheduling meetings around a nap schedule, math lesson, or volunteer opportunity is respected. It also invests in leadership diversity as a fast-growing company. During a corporate restructuring in 2022, it focused on sustainable growth while preserving the organization's family-first culture.
My Tech High supports the back-to-work transition after maternity leave. Each expectant mother can tailor a unique transition plan that best meets her needs. Unlimited maternity leave and other practices, including a robust substitute teacher program, allow the company to expand staff coverage to fill gaps as needed. Cross-training between teams enables mothers to take time off without worrying about emails or pressure to check-in.
Why Supporting Women Is Important to My Tech High
At My Tech High, women can choose how, when, and where they work, and can develop as individuals with unique experiences that help improve the company's services and products. As educators, it knows that one size does not fit all, and strives to champion women in the workplace and meet their needs.
Embracing the uncertainty of life's events, My Tech High has prepared itself to adapt to each circumstance as needed. The same flexibility that gives parents a personalized education option for their children also provides opportunities for family-friendly employment with customizable hours.
#12. Zions Bank
Zions Bank is a founding supporter of the Utah Women's Leadership Institute and is committed to the organization's "ElevateHer Challenge." This seven-point pledge enhances women's roles by increasing the percentage of women in senior leadership positions, providing mentoring, monitoring pay gaps, and more.
In 2021, the bank hired and promoted more women in mid-management and senior-level positions. From 2019 to 2020, the percentage of women in mid-management positions remained at a strong 65 percent, while women in senior-level positions rose from 30 percent to 36 percent.
"It is important for Zions to conduct reviews of equity in employee compensation regularly," said Anderson. "The bank's most recent study with the help of an independent third party found that after adjusting for relevant variables including education, experience, and geography, women are paid, on average, above 99 percent of what men are paid, and minorities are paid above 98 percent of what non-minorities earn."
Zions Bank commissioned Dr. Susan Madsen, founder, and director of the Utah Women and Leadership Project at Utah State University, to conduct in-depth research looking at the metrics and identifying quantifiable ways Utah can move the needle to achieve equality for women. "It's important for us to share Dr. Madsen's study with other companies, policymakers, and community leaders so we can have thoughtful conversations about how to continue to improve the environment for women in the state," Anderson said.
How Zions Bank Supports Women on Their Career Journeys
In recent years, Zions increased its use of analytics, recruiting outreach efforts, and management training to reach a diverse, qualified group of potential applicants to secure and retain a high-performing workforce drawn from all segments of society.
A Structured Interview Guide for hiring managers helps remove unconscious bias from the hiring process. Zions is developing a formal "returnship" program with Talent Ready Utah, designed to help offer skill-building opportunities and support for women re-entering the workforce. It also offers a formal Mentor Program for up-and-coming employees paired with senior-level mentors to focus on specific growth areas. In the 2022 cohort, 52 percent of those mentored were women, and 42 percent were employees of color.
In 2007, Zions introduced the Women's Business Forum, an employee resource group that fosters networking and career development opportunities. Since then, the company has created other Business Forums for employees, including Asian American Pacific Islander, Black/African American, Disabilities, Hispanic/Latino, LGBTQIA+, Military/Veterans, Native American/American Indian, and groups for women and women in technology. Regular Zions Business Forum events feature inspiring speakers, discussions of work-life balance, listening opportunities, and allyship.
How Zions Bank Offers Benefits That Matter to Women
Zions Bancorporation recognizes the importance of supporting new and adoptive parents through benefits. Starting in 2023, the company is enhancing maternity and parental pay benefits, offering birth mothers up to 12 weeks of paid maternity benefits at 100 percent of their base pay. Other new, nonbirth, and adoptive parents receive up to four weeks of paid parental benefits at 100 percent of base pay.
Zions added a new benefit covering fertility services in 2022, to help employees facing fertility challenges, allowing up to $10,000 per calendar year, with a maximum of $20,000 per lifetime. Zions Bancorporation is committed to fostering inclusive environments, offering innovative programs, and accelerating opportunities for women.
Conclusion
With the belief that advanced manufacturing is at the leading edge of technology and women need to play a greater role in it, Dr. Tulinda Larsen declares that despite Utah ranking last in the USA for women's equality, she's committed to improving opportunities for women in Utah with the help of the organizations and allies above. "Women can have it all, but we can't do it all. We need our partners," she affirms.