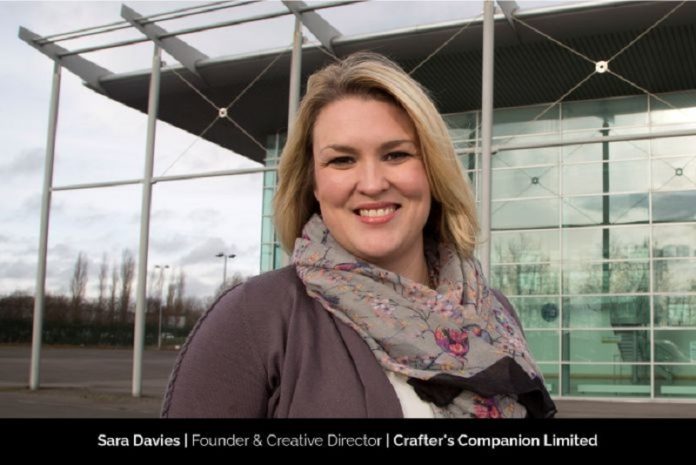 Everyone has a different definition of success. For some, it is to move together, do good for the community, and make a difference. With this crystal-clear aim in mind Sara Davies, developed Crafter's Companion to redefine the art industry and do something good with the whole community.
With a keen eye for perfection, she evolves her personality by encompassing the traits of other successful investors. It allows her to amp up her game in the corporate world.
Being a strong believer in winning things with teamwork, she loves to collaborate with other people and achieve new heights. She adds," Nothing is perfect, so we can always work to improve ourselves or take things to the next level. You will never reach perfection because you will never stop learning and developing."
A challenging entrepreneurial journey
Sara's whole childhood revolved around business and entrepreneurialism. Both of her parents were entrepreneurs; though they never referred to themselves as such, and they were involved in a number of businesses.
From a young age, she had a good understanding of commitment and dedication. Her dad worked away a lot to promote his business, and his commitment and hard work inspired her. She believes," Being an entrepreneur isn't just a job; it's a way of life."
To paver her way to the top, she decided to complete her education and gain a master's degree in management from York University.
As part of her business degree at university, she had to complete a year in the industry. When all her fellow mates went to large companies in the corporate industry, she opted out from the traditional placement structure and worked at a small craft company in the North East of England.
She adds," It was the best decision I could have made because while other people were working at some large organizations, I went to a small business and was getting involved in every aspect of the day-to-day running of the organization and planning."
Here she was introduced to the beautiful world of craft. She had some experience in knitting, crocheting, and baking at her young age, but she never knew that a whole new world full of new opportunities was waiting for her.
She was mesmerized by the elements of the craft world. While exploring different things, she came across stunning handmade cards that were not able to grab all the attention only due to traditional envelopes.
A kindling was lit in her heart and mind. She didn't waste a second and approached her dad about an idea to develop a platform where people could make bespoke envelopes for their beautiful cards.
With the help of her dad, she developed a platform named 'The Enveloper.' To expand the idea, she approached producers at Ideal World to present her concept on air. With excellent pitching, she swayed the producers and got the green flag to present The Enveloper.
she sold 1,500 units in the first ten minutes and 30,000 within six months of the initial demonstration.
She completed her degree with first-class honors and a business worth over £500,000. This achievement marked the advent of Crafter's Companion.
Hurdles along the Journey to setup Crafter's Companion
Sara Davies states," I believe that challenges make you stronger. People learn from hardships and struggle, and it enables you to grow."
Along the way to set Crafter's Companion to new heights, there were several hurdles to cross. In 2007, the company entered into a huge legal dispute with a major stationery company, which had launched a copycat envelope-making product.
They were successful in settling the dispute out of the court, but the whole thing taught her two vital lessons, which she values till now. She understood that business is not personal, and she cannot excel at everything.
The whole thing allowed her to understand the importance of teamwork. She started to delegate the work and focused on the things in which she excelled.
Redefining art with Crafter's Companion
Crafter's Companion is a leading craft supplier and global retailer. They design and sell their products through their UK, US, and EU websites, owned stores, independent retailers, via TV shopping channels, and through their own digital network, Crafter's TV.
While they started with papercraft products, over the years, they have branched out into different craft disciplines, creating products for the art market as well as the sewing and needlecraft sector.
Everyone at the company strives for innovation. Sara and her team state, "we are constantly pushing the boundaries of creativity, and we have several patented and trademarked products which are the first of their kind."
She motivates the team to push the boundaries of creativity and see ahead of the curve to identify upcoming trends and create things on that basis.
The team at the company knows the working of things precisely, identify the different applications of the products, and exhaust all of the possibilities of using a particular product before it is created and hits the shelves.
Sara is a firm believer in getting into a deeper relationship with clients. The team listens to the clients, understands their requirements and handcraft some unique products for them. "A lot of our product ideas have been formulated as a result of our strong relationship with our customer and have been created to fulfill this demand," she adds.
They aim at creating a culture that evokes belonging and inclusion, where everyone is and feels welcome. It motivates the whole team, which in result increases the overall productivity. employees communicate with the clients by encouraging open two-way conversations that promote sincerity, transparency, and feedback.
Innovation and creativity are the two strong pillars of the company. They enable the business to remain sturdy by embracing new ideas, improving products, services, and processes.
Teamwork is the key to increase productivity, and to maintain good teamwork, trust is crucial. All the employees at Crafter's Companion are open and honest with each other. They work constructively with each other to cultivate an atmosphere of respect.
As the company's founder and creative director, Sara ensures that everyone is determined and strives for excellence in every domain. She promotes the idea of keeping an open mind to new ideas, to develop unique products.
Life as CEO of Crafter's Companion and renowned television personality
A day in her life as CEO and popular TV personality is like a roller coaster ride. Not one day goes similar to the other. Some days there are business meetings that involve a lot of traveling, and some include in-house discussions and strategy planning.
With COVID-19 disrupting the lives of everyone in 2020, she decided to stay at home and manage everything from their main office.
She states," I spend a typical day getting into the office, and I usually schedule catch-ups with our team on different projects that are ongoing. I will usually have some Crafter's TV shows scheduled for the day for a few hours, where I'll be showcasing different products and upcoming launches, chatting to our customers, and answering any questions that they might have. In amongst this, I'll have business meetings, interviews with media outlets, and calls with some of my investments!"
She feels very fortunate to join Dragons' Den as the youngest Dragon. She states," I remember watching the show while I was at university with my girlfriends because as a business student, it was like gold dust. It was amazing watching these well-established entrepreneurs handing out pearls of wisdom and the dynamic between them, as well as the tension and anticipation to see whether someone would offer them a deal or not."
She feels very comfortable while shooting the show and values the teachings that she gained in her young life through it.
She strongly believes that living a balanced life is necessary to work and enjoy life with family. She made some major changes in her lifestyle. First, she reduced the use of mobile while working and spending time with her kids. Second, she stopped saying yes to everything she was asked to do and being more selective with these opportunities
These changes allowed her to focus on the work and spend quality time with her loved ones. In case of tough times, she takes the onus and finds solutions to issues. She feels responsible for all the employees working under her. So, she stays determined under pressure and uses her experience and skills to make the best out of the worst situation.
She has fantastic people skills and believes that a positive attitude is crucial to solve all the problems." I know that I have the answer to our problem or can come up with different ideas to improve situations, even when I don't think I do," she adds.
She likes to collaborate with her team and bounces different ideas to come up with the best optimum solution.
She likes to plan the further steps in advance. "Before I get to one milestone, I set my sights on the next one, so for me, success is ever-changing and develops as I grow and the company grows. It's a case of looking at something or someone else and thinking, you are really very good at that, I want to be where you are. I don't think that there's any way of measuring it; it's just a feeling that I have," she adds.
She believes that their company has the edge over the other contenders as they incorporate the structure of remote working. With this, they can involve excellent people in their team and surpass the barrier of traditional working style. She further adds," I see so many companies who are losing out on talented employees who aren't able to be office-based or can't do regular hours. When you are able to accommodate these things, staff are happy, and you are able to tap into a pool of amazing people."
Future Roadmap of Crafter's Companion
When Covid-19 struck in March 2020, their business was a challenge with the closure of all their shops. Therefore, being a business with multiple channels, they started emphasizing more on the eCommerce business. Our work from home business started growing exponentially, and the biggest hand in its success was lent by Crafter's TV.
This Crafter's TV came into existence in 2019 with an aim to educate as well as inspire other crafters that are in the same field. This show has experienced significant success in Australia, Germany, Canada, and across the United States. The best happened when the international audience skyrocketed the UK viewers.
Since the inception, this business has never shown a downward spiral. They also have commenced New Studios at the end of 2020. Even the broadcast schedule is set for up to five live specials and seven hours of crafting fun per day. To add a cherry on the cake, they are still planning for higher growth.
She loves her job and is still very hands-on with Crafter's Companion. She further adds, "The company was and still is, my baby, so I'm excited to see where the next five years take us as a business.
"The last few years have brought a lot of changes, and I have a lot of opportunities that have become available to me from the exposure that I have had. Thanks to my role as an investor, I am now actively involved in a number of businesses across a variety of sectors, and those challenges keep me motivated as I share my experience and knowledge with these relatively new companies and learn myself along the way."
Self-belief is the key to success and helps you to stand out from the crowd. She shares advice to aspiring businesswomen saying," I would say be yourself and know your worth regardless of what situation and company you find yourself in."