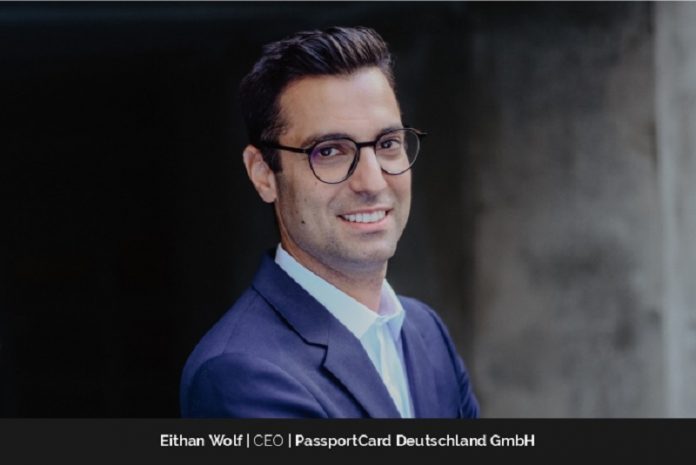 Eithan Wolf, CEO of PassportCard Deutschland GmbH, is an exemplary leader who leads through "creating" – it is also the word he chooses to describe himself in a word. It is this approach in his professional life that has enabled him to experience remarkable success.
Eithan first came to Germany to launch the business, trusted by his peers from HQ and the Group founder, the visionary Alon Ketzef. It was not long before Ketzef handed over the leadership to Eithan, to create a new insurance enterprise with all admin abilities, including those that have never been implemented in Europe before.
Under his leadership, the company adopted a fresh go-to-market approach and tapped into scalable marketing abilities and operational systems, and sales strategies. In addition to that, Eithan also ensured that a prime emphasis on the work environment during the most challenging times. At the time, the COVID-19 pandemic was ravaging the world, and the team members were experiencing the hardest time of their lives. Eithan says that a happy work environment created a "substantial feeling" of success.
The current business model of the German activity was introduced to the market during the first wave of the COVID-19 pandemic. A year later, in 2021, the company received the German Innovation Award for its innovative payment solution that enables all members to pay directly to medical providers without claim forms or reimbursement.
Launch in Europe During Pandemic
When PassportCard was making final arrangements for organizing the launch of their operations in Europe, it became evident to the group that the execution of the business model would have to be altered.
"I was offered to return to my hometown due to the pandemic and protocols of lockdowns" explains Eithan, however I just felt I cannot leave the team behind, even if we all meet via electronic manners. "In a way, we launched into BCP" he adds.
For Eithan, Germany was a semi-new place. Despite his German origins, he was an expat himself, and had a limited social familiarity. "It was that feeling of everyone pitching in that made the whole experience more feasible despite being physically isolated", Eithan recalls.
"This experience taught me that we can do so much more than what we sometimes believe we are capable of," he adds. "It taught me that it does not take only perseverance but also passion to really achieve results. At the end of the day- this is what we are all accounted for."
International Health Insurance Company
PassportCard is a provider of private health insurance coverage worldwide. It offers its services with a strong emphasis on service and payment regime and eliminates the need for prepayment and paperwork.
Eithan points out that each member of the company receives a special, rechargeable payment card, called the PassportCard, that is linked to the insurer's money. A member can use it to pay for treatment directly on the site. "Members can pay medical providers and pharmacies without waiting for claim reimbursement or suffering anxiety of coverage denial," Eithan says.
PassportCard's team is available for their members around the clock. The company has not outsourced its care center operations, and its team can answer calls in multiple languages within seconds.
"We have been able to reshape the whole insurance process and flip it around," says Eithan. "Our insured members actually enjoy autonomous insurance payments, and they have the money in their hands before the insured event take place – meaning before they even visit a doctor."
For the benefit of its members, PassportCard applies its big data capabilities and enables a fully autonomous process where the system calculates the expected medical costs and opens the card use accordingly.
In Europe, PassportCard has quickly gained high customer satisfaction rate – approximately four times more than the market standard. Customers were satisfied with its services even during the pandemic.
Core Values of PassportCard
PassportCard believes in service and transparency. Its service approach allows it to meet the customer in their whereabouts – whether it is through digital means or by a human voice call. "We just want to be there for customers when they need us," Eithan says. "We also want to make sure that our customers are well covered, and this is where our transparency kicks in."
He points out that they do not have many fine prints. PassportCard also does not automatically exclude pre-existing conditions of members even if it means a more detailed onboarding process. Eithan explains that when something happens, PassportCard prefers to actually be there for the benefit of the customer according to predefined expectations and support the customers with everything they need.
Life before PassportCard
Before PassportCard, Eithan was a member of the launch team for the Digital and Innovation Division of a tier 1 bank with worldwide branches. He was the youngest executive member of the bank. Prior to that, he led parliamentary changes in the corporate law of Israel, co-representing the Israeli bar and practiced corporate legal counseling.
In recent years, Eithan has been listed in the top 1% of German employers. He is also a member of the 25 best insurtech executives worldwide. Eithan holds LLB and MBA degrees.
Responsibilities as CEO 
As PassportCard is growing exponentially, Eithan handles a diverse range of responsibilities, including the support to the growing abilities with the support of the group management and perfecting existing ones. He also puts a lot of emphasis to assure that the growing company remains focused on its special beliefs and ideas.
Every day, Eithan starts his day by taking a round in the office, having coffee with his colleague-employees and after that, he attends a marathon of meetings with the team members, where they review full scope of services that they provide.
"As we place a huge emphasis on service, a huge part of my job is not only to see the insurance numbers but also to steer the best service solutions, marketing directions, and operational perfections with the amazing team that is leading this company," Eithan says. For him, it is a very typical day at work when he has to do 300 emails correspondences on 40 different aspects all at once. "I would not have it any other way," Eithan says.
When it comes to work-life balance, Eithan says that he is a much better preacher than a doer. "Although our care service center has no "work hours" – we work around the clock," he adds. He, however, does not expect his team members to follow his example. Eithan says that at 6 p.m., he usually walks around the office and begs people to go home.
"I am satisfied to have our colleagues enjoy the office environment; however, the number one priority is to have everyone come to the office fresh and happy and not overwhelmed by work," he adds.
Eithan also points out that at the company they have many internal fun events like joined drinks on Friday with music on and birthday celebrations. They are all flying to Dubai by the end of this year for 4 days as part of a corporate fun trip with the generosity of our founder he reveals.
Insurance Landscape and Future Plans
Eithan believes that insurance is not about holding back or refusing claims. It is about paying claims while enabling a risk-sharing scheme. "If you do things right, you should not be afraid of being more costly than others," he points out. The premiums paid by the individual are used for this very reason – to share the risk and to make sure the insurer actually pays at the time of need.
Eithan definitely sees PassportCard playing a leading role in the European insurance market. In addition to that, he would like to include additional lines of business, such as travel insurance in the near future.
Tap Into Emotional Qualities
In his message to aspiring business leaders, Eithan says that they need to lead using their emotional qualities. "It is this that will enable you to bond with others, to understand what motivates others, and even to understand the market's expectations better," he adds.
When doing business, emotions obviously should be "in check," but they also "serve us well," says Eithan, who is writing a second book on this subject. In 2014, his first book, called "Companies – The Guide for the Manager, the Director and the Shareholder,"​ was published.