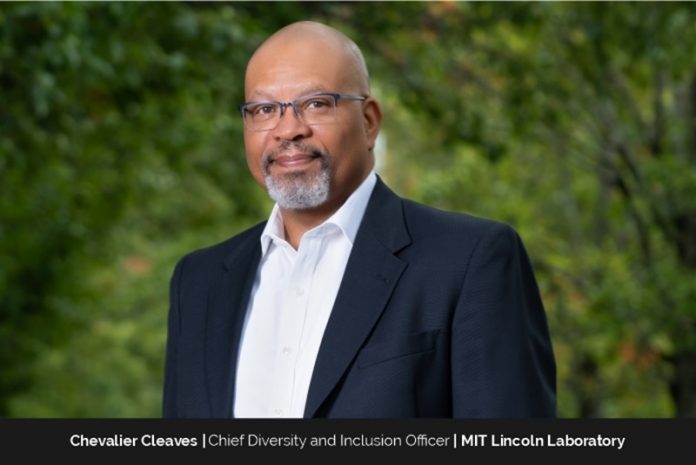 Chevalier Cleaves holds the esteemed Chief Diversity and Inclusion Officer position at MIT Lincoln Laboratory. His visionary leadership, commitment to equity, and innovative strategies have made him a prominent figure in the field, earning him the recognition as "The Most Prominent Leader in Diversity & Inclusion, 2023." Cleaves has held the position of chief diversity and inclusion officer (CDIO) four times (in the fields of higher education, business, government, and research and development). He is an accomplished executive leader who can form and influence coalitions to better link the implementation of Diversity and Inclusion (D&I) with an organization's overarching strategic objectives. His track record as a leader of high-profile projects in domestic and international contexts is extensive. Cleaves is an authority in maximizing efficiencies throughout colossal public and private companies for enhanced communication, creativity, and output. To better utilize all people, increase performance, and establish a competitive advantage, he advises top-level management on implementing D&I best practices throughout the employee and business life cycles.
Cleaves regards MIT Lincoln Laboratory as the nation's foremost Federally Funded Research and Development Center, harnessing technology to bolster national security efforts. In his present capacity, he spearheads a crucial mission to empower the laboratory in achieving a revolutionary edge, aspiring to set the gold standard in strategic diversity and inclusion leadership within the national security industry. With utmost enthusiasm, he collaborates closely with senior leaders throughout the laboratory and the Institute, aligning their efforts with MIT's principal mission: "Through teaching, research, and innovation, MIT's exceptional community pursues its mission of service to the nation and the world."
Navigating Success through Strengths
Enriched with nearly four decades of experience as both a follower and a leader, Cleaves maximizes his strengths to drive impact within his organization. With a well-defined understanding of his core skill sets, he leverages his extensive background and training to develop thoughtful, accurate, and robust plans for projects and organizational change. These visions form the foundation for the work he supports. His strength in strategy development, aligned with his visionary capabilities, enables him to craft meticulous plans of action. These are always in sync with stakeholders' objectives while clearly defining the goals necessary for sustainable success. Cleaves' final strength lies in execution and best practice implementation, facilitating the seamless transition from thorough planning to the practical details required at the project level.
He aptly puts it, "When all of these come together as my contribution to an amazing team that makes a difference in the world, I see that as one very meaningful element of success."
From Family Legacy to Leading Diversity & Inclusion
Cleaves, hailing from Memphis, New Orleans, and Flint, was raised in a family of educators who instilled a deep appreciation for education, achievement, and performance. He chose to attend the Air Force Academy over the University of Michigan, drawn by the opportunity to contribute to a greater cause. After graduating, he embarked on a career as an Air Force instructor pilot, later progressing in his profession by taking up roles as a strategist and commander.
His trajectory shifted when he was appointed Director of Admissions at his alma mater, the Air Force Academy, and was simultaneously entrusted with pioneering the institution's Diversity and Inclusion efforts. Achieving remarkable success, Cleaves garnered accolades from senior Air Force and Congressional leaders. His impact extended to roles as a Chief Diversity and Inclusion Officer in both corporate and federal settings, where he worked closely with top executives, shaping workforce transformations recognized as the gold standard within the Department of Defense.
Championing Diversity & Inclusion Leadership: A Journey Inspired by Experience
Cleaves feels his unique perspective, shaped by his background as an Air Force Pilot, Strategist and leader, offered him a distinctive lens into the complexities of organizational dynamics, particularly in homogenous career fields. Drawing learnings from this experience and his remarkable ability to extract valuable insights from various industries, he found a compelling drive to empower leaders in recognizing and harnessing the power and potential of diverse organizations. This fusion of personal experience and the pursuit of inclusive excellence guided his resolute decision to continue his leadership journey in the field of Diversity and Inclusion.
Overcoming Professional Hurdles
Succeeding isn't solely about recognizing one's capabilities; it's also about embracing the journey of self-discovery of finer nuances. The path to success is rarely straightforward and often riddled with challenges. Such encounters, in particular, hold a pivotal role in the pursuit of success. It shapes the course we follow and influences the strategies we employ. According to Cleaves, roadblocks serve as a compass, helping us discern what aligns with our values and objectives personally and within our projects.
Reflecting on his professional journey, Cleaves acknowledges encountering impediments that have imparted valuable lessons.
He shares, "Many times, I, like others, have been faced with colleagues or leaders who (for different reasons) have been fearful of change." 
In the context of Diversity and Inclusion (D&I), Cleaves attributes this fear to a lack of understanding regarding the true essence of D&I, its potential in achieving organizational objectives, and its role as a critical differentiator among peers and customers/partners. His approach involves fostering deep connections across organizations to collaborate with colleagues and leaders, thereby validating the transformative power of D&I. This collective effort lays the groundwork for enhanced connectivity and shared insights and serves as a potent antidote to the fear he mentioned. It presents a prospect for leadership growth and cultivating a team deeply committed to the organization's success.
MIT Lincoln Laboratory: Pioneering Innovation and Meeting Evolving Needs
For over seven decades, MIT Lincoln Laboratory has been at the forefront of technological advancement, addressing critical challenges at home and abroad. Initially established in the 1950s to develop the nation's first air defense system, the Laboratory's mission has since expanded significantly to adapt to changing requirements and design innovative solutions for safety and security.
Cleaves highlights, "As some examples, we develop critical technologies to assist first responders in disaster recovery, create radar and collision-avoidance technology used by nearly all commercial aircraft today, and design small satellites that can collect hurricane data faster and better than ever before."
Moreover, MIT Lincoln Laboratory continually evolves its culture to align with its mission as a Federally Funded Research & Development Center (FFRDC). They create prototypes tailored to various partners, including government agencies like NASA, the Department of Defense, and FEMA, and NGOs such as relief organizations.
In the wake of the 2010 earthquake in Haiti, the Laboratory employed its airborne imaging technology for humanitarian aid and disaster relief, partnering with government and non-governmental organizations to enhance disaster response. They develop technologies to boost responder efficiency, help data-driven evacuation decisions, and assist survivors in locating life-sustaining resources.
Recently, they expanded their mission by establishing the Biotechnology and Human Systems division, addressing global challenges. Initiatives within this division include climate change modelling and decision support tools. It also caters to serving vulnerable communities in regions like Bangladesh and East Africa and improving treatment for neurological conditions. The Laboratory's supercomputing center employs artificial intelligence to assess potential therapies for emerging diseases. During the pandemic, their researchers pioneered a privacy-focused contact tracing method, subsequently adopted by Google and Apple.
MIT Lincoln Laboratory's ability to forge connections between technology capabilities and real-world applications, coupled with its commitment to exploring new research domains, positions it at the forefront of technology development with the potential to transform society.
Encouraging Innovation and Inclusion at MIT Lincoln Laboratory
The distinguished Chief Diversity and Inclusion Officer of MIT Lincoln Laboratory emphasizes the profound impact of fostering an inclusive work environment on redefining the industry. Cleaves underscores, "Pursuing transformational research is not only about technical expertise; it also requires a work environment in which employees are embraced for what they can do and who they are."
MIT Lincoln Laboratory has endorsed innovative ideas in D&I through initiatives like the annual Cultivating Leadership, Achievement, and Success Symposium, designed to promote leadership, growth, and development in an inclusive setting. The Laboratory's connection to MIT's academic culture, epitomizing discovery, collaboration, and mentorship, further enhances the growth and vision of their workforce.
Their commitment extends to nurturing the next generation of scientists, engineers, and visionaries, particularly those historically underrepresented in STEM fields. With over 20 outreach programs, they provide hands-on STEM education, empowering students with skills such as autonomous robot programming and satellite engineering. Their partnership with the National GEM Consortium has also supported 154 MS and Ph.D. Fellows, reflecting their dedication to mentoring and research development.
MIT Lincoln Laboratory's evolution, inclusive diversity, and engagement with future leaders are integral to its mission and technological progress. Through a holistic approach that prioritizes technology and people, they aspire to set the standard for strategic D&I leadership and application in the national security industry.
Shaping the Future of MIT Lincoln Laboratory
Discussing MIT Lincoln Laboratory's future, Cleaves highlights their ongoing commitment to harnessing the collective potential of their community to tackle challenges and deliver meaningful solutions that improve people's lives.
He notes:
"A great example of this impact is the 86 R&D 100 Awards we have won over the past 14 years (these international awards recognize the year's most impactful new technologies). As mentioned, our mission focus is constantly evolving to address modern needs. Our newest division focusing on biological threats and climate change signifies our forward-looking principle."
MIT Lincoln Laboratory is also enhancing its infrastructure to maintain its leading-edge status. Cleaves underlines a significant development—the commencement of construction on a new facility dedicated to advancing microelectronics technology, a critical focus area for national security.
Furthermore, this adept professional of MIT Lincoln Laboratory underscores their continuous search for like-minded partners keen to collaborate with their dedicated teams. Looking ahead, they aim to forge deeper relationships and partnerships with a diverse range of Minority Serving Institutions, such as Historically Black Colleges and Universities, Hispanic-serving Institutions, Tribal Colleges and Universities, and Asian American and Pacific Islander Serving Institutions, to tap into the nation's top talent pools and further augment their impact.
Innovative D&I Initiatives Reshaping MIT Lincoln Laboratory
Cleaves and his team have championed groundbreaking D&I innovations at MIT Lincoln Laboratory, profoundly impacting the organization. A few iconic initiatives are as follows:
 RE2AcT: Research.Educate.Empathize.Act.Transform.
After the tragic death of George Floyd, Cleaves and his team initiated the RE2AcT program, designed to foster sustainable inclusion at MIT Lincoln Laboratory. This initiative featured curated content in various forums, promoting a comprehensive understanding of systemic barriers. Study groups were introduced to facilitate more profound exchanges and motivate action, receiving enthusiastic praise from participants. It has sparked empathetic dialogues on unfamiliar topics, contributing significantly to the Laboratory's journey towards a more diverse, inclusive, and barrier-free environment.
"Our Voices, Our Vote! A Century of Women Leading Change:" 
In commemorating the 19th Amendment's centennial anniversary, MIT Lincoln Laboratory launched this initiative, inviting members to reflect on the women's suffrage movement's transformative impact. A series of events and critical messages propelled the organization closer to its vision of exemplary D&I practices, emphasizing the strength of unity in the face of ongoing national challenges.
D&I Leadership Off-sites: 
Cleaves created, piloted and introduced a series of off-sites aimed at helping organizational leaders understand their leadership styles, strengths, and weaknesses in the context of a diverse workforce. These sessions leveraged emotional intelligence and intercultural development assessments to foster holistic self-awareness, driving collaborative and innovative actions to enhance team performance. Additionally, these off-sites facilitated the creation of Communities of Practice among organizational leaders, including Executive D&I Council members, ERG Cross-Cultural Executive Sponsors, and D&I Champions, garnering overwhelmingly positive feedback and propelling transformative change.
Cleaves' inspiring journey to the Chief Diversity and Inclusion Officer role at MIT Lincoln Laboratory testifies how the potential of visionary leadership and steadfast commitment to D&I can work as a catalyst of change. His foresight, strategic approach, and in-depth organizational insights aim to set new industry standards. They are the impetus for a future in which technological innovation and widespread engagement support national security and other gains. Cleaves' leadership exemplifies the lasting influence of diversity and inclusion in shaping an inclusive world, making him a role model for the leaders of tomorrow.
As he concludes his interview, he leaves the readers with a profound message as he expresses, "Innovation thrives at the nexus of inclusion and diversity, and we are committed to leveraging talent from all across the nation to help us identify and solve some of the world's most challenging problems."