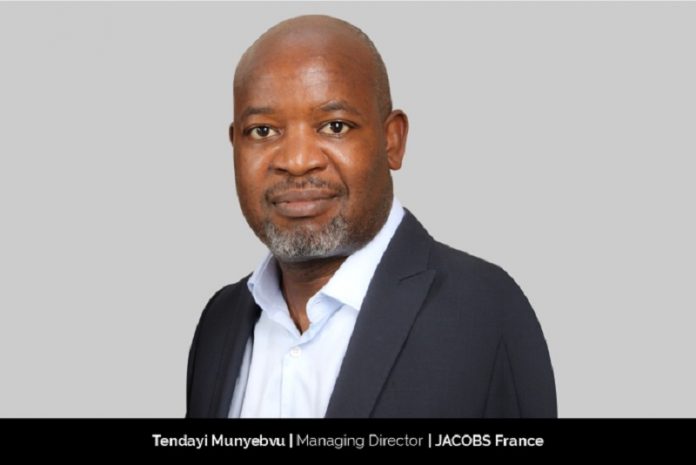 Being a proactive and inclusive leader, Dr Tendayi Munyebvu, Managing Director and Operations Lead at Jacobs in France, is leading and managing a diverse team towards success. Having expertise in engineering and a strong backhold of extensive experience in program/project/contract management and site supervision of a wide range of high-profile infrastructure and nuclear projects, he is backing up the minority talent to rise and shine in the corporate sector.
His team management skills are further enhanced by his life-long involvement in volleyball and football that honed his communication skills and hammered the courage to take up tough conversations with vulnerability and clarity.
Evolving into a seasoned leader
Several aspects of Tendayi's life affected his perspective and character and groomed him into a mature leader, all set to bring a change in the corporate world. From a very young age, Sports and Mathematics played a crucial role in his life. He adds, "Sport and Mathematics were the main catalysts of my career. Indeed, I played football made out of plastic paper in dusty playfields, just like any other young Zimbabwean boy, but volleyball was my official sport at school.  Academically, mathematics happened to be my favorite subject."
Consequently, he spent the majority of his adolescence focusing on these two items, and it started to pay off in high school.  He was involved with the Zimbabwe Schools Volleyball and the Pan-African Mathematical Olympiad teams.  He worked really hard in his school and collected the majority of academic accolades in classes.  At the university level, he was the best student in the first, second and final year of his undergraduate engineering studies, collecting the overall Benjamin Kass prize at the end.
Volleyball did not only replenish the energy he needed for his studies but allowed him to travel to many of Zimbabwe's neighboring countries, opening his mind to different perspectives.
Rising in his career, Tendayi made a solid background in structural engineering. As he moved further, his role changed to business leadership, but he still works for an engineering company and is involved in buildings or facilities of some sort. The spectrum of his experience ranges from commercial and leisure to defense and nuclear industry in a number of countries.
He states, "This professional career has exposed me to all business fundamentals from design, operations, contract administration, financials, people leadership as well as business development and strategy. I have had my hand in amazing projects such as the Southampton Life Centre and Eastgate Shopping Centre in Zimbabwe, Heathrow Terminal 5, University Hospital Coventry and Pool Innovation Centre in England, Wales Millennium Centre, and the ITER project in France. It is a real honor to have worked on award-winning projects and with some of the high-profile engineers, architects, and contractors of our times."
All the hard work in his professional career filled him with confidence to deal with challenging situations, and he gained valuable insights into the work methodology in the corporate market. Working with different experts further honed his leadership skills and expanded his reach.
While progressing further, he kept on looking for new opportunities to grab and excel.
He adds, "Becoming a managing director was never on my career wishlist.  It was just a consequence of doing my job to the best of my ability, being curious, and keeping an open mind to new opportunities. New challenges do not faze me, which is probably due to my upbringing."
Having a curious nature and determination to push himself out of his comfort zone added several skills and experience on his side as a seasoned leader.
Winning against rough odds
Challenges groom a person's personality, but it is necessary to tunnel through them and learn the hidden lessons that come with them rather than losing hope and being the victim of the situation.
Tendayi refers to his life as a game of decades and believes that the first decade certainly shaped his personality.  His family was not well to do by any standards, but he was fortunate to have progressive parents who considered education as the first priority, ahead of anything else, for their children!  Going to school bare-footed, with tattered clothes, or without having had breakfast was the least of his parents' worries, and so they became the least of his too. Thanks to this environment, all the useful skills such as resilience, determination, and positivity were incubated and nurtured in Tendayi's personality during these early years.  He adds, "I was perpetually reminded that, whatever misfortune I was experiencing, someone else is having it worse somewhere, and so no excuse!"
All these experiences drilled a never-give-up attitude in his personality and allowed him to rise above all the challenges in his future.
Beacon of change
Tendayi is an advocate for the minority talent to step up and take on roles previously occupied by those from privileged backgrounds.  Anyone can learn a new skill in a reasonable timescale for as long as one has the right attitude and aptitude.  He states, "Many of us in leadership roles are utilizing our transferable skills because our qualifications are from unrelated professional fields.  I have much respect for those companies with a diverse leadership board that does not conform to a unique or standard way of thinking."
Having managed international teams with a diverse pool in multicultural settings in Africa, the UK & Ireland, and mainland Europe has evolved Tendayi into a comprehensive leader. Lately, his focus has been in ED&I (Equity, Diversity, and Inclusion), as he seeks to create a sense of belonging for minority talent in the workplace. In addition to being a member of several employee networks in the company,  he chairs the Black employee network and the AJ&E (Advancing Justice & Equality) Council in the EMEA (Europe, Middle East, and Africa) region, helping (those without voices and power) to speak up and eradicate the racial and legacy injustices faced by the Black and minority workforce.
Taking concrete steps to ensure fair representation of minority talent at all levels, the council focuses on creating conducive conditions in the company for the retention and growth of this workforce. Some of the initiatives underway include a senior leadership sponsorship scheme and McKinsey Leadership Academy program. They are also advocating the collection of reliable ethnicity data to enable progress monitoring on recruitment, attrition, representation, and the advancement of minority talent in the region.
Tendayi adds, "In my line of work, I have mentored a significant number of colleagues over the years and helped deliver internal development programs within the company."  Outside of work, he is involved in other various activities, including being an examiner of the chartered membership examinations for the Institution of Structural Engineers and a member of the board of trustees for his former high school old-boys association.
Redefining strong leadership
As per Tendayi, a leader is not just any manager but an empowering one. He is someone whom people will follow due to his shared vision as well as results but without any expectations. They are not someone who imposes authority rather someone who leads by setting an example. He states, "Once you become a leader, the mindset needs to change from thinking about yourself to thinking about others. A leader should provide psychological safety to followers so they can, in turn, provide innovative ideas and honest feedback without fear of reprisal."
Along with this, maintaining a good reputation is key. Thus, a leader's ethics, language, and behaviors are always under constant public scrutiny and become a source of inspiration for others. It doesn't mean leaders are perfect and don't need to learn. Rather leadership is all about learning every day from failures, active listening, and vulnerabilities. In case of team shortfalls, bold leaders always admit their mistakes and take charge of the situations.
In the end, leadership is all about empowering your team. He shares, "A big part of this equation is being clear, concise, and decisive on requirements and goals. Then, step back and watch the outcome in awe." When you are clear, all the presented results speak for themselves, and you will embrace the feeling of sharing your team's success.
Acing the General Manager card
Tendayi contributes the lion's share of his day to communicating visions and overcoming hurdles with his teams, and looking for new work opportunities by interacting with new clients. He shares, "As a general manager, there are a plethora of additional activities too such as corporate tax and labor-related matters to deal with state authorities and serving on the board of a couple of our joint-venture companies. All this involves relentless negotiations, and it is the closest I ever got myself into politics!"
Owing to his diligent efforts in his voluntary ED&I work, he has recently been nominated in the EMpower Ethnic Minority Executive Role Model List 2021. It has pumped up his motivation and also made his will to work more comprehensively towards ED&I further.
Keeping a disciplined mind has helped him to attain all this along with his job and family responsibilities. Discipline has imbibed a keen sense of attention to fulfill each task with precision.
Striving for that Work-life balance
Tendayi opines in the fact that there must be a true balance between personal as well as professional life. Although he keeps working for long hours, he always makes time for his personal commitments. Since working on ED&I is his passion, he always tries to deliver the best efforts in his profession.
Such voluntary work is also enabling him to get access to all employees regardless of their company levels.
As a staunch believer in the fact, "A healthy mind resides in a healthy body. Moreover, in order to look after others, one ought to look after oneself first," he maintains a good exercise and self-care regime.
He adds, "I still play volleyball and football to this day and have picked up a variety of other sports activities such as running and cycling as well. All these activities serve the same purpose of providing fitness, stress relief, and injecting energy into my day. They also provide a selection of activities and fun times with family and friends for all seasons without being bored of repeatedly doing the same thing."
Keeping up with such a work and family routine is not a child's play, and even he has learned to manage everything with time. Currently, he focuses on creating a good plan, setting the priorities right as well as appropriate delegation. Using his effective leadership skills, he is empowering all the other team members to get time for his personal passion and commitment.
Pearls for wisdom
Tendayi urges the rising leaders to push themselves out of their comfort zone to grab new opportunities and bring wonders to their careers. It is necessary to work hard with full determination to climb the ladder of success.
He expresses, "If your next job is something you already know how to perform, then perhaps you are not stretching yourself enough.  Carry out a self-critique to know your limits and then make an effort to improve those weakest skills in your arsenal.  You do not have to be a master of everything, sometimes awareness is enough."
The secret recipe to success
Tendayi believes that success for a person is to achieve the set goal in one's life. However, while progressing forward, the goal will evolve. Personally, he believes that he will never arrive at the ultimate goal because the post appears to shift each time he gets closer. So, it is important to stay focused and keep working towards the higher goal.
Meanwhile, it is necessary to enjoy the journey along the way to success. He adds, "I have perfected the art of enjoying the journey and celebrating the small steps.  If you make your team the focus of your success, then there are numerous mutual milestones to commemorate along the way!"
Besides all this, learning while climbing the ladder of success is crucial. It allows one to stay at the forefront and boosts the confidence to face the upcoming challenges. He states, "I have also built regular sessions in the process to reflect and learn, unlearn and relearn from experience and make that next step much more enjoyable."
Finally, the most important part is to help others. It adds a sense of fulfillment as one progresses upwards.