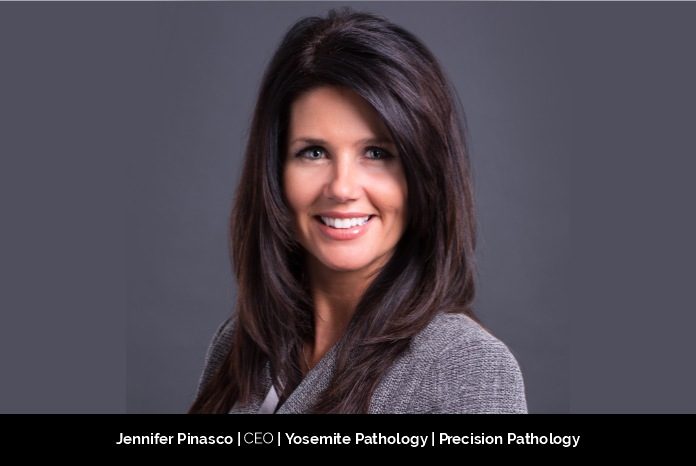 Typically, growing the financial value of any business is the definition of success. However, some leaders have a unique way of defining it. Jennifer Pinasco, CEO of Yosemite Pathology | Precision Pathology, defines success by getting answers to questions like, "Did we compromise anything to get here? Who did we help? How did we respond to failures? What culture have we created by our behavior? Have we provided something of value, something needed? How did we treat people? What did we learn?"
She states that the underbelly of that success, the core of the foundation, the stability, and the strength of that success depends heavily on the goodness of the answers to these questions.
Journey to success
Jennifer always had a passion for pathology and wanted to help people. To progress in her career, she started expanding her academic base. She completed her Bachelor of Science in Business Administration and Master in Healthcare Administration from the University of Phoenix.
Before joining forces with Yosemite Pathology | Precision Pathology, she worked for an Internal Medicine practice where she was on the path to becoming a nurse. Along the way, she began to see herself as an ambassador between the patients who need care and physicians who provided it. She wanted to create a balance between the two sides of the healthcare spectrum: Providers and Patients. In 1996, she joined Yosemite Pathology's RCM Team. Backing up her skills and academic knowledge, she progressed her way up to become the CEO of the company.
Crossing the roadblocks on the way
In the early stages of her career, Jennifer faced many challenges along the way. Thus began her personal mantra of "Challenge Accepted" and she began to build a team of experts around her and the organization to face these challenges head on. She expresses, "I learned how you treat people matters, and you don't always have to be the one with the answer, so seek wisdom from others. Relationships, knowledge, and trust are not the values that everyone upholds, so when you encounter those who don't, consider deeply what's at risk by doing business with them."
Providing better facilities for everyone at Yosemite Pathology | Precision Pathology
They are a physician owned practice with an advanced anatomic pathology laboratory that is CLIA certified and fully accredited by the College of American Pathologists (CAP).  Their Board-Certified pathologists service hospitals and outpatient practices with a broad range of specialties in both anatomic and clinical pathology, supplemented by targeted subspecialty training.
These comprehensive specialties enable the delivery of solutions that answer the needs of our clients, allowing our physician and hospital partners to advance patient care and health management in the communities we serve. Our Core Values are Quality, Compassion, Integrity and Innovation. Innovation is crucial to grow, adapt and better serve our patients but our employees need to feel connected to it first. By harnessing the power of the latest technologies, providing clear direction and giving proper space for all the personnel to grow individually, that's when magic happens and the team becomes unstoppable.  She stresses the point by stating, "Innovation is one of the core values that we as an organization focus on nurturing and cultivating. We were able to bring on Covid testing in just ten days due to the space we give to our teams to innovate and create solutions."
She believes focusing on their employees and their client's needs is more critical than paying attention to their competitors. She mentions, "When our eyes are on our clients, we are able to identify areas of opportunities where we can provide solutions to help them and add value to their practice and ultimately improving patient care." Yosemite Pathology | Precision Pathology was also recently certified as a Great Place To Work by its employees which is simply a testament of the Shareholders and Leadership focus on creating an open inclusive compassionate quality driven environment in which our employees can thrive.
Redefining anatomic pathology at Yosemite Pathology | Precision Pathology
Jennifer states, "I think our organization is unique in that we have been very intentional about investing in and developing an infrastructure that fully supports our pathologist's needs and those of our clients while creating a nurturing environment for our employees.
Whether it be analytics, interfaces, accreditation, logistics, or compliance, we offer a full suite of concierge services to both our pathologists and clients internally and externally, driven by seeking quality solutions for optimum patient care. She mentions, "In the last decade, we have greatly expanded the range and depth of our services and have become a premier provider of anatomic pathology services in Northern and Central California."
Life as the CEO of Yosemite Pathology | Precision Pathology
Wearing the hat of the CEO of the company, she is responsible for giving the proper strategic direction, creating a vision for success, and developing an exceptional team to get them there. She feels her role is to be an open genuine balanced leader who strives to sustain stability while pursuing new ventures.
While fueling the growth of the group, she knows when to take breaks and let the body re-energize for the next challenges. To keep her body fit, she indulges in yoga and meditation. They allow her to de-stress and unravel the day.  She also loves to travel which allows her mind to expand her awareness and keep it fresh and open for new ideas for the growth of the group.
Future prospects of the company
Jennifer adds, "Our vision is to continue our expansion interstate and intrastate by acquiring small physician group practices that are also providing quality pathology services to their communities."
For this, the leaders have to be transparent, agile and empowering by helping the next generation in line. They are developing a career path program in pathology for the youth to expose them to this profession and the critical role pathology leaders play in healthcare.
She expresses, "Pathology Leadership awareness starts with those of us practicing it, and we need to begin sharing more with one another, learning from each other and combining our strengths for best practices going forward."
She aims at steering the group into continuing their M&A business line, expanding their test menu, and participating in clinical trials.