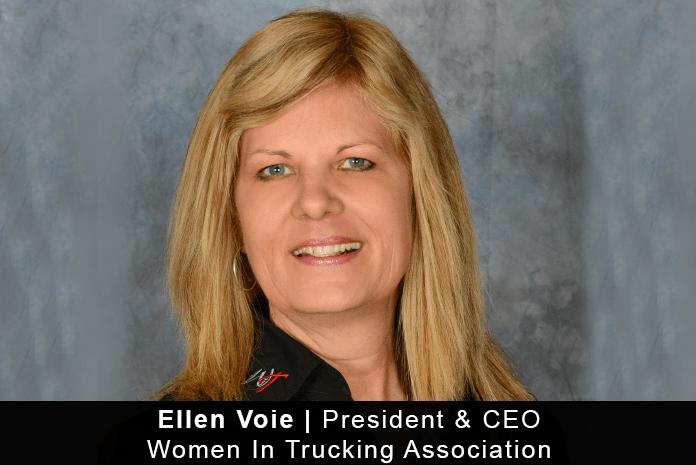 It is no secret that women had fewer employment options in the past and were considered less capable when it came to career advancement. Since World War 2, society has changed, and we now embrace the idea that women have much more to offer than just a good meal or a clean house. Speaking up and taking a stand for yourself was not an easy task even through the 1970s. Women who challenged the status quo became more visible.
Born and raised in those traditional times, Elle Voie, wanted more than traditional opportunties. She leveraged the cultural awareness to create a level playing field for women. That was over 30 years ago, but her boldness has paved the way to success in making her one the leading businesswomen today. Yes, she has come a long way and has been a successful entrepreneur she founded Women In Trucking Association in 2007. A revolutionary move that gave women a standing and an identity, Women In Trucking exemplifies the potential of women irrespective of the field of work. Here is the story of Ellen Voie, founder, and CEO of Women In Trucking.
How Her Story Began
Ellen was one of the lucky people whose mom told her she could do anything she wanted, and there were no "girl" careers. Ellen's mom encouraged her when she took shop class instead of home ick (okay, home ec.). She learned woodworking, welding, drafting, and auto mechanics. That was in 1975, shortly after Title IX of the federal civil rights act was adopted to create a level playing field in education for girls as well as boys. Until then, girls studied home economics, and boys took shop class. Girls were finally able to play basketball, volleyball, and track and field in Ellen's small high school. When the boys got new uniforms, so did the girls, which was unheard of in those days, as most teams gave the girls the stinky old jerseys from the boys' teams after they received new ones. No longer!
"Shop class was so much fun, and my instructor insisted I was the best welder he'd ever had! I loved the auto mechanics lessons, and when I wanted to use the family car, I disconnected the distributor cap so my older brother couldn't get it started! These were more valuable to me than cooking, baking, or cleaning!" Ellen recalls. In 1978 she was hired at a steel fabricating plant in central Wisconsin, where she worked in the drafting department, designing material handling equipment, such as steel pallets, bins, and racking. It was fun, but not very exciting. In 1979, Ellen's mom passed away, and she was ready to move on, but her bosses asked if she wanted to transfer into the Traffic Department instead of drafting. Ellen didn't have a clue what was involved in "traffic," but they doubled her salary and sent her to school for "Traffic and Transportation Management." After completing the course, her boss left the company, and Ellen was then promoted to the position of Traffic Manager. They had three plants creating steel products as varied as material handling, fireplaces, and jacks. Ellen was responsible for bringing the raw materials into the plants and for shipping the completed products out to their customers. They also had three trucks of their own, and Ellen oversaw hiring, firing, and managing the three drivers.
Ellen ended up marrying a professional driver, and they started their own trucking company. She also did free-lance work as a transportation consultant while she ran their small carrier, raised two children, and attended college to earn her bachelor's and then master's degree in communication. Ellen was offered numerous writing opportunities in various magazines. Her monthly columns were about family life in the trucking industry. She completed her master's thesis on "The Complex Identities of Women Married to Professional Drivers.", and later published a book filled with some of her most popular articles called "Marriage In the Long Run." After twenty years, her marriage ended, and her children were nearly grown. In 2000 Ellen was hired for the position of Executive Director of Trucker Buddy International (www.truckerbuddy.org), where she led the program for six years. Then, Ellen was recruited by Schneider National to lead their retention efforts. Her job was to initiate corporate-level programs designed to attract and retain non-traditional groups, such as women!
At the time, Ellen was completing her pilot's license, and she belonged to an organization for female pilots. It struck her that there wasn't a similar group for women in the trucking industry; so, she started one. That was in 2007 when the Women In Trucking Association was formed. She copied a lot from the female pilot's organization but tapped into the people who supported this mission. Ellen had a great team who shared her passion, and they put together a fantastic staff, board, and support group. Today, nearly thirteen years later, Ellen has a success story she could never have imagined. So, that's her story and in a way, the story of Women In Trucking's beginning.
The Challenges of a Growing Business and Excellent Services
The first year was challenging. Ellen started Women In Trucking in March 2007 and immediately found herself in the middle of a recession. Companies were cutting back on costs, but she managed to attract 500 members in the first year. It wasn't easy, but they had a board of directors that were visionaries, and every one of them was passionate about creating a more diverse industry.
"The hardest part of starting a nonprofit organization is in proving that you will follow through with the promises you make to your members. Some people will join at first to see what benefits they can achieve through their membership, but if the association doesn't deliver on what it says it will do, they won't return. Fortunately, we have followed through on our promises and continue to grow each year!" she adds.
Whether you're a business professional or a professional driver, you'll find value in belonging to the Women In Trucking Association. Join the association, and you'll:
Gain a better understanding of women's issues in transportation
Discover guidance on improving your working environment
Find increased representation of women in the industry – both as drivers and in business positions
Gain ample opportunities to network with peers, experts, and providers
Find professional development support
Receive recognition for achievements
Gain easier entry into the trucking profession as truck drivers
Access opportunities to align your company brand and business strategies with the importance of workforce diversity
The Growth Strategy of Women In Trucking
The members who support the mission of the company are both corporate and individuals. In their first year (2007) they reached 500 members. By 2014 the membership jumped to 4,060 members in nine countries. They began aggressively deleting expired members, and now, as of today, they have 5,500 active and current members in ten countries. Fifteen percent of their members are men who joined because they believe in the group's mission. The growth strategy is to offer resources their members need and to be the leader in providing gender-based data for the transportation industry. Women In Trucking Association, Inc. is the leading transportation association devoted to advancing gender diversity through research and programs.
The Insights of a Leader and Her Future Plans
As CEO of Women In Trucking, over the years, Ellen has had the opportunity to add staff, and each time they grow, she can defer some responsibilities to others that aren't her strengths. For example, financial data is something she leaves to others, as she is the visionary who sets the future of the organization by defining their goals. What she truly enjoys is to share their message. So, Ellen's job is now mostly speaking and giving presentations (all over the world) and writing. Her degrees are in journalism (BA), and her MA is in interpersonal communication. This has helped Ellen communicate in both oral and written ways to share her passion for their mission.
Since Women In Trucking is a virtual organization with a staff that is geographically dispersed, they still need to work as a team. Each associate takes responsibility for their roles and must be able to work independently. To be hired at the Women In Trucking Association, individuals must be self-motivated, as there is no one looking over your shoulder to ensure your work is done. They are results-driven, and that keeps the team all focused on forwarding the organization's mission. "We represent ALL women in the industry; from those who design the trucks, build the trucks, sell the trucks, buy the trucks, drive the trucks, and fix the trucks, they are our members."
The association currently has members in ten countries, but they get queries from all over the world. Ellen anticipates that their influence will grow as they become a global leader in advancing women in transportation careers.
A few pearls of wisdom from Ellen to the aspiring businesswomen: "I would tell women to take risks. If you have a vision for something that makes the world a better place, then chase your dreams. Don't let anyone tell you it's impossible, because if you can envision it, you can make it happen."
As Ellen believes, 'Life Begins at the end of your Comfort Zone', she has truly lived her passion and pursued her dreams despite the challenges, making her journey inspiration to every individual.