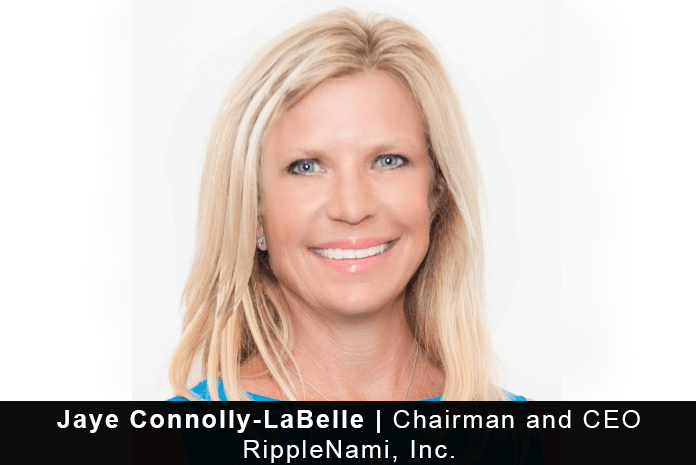 Technology is an exceptional innovation that has equipped us to connect and experience the different dimensions of modernization. However, choosing this field as a career option and securing a notable position in the industry as the owner of a technological company is an audacious step that not everyone is willing to take. But, an aspiring businesswoman, Jaye Connolly-LaBelle, dared to take that leap and founded one of the leading technological companies that has brought about a transformation, RippleNami, under her resourceful guidance. A woman of strength and perseverance, Jaye, explored a new dimension of technology and found herself an inspiring profession. She is a leading businesswoman and a proficient leader today, and CIO Views is honored to cover her story.
The Leap of Faith Leading to Success
As a single working mom, Jaye was and still is full of "tenacity." She didn't let any difficulties stop her; her resilience, strength, and determination drove her to work and study hard. Not only has she thrived in her early career in Oil & Gas then onto $3 billion of Mergers and Acquisitions which eventually led her to being a 3 time CEO leading to successful exits but her biggest accomplishment is raising an amazing strong intelligent daughter who is a fierce litigator giving women and children a voice in court. Jaye realized early that empowering women and children will make the world a better place. Jaye saw something in RippleNami, she knew it would impact the world and wanted to be a part of the sea change it had the potential to affect. Jaye is a fearless leader and was not afraid to dip her toe in the sand when she set out to do good. She had a vision of connecting 5 billion unconnected people with an easy-to-use technology that leverages the mass adoption of the cell phone. Jaye knew that if she could take this technology solution into developing countries, the world would forever be changed. First stop: why not start in Africa.
Jaye travels to each of the African countries working directly with African Presidents to solve their critical projects.  There are challenges conducting business in Africa, including political instability, loose regulations, disease, death threats, attempts on life and internal country conflicts. While trying to close a contract with an African leader, Jaye was poisoned by an internal government ministry who did not want the contract to go through. She rose above the incident and closed the deal despite the attempt on her life.  That is what defines a true leader who stands strong despite the challenges. RippleNami is currently working in 13 African countries along with the United Kingdom on life changing projects to uplift economies and communities.
The Incredible Services of RippleNami
RippleNami® is a B2B technology company working in developing nations to deliver innovative solutions that solve critical problems.  A global game-changer, RippleNami developed the first easy-to-use intuitive AI blockchain visualization platform allowing anyone to visualize big data.  Their mission is simple:  connect 5 billion unconnected people with an easy-to-use solution that leverages the mass adoption of cell phones.  RippleNami empowers nations and people with real-time information around the globe to easily connect and create positive change.
RippleNami recognizes that people empowered with real-time and easily accessible information around the world can connect and foster unimaginable change. RippleNami is redefining blockchain and mapping with the first visualization platform that consolidates big data and provides information that matters most to users and organizations. Its cost-effective, device agnostic cloud-based platform delivers millions of real-time actionable data points on an intuitive map to customers across enterprises, nonprofits and foreign government agencies that are enabling critical decision making and enhanced collaboration. With seamless integration, limitless customization and scalable architecture, RippleNami allows people to chart their world, streamlining communication and improving operational effectiveness.
In today's age of hyper-connectivity, there's so much data that it's easy to get lost in it all. To effectively adapt to often fluctuating conditions, organizations need a platform that enables them to quickly collect, organize and interpret data that is relevant to their operations and utilized by employees across the enterprise. Existing software programs are cumbersome, hard to implement, and expensive.
RippleNami's product is a simple blockchain data visualization suite that's easily customizable, user-friendly and cost-effective, enabling organizations to quickly assemble and access layers of data that are critical to their operations.  Our product suite is device agnostic and doesn't require extensive training or a geographic information system expert. With endless applications, RippleNami puts the power of big data and sophisticated technology directly into the hands of organizations so they can focus on what's most important visualizing their world.
The Growth Strategy of an Advancing Business
Despite $150 billion each year in global development investment and humanitarian aid, few African economies have been measurably elevated.  And yet a clear majority of these countries are immensely rich in resources and most importantly in untapped human capital.  RippleNami is working to disrupt this historical trend by working with these country's governmental leaders towards establishing greater sovereignty.  By identifying each country's citizens, quantifying their collective assets and enabling those citizens to enter into the local and global market through RippleNami's blockchain platform, citizens in effect become shareholders in their country's economic performance collectively referred to as a Smart Country. In Africa over 700 million people live in extreme poverty and are denied from basic opportunities that are common in the West such as a bank account, the ability to sell their products to broader markets or being able to buy items that are vital for their small businesses. As a forward-looking company, Africa's challenges provide unlimited opportunities to innovate and address massive unmet demand across all sectors affecting a person, such as identity, energy, water, agriculture, health, government, economy, housing, education, employment and security.
With 40% of the African current population under 16 years old, Africa will become the largest marketplace by 2030.  They are witnessing the power of technology taking hold in countries that have long been denied economic prosperity and are now enjoying empowerment through connectivity.  In 5 years, Jaye led the company to positively impacted 80 million people in Africa, 1 million livestock and 2.8 million veterans in the U.K.
The Woman Behind the Success
Jaye serves as chairman and chief executive officer of RippleNami, Inc., a global artificial intelligence, blockchain, data visualization technology company working in developing countries. Jaye brings more than 35 years of leadership experience to her role, which she garnered from various positions held in the finance, technology, audit, oil, gas, mining, healthcare, mergers and acquisitions areas, as well as in key C-level roles she served in at both private and publicly traded corporations. In her leadership role with RippleNami, she is responsible for development and execution of the Company's long-term strategy with an emphasis on creating a difference for the unconnected population.
Jaye is experienced in leading publicly traded as well as privately held companies and start­ups. Her public company experience spans key roles at six publicly traded corporations. Over the course of her career, she led 18 accretive acquisitions, adding over $2 billion to revenue. Jaye also possesses significant IPO experience.
Previously, Jaye served at the following companies listed below.
chairman, president and chief executive officer of PathCentral, Inc., which was acquired by XIFIN;
chairman, president and chief executive officer of A-Life Medical Inc., which was acquired by UnitedHealth Group;
vice president of business development and mergers and acquisitions at InSight Health Corp. acquired by Center for Diagnostic Imaging;
director of internal audit at LabCorp;
finance director at Domtar, Inc. a mining & forest products Canadian company;
audit and compliance at Pennzoil, Inc. acquired by Royal Dutch Shell.
Jaye earned her Bachelor of Science degree in accounting with minors in computer science, oil and gas from Texas Tech University. She has also been awarded with numerous recognitions in appreciation of her inspiring journey. To name a few, she is the recipient of:
CEO of the Year
50 Top Influential Leaders
Top 100 Leaders
Top 500 Influential Leaders
Most Admired CEO
International Women of the Year
Businesswoman of the Year
Women of the Year
Female CEO of the Year
Women Who Mean Business
"In a start-up working in Africa, CEOs roll up your sleeves and fill voids all the while creating the strategic roadmap leading to shareholder value.  It is truly an honor to work with an amazing team driven by the same mission.  To make a simple difference in people's life is our legacy goal.", Jaye shares.
The Vision and Motivation of RippleNami
RippleNami's mission is simple:  connect 5 billion unconnected people with an easy-to-use solution that leverages the mass adoption of cell phones. Imagine a world where you have all the data that is important to you at your fingertips… a world where vast amounts of data can be visualized so it is easily understandable and actionable… and a world where everyone who has a phone will have equal access to the benefits that this technology will bring. RippleNami's imagination ran wild with the mission to connect 5 billion unconnected people and execute on their global vision of inclusion.
RippleNami is driven by a profound purpose to empower these region's people, society, and independence through technology and our commitment to end poverty.  Their team's indifference to the high-risk of exposure to corruption as well as the diseases, kidnapping and assassination threats sets us apart from other organizations. Where other companies chose to pivot to less volatile market conditions, RippleNami doubles down.
An Inspiring Experience in the Success of a Businesswoman
Early 2017, Jaye and her daughter were honored to spend a great night with Ms. Joanne King Herring.  A truly inspirational evening full of "tenacity" and amazing success stories.   The international socialite, global political activist and former Texas television anchor – Joanne is known for her improbable fight with the Mujahedeen against the former Soviet Union.   These events inspired the book Charlie Wilson's War, consequently, Julia Roberts played Joanne in the movie.
In 2009, Joanne founded Marshall Plan Charities to complement the ongoing U.S. military effort in Afghanistan by rapidly and effectively redeveloping normal, healthy civilian life village by village.   The charity created a successful holistic model of simultaneously introducing the "essential five" into a village – clean water, food, health care, schools and jobs.  Toward this end, they assembled a team of Afghan-focused NGOs and institutions which worked together, with village leadership, to provide these civil essentials village by village rather than project by project.
Jaye thanked Joanne for being such a strong role model!  Joanne shared with Jaye the only way to make something happen is to keep at it. When you fall and you will, get back on that horse and try again.
The Future of RippleNami and A Leader's Thoughts
In today's world, when it is it often hard to trust each other, the RippleNami solution becomes a trusted platform on which to collaborate, access economic opportunities, deliver services and conduct business. Their laser focus is to continue to rapidly deploy the technology throughout the African continent one country at a time and lifting an entire population to levels unseen in modern history.  They rely heavily on their amazing local partners who share their vision of connecting the unconnected population with data they need not only to survive but to thrive.
Jaye dreamed of doing something good to make a difference in peoples' lives and she was successful in achieving her dream. Her exceptional knowledge and innovative ideas have made her a leader of success leaving a trail on inspiring stories for aspiring entrepreneurs to follow. She has not only succeeded in her will to empower women but has also set example for every person who aspires to inspire. With a phenomenal tale of success, Jaye truly spells woman empowerment.