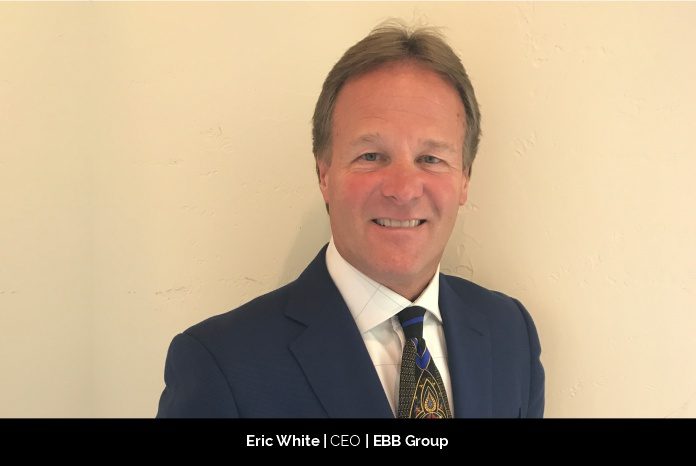 Getting inner satisfaction by doing the best work and making a difference drives Eric White, CEO of EBB Group, to strive for the best and augment the company's growth.
Creating a reputation in the market takes time, so it is one's duty to guard it with everything. Eric defies the notion of compromising his morals for short time gains and aims to honor his clients and company with the correct methods.
Climbing the ladder of success
Eric was always filled with high determination and self-belief. At the age of eleven, his father passed away, which pushed him to understand the laws of life and grow up fast to become financially independent. He swiftly learned to build relationships and create a network that will help him progress further.
He expanded his knowledge base in the marketing and finance domain by attaining different degrees. Eric states, "During my 20's I worked for some of the top companies in the country: Frito Lay, Kraft Foods, Dart Container, and I learned a great deal from all of them about professionalism, work ethic, politics, processes, and I didn't want to be part of a large company."
In the back of his mind, he always knew that to become a successful leader, he had to take matters into his own hands and build his own company. Having a strong academic base and vast experience in finance and marketing, he backed his skills and marked the advent of EBB Group.
Crossing the roadblocks
Eric believes that life challenges groom the personality of the individual if seen with the right perspective. He adds, "You have to be able to look in the mirror and be honest with yourself on where you are and where you want to be"
Having a curious nature and expanding the academic base are prime traits to climb the ladder of success. Education is not limited to books and college classes. Real education is gained from life where a person understands the importance of creating and nurturing relationships. Eric expresses, "You learn that work ethic is not a 40-hour workweek. It may be a 120-hour workweek, but it is no longer work if you love it and are committed to what you are doing."
Being too ignorant, inexperienced and a young fellow, in the beginning, welcomed a lot of issues for Eric. However, with a strong will, great confidence, and self-belief, he tunneled through them to achieve success. He also believes in GOD and trusts his plan for him.
Redefining investment banking through EBB Group
EBB Group is a 26-year- firm offering investment banking services with locations in LA, NY, Dallas, Chicago, Charlotte, and Tampa.
Eric mentions, "We have 42 people affiliated with our firm, as we have a combination of investment bankers and businesspeople ( CFO's, operations, marketing, sales, etc. ). We mostly represent private company sellers in M and A transactions ranging from an enterprise value of $10-500 million. We also do capital raises and debt restructuring."
At EBB Group, every employee resonates with the core principle that is to help people. Eric looks for people who share the same vision and tries to include them in the company to create better results. Money is never the end goal for the team, it is the by-product of the services they offer to their clients.
To ensure a culture of integrity, Eric aims to hire the right personnel and broadcast the message that no one in EBB Group cuts corners to make short-term gains.
Their mission is bigger than investment banking. Eric truly wants to make a difference in other people's lives and be a humble servant to his clients and employees.
He believes in leading the business by example, and he wants everyone to know that he will not compromise his morals for any deal or any amount of money. Eric stresses the point by adding, "My goals are never tied to the number of deals closed or the amount of money made, it is about doing the right thing and living the right way, and the rest will take care of itself."
Life as the CEO of the company
Eric states, "I own 100% of the company and am 100% responsible for what happens." However, he understands the value of a solid team and knows when to lead with example and when to give onus to his trusted team to create better results.
He likes to prioritize the upcoming week in advance so that he can adjust inevitable, unexpected things with ease. Besides fueling the growth of the company, he likes to travel and enjoy life.
While he gets his constant dose of motivation by giving his best, he believes that everyone has a different source of motivation. For some people, it's money, and for others, power, prestige, or recognition has a special place. On the other hand, the inner drive to achieve success comes from inside and is a rare trait that fuels the person to grow individually. An employee who grows on an individual level will create better results for the company. So, he aims to hire people who have the spark to achieve something big.
He adds, "When I hire people, I listen closely for that inner drive and how it manifests itself in their lives. It is impossible to fake it, and you either have it, or you don't. There is something very satisfying about having your compensation tied directly to your individual performance! I look for those kinds of people that are not satisfied making $200,000 per year and feel they are worth $1,000,000 a year."
Achieving the work-life balance
He believes in creating a balance between the professional and personal front. Being a passionate leader, he strives to achieve more, but on the same side, he loves to spend time with his family and travel.
Eric comments, "I never wanted to wait until I retire to enjoy life, so I make sure that I spend a lot of personal time enjoying life."
Future prospects
Eric states, "We have great plans and ambitions for the future. I want to keep adding top-quality people and keep honoring our clients. My wife and I participate in charitable giving that sends money to very worthy causes, and so we want our success to benefit as many needy people as possible."
For more information, contact Eric White at ewhite@ebbgroup.net.