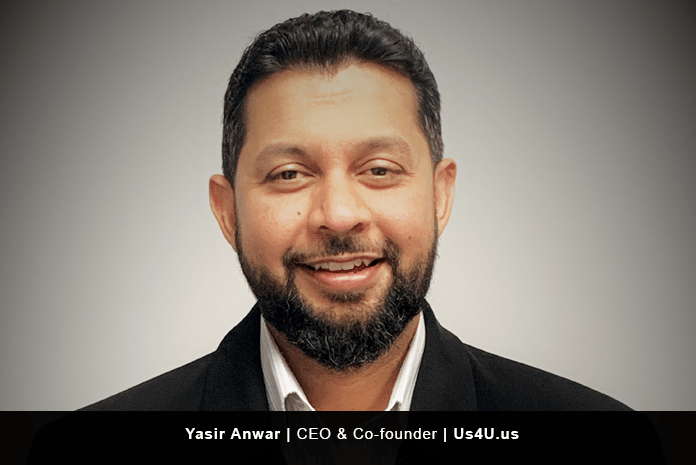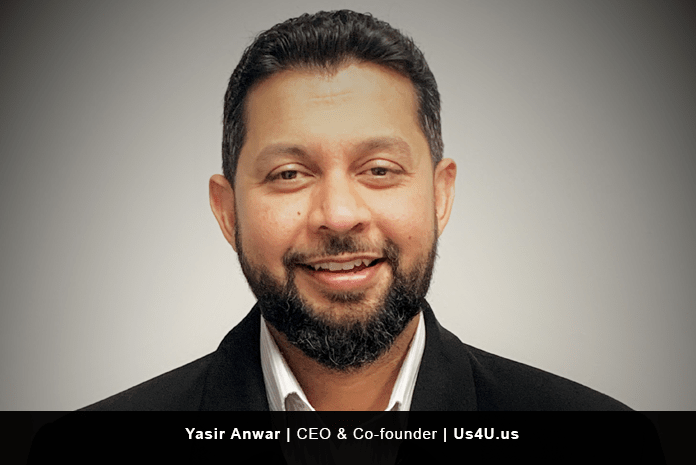 Us4U is one of the leading companies who encourage employers to regain control of Unemployment Insurance (UI) claims administration and costs associated with the program, using their web based, secure and efficient software system. Us4U brings order, simplicity and accountability while eliminating the errors and duplication of efforts often associated with outsourcing the program. The company is growing under the guidance of an incredible leadership headed by their CEO and President, Yasir Anwar. Nurtured with great values, Yasir is an honest and authentic leader, who has stood firm on his grounds regardless of the challenges. Prior to Us4U, he worked at Executive level positions at Healthcare Audit firms. He also worked in the mortgage industry in the capacity of Application and Systems development.  A leader of power and perseverance, with vast industrial experience, Yasir is one of the leading businessmen of today, and we are thrilled to share a brief overview of his inspiring contribution towards the success of Us4U.
The Foundation and Growth of Us4U
Us4U's founders started the company with a basic idea to create a software application for employers to process their own UI claims. Originally it was created for Staffing Agencies to provide them with a streamlined and paperless environment in Unemployment Claims Processing. Now their applications are used by Third Party Administrators themselves, PEO's and individual employers managing their claims in-house.
The biggest challenge initially, was the difficulty in educating employers regardless of size or type of business that they can have full control of their unemployment insurance program by bringing it in house. However, Us4U thrived through every major and minor setback making a mark in their field of business.
Over the years they have seen more and more companies gravitate towards new technology but the adage of 'if it ain't broke why fix it' is still a very prominent way of thinking by many businesses. There are still many companies that prefer traditional methods of doing business. This has been and continues to be a roadblock to try and educate companies that they need to use innovative technology to stay competitive. They overcome this by making their products user-friendly and cost effective. They also provide training methods and fanatical support to their clients that has helped Us4U change the old way of thinking.
The Services of Us4U
Us4U offers unemployment insurance management software tools to companies of all sizes and their product lines include the following:
UCA 360 (Enterprise) – The Unemployment Claims Auditor gives employer the power to take complete control of processing and maintaining unemployment claims records.
UCA Lite (Cloud) – This application gives employers with low claim volume the opportunity to process and track claims in a cloud-based environment.
Extractor 360 – This tool using OCR technology allows you to simply scan claim and charge documents and automatically populate all the required data fields to UCA or any internal database application.
The Unemployment Tax Auditor – gives employers the ability to complete tax rate projections, verifications, voluntary contributions and joint account analysis for multiple companies.
SIDES 4 U – Us4U can build the connectors to SIDES for all states at a fraction of the cost of an internal IT department.  This Department of Labor mandated initiative enables employers to respond to the state agencies electronically for different levels of claim activity.
Unemployment Team Development – is a consulting service to assist businesses with creating an internal UI team. They will assist with all aspects from hiring the right staff to process your claims, hearing representation to application training.
The Development Strategies
Us4U to some extent is a niche market in which there is very little competition which gives them the possibility to grow exponentially. With a product development strategy in place for future growth they want to introduce new software in the arena of Workforce Management Solutions which include Work Opportunity Tax Credit (WOTC) and other Federal, State and other local municipal tax. Not only is the company developing new products, but they are also enhancing their current product lines as well.
The company's growth has been successful over the past couple years. From their first software for Unemployment Claims Auditing to now offering their Benefit Charge Auditor, Tax Rate Auditor, Extractor 360 in addition to electronic data import and SIDES Integration. Due to the increase in product diversity they have seen an increase of over 20% in the last two years.
The Vision and Future of Us4U
"We aspire to have technology meet innovation. For example, with our integration of Artificial Intelligence and Machine Learning within our current UI software we believe we will be able to achieve this vision and be trailblazers in this market. This grandiose thinking is what sets us apart from the rest and we continuously seek to improve. We provide additional tools to increase the productivity and efficiency of our clients.", says, Yasir. Their quest to find ways to automate processes, provide bountiful reporting capabilities and commitment to create unique solutions has enabled them to consistently excel in the workforce solutions field.
Yasir and his team flow in one vision together. He is a leader of passion and is responsible for strategic planning and execution in the areas of software, staff and new product lines. "Seeing company growth and innovation in the areas of technology and product development, makes the journey more interesting and challenging daily.", he adds.
Their goals for a brighter future:
They are planning to move into the Canadian sector to offer their software solutions.
Upgrade UI program to integrate Artificial Intelligence and Machine Learning
WOTC state of the art software built in the latest Microsoft technology, .Net Core
Us4U's unwavering commitment to success and innovation and providing solutions to a need, helps the organization come up with new ideas, products and methods. Having big and bold ideas gives their employees a sense of purpose and being part of a team that trusts its employees drives them to stay motivated and develop new talent steering the company to the path of incredible success.