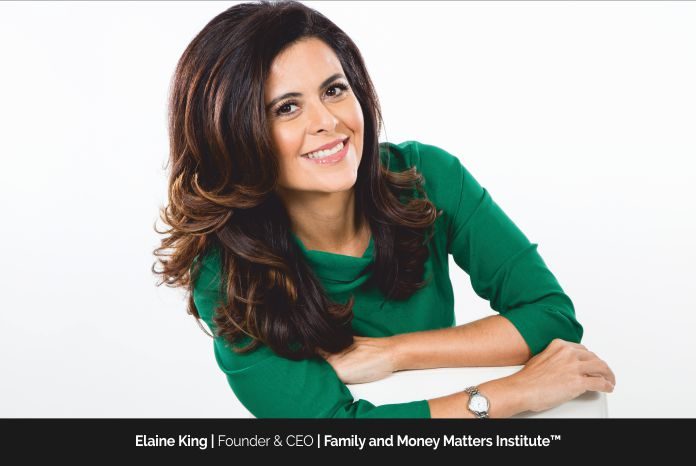 Elaine King Fuentes is an award-winning author, international speaker, and the founder of the Family & Money Matters™. Her mission is to assist families in attaining financial well-being through actionable strategies, empowerment tools, and educational programs.
Elaine founded Family and Money Matters™ a decade ago to provide bilingual financial planning services to individuals, offer family governance guidance for multigenerational family enterprises, and deliver financial education programs to employees of Fortune 500 companies and institutions. She is a dedicated advocate for financial education while also providing guidance on investment and family constitutions. The company's mission is to empower both financial and human capital within families to achieve financial well-being.
Family and Money Matters™ clientele ranges from multigenerational 150-member family enterprises to Fortune 500 companies to individuals. Elaine has served as the Family Financial Planner for over 1,200 families and 100 multigenerational family enterprises, crafting actionable family financial plans. Her goal is to enhance financial literacy knowledge, particularly within the U.S. Hispanic population, to help families reach financial prosperity.
From a Young Adventurer to a Financial Industry Leader
Elaine's journey began at a young age when she left home at 17, traveled overseas with her luggage and golf clubs, and embarked on a path that eventually led her to New York City. She graduated from university with a BBA in just 3 years. Over the course of more than 20 years, she had the privilege of ascending the corporate ladder within some of the world's largest and most influential financial institutions. During this time, she provided valuable advice to international families, offering actionable strategies for creating healthy financial plans, structures, and family governance. Elaine's career included pivotal roles at International Trust Companies, Family Offices, and Investment Advisory firms.
Bridging Cultural and Financial Gaps
As a Latina, Elaine King understands the unique challenges and opportunities many families and individuals face in their quest to create financially savvy and economically healthy households. This is why she is dedicated to making money and financial planning a positive force in communities, particularly for women.
Elaine was born in Peru, and Spanish is her first language. She has lived in Austria, Mexico, Japan, Peru, Canada, and comes from a lineage of immigrants, with her grandmother traveling from Hong Kong to Peru, and her grandfathers hailing from Spain and England. Growing up in such a diverse environment required her to adapt quickly. However, regardless of language or culture, numbers remained a constant for her, leading her to continue nurturing her knowledge in this area.
Guiding Clients to Financial Well-Being
Elaine's approach to helping clients at Family and Money Matters™ is to be relatable and assist them in understanding the emotional side of their relationship with money. This approach ensures that financial goals align with actions and behaviors as relates to money. Over the years, Elaine has observed many individuals who put their financial lives on autopilot. Instead, she encourages them to take a more active role in their finances and approach financial matters with purpose. While the world of finance can be overwhelming or intimidating for some, Elaine believes it doesn't have to be that way. She helps her clients and television audiences break down seemingly daunting objectives into smaller, achievable goals with actionable steps that can improve their financial well-being.
Making a Lasting Impact
Elaine's impact in the financial education space extends to various forms, from delivering over 350 lectures in 35 cities to being featured as a financial expert on prominent platforms such as CNN, Telemundo, Business Insider, Wall Street Journal, and Forbes. However, her most substantial impact comes through her books. She has authored eight books that cater to diverse audiences, including teens, families, women, immigrants, couples, kids, and family enterprises. One of her most well-known books, "Family and Money Matters: Life Lessons for the Next Generation," has achieved bestseller status. In her books, Elaine shares real-life cases, strategies, and roadmaps to help readers strengthen their relationship with money and provides actionable advice to overcome potential obstacles on their path to financial well-being.
In 2023, Elaine is proud to have been named the 10th Most Influential Financial Advisor in the Investopedia 100. Prior to this recognition, she achieved another significant milestone by being named one of People Magazine's 25 Most Powerful Women in 2017. Elaine expresses gratitude for these accolades and the opportunity to positively impact countless individuals on their financial journeys. She eagerly anticipates the future and the opportunities it holds.
On a Mission to Empower and Educate
Elaine's professional identity can be summed up in one word: impact-driven. Her typical workday starts with exercise and catching up on investment news, setting the tone for productivity. Throughout the week, her schedule includes client meetings, strategy development, networking, and content creation. To promote financial literacy among diverse audiences, Elaine actively produces content in both English and Spanish on her various social media platforms. Her client-centric approach goes beyond numbers, aiming to empower individuals to shape their desired lives and achieve their aspirations through sound financial practices.
Elaine remains dedicated to helping people thrive financially by collaborating with companies to implement personalized educational programs for their teams. Recognizing that investing in employees' financial well-being is a key driver of productivity and success, she is particularly committed to keep reaching millions of Hispanics and women who, with the right knowledge, can transform their lives and harness the positive influence of money, rather than letting it control them.
Keys to Motivation and Success
Elaine emphasizes that motivation comes from within, and she places great importance on the first few minutes of her morning routine. She regularly reviews her own goals and those of her clients, focusing on a team-oriented environment where everyone contributes to the core strategic plan and financial goals. Elaine believes in the power of prioritization and practices discipline by limiting her daily focus to three key tasks. She also organizes her responsibilities by categorizing them by days and blocking off time on her calendar.
On a personal level, Elaine finds motivation through meditation and her passions for golf and scuba diving, which she makes time for on weekends. Spending time with her family is another source of motivation and fulfillment for her. Elaine recognizes that success, especially when it comes to optimal financial health, involves being well-rounded and engaging in experiences that enable individuals to be positive forces in the world.
Defining Success
Elaine recognizes that success can be defined in various ways, and it often depends on an individual's unique perspective and goals. In her role as a certified financial planner, author, television personality, and keynote speaker in the U.S. and LATAM, she has had the privilege of working with diverse individuals and families. One common factor she observes is that achieving optimal financial health provides the freedom to make choices and define success on one's own terms. Success, in this context, is about having the means to pursue one's goals and aspirations with greater flexibility and independence.
Path to Financial Leadership
Elaine emphasizes the importance of education and purpose in one's career. Education provides the qualifications and preparation necessary for various situations. She holds a B.B.A in International Finance with a concentration in European Markets from St. Mary's University and an International M.B.A from Thunderbird School of Global Management. Elaine also continues to stay relevant in her field through ongoing certification programs and postgraduate studies.
Elaine's message to aspiring financial leaders is to find purpose in their work rather than purely focusing on monetary gains. She believes that one should prioritize education and certifications as they provide long-term benefits. Knowledge is a valuable asset that equips individuals to support and positively impact others. In essence, she encourages individuals to find purpose in the pursuit of financial success while also prioritizing personal growth and the betterment of others.
Quote:
When your financial actions align with your values, you will be closer to success.
Healthy finances aren't just about numbers; they empower you to thrive in harmony with life as a whole.
Most individuals do not innately know the purpose of money; they think it's simply to pay bills and maybe save. With purposeful financial actions, you can make money work for you and improve your family's well being
Most financial decisions are made at an emotional level; taking a step back and aligning actions with goals, will lower the financial stress you feel right now