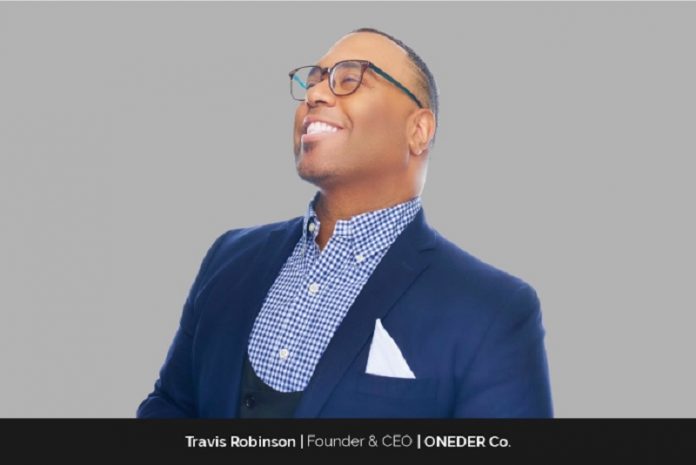 Over the years, the meaning of success has undergone various changes for him, and he views it as a process that evolves as you progress through life. During his formative years, success was defined by accomplishments and achievements. This was fueled by perfectionism and perpetuated by a sense of not belonging, not only within an environment that may not have been inclusive of his identity but also within himself. As he grew and developed a genuine sense of belonging, as well as becoming more comfortable with his own identity, success for him has come to mean living with intention on the avenue of purpose. He is Travis Robinson, the Founder & CEO of ONEDER Co. (goes by ONEDER) – a dedicated impact entrepreneur committed to the intersection of purpose and profit. Travis explains, "How I define success is when I feel present in the work of my purpose, and I see the intended impact from that purpose."
Led by Travis, ONEDER is a multi-hyphenate company that focuses on brand strategy & experiential solutions to effectively reach multicultural and marginalized communities. The team's purpose is simple – from the margins into the center of access and opportunity. ONEDER is developing global solutions for companies and individuals that cultivate connection – being the conduit to true transformational change the world needs when it comes to greater diversity, inclusion and belonging in society. After Travis' career transition in 2022, he realized that the purpose of his work could be expanded and reach a greater and deeper audience engagement through ONEDER – moving from intrapreneur to entrepreneur. Over his corporate executive career, Travis has had the honor to work for influential, multi-billion-dollar companies that changed his life. "I learned so much from each of those brands, and now is the time that I fully walk in my purpose and take the expertise, experiences and cultivated impact to help other companies and scale the work of DEIB directly to individuals. I am excited about going beyond the (virtual) walls of an employer to reimagining how I can take a more holistic approach to helping those who've historically been marginalized come to the forefront of opportunity. And opportunity is not only defined in a career or full-time employment capacity, but also financial opportunities, ownership opportunities, angel investment opportunities, brand partnership opportunities for artists and creators – I'm talking about generational wealth and health!" he says.
Developing resilience and courage through transformative leadership
Travis holds a bachelor's degree in Business Administration and Accounting from Lee University, a master's degree from The George Washington University in Strategic Public Relations through The Graduate School of Political Management, a certification in Executive Coaching and Mentoring from the Management and Strategy Institute, accredited by IACTM, and a license in real estate salesperson from the California  Department of Real Estate Prior to being Founder & CEO at ONEDER, he served as Senior Director of HR and Global Head of Diversity, Equity, Inclusion (DEI), and Social Impact at Airtable. Before that, he re-joined Spotify as Senior Director of HR and Global Head of Diversity, Inclusion, and Belonging, which also included focus on employer branding, early career talent acquisition and mental health programs. He was also part of the leadership team for Spotify's Creator Equity Fund and Racial Equity Fund. During his time at Universal Music Group, he was Vice President of HR and Global Head of Diversity, Inclusion, and Belonging at Universal Music Group, the first for any major music label company, which also included focus on employer branding, early career talent acquisition and mental health programs He was also part of the leadership team for the Universal Music Group's Task Force for Meaningful Change.
Before joining Universal Music Group, he led global Diversity Recruiting & Americas Early Career programs at Spotify. During his early corporate experience, he held talent acquisition and diversity-related roles at J.P. Morgan, The Federal Reserve System, and W Hotels.
Travis is actively involved in equity and impact work for underrepresented and underserved communities with his community engagement and business development work. He is an accredited investor, start-up advisor, and board member for various companies.  Most recently, Travis was announced as a new board of director at The LOVELOUD Foundation. He is an advisory board member at The Hello Group, We the Project, TrustEscrow, and ADCOLOR in Music.  He also serves as a member of The Warner Music Group's Global DEI Institute, The GAINGELS Network and The Recording Academy. His tenure with each organization has resulted in gaining valuable knowledge and wisdom and allowed him to observe transformative leadership in action, developing resilience and courage. He is grateful for these experiences, as they shaped who he is today and the opportunity to launch ONEDER.
"As a People & Culture leader, you have to first meet people where they are and not where you want them to be.  You must bring people along the journey, buy into a better path forward, and help them understand you are going to walk alongside them as they grow & take action."
On a journey of uncovering the wonder and awe of inclusion inside and outside the workplace
Travis has been on a journey of self-discovery in realigning his purpose and next steps in his career.  He decided to explore a learning experience through The Purpose Company with Brian & Gab Brosche. During this process, he sought to uncover the wonder within his own story and find the awe he was searching for. This led him to reflect on the moments where he had overcome challenges, and he discovered a common theme of overcoming trauma and creating opportunities for himself and others. Travis believes that there is great power in overcoming challenges and that they make you stronger.
In the journey of DEIB, Travis acknowledges that gaining buy-in at critical stages in the organizational DEIB building process can be the first opportunity to bring individuals together on a clear plan forward that is relevant, and authentic to their identity, products/services and customers. It is easy for people to fall into the trap of comparing their progress to that of other companies or setting unrealistic goals. As a leader, Travis understands the importance of meeting people where they are, rather than where he wants them to be. The key to effective leadership, according to him, is building relationships with people, as this is a people-oriented business. Travis emphasizes that each individual has a different level of awareness and knowledge, and there is no one-size-fits-all solution. The approach must resonate, be relevant, and authentic to the company's values and culture.
Travis believes that leading DEIB initiatives is no easy task, but it is a job with a significant impact. Travis has had the privilege of leading DEIB efforts for several outstanding organizations, and he has come to a realization – "how do I want to show up in this world?" This question not only applies to Travis personally but also to the brand itself. He sees DEIB as an opportunity to increase awareness, build meaningful relationships, and being bold in integrating DEIB work into the business with intentional steps that can connect to greater profitability.
A call to action for deeper authenticity, vulnerability and intention within the workplace
For Travis, taking the leap into DEIB work reflected his own journey as a multi-hyphenate minority searching for love and belonging both inside and outside the workplace. He was inspired to create environments and promote awareness where he himself would feel seen, heard, and valued for the full picture of who he is, beyond just one aspect of his whole identity. He says "it took me a long time to get to the place of full acceptance and love of who I was. I remember even as a young teenager, feeling 'other-than'. I would pray and pray for years, over a decade to be changed and 'like others' I wrestled with this reality at the intersection of my faith and love orientation. There were even moments when I had experienced aspects of conversion therapy in my life to try to change who I was. For most of my life, I tried to be someone else, other than myself. At age 13, within a year of each other, I lost my older brother and twin siblings from a miscarriage. I told myself I was doing all these great achievements in high school and college for my siblings' legacy. I found myself existing for the achievements and acknowledgement of someone else's identity. Yes, I believe it is important to carry on the namesake of those family members, but I found myself not living for my own purpose and plan. It took me finding a career that leaned into organizational culture that helped me feel more comfortable within my own skin. I thought, well, if it is my job to speak about welcoming all types of individuals, no matter who they are, and try to cultivate inclusive environments at different companies, maybe I too can feel that." For Travis, DEIB is not just a program or initiative, but a way of life that should be integrated into one's personal and professional fabric. He saw the potential to be an advocate and a catalyst for meaningful conversations, initiatives, and programs that would benefit not only himself but others as well. Travis believes it is within intentional steps forward to build relationships and understanding amongst differences, will be where synergies and collaboration can be expanded. In the workplace, having focus on what it takes to lead diverse teams in a way that incorporates and benefits from the unique and extensive experiences that the team brings, can lead to high-performing and innovative teams. Travis witnessed this first-hand while working at global brands like Spotify. He saw the magic behind global cultures and experiences come to the table, and how team members learn how to work with each other and find the strengths from ideating together helped produce some of the most impactful programs and initiatives for the company. An example of this was the expansion of Spotify's diversity, equity and inclusion initiatives to go into countries across Southeast Asia and Latin America to better understand what the local issues were to address. It took the knowledge and expertise globally to activate a solution that would resonate and impact actual global systemic change.
At the heart of ONEDER's mission is the goal of advocating for and amplifying the voices of those who are underrepresented, underserved, and from multicultural backgrounds. They believe that by focusing on access to opportunity, development and growth, and generational wealth, they can make a meaningful difference in these communities – on the individual and corporate level. Helping individuals find their way and plan of action, and also helping companies engage effectively with these communities Travis is particularly excited about this pivot because he sees it as an opportunity to expand his impact beyond one company he was employed by, but now a free agent helping others at scale. By serving as a conduit for diversity and inclusion in everyday life, he hopes to reduce the size of the equity gaps that exist in society.
"With ONEDER, we are here to be multi-hyphenated. The reality is many of us have a desire to reach success – which has meaning in different arenas in our lives. It is not only a professional success, but it is also a personal and financial goals. We want to cultivate meaningful partnerships and experiences that help people navigate their dreams into results and also for companies to effectively reach these audiences as well. It takes a holistic approach to this work. I believe we are the one-stop-shop to take clients from wonder to awe – from dreams and hopes to result and seeing those dreams realized. We are the connection from start to finish. For example, our ONEDER People division is working with companies to reimagine their people, culture & brand efforts. We walk alongside teams to provide solutions related to organizational culture transformation, DEIB, employer branding, inclusive talent acquisition and multicultural audience engagement with their brand/marketing teams. Our team of consultants have helped clients with brand strategy, people experience events, leadership development, and strategic approach on inclusive talent acquisition.  This expansion is not only about us on this new journey, but also the opportunity at hand to be able to be part of the change we want to see in this world, where those at the margins gain access to opportunity at the center.," says Travis.
"I wanted to create spaces, experiences and connection that could be where I wanted to feel seen, heard, welcomed. Not just in the workplace, but in the marketplace and throughout global cultures."
Liberating and accelerating life's purpose
Travis views this new career journey in DEI as a liberation and acceleration of his life's purpose. He has had the privilege of working for amazing brands and leaders, and now he sees the opportunity to curate those experiences and apply them to an expanded audience through various formats of impact. What excites him the most is the ability to take intentional actions that create lasting impact in people's lives. For Travis, this work is about making a positive difference in the world, and he is thrilled to be able to pursue this goal through ONEDER.
Travis has made a deliberate effort to carefully select the people he would involve in the execution of ONEDER. He explains, "I am strategic with the people we have as clients, and also our network of ONEDER advisors who are on the frontlines with our clients. Our teams in each division are so uniquely qualified, and more than anything, they are folks I personally respect, value, learn-from and believe can make a massive impact for our clients. Even though we all come from different experiences, backgrounds, and are located across the globe, we are aligned in the mission of why we are here and how we go about this work – this is exactly the way it should be in companies! So, I am trying to lead by example with our own brand. I am building a team for the future, where we accompany each other's opportunities and gaps, while also accelerating our superpowers – all for our clients and the greater good of those who've been historically marginalized.
Travis acknowledges that the best recognition he has received is two-fold. Firstly, when he sees former interns, he has helped get their first career opportunity with going on to become successful business leaders and world changers – many of which are now founders/CEOs of their own company, corporate executives and influential culture leaders across finance, tech, music and entertainment industries He feels honoured and rewarded when he receives messages from these individuals who credit him for believing in them and seeing the greatness in them early one. He feels proud to have played a small part in their success and seeing them receiving awards and recognition for their work is the most rewarding recognition for him. Travis says, "This is what purpose is all about. It is when the work you do in life helps others and you receive fulfillment from the outcomes of that work. I am so grateful to have been in a position where I could be part of the process that helps others unlock the wonder and awe in their dreams."
Secondly, Travis recognizes the possibilities that come with deeper clarity in his purpose. He believes that his work in DEIB is more than a career choice, it is his purpose in life. However, it was through those previous experiences that he found clarity in identifying that as his purpose. At this moment in his life, he has found the sweet spot of continuing helping companies in their organizational culture efforts, and also the opportunity to go beyond the internal workplace experience. Taking this work of DEIB into other facets of brand & culture activations and experiences. He believes the integration can cultivate a bigger business impact than it is. Travis talks about envisioning new endeavors into venture capital, artist & creator services, talent & brand management, and further expanding his real estate & commercial business footprint. "I have a vision for ONEDER for others, but also for myself. I too am the target audience. As I lead this corporation into the future, I believe we will see greater representation in places and spaces where black and brown, women, LGBTQ+ and other multicultural folks weren't allowed or even aware of. I believe our potential to disrupt and create that 'Belonging Table' is real and obtainable. I will never lose my wonder in the opportunity where ONEDER can show up. I believe God has called me to such a time as this. I am standing flat-footed, open and in-tune to the rhythm and flow of what is to come," he says. Being able to live out his purpose and make a positive impact on people's lives is the ultimate recognition for him.
Importance of discipline and consistency in everyday work is paramount.
Travis acknowledges that stepping into this new role in a full-time capacity is uncharted territory. He talks about the shift of mindset that is needed, "When you are making a shift like this, you have to put in the work to shift your mindset first. The idea and vision will be there, but how you go about operationalizing your value is something to get used to – the intrapreneur to entrepreneur life is different. The hustle and work are ongoing, and you don't have the once proven security of every two weeks getting that paycheck or comfort of the perks." He understands that the typical workday comes with various focus areas, challenges, and deliverables, and with that, sometimes the tasks can be unpredictable. However, he stresses the importance of recognizing the investment he is making in himself and the vision he has for the corporation. By maintaining discipline and consistency in his daily activities, and a true sense of faith and hope in something bigger than himself, Travis finds the zeal to settle into his new day-to-day life.
For Travis, no two days are alike when it comes to a regular workday and the challenges it may present. Nonetheless, he emphasizes the importance of discipline, consistency and vision in how one approaches each day as a CEO, with certain habits and behaviours taking priority such as weekly meetings with his global team to discuss client proposals, projects and opportunities. As the Founder & CEO of ONEDER, Travis notes that his role varies during different phases of launching and running a business. Currently, his regular workday is centred around client relationship building, product/service development, business and lead generation, and scalable market strategy for phase two of the company's launch year.
Although it is difficult to describe a "normal" or "regular" workday, Travis highlights some key areas of focus. As someone who is neurodivergent, he places great importance on calendaring and dedicated time for focus and impact sprints, as a tool for success. He schedules every aspect of his life and strives to adhere to the schedule, including quiet time for prayer, walks or workouts, meals, social gatherings, strategy work, mental breaks, client outreach, and business approvals. Travis is a morning person and starts his day with a moment of gratitude to center himself and connect to his faith and purpose. As with his career, music plays a big role in sound tracking his day. He gains inspiration and motivation from different playlists, podcasts and YouTube videos for knowledge transfers.
The House of ONEDER: Business ventures cultivating impact across a variety of services
ONEDER is a dynamic, multi-hyphenate and innovative company that is committed to advancing representation and access in all areas of personal and business success. As a multi-minority-owned business, they understand the importance of creating a world that is inclusive, equitable, and empowering for everyone.
ONEDER currently offers services across four key priorities: Coaching, Companies, Communities and Culture. How this translates is through: professional & professional, executive & career & leadership business coaching for individuals; organizational culture, future-of-work, employee experience and brand development solutions for companies; brand partnerships, experiential marketing, and cultural activations for celebration of multicultural and underrepresented communities; and advocacy and business services that create deeper cultural impact, greater access to generational wealth and real estate ownership for those from marginalized communities.
By diversifying its revenue streams, ONEDER can navigate and adapt to the social, economic, and changing market conditions. In addition, the company will continue to evolve its high-quality solutions that will meet the needs of its clients as they grow. Travis calls the long-term plan being nimble to the "art of the pivot". Being able to adapt to where the need is and how our client relationships evolve will require a readiness, leaning fully into the skill of adaptability.
Life's mission that is intertwined with a chosen career.
When discussing the balance between professional and personal life, Travis explains that he doesn't believe in a perfect "work-life balance." Instead, he believes that exceptional leaders prioritize the key components of the now in their overall life, including personal and professional aspects. For Travis, his life's mission is intertwined with his chosen career, and he views his work as more than just a job or career – it is part of his life's purpose. However, he acknowledges that there are obstacles that he has had to overcome, such as not becoming too consumed by his job title, employer, or accomplishments.
In the field of DEI, the work is very personal and involves changing mindsets, behaviours, and experiences. Travis quotes his mentor Jason Mayden, who described this work as "heart-work, not hard-work." As a result, leaders in this space can sometimes lose themselves in their efforts to create a better world, forgetting to care for their own well-being. Travis has experienced burnout in the past by trying to be everything to everyone without taking care of himself.
Travis emphasizes that you cannot pour into others and advocate for social and cultural change without having a full vessel yourself. Even leaders in the DEI space can feel alone and not have a community to support them in their mental health journey. Travis shares that while he was at Spotify, he had the opportunity to manage a team responsible for mental health efforts, and it helped educate and inform him on his own mental health journey. He found the work to be healing for his inner child and got further help – one that later helped him find support for being neurodivergent. He reminds us that those who love the hardest also feel the hardest and may not always receive the support they need. He says, "those who are in roles that are connected to the human experience, behavior and advocacy can carry the weight of the world for real change to happen. We tend to want to be part of the solution and do everything we can to try to fix the problem, even when it impacts our own mental health. I found myself over the last 2-3 years realizing my mental health was impacted by versions of personal burnout and the pressures of societal crisis happening – it shook me to my core. I realized I needed to focus on my mental health. I got help that I needed and it has changed my life in 2023. We take for granted that we must invest in ourselves first, before we can pour out and be an advocate for others. You have to have something to offer to see meaningful change."
"The process of 'Finding ONEDER' is discovering the parts of your identity and purpose that sparks joy, excitement and persistence to have a hunger for reaching something more something more – you will do whatever it takes to continue seeing that in your life. The outcome is Awe, but you first have to find the wonder to get to the awe. This is where I am at in life, and as a leader I want to inspire others to never give up on your wonder and reach the awe in your goals."
Continuing to expand the possibilities and impact within and beyond the corporate world.
Travis's vision for ONEDER is to expand the possibilities and reach of their impact and influence beyond the corporate world. "As I go about this journey with ONEDER, I am motivated to bring something new in this world that resonates, that is about people, and about profit. The level of impact and influence I've seen in the corporate world has been amazing, and I want to expand the possibilities and reach. This journey of discovery and results is what ONEDER is all about, and this is what keeps us going forward," he says.
Travis's plans for the future are all about reach and wonder. "While we have plans of actions and a clear goal for the future, we want to stay curious and find wonder in how we need to show up in the world.  Staying true to who we are, and also meeting the need for what individuals and institutions. We want to stay ahead of the curve," he adds.
Travis believes in the importance of Finding Wonder. "It is truly my goal in everything we are doing. The process of wonder is discovering the parts of yourself or something that sparks joy, excitement and persistence to reaching something more. This is where I am at in life, and as a leader I want to inspire others to never lose your sense of wonder. As humans, we are wired for connection, and I also believe the reason why is because we are innate creators and storytellers. The power of storytelling can change lives, and the stories we tell are our own but also can resonate with someone else that needs to hear it. The story has meaning, and the possibilities in how that story could be a priority in someone else's life. When we are intentional about our impact, we can create magic. My message to aspiring leaders is to never lose sight of who you are and keep finding wonder every day – no matter where you are. Believe in yourself and believe in others.
I am grateful to have phenomenal mentors and leaders in this field of work that have helped me show up as 'me' now. It is also important to give 'flowers' and credit to those who have made a significant impact in your life. If it wasn't for the likes of Trisha Meade, Wendi Homza Hickman, Regina George, Tammy Cummings, Robin Leopold, Elizabeth Naylor, Kyla McNally, Michelle Bucararia, Greg Kerwick, Geoff Brady, Ricardo Barragan, Mark Cisz, Angela Martin, Katarina Berg, Anna Lundstrom, Elizabeth Nieto, Valerie Rainford, Dave Harmon, Peggy Huck, Fredrik Johnson, Jessica Amortegui, and many others that gave me my chance in my career and were keys to my early development as a strategic people leader.
There are folks like Bing Chen with Gold House and AU Holdings, Troy Carter and Suzy Ryoo with Venice Music, Taylor Jones, Kyran Jones and Phil Quartararo with The Hello Group, Morgan DeBaun and Simone White with Blavity, Arielle Vavasseur and Kristin Jones with Inside Projects, Myles Matsuno with New Day Films & Matsuno Media, Sanjay Sharma with Marginal Media, that I aspire to build brands as impactful as theirs – they are my north stars, as good humans and influential thought-leaders building transformative companies. This is what I want ONEDER to be like!
In addition, there are folks like Amber Grimes, Leanne Pittsford, Jeff Harleston, Naledi Seck, Jules Sanders, Joe Carozza, Danielle Lee, Maurice Stinnett, AJ Ramos, Julie Teague, Tuma Basa, Doug Ford, Valeisha Butterfield, EJ Gaines, Tamika Young, Ethiopia Habtemariam, Frank Gasca, Nicole Wyskaorko, Tiffany R Warren, Andrew Sotelo, Vincent Cannady, Ritz McCain, Josh Cobia, Xavier Jernigan, Cory Marquez, Marian Lee, Leroy Sanchez, Rochelle King, Amy Butler,  Horacio Gutierrez, Jessica Nieto, Christina Previti, Olga Beltre, Tom Manatos, Brit Barron, Geoff Mallory, Isa Notermans and Jason Mayden – these folks have inspired me in more ways than they know.
Not only are these individuals' successful business executives, influencers of culture, and humans, but they are also trailblazers who have shown me what inclusion and belonging looks like in practice – what it means to be authentically me – and it's exactly what the world needs more of. For them, I am forever grateful for their friendship, influence and guidance throughout the years," he concludes.
Partner with Travis Robinson and the team at ONEDER go to http://www.findingoneder.com/or email the team at mailto:hello@findingoneder.com