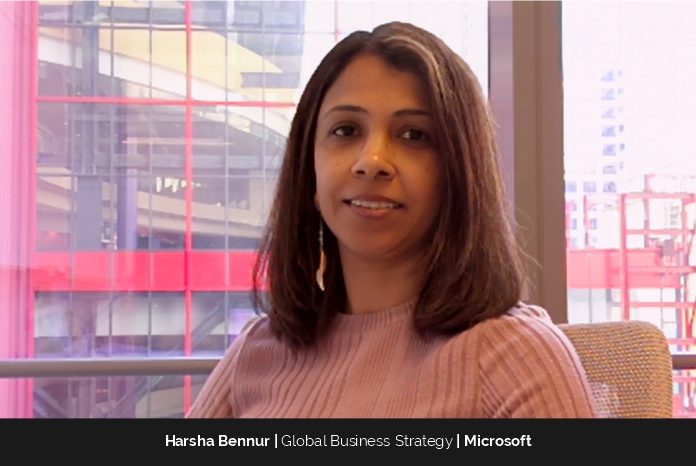 Success is the accomplishment of an aim or purpose. Every individual leader has their definition and path towards success. Harsha Bennur, Business Strategy Manager of Microsoft says that success consists of dreaming big, being courageous to get behind it, creating the capacity to receive it, and persevering to follow it.
"I strongly believe in the concept of universal energy, success is about aligning with and experiencing the infinite nature of the universe and bringing others along as you embark on the mission. Success is also multi-dimensional, achieving it in one aspect of life while ignoring other aspects makes it skewed. It is measured by the number of people we touch positively and the difference we make," she states.
Joining Microsoft & Leading her Team to Success
In over two decades at Microsoft, Harsha has held various positions and the commonality across all these leadership roles has never been about a position or a title, but rather about empathy, people, action, and example. She believes that when the culture and values of a company align with your values, taking on leadership roles for an initiative or a team becomes a natural next step. Microsoft's mission, "Empower every person and every organization on the planet to achieve more", deeply resonates with her, and this is what inspired her to stay with Microsoft.
Harsha's roles at Microsoft, in the alignment of their mission, have always been tied to empowering people, partners, and customers to achieve more. Her mission is empathetic and inclusive people leadership and using technology as an enabler to transform businesses. No matter how strong the strategic plan is, it's the team and the organization's culture that make it successful.
For example, with the pandemic, people have had to take on additional roles overnight. This has created room for more empathetic leadership, they've connected with colleagues beyond just their professional roles. When employees are not spending energy "covering", they are more productive. Similarly, their customers and partners have had to transform their businesses rapidly to meet the demands caused by the pandemic. As such, she reveals that keeping customers and partners as their "Northstar" has kept them grounded. They have had to put key initiatives on the backburner to react to immediate needs, and their teams have had to adapt to empower their transformation.
Roadblocks And Challenges in Our Journey Make Us Stronger
If we embrace the learnings from the challenges on the journey, only then does it make the taste of success sweeter. Challenges are uncomfortable, but in Harsha's opinion, growth happens during these moments. Challenges also unleash creativity and teamwork.
Some valuable lessons she learned while handling challenging situations are:
Paint what "done" looks like and make sure that the goal is clear to each person on the team. Clear is kind, Unclear is unkind from Brene Brown's Dare to Lead workshop.
Adopt a growth mindset and take an iterative approach, don't be afraid to change direction. The mantra should be, "fail fast but fail loud", share your perspective and approach broadly, and incorporate feedback. So, if things don't work out everyone has a chance to weigh into the approach and provide more feedback.
– Build a diverse team and tap into their combined strengths to come to a solution. If the team consists of similar thinkers, we are limited. Together Each Achieves More.
Know what boundaries and limitations you are working with. While it is a balancing act to push the boundaries on resources like time, people, process, etc., at some point in a challenging situation, it is important to be clear on what can and cannot be changed. Once that is clear, the team can rally within the set parameters.
Harsha's Contribution Towards Growing & Redefining the Industry
In the past few years, Harsha's team handled the growth and development of their partner ecosystem, specifically for Government, Healthcare, and Public Sector industries. As the pandemic loomed, these sectors have been most under pressure to react and serve the needs of society, thereby accelerating the digital transformation of government services, healthcare systems, and research and educational institutions. "It is humbling to be a part of the ecosystem that enabled this transformation using technology as an enabler and accelerator with a team that is smart, passionate, and committed," she says. This year, she has taken a new position to lead business strategy and continue to transform Microsoft's sales force to enable industry transformation.
Harsha loves to work in technology, she states that it is a true melting pot. "We get to work with all kinds of people – big, small, young, old, men, women, different races and ethnicities, different abilities – the list goes on. This is one field where we get to see all colors of the rainbow. While it is great to see progress, there is still a lot of work to do," she explains.
This past year shone a harsh light on inequality – strain on mothers, daughters, sisters showed up in the numbers, women lost a decade of economic advancement. The onus to shine a light on biases, create role models and empower new generations to take on leadership roles is on the leaders of today. Harsha says that being intentional across foundational, formal, functional, integrated, and dynamic initiatives in partnership with the public sector, non-profits and corporations is the key to influencing change.
As long as Harsha gets to work with the smartest and best people in the industry, contributing towards creating a more diverse and inclusive workforce, thereby paving the way for her daughters and nieces, she vows to continue on her journey in the industry.
Being An Empowering and Empathetic Leader
We are living in unprecedented times, the effects of the pandemic on society, social injustice, educational equity, mental health, and environmental issues have forced Harsha to rethink leadership. We need to lead with empathy, as there are outside influences that shape one's perception of things. She highly recommends Brene Brown's book – Dare to Lead. A leader's job is to create clarity, generate energy, and inclusively deliver success. Growth happens when organizations and teams can create a container of trust, where the messy middle can be addressed. This requires a level of vulnerability and courage. Harsha's biggest passion is to create a culture where the team feels empowered and motivated to take on difficult challenges.
Gender disparity is one of the most detrimental problems facing the workforce today. The terms gender equity, gender equality, and empowerment are integral to understanding the adversity women and intersectional populations face in the workplace, and how to combat it. Gender equity is the numerical definition of equality. It is the quantitative analysis of different ratios in the workforce. Gender equality boils down to the treatment and trying to emulate the same workplace environment for all, despite gender. Empowerment paired with intersectionalism is how we move from gender equity to true gender equality.
The Beginning of Her Career
Harsha started her career as an R&D engineer in Wipro Infotech in India, right after her bachelor's in computer science and helped to create printer drivers for dot matric and inkjet printers. Throughout her career, being open to growth and learning as well as developing meaningful connections with people has been a common theme. These traits have created deep friendships that she strongly believes last outside work life and have also always opened doors to new and meaningful opportunities. She has received many awards and accolades including CRN Women of the Channel 2020 and 2021, CRN Rising Star Award as well as multiple Microsoft Gold Club and Circle of Excellence awards. "The best recognition is when someone I work with lets me know that I made a difference in their life," exclaims Harsha.
Responsibilities As Director, Partner Tech Strategy of Microsoft
Through 2021, in her role as the director of the technology strategy for public sector partners, Harsha's organization worked with Microsoft's largest public-sector Systems Integrators, ISV's and Managed Service Providers to grow by reviewing their business architectures, enabling transformation and helping them bring new solutions and revenue streams. This includes looking at their monetization and profitability to create their growth strategy. In the past couple of years, her team engaged with the Microsoft partner ecosystem on a broad set of transformative solutions from COVID tracking, outbreak management, Stimulus checks, unemployment benefits, enabling virtual work like remote inspections for governments, updating 311 systems, Child Welfare, vaccine management, research platforms using AI and machine learning to track long term effects of Covid, school reopenings, and student management in a virtual and hybrid environment to telemedicine and virtual health scenarios. "My job was to lay out the technology strategy for each industry to address capacity gaps, empower my team to influence strategy with our partners, and unblock issues internally and with our partners," she explains.
Balance In Personal and Professional Life
As kids, we used to play a game called lemon and spoon where we raced with a lemon in a spoon. The key was to arrive at the finish line with the lemon in the spoon. If you arrived first at the finish line but without the lemon, you did not win. Harsha says that life is like that race – the lemon signifies our priorities – kids, family, friends, happiness, health, etc. The key is to balance the lemon while running through life. I model and coach my team to set boundaries, make space for self-care and family, and always put their best foot forward. "I balance business conversations with personal connections and encourage everyone to find the connection of their values and goals with their work," she adds.
There is a word in South Africa that Harsha first heard when she was reading about Nelson Mandela — Ubuntu — it means "I am because you are". It speaks to the fact that we are all connected, and that one can only grow and progress through the growth and progression of others. So, her message to aspiring women in lead is to actively live and breathe Ubuntu and put it into action daily.