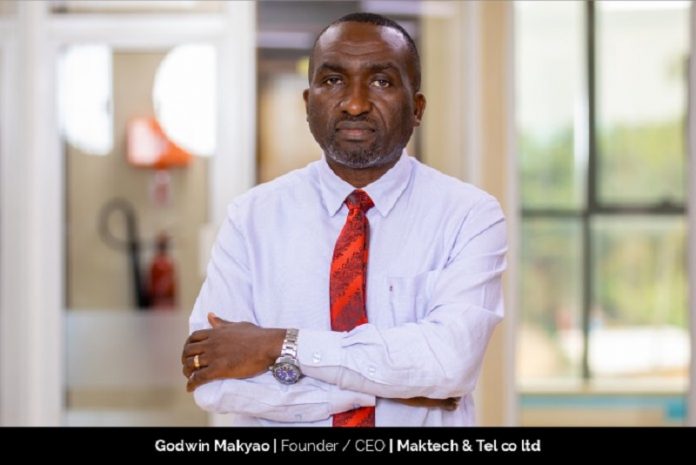 Godwin Makyao is a true pioneer in every sense of the word. He founded Maktech & Tel Co. Ltd when there were no local telecommunication contractors to build infrastructure for mobile network operators (MNOs) in Tanzania. By donning the hat of an entrepreneur, he also encouraged others to enter the telecommunication industry as contractors. Today, there is a pool of local contractors, and all of them give Godwin the credit for showing them the path.
Godwin continues to inspire young Tanzanians, and he is a role model that aspiring entrepreneurs want to emulate in Africa. He is a highly successful individual because of his penchant for risk-taking. In addition to that, he is also persistent. He can wait as long as he believes in what is ahead of him. He, however, is not someone who believes in moving ahead without setting an objective. For him, success means achieving objectives.
"If leaders do not know their objective, they cannot measure the organisation they are running and then they cannot measure the success," Godwin says. So, he makes sure to first set his objective when he is running his companies, and after a year or a certain period of time, he measures how much he succeeded or how much he failed Once he has done that, he goes back to his team and reviews it. "That is how I measure the success of the business I'm running," Godwin says.
Like most visionary entrepreneurs, Godwin, too, does not believe in limiting himself to one business or one sector and having one channel of income. About 10 years ago, he stepped into the tourism industry by establishing Escarpment Luxury Lodge, a top luxury lodge in the northern part of Tanzania. He has plans of opening six more such lodges in the next five years.
Taking a Plunge into Entrepreneurship
Godwin graduated from the University of Dar es Salaam in 1998. After that, he worked for three companies before taking the plunge into entrepreneurship. He was working for Tritel when Vodacom announced its entry into the Tanzanian market. He joined the company as its first engineer and worked in its planning department. Godwin recalls that he travelled to South Africa -2000/2001 and Italy to learn a few things about Vodacom's technology. He came back and worked on the company's Phase 0 and Phase 1. "I was a part of the team that introduced Vodacom in Tanzania," Godwin says. He quit the company in 2001to start Maktech.
Entrepreneurship was not an unknown territory for Godwin. Both his parents were entrepreneurs. He says that he never saw them working for others. So, when he grew up, it was natural for him to feel that he had to run a business.
Godwin points out that he worked for other companies for only a brief period of time. Once he started his journey with Maktech, there was no looking back. For Godwin, one of his greatest achievements is that he built Maktech from scratch, grew it, and sustained it for more than 20 years.
Founding Maktech & Tel Co. Ltd.
When Godwin established Maktech in 2001, there was a clear gap in the Tanzanian telecom market. There was a need for telecommunication contractors who could support MNOs and the IT industry. Godwin founded his company with the aim to support them.
Maktech is focused on the installation and maintenance of telecom infrastructures and equipment. Godwin points out that they do network planning and support the network operating centres, and about 3 years ago, they streamlined some of the areas they concentrate on. "We are now focused more on the fibre, such as end-to-end deployment fibre aerial and underground fibre," we are focusing on telecom infrastructure like low-cost tower in rural areas and affordable infrastructure in the urban areas which will make the end user get cheaper internet …he adds. "We are thinking of moving the fibre to the home – to make sure that it is in the urban areas and later in the rural areas." "We are focusing to make internet very affordable to all citizen of Tanzania by providing affordable infrastructure to MNO   where key infrastructure is tower + fibre network."
Godwin started Maktech with four employees; today, it has expanded to 198 employees. Its turnover, in the beginning, was less than USD 5,000 per month; it is around USD 500,000 per month. Per year There was only one client, but today, the company is covering all the big clients, such as Vodacom, Airtel, and Tigo, and it is implementing leading vendors' equipment, such as Ericsson, Nokia, and Huawei.
But, for Godwin, his major success is managing to transform the company and ensuring that it does not stay dependent on one person. "It is not a one-man show like other companies. I've managed to build a company that is still the same without me," he says. In his absence, the company continues to operate 100% the same way when he is around. Clients can contact the departments and get the same kind of quality service.
A String of Challenges
Godwin believes that as a leader, one cannot always have a positive journey. There are going to be ups and downs. When he founded the company, he needed the capital to invest in tools and vehicles and pay for the skills to meet the international standards of companies such as Vodacom.
Initially, for Godwin, the three main challenges were capital, finding the people with the right skills, and determining the right procedures that could meet the required international standards. Five years later, after he had set the base and stabilized, he says that he began to face more challenges. Getting the right skill at the right time in Tanzania continues to be an issue. Godwin says that they are trying to resolve it by creating the environment for the local staff and training them and ensuring that they give them incentives so that they remain with the company.
Godwin also points out that as they were a local company, it was also difficult to earn the trust of international companies. In the beginning, it was difficult for them to trust his company and give their USD 5 million business to them. "We have managed to build the trust," Godwin says. "Now, we are one of the most trusted companies in Tanzania, and even in other countries where we are operating."
And capital continues to be a challenge. It is not a big challenge, but when it comes to big volumes and big projects, Godwin points out that they are failing to get adequate capital in Tanzania.
"These are the few challenges we are facing, and we are trying to overcome them as we go," he adds. "Many companies failed in between, but ours have sustained despite all the problems, including the COVID-19 pandemic and the economic shake-up."
During the COVID-19 pandemic, Godwin says that their business dropped to 20% from 100%. "It was a big hit, and we are still repairing it. We had to take some loans so that our business did not suffer," Godwin says. Currently, Maktech is in the recovery phase.
Responsibilities and Work-Life Balance
About fifteen years ago, Godwin was very involved in every department, including finance, operation, and HR. He was accountable for everything that was happening within the organisation. But, since he started a succession plan, he is more focused on the strategy. He now looks after the strategy for Maktech's growth and sets the objective. He monitors how it has performed and the delivery of the manager who reports to him, and he also tries to find out where the world is moving to and see what he can incorporate into the operation of Maktech.
"I'm also working hard to build the team below me who are going to have the same vision that I have and can take Maktech 20 years ahead of me," Godwin says.
When it comes to his personal life, Godwin makes sure that he does not neglect it. He makes sure to spend quality time with his wife and 5 children. He points out that he gets to the office very early – around 6 a.m., and from Monday to Friday, he is mostly in the office in the afternoons and doing his duties as the CEO. And, after wrapping up his work on Friday afternoon, he mostly goes out with his family. And Saturdays, Godwin prefers to stay at home to do his other activities, such as tending his little farm. He also spends time with his children on Saturdays.
"Sundays, I normally go to Church and then spend time with my family," he says. And after 2 p.m. on Sundays, he goes to the office and prepares for the week ahead. Whenever he is free, Godwin says that he is with his children so that he can teach them and inspire them to be "even more than me" when they grow up.
The Future of Maktech
Godwin has a clear vision for Maktech. He has divided the roadmap for its future into two parts: 10 years and 20 years away. He points out that they will complete the first part of their plan in 2025, and following that, they will start the journey for another 10 years. When the first 10-year plan concludes, Godwin intends to step down and hand over the reins of the company to someone else.
And he sees Maktech as being a pioneer in Tanzania, providing low-cost towers and low-cost infrastructures to rural areas and some urban areas. He sees the company being a pioneer in the fiber deployment infrastructure sector as well. "When I reviewed these objectives of ours, I could see that we are very close to achieving them," Godwin adds.
When the next 10-year plan nears its completion in 2035, Godwin hopes to see the company own the infrastructure network not only in Tanzania but also in other countries such as Mozambique. "By that time, we probably might be on 7 G or 8 G," Godwin points out. The infrastructure will enable people living in villages of Africa to access the internet, which will result in the development of the African economy.
"We want to make sure that even in Africa's villages, people get affordable internet because it'll help them build their lives," says Godwin. He believes that in the upcoming ten years, some of the medical services will be online, and education and some aspects of agriculture will depend on the internet. "So, by 2035, I can see Maktech will be on the ground establishing the network that other operators or service providers will use to make sure these services are provided to people, not just in Tanzania but out of it as well," Godwin says.
Message to Young Generation and Aspiring Leaders
Godwin believes in grabbing opportunities without waiting for an opportune time. He encourages the new generation to do the same. "They must be the first one to do it, like what I did in 2001," he says. "At the time, there were no contractors in Tanzania's telecom industry, but I tried it. I did it and it worked."
He also stresses the need for young Tanzanians – also youngsters living in other parts of Africa – to step up, leverage the opportunities they have, and make a difference. He tells them they have the energy, the land, and the people who need the IT service, so they must take the step and do it. They must also do that because they know the environment and what people need.
Godwin also tells the young generation that it is not necessary to get employment after they graduate. "You need to employ yourself," he says. He urges them to take the risk and not think of making profits tomorrow. "Think about getting to profitability after 5 or 10 years. First, you must establish a business that can grow and be sustainable," Godwin says.
He almost has the same message for aspiring business leaders. He tells them to be aggressive and risk-takers. "You have to step in and not be behind someone else, but be in the front," Godwin says in his message to aspiring leaders.
He also points out to them that failing is a part of the journey so they should not be afraid of failures. He advises them to keep moving even after failing. "I've failed several times, but I'm here. I'm just moving," Godwin says.
Influencing Entrepreneur Community
Godwin wants to impact Africa's entrepreneur community. He tells them that they should consider building companies that will outlast them and live into the future. He points out that some of the family-owned businesses in Africa cease to exit once the owner or the founder dies.
"Let's change that and build businesses that are going to sustain even after 100 years," Godwin says. "Like, how they are doing in Europe, and that is how we will transform the economy of our country and the economy of the continent."