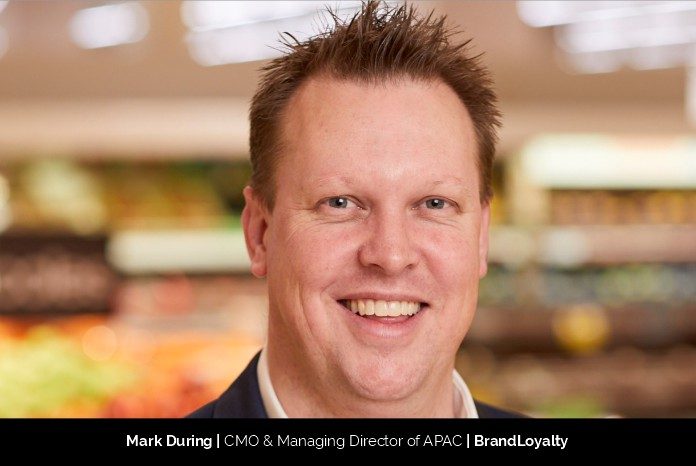 The conventional retail sector, along with related business models, has undergone a considerable period of turmoil. The business is still being shaken up by the quick advent of e-commerce and the development of social media platforms as digital storefronts. Retail branding has changed as a result of all of these changes. The emergence of the internet as a significantly influential channel (both in terms of generating awareness and revenue-earning capabilities), branded experiences becoming more significant than brands, and the blending of the physical and digital worlds in the brand funnel journey are three major factors that have redefined the concept and principles of retail branding.
Mark During, CMO of BrandLoyalty and Managing Director of APAC, has participated in numerous successful (loyalty) campaigns and product launches throughout his career. He has also assisted in the creation of an agency from the ground up and repositioned a supermarket brand, which led to the chain's ranking as the fastest-growing in South Africa for nine years.
Beginning of Mark's Career
Because of the industry's immense size and scope, as well as the fantastic exposure it offers to any young individual starting their career, Mark was first lured to the grocery retail sector. He believes the reason he chose to continue working in retail was because he understood the positive social influence it can have. Supermarkets may be crucial in lowering living expenses, holding governments accountable, and improving the accessibility of essentials for citizens of a nation. This was especially true when he began his retail career, in South Africa.
He says, "When viewed through the lens of the socio-economic impact your role can play on a society, you can actually see the positive social change you are able to bring to a country and its people."
The largest grocery chain in Africa at the time, which had operations in over 17 nations, was where Mark began his retail career. The turbulence of trading in Africa rapidly taught him the value of discipline and attention to every detail. He spent 15 years working at Shoprite before relocating to Australia to work for Coles.
BrandLoyalty
BrandLoyalty is the top global provider of campaign-based loyalty solutions for high-frequency merchants across industries. It collaborates with 12 of the top 20 grocery retailers in the world to develop and implement significant trade-driving and brand-building initiatives that annually impact over 1 billion consumers. With locations in 19 cities, the firm portrays itself as a mini-multinational that provides services to over 160 merchants in over 60 countries.
The company collaborates locally with its retail clients to co-create unique solutions that inspire true, quantifiable consumer behavioural change throughout their network of stores, leading to observable benefits such as notable basket and transaction increases, solid program ROI, and boosted NPS. Mark states, "We partner with our clients to develop the strategy, craft the mechanics, build the concept, and implement and roll out the program, tying in with all key functional areas of our retail partners, including the Marketing, Operations, Merchandise, Procurement, Supply Chain, and Legal and Compliance teams." With 375 programs launched globally in the last 24 months alone, BrandLoyalty's creative and data-led campaigns continue to excite customers across the globe.
Prioritizing Innovative Ideas for Improvement
Any firm that lacks innovation just stagnates. The staff at BrandLoyalty firmly believes that progress is the only path to growth, and as a result, management actively promotes innovation throughout the company. According to Mark, innovation might occur from merely discovering more effective company procedures rather to only developing brand-new, original items or thoughts. All ideas are accepted at BrandLoyalty, where innovation has a broad scope.
The team at BrandLoyalty is always coming up with new ideas to improve how the company's core services are delivered. Mark asserts, "Being able to underwrite our risk better than our competition through bespoke forecasting engines allows us to invest in other, more dynamic, business opportunities."
For instance, BrandLoyalty recently received approval for a patent for a standalone device that may dispense flat packs and/or stamps without POS connectivity, even though the customers' tickets are kept in a retailer's app. One of the company's workers came up with the idea in response to the development of self-service checkouts and to address the absence of staff interaction at these locations.
With a multifaceted strategy that incorporates its programs into the loyalty ecosystems of merchants and all of their trade platforms, BrandLoyalty has been working on a new approach to loyalty. Mark considers, "This omnichannel approach is the future for retail, and only through innovation can we help retailers give shoppers what they want." Especially in a mature loyalty card market such as North-America, omni-loyalty is crucial. Mark adds, "Currently we're in conversations with some of the largest retailers in North-America, to discuss omni-loyalty solutions that drive more traffic to their digital platforms, collect relevant data and boost engagement through gamification and personalization."
A Passionate Managing Director of BrandLoyalty
Essentially, Mark's responsibilities are to set a clear strategy, prioritize resource allocation and then clear any obstacles impacting that ambition which then empowers the team to be brilliant. He adds, "Working directly with retailers means there is no such thing as a regular or typical workday. We must be flexible and adapt to the myriad of challenges that come our way on a daily basis."
Mark has tried to implement an operational rhythm in the business that best reflects a typical week for retailers. This has allowed the company to anticipate better and respond quicker to the demands of its clients. He shares, "None of our clients are contacted on a Monday, as that is always a busy day for retailers. Therefore, on Mondays, we also discuss and report on the previous week's business activities and then plan for the week ahead."
Mark's rest of the week involves separating the teams between delivering on the day-to-day management of implementing our programs across the APAC region as well as planning for future business. Balancing what is urgent versus what is important is a constant challenge, so he spends a lot of his time ensuring the team allocates resources accordingly.
Redefining Industry through Teamwork
Retailers throughout the world are dealing with new realities as inflation soars. They are searching for fresh approaches to maintain their operation, expand their customer base, and guarantee long-term success. Price reductions, a greater emphasis on private label items, and an improvement in the loyalty and personalisation options are the traditional ways that retailers react to inflation. Mark says, "The GFC has taught us that, in times of rising costs, shoppers are looking for value beyond price."
"I do not think there are many people who can legitimately claim that their individual contribution was able to have such a direct impact to "redefine" the retail industry," says Mark. He has worked with so many brilliant people over the years, and it is always the collective contribution rather than an individual that can influence any meaningful change. He opines, "It would be hard to single out the acknowledgement received for those achievements, as they were truly collective efforts of brilliant teams." Mark thinks the recognition he has most valued in his career is the sum of every "thank you," he has received from the people he was able to connect with or help in some small way along the journey.
In Mark's present position, he is working to refocus the retail industry's emphasis away from price discounts and towards campaigns that add value to consumers and alter their purchasing habits over the long term. In uncertain times, loyalty programs have been shown to be a successful differentiator. With less impact on store operations and a lower risk of failure to provide ROI on marketing expenditure, they assist retailers to maximise profitability, increase foot traffic, lengthen basket size, and improve the personal connection between customers and the merchant.
Challenges are Key to Perfection  
Having spent his whole career working in huge supermarket retail, he saw that, apart from the apparent macro environmental curveballs one meets practically daily, the most frequent hurdles were frequently just attempting to get internal stakeholders aligned around a single goal.
Although Mark agrees that challenges can make one stronger, the statement can sometimes be used too narrowly, as there are many other factors that are equally important in developing one's "strength." He believes that in order to avoid adhering to the traditional stereotype of strength, being "stronger" needs to be understood in its context. It is not necessarily essential to take on "challenges" to become stronger. He says, "A "strong" leader can, and should, be vulnerable, empathetic, and considerate. These attributes are not always associated with being "strong", but they should be."
Companies with more than 100,000 people may have several siloed divisions with various KPIs. According to Mark, some of the largest obstacles were internal ones brought about by failing to include and empower many stakeholders around a similar objective. He has learned that doing anything on one's own seldom yields positive results and that in order to succeed, one must have the ability to work with others.
Coping between Personal and Professional Life
Mark resides in Melbourne, and BrandLoyalty's major offices are located in Hong Kong, Taipei, and Japan. The company's worldwide headquarters are in the Netherlands. Managing several time zones is one thing, but he hasn't been allowed to travel for the past 2.5 years, so he's had to run the firm from his home office.
Mark claims that COVID has so undeniably merged the boundaries between his personal and professional lives. He states, "If "balance" was measured in time, then I am not sure I am getting it right. However, these circumstances have taught me the lesson of being present. Whether it is at the dinner table with the family or just saying goodnight to my girls, I always try to be engaged. To really listen, and not let work interrupt those moments. I am also lucky to have an incredibly supportive wife, who would probably say I can still improve in the listening aspect!"
According to Mark, motivating people from afar has absolutely been a challenge. All the traditional team bonding exercises or even just a physical coffee catch-up have been impossible. However, he has found that these activities often only provide a short-term bump in activity rather than more endemic motivation. He shares, "Being far away from my team has meant I have focused more attention on communicating a clear plan and encouraging a culture of empowerment and inclusivity." He further adds that it has been amazing to see the power of having a clear plan and then giving the team the space to deliver against those business objectives.
Way to Success
According to Mark, attempting to define success in terms of a set of commercial KPIs is frequently overemphasised. He discovers that success may take many different shapes and is frequently best understood by considering the path that leads to these results.
In his view, achieving success always begins with having extremely specific goals. These might be "soft" team engagement indicators or "hard" corporate objectives. However, it's also crucial to constantly appreciate the process and recognise the commitment and hard work done along the route to realising these aspirations.
"People are the most important asset of a company," is a common saying. If this statement is true, then Mark believes that success should be measured by how well a business is able to grow, develop, and utilise those assets.
Ultimately, for him, success is realised through people and the recognition of the human contribution it takes to achieve predetermined milestones. He asserts, "Watching a team learn, adapt, and grow is the most important KPI I have used to measure success throughout my career."
Visioning to Bring Change
It is common knowledge that consumers have higher expectations of the companies they deal with and the merchants they shop at. One of the most important more recent requests is that major corporations have a very serious and genuine sustainability route. And most importantly, they should provide a quantifiable plan for lowering their carbon impact in the areas where they operate.
The workforce at BrandLoyalty shares this passion, desire, and obligation to minimise the company's effect on behalf of and in concert with its retail partners. Mark states, "We have shifted internally from the siloed 'sustainability team' structure, to an embedding of environmental and sustainable KPIs across our entire end-to-end development funnel – from initial R&D and concept creation, all the way through to delivery of product."
Through cutting-edge, client-facing initiatives, BrandLoyalty has already developed a number of eco-friendly brand solutions as well as a tailored program for mitigating a retailer's carbon footprint. Its goal is to become the most ecologically conscious and sustainably run rewards company in the world. They should never stop working to create cutting-edge and useful brands, product lines, mechanisms, and procedures that can have a significant effect on the globe.