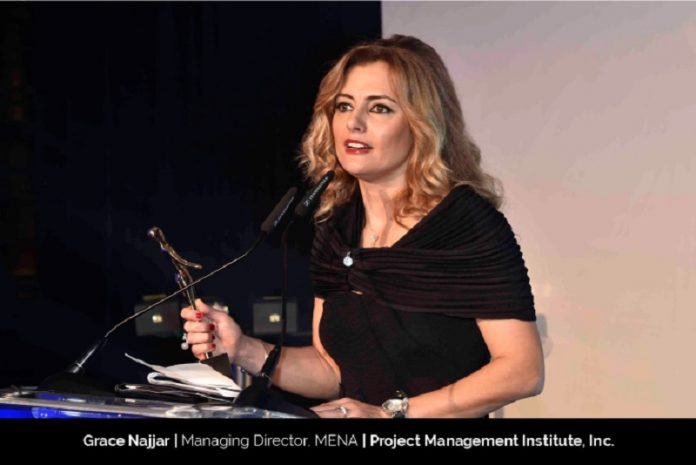 Grace Najjar, Managing Director of Project Management Institute (PMI), has adopted a leadership style that her younger self used to find inspiring. She leads with empathy and determination. And in an industry dominated by men, Grace has carved an enviable leadership position for herself through long-term persistence and commitment.
The path leading to the top has been a long one for Grace. "Successful women aspiring for success don't always reach it quickly," she says. And like other women leaders, she, too, has faced more challenges than her male counterparts. But she has never let them crush her aspirations. Tapping into her resilience and skills, she has successfully navigated the complexities of industries where men call the shots.
Grace has more than 27 years of global experience as an advisor, lead engineer, and program director. She feels that success is about building upon talent and diverse skillset with strategic business acumen and strong interfaces within the project ecosystems to successfully deliver solutions and the capabilities needed in the market, bring efficacy and productivity for value driven outcomes.
"It is important to be close to business partners, understand their needs, and discover where the true potential lies, so you can offer efficiency, productivity and value driven outcomes. Grace says. "In addition, the MENA region is driven by establishing strong connections and relationships with top key players and decision-makers, and it is important to gain their trust and respect as credibility matters"
"Being result-driven with strong commitment and determination, you will undoubtedly find your way to success and create a long-lasting positive impact," Grace adds.
The Start of Her Career
Grace started her career in the field of education. For 12 years, she worked as a subject matter expert, consultant, and program director in this field. Later, as an advisor, she also provided valuable inputs on strategy reform, execution and policy modernization, digital transformation solutions, and international funded programs. Grace also established advocacy and built strategic relations with government, ministries, authorities, and organisations, in digital and agile transformation, education, individual and organizational efficiency improvement, project & program management, benefits realization, and governance.
"I gained the confidence throughout my experience being at the heart of a project delivery team, and working on complex projects, with various stakeholders, beneficiaries, contractors and vendors," Grace says. "It has helped me understand the importance of requirements in a project life cycle, focusing on writing the proper requirements and leading complex projects."
Moreover, as her father was a dedicated social volunteer, Grace grew up with a spirit to help others. So, it is no surprise that she became involved with the Project Management Institute (PMI) in 2004. She was associated with PMI as a volunteer and as one of the founders of PMI's Lebanon Chapter, along with four other colleagues, until 2009. "From there on, I went globally through other roles, be it as a regional mentor or corporate and government relations, before being assigned the role of the Middle East and North Africa Managing Director for PMI in 2019," Grace says.
Project Management Institute 
A world's leading professional association, PMI is a growing global community of millions of project professionals and changemakers worldwide. And, as a leading authority on project management, this "for-purpose" organisation empowers people to make ideas a reality.
Founded in 1969, PMI works in almost every country on the globe. Leveraging global advocacy, networking, collaboration, research, and education, it prepares organisations and individuals at every stage of their career journey to work smarter so they can drive success in a world of change.
Grace says that PMI, advance careers, strengthen organisational success, and equip project professionals and changemakers with new skills and ways of working to maximise their impact. And, some of PMI's offerings include globally recognised standards, certifications, online courses, thought leadership, tools, digital publications, knowledge sharing platforms, and communities.
Evolving the Standards of Qualification
Grace points out that as the world evolves, individuals, organizations, and economies around the world are eager to solve big challenges, to turn ideas and dreams into reality. Hence, projects are becoming more complex and challenging. And the role of project managers is also evolving as a result of that. Their role now has to accommodate the "Project Economy" in which knowledge is at the heart of its technological advancements which are changing the economic landscape and boundaries of industries and creating new markets", Grace says. "New mindsets, new skills and capabilities are needed, along with high business acumen and in-depth technical knowledge." Equipped with all that, project managers are playing a decisive role in affecting positive change and spurring transformation.
"At PMI, we are continuously evolving the standards of our qualifications, offering specialized in-depth and industry-focused courses, and equip project managers with the knowledge, and open mindsets to implement new effective agile models, and hybrid approaches, that will help them tackle complex problems and deliver value," Grace says.
And, for the construction industry, PMI has developed its first vertical-specific offerings. It collaborated with leading construction organizations and subject matter experts to identify common challenges and address the pain points where the construction industry typically is challenged.
PMI believes that generic or traditional project management cannot serve industries anymore, and if project managers want to remain relevant, they have to grow their capabilities and knowledge. "We consider project managers the enablers of change, with multiple skills, proper governance to help solve the pain points, solve complex problems, reduce inefficiencies and focus more on value delivery," Grace says. "Furthermore, project managers must be equipped with what we at PMI call, the "Power Skills."
Power Skills are the people-centered competencies, critical to affecting positive change and driving transformation. Some of these competencies are teamwork and collaboration, leadership skills, and clear communication. "PMI is playing a key role in influencing and helping future leaders to develop these important next-generation skills," Grace says.
And as the Managing Director of PMI's MENA region, Grace is personally committed to empowering the youth. She says that the real change factor lies in upskilling and reskilling them and preparing them to be the future leaders and innovators needed in societies.
Extremely Challenging for Women Leaders  
Grace believes that it can be "extremely challenging" for women leaders who want to pave their way toward a leadership position in male-dominated environments. She, however, does not let challenges affect her. Instead of giving up, she focuses on and is laser-sharp focused on her goals and path. They serve as the moral compass, Grace says, adding that, "they steer you back on the right track, and help you disregard any hindering adversities and overcome the challenges that are common hurdles for many women's road to success."
She also points out that challenges are always faced by those who are aspiring to attain and grow leadership positions in their organisations. One of the most common challenges that professionals grapple with is the preference for individualization over the good of the whole organization. "An environment that doesn't value, prioritize and focus on delivering results will hurt people and has the potential to create a lasting negative impact on their careers," Grace says. "It is very important to have a supportive environment where one is nurtured to bring out their best potential, and contribute towards a common vision.
Grace says that the best way leaders can overcome a challenge is by believing in themselves and their knowledge and by keeping the momentum going. "They also need to believe that whenever a door closes, open another one," she adds. "There is always an opportunity waiting for you, and you need to act fast and be wise to seize it"
Supporter of Women Empowerment
Grace believes in women's empowerment. As one of its biggest supporters, she says that the operative word here is "empowerment," which means equipping women with the tools to learn, grow, succeed, thrive and lead. She also highlights that in many instances, commitments are made for supporting women without being backed by actions. She also believes in self-empowerment coming from inner strength, and through successful achievements.
"First and foremost, I think it is important to recognise the challenges women face are real, structural, and historical," Grace says. "Secondly, it is vital that we discuss these issues as openly and honestly as possible, engaging in productive conversations that address the inequities of the business world while mapping routes to change."
"Thirdly, we must go about setting positive examples for women to follow, with female leaders being spotlighted and celebrated in order for us to champion even more women leaders," she adds.
Grace also says that the top leadership also needs to support women's growth, allowing them to affect real, positive change. "We are currently witnessing this shift," she adds.
And Grace tries to be the leader that she yearned for as an up-and-comer. "My career is a testimony to do that," she says. "I also always encourage women to use strengths such as leading with empathy. In doing so, I hope to mentor and guide as many women as I can into success."
Work Routine of a Managing Director
Grace starts her day by focusing on what is important and urgent. Her focus is also on continuous self-learning and keeping up-to-date with the latest trends in the region and the world. "It is important for me to keep strengthening and maintaining my relationships with my business partners and organizations, by sharing with them the latest research and studies I find beneficial for their growth," Grace says. And she also finds out about her communities' and business partners' needs, and after that, she turns those needs into objectives that she and her team work on to accomplish. "I balance those with the operational urgent tasks to do," Grace adds.
And, as the managing director, Grace also makes sure that enablers are in place for growth, success, advocacy, and building long-lasting relationships and outreach. "I focus on achieving the business plan and objectives formulated, and make sure our activities are aligned and in the right place, and finally mapping the resources to it with proper delegation," she says.
Grace faces new challenges every day. It is her relentless determination that enables her to navigate the rapidly evolving modern business landscape, work as effectively as possible with diverse partners, colleagues, and teams, and deliver to the best of her abilities regardless of the nature of the work. "Moreover, it primes me for the future, ensuring that I am ready and able to take on whatever tomorrow brings," Grace says.
Message to Aspiring Businesswomen 
"My message to aspiring businesswomen is to be unapologetically your best self: know your why and pursue it," Grace says. She also tells them that they need to be determined.
"Stay focused on your path, stay determined, avoid any disruptions and remain pragmatic and committed to your life goals," she adds. "Be outcome-driven. You will see that in the long term, you will reap satisfactory results."
Grace believes that the best investment is investing in self-learning. So "keep learning," is her second advice to aspiring businesswomen. "Stay humble and modest with all the knowledge you have," she says. "And be flexible in adapting new methods and mindsets to ensure you are best-placed to navigate future challenges." And the third part of her message is, "embrace your innate qualities."
"Women are born with emotional intelligence, empathy, resilience, and strength. Build upon your inner strength, honesty, and transparency," she says. "These are strong qualities that will make you more successful in business and live a fulfilled life."