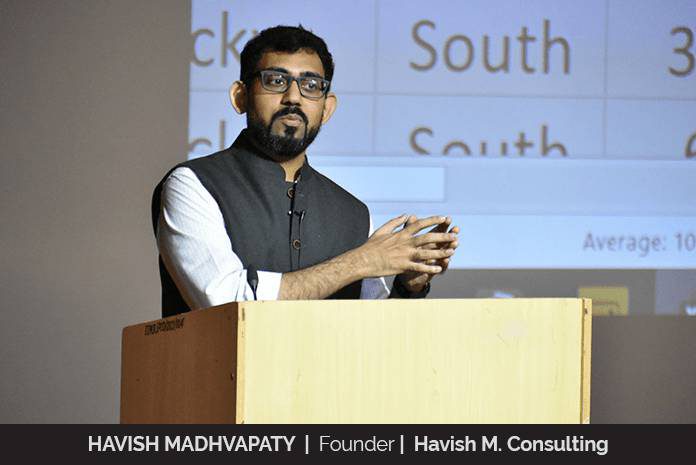 Havish Madhvapaty always knew that he possessed the ability to be a leader and not a follower. He realized that he needed to step out of the conventional and venture out into something different that will influence a change in business. He recognized the importance of data management and with the same passion he embarked upon his entrepreneurial journey and founded his company Havish M. Consulting. Havish was not oblivious of the competition, challenges and setbacks that would befall him; however, he was prepared with an enduring spirit that was ignited in him his early school days to face it all. Havish M. Consulting has seen a phenomenal growth in very less time specializing in analytics, business intelligence and business automation solutions. Numbered amongst the successful 40 under 40 innovators, Havish shares his journey with us to motivate every aspiring business mind to revolutionize the generation with a new perspective.
What were your dreams and aspirations while growing up? What led to the foundation of Havish M. Consulting?
I was a bright student – but hated rote learning. Very early in school I knew that I would never be interested in a 9-5 job. I always found it exciting to solve problems – technology / non-technology based.
Since college – I was passionate about technology – and have been working on Microsoft Excel since 2000. I fell in love with it since day one – and that love blossomed over the years.
What were the initial challenges and setbacks that you faced?
Not a lot to be honest. I had built quite a lot of experience with my previous experience heading market research startups. I am also a very quick learner.
The biggest challenge I had was to adjust to the fact that while I might be deeply passionate about technology and a solution that I am building – perhaps the solution is more of an academic problem, rather than having business impact.
I learnt that while I might create a solution because the problem fascinates me – businesses do not really consider the problem to be critical.
Tell us in brief about the services of Havish M. Consulting
We work across various technologies. We do interventional trainings on Power BI, Tableau, VBA, Excel and PowerPoint for various organizations – including Big 4 consulting firms, Sterlite Power, Metropolis Healthcare, Cvent, DCM Shriram etc.
We also consult organizations to improve their data culture, data handling and data analysis.
We work primarily with HR and Finance functions – and enable and empower them to do better data analysis and data visualization.
How do you define the growth of the company over the past few years? (Can be explained with statistical data too)
We just completed our first year in February 2020.
We were listed as Top 30 Most Promising startups by The CEO Magazine and I was the 40 Under 40 Innovators in Analytics by Analytics Insight.
We added over half a dozen clients.
Our biggest accomplishment would be the fact that we have considerably improved process efficiency at our clients – and enabled them tremendous costs saving.
Is the IT Automation field a competitive one for Havish M. Consulting?
Very much. RPA is growing very rapidly – but also has its own teething problems.
A lot of clients are now transitioning to Tableau and Power BI
Additionally, Excel is also being improved so rapidly – that we are also constantly learning.
Tell us how technology has helped you in work automation and business intelligence?
We always believe in automating whatever we can. We hate redundancies.
A small example would be this: Today organizations print 200 certificates by manually putting in names. When we must provide certificates to participants at our trainings – we have a Python code that we have built that automatically changes names on all these certificates and takes the printout – with zero manual intervention.
Business Intelligence for us is data + storytelling. It is about presenting key findings in a consumable format to various stakeholders.
What is your vision for the company?
We want to enable all businesses and all employees at all levels to utilize data, and for data to empower them.
Give us a brief of your life before Havish M. Consulting
I have done considerable zig-zag in my career.
I spent a few years in sales with Reckitt Benckiser. I had a lot of passion for teaching – so I taught at Amity University for a couple of years. Then I worked with a few Market Research firms as Head of Research.
Tell us about your roles and responsibilities as the Founder and CEO of Havish M. Consulting and how does it make you feel?
Havish M Consulting is bootstrapped – and hence we do everything ourselves. Raunak Singh who is my Consultant is my right hand.
We have designed all our corporate decks as well as our website ourselves.
I am focusing now on my interns as well as the 25+ Live Projects that students from Top B Schools do with us each month.
For me it is very empowering when we create solutions for our clients that solves problems they have had for years.
What are your greatest achievements?
40 under 40 Innovators by Analytics Insight.
Gold Medalist during my MBA.
Featured as Top 10 Trending Speakers by SepakIn – sharing the list with Subramanian Swamy.
How do you manage to balance your personal and professional life? Describe yourself in one word and tell us what inspires you?
At the moment – my work consumes me completely.
I believe in "Do. Or do not. There is no try."
What keeps you and your employees motivated?
Data analytics can also get very boring at times due to mundane parts of a project.
Our biggest motivation is the fact that we are solving client problems.
I believe in complete ownership – with little micro-managing.
What does the future of Havish M. Consulting look like, globally? How do you plan to widespread the company services?
We have conducted trainings for international clients.
We are building a few products around Excel Add-Ins – and will target to sell them to an international market this year.
Havish believes that when something is important enough you do it – even if the odds are not in your favor. With this powerful thought, Havish motivates himself and his team to keep pushing ahead no matter how tough the target may look. Havish M. Consulting is changing the business outlook with the introduction of creative and new ideas and as they steam ahead, they will change many conventional business operations for better results.