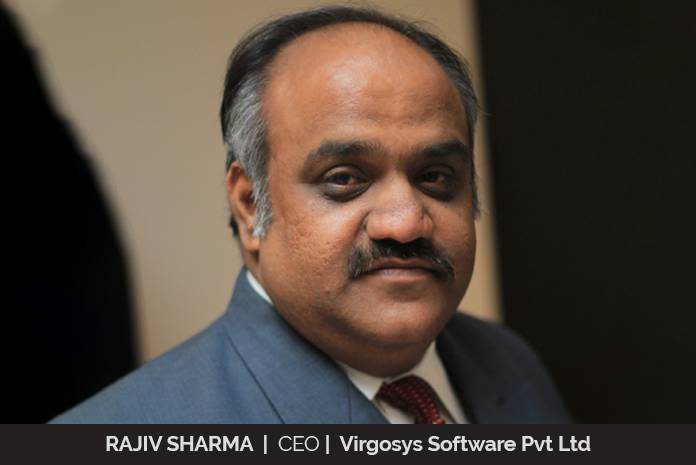 Virgosys Technology Business Solutions is a spearheading IT solutions firm in Bangalore, India. Incorporated in 1994, Virgosys has been providing exemplary IT offerings in both product & services domains to businesses. With a view to make it a world-class software development firm, it consistently implements top-notch software solutions. Headed by Rajiv Sharma – CEO, Virgosys has achieved a significant position in its field. Rajiv is a friend and a guide to his employees and an influential leader who exudes true leadership qualities. His success is defined by the appreciation of his team who look up to him as an inspiration. Here are a few interesting highlights of Rajiv's journey with Vigosys, to motivate and inspire every aspiring individual.
The Path that Led to Virgosys
As a child, Rajiv would dream of getting a secure job in a good company. However, during his formative years this changed into being a leading businessman with worldwide recognition. While he was pursuing a Bachelor's Degree in Engineering, he used to do some work for pocket money. A hobby that turned into a business gradually, but subsequently dissolved due to difficult circumstances. However, his spirit did not die down. Rajiv had indeed identified his vocation. It stirred his passion to setup a software company and nurture it into an international entity.
A lot of challenges and obstacles emerged in the beginning, being a startup. Back in the day, clientele preferred bigger brands with strong financial backing to collaborate with. Nevertheless, Rajiv was determined to withstand every challenge to achieve his dream and he surmounted those hurdles. He evolved strategies to capture new clients by indigenous  means and steadily grew the business. And the rest is history. Today – 25 years later, Virgosys is a front-runner in a constant pursuit of excellence.
The Growth and Services of Virgosys
Every company faces downturns in its business lifecycle typically in varying economic conditions. Virgosys has had its fair share as well. It stayed focused in the last few years on identifying solid partnerships as only a strong business with the right partners can grow. It belived that the time invested in building these partnerships would propel Virgosys sooner than later to greater heights. As a part of the growth strategy, Virgosys took the inorganic path to growth and began evaluating the right acquisitions in newer markets. Virgosys is open to new partnership and exploring new technologies which have a longer horizon in generating substantial revenues.
Virgosys believes in long-term partnerships with clients and would like to be the preferred vendor based on the spectrum of services offered.  Virgosys excels in Web based applications, Mobile App development, RFID solutions, IOT based solutions and SAP for ERP. Virgosys always keeps abreast with the latest technologies and innovates, in order to add value to its clients and succeed better in business. Virgosys supports a plethora of product offerings, which are primarily structured as Software as a Service.
The Role of a Leader
Rajiv's dream to venture out on his entrepreneurial journey was seeded in his mind during his engineering days. An eventuality that was waiting to take root at the right time. Running a part-time business, even though for a short stint, instilled an innovative mind that translated into sustenance over a long period, effectively serving as a foundation. "Being young was fun, undiluted enjoyment with friends, parties and outings. Life was relaxed in those days and not stressful", Rajiv recalls. But totally conscious of the path he had chosen, Rajiv was determined to achieve his goal despite every challenge. Only a natural and imminent outcome, leading to the success of Virgosys.
As the CEO of Virgosys, Rajiv shares, "First and foremost, just being a CEO is not enough. One must be a leader and work from ground up. One should know the organization from all angles and not rely on too many dependencies. I am very approachable and try to spend time with everyone, mentoring and supporting them. I stand behind my employees as a solid rock when they face customers while engaging and delivering solutions. I give them freedom to work and expect them to meet and exceed the client's expectations." Every day is a challenge with new problems and obstacles surfacing. However, Rajiv loves to solve them with a radical approach. His influence undoubtedly bolsters the team. "Basically, I am a solutions-oriented person and apply my knowledge and skills to provide optimum outcomes to my clients. It certainly makes me feel very proud and even prouder when I see the ex-Virgosys employees shining like stars in various companies and locations, some even in senior management roles now", he adds.
The Vision of Virgosys
The vision of the Virgosys is to be a formidable company focused on bespoke solutions and help customers grow. Virgosys' growth naturally stems from its customers. Dedication and commitment are basic ingredients to support this philosophy. "Our firm belief is that every business has different SOPs and needs something very specific rather than 1 shirt fits all. We also believe selling is only one part of the solution but serving the customer for the life cycle is a bigger challenge and commitment from ours side. We do fulfill this and that's one of our key USPs.", Rajiv affirms.
The employees too are oriented at the induction stage, to focus on solutions and customers. Hence, when challenged, they stand up to it. The working environment at Virgosys is very conducive to high productivity and Rajiv gives his employees the complete freedom to exercise their thoughts and implement solutions which best fit the customer. Moreover, the ultimate driver is to competently strive for total customer satisfaction. This healthy work environment keeps the employees motivated to over-achieve their goals.
The Future of Virgosys
Being a lean-mean organization doesn't insulate the team of Virgosys from difficulties. Even though self-reliant and attempting to overcome every hurdle successfully, there are roadblocks en-route. Improvised strategy and collaboration could pave the way to grow in a lot of markets. The philosophy has been to collaborate and make it count for all stakeholders involved.
Virgosys has put in lot of effort in building partners in this space and the hard work ought to pay rich dividends. Both organic and inorganic growth shall be achieved. Virosys welcomes partners and well-aligned investments to catapult it into the emerging markets that fetch the best ROI.