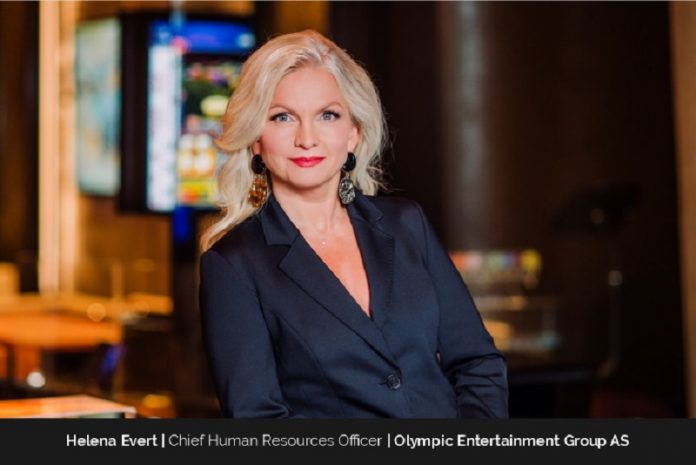 For Helena Evert, Chief Human Resources Officer and Member of the Board, Olympic Entertainment Group, and OlyBet, life has always been a riveting journey, as she never stops to look for more and more action.
"It's nearly impossible for me to just sit in place. I constantly need to do something," she says. Helena overlooks the businesses in all nine European countries that include Estonia, Croatia, Finland, Italy, Latvia, Lithuania, Malta, Slovakia and Spain.
Clarifying her purpose
Like most people, Helena had no idea who she wanted to be when she grew up. Born and raised in Estonia while it was still under the Soviet Union, and access to exotic fruits was minimal, she recalls fantasizing about bananas and dreaming of working in a fruit store where she could eat as many as she wanted.
Helena had a very happy childhood, with a few tough teenage years. Then, at the age of 16, she moved from the Soviet Union to Canada, where her view of the world and prospects expanded tremendously.
In Canada, she graduated from the Jarvis Collegiate Institute, went to the University of Toronto to study economics, and got her first official job, working for the Estonian Honorary Consul, Ilmar Heinsoo, who also owned an Heinsoo Insurance Brokerage company in the same office.
Helena's first job was to clean the office after school and arrange the customers' files in alphabetical order. She credits Mr. Heinsoo with giving her the wings to fly, as he supported her in joining their team as a licensed Insurance Broker of Ontario.
While working in the Estonian consulate and meeting successful businessmen and politicians, Helena realized that, no matter what position you hold, it's all about personality and attitude.
After returning to Estonia in the late 1990s, she studied Law at the University of Tartu, collecting experience from different positions in the insurance and technology industry, from roaming assistant and interconnection manager to facility manager and lawyer.
Helena's career as a successful leader in the HR industry began when she decided to move from Head of Legal and Business Security and switch from legal matters to people.
"At that time, I had not yet realized that I was already very fascinated in human nature, in analyzing people's behaviors, and trying to understand what triggers them to act in certain ways," she recalls.
Anything is possible
Helena's personal motto, "Anything is possible" was inspired by a quote by Richard Branson that she deeply resonates with: "If someone offers you an amazing opportunity and you're not sure you can do it, say yes – then learn how to do it later!" She reveals that this was exactly how she built her career.
"My problem is that I have difficulty saying no to something new, especially fresh challenges and exciting opportunities. I love challenges and see them as opportunities to uplift my skills and move forward. I'm constantly learning and manage to find something that wows or inspires me to move further every day; to stretch my boundaries," she remarks.
Helena recalls that, at one point, the new CEO of Tele2, Mindaugas Ubartas, asked if she could cover the HR manager position for a while, as she knew the law and majority of personnel matters were limited to employment contracts at that time. He told her she needed to travel to Tele2 headquarters in Stockholm, Sweden, the next day for a group HR meeting.
Helena agreed. Attending the meeting, she realized she had no idea what HR leaders were talking about. "I took many notes and later Googled such acronyms as FTE and HC, words of engagement and succession, to not only prepare for the next day but be more competent onwards," she admits.
After holding the two positions of HR Manager and Head of Legal and Business Security for six months, she understood that people were her passion! Finally, Helena had found something she loved, where she could influence so many individuals; even if it was just one person's future that she could change for the better, she knew she had already done great.
Helena remembers having a very enthusiastic Tele2 Group HR lead bringing multiple projects to the table at once to implement in all their eight countries across Europe. She was leading the HR department in Estonia with only one subordinate, HR Specialist Eve Karo, and together they started executing changes.
"These were years with a load of overtime, sleepless nights, and awesome learnings. Yet, I was inspired and energized to make it happen and follow punctually every deadline," she recalls.
While much more prominent teams in other countries had a dedicated person for each project, Estonia had a duo to make it happen. But they successfully launched every project – HRIS implementation, performance reviews, salary review systems, position mapping, succession and development plans, Etc.
Another moment that had a significant impact on her HR career, and made her very proud, was during a call from her manager, Group Chief People & Change Officer, Richard Peers, when the group decided to change the whole HRIS platform which Helena had recently implemented.
"Richard called asking if I wanted to lead a group-wide project taking on the Group Core Data Process owner role. Not only did I feel appreciated. It was a moment when I realized that I was noticed at a much higher level than the local leadership team; a proud moment for me to say 'yes' again," she notes.
Another remarkable moment for Helena was getting invited to become the co-author for the Estonian Human Resource Handbook, in which she covered two topics – leadership and organizational culture.
"In my previous company, I was lucky to work with different leadership teams and personalities, which supported my growth as a person and helped to execute ideas that I believed in," she observes.
Creating flexible working conditions, introducing unlimited vacations, digitizing the employee life cycle, and creating an overall paperless hot-desk work environment concept, was a success milestone. In fact, during Helena's last year of employment, not more than just a few packages of paper were purchased.
"I went on a three-week holiday in Cambodia," she notes. "After ten years of dedication and contribution, I received no work calls during the vacation, and that's when I felt – I had completed my mission. My team was in place, they managed well without me, so it was time for me to move on. But, as it said – just let your dream fly, and the right things will come to you at the right time. During my vacation, I received a LinkedIn contact and invitation call from the recruiting company, Pedersen & Partners."
For Helena, joining the multicultural international organization, Olympic Entertainment Group was her dream come true. She treats the company as if it were her own and puts her heart into it as she believes in its exciting great future. Here she could execute all the best learnings and experiences from her past, bring ideas to life, and influence the lives of others for the better.
A future written in the STARS
The Olympic Entertainment Group's core values are literally written in the STARS. It's an acronym where each letter stands for one value: Service, Teamwork, Ambition, Responsibility, and Solutions. Helena explains that STARS was the acronym their employees voted for, to which they felt most connected and reflected the present company culture or the one they'd loved to work in most.
It represents a success story on how to bring change to life and how, in two years after introducing the core values to the organization across seven counties, 98 percent of over 2,300 employees know them by heart. It's also a story of how to engage employees across Europe during the shocking life-changing pandemic and the first wave of lockdowns.
"We started to build a concept around the STARS and came up with the storyline that our future is written in the stars. Every single employee in the 'Olympic Universe' is a star, together forming a family of co-stars (not colleagues)," Helena states.
She notes that each core value has its color and character, with no gender or nationality. They're happy, energetic creatures full of inspiration and power. She credits the Thisaway agency in the UK for the fantastic results created over endless discussions, numerous meetings, and creative idea pitches.
"Working on the STARS project with Helena and her team was such a positive experience, we collaborated on ideas and concepts to really get under the skin of Olympic's core proposition and bring it to life for its employees in a memorable and engaging way. The result of this collaboration was the creation of the core STARS identity and a suite of expressive graphic icons and animations to reflect the energy and spirit of this dynamic, forward thing company. We are really happy with the results and the ongoing development of the STARS program as it evolves over time.", says, Client Services Director of Thisway, Peter Newland.
Helena lives through her values every day. While full-day training sessions are organized for all the employees, she personally travels to each country to share her inspiration and knowledge with the leaders who need to lead the way with their core values running in their DNA and feel a personal connection to them via stories to share.
"I think our strong values and trust in them; hiring new co-stars who fit with the values, and empowering the existing stars, makes us unique and brings a competitive advantage in the industry. We are the STARS!" she declares.
Exceeding the benchmark for team engagement
From the HR side, Helena is proud that in such a short period, they've been able to bring to life the new STARS core values; introduced the employee engagement surveys, which alreadyreflect the positive trend line; and implement transparent employee performance reviews with personal targets that correspond to the group's long-term strategy.
"We have launched the Cornerstone HR system, internally named OlySpace, which digitizes our employee life cycle across the group, making the processes efficient and transparent, and helping free up the HR team's time to work on new innovative initiatives," she says.
Helena admits that all this has been possible only because of everyone's contribution and efforts, as she alone could not do it. But the continuously improving levels of employee engagement and eNPS reflect her success as a leader because it shows that they're moving in the right direction.
Since Solutions is one of the STARS core values, she encourages employees to initiate changes where they're genuinely needed; not to settle with a check mark for "doing something". "We're a data-driven company, which gives us a chance to prove things with facts. If you can measure it, you can also improve it. As long as the numbers keep going up, it grants more energy and inspiration to move further," Helena says.
One of the STARS core values is Ambition, and the company has ambitious plans, hiring and inspiring ambitious people with whom to execute their long-term goals. Their business expansions are moving simultaneously in many directions to enter new markets globally and acquire new customers by expanding their product portfolio and partnerships.
Olympic Entertainment Group and OlyBet Group, are the leading providers of casino and leisure entertainment across nine Eurozone markets including Estonia, Croatia, Finland, Italy, Latvia, Lithuania, Malta, Slovakia and Spain with more than 140 casinos and hotels and more than 80 sports bars including the Hilton Tallinn Park, Voodoo Grill Restaurants and the OlyBet sports betting and online brand.
The company's vision is to be the overwhelming first choice for multi- channel gaming entertainment in all its markets. Having two leading brands, the historically well-known Olympic and the leading sports betting brand, OlyBet, they aim to be famous for delivering the thrill-of-the-game experience online, locally at their land-based casinos, and on tour, enjoying authentic VIP experiences.
Having both online and retail businesses make them unique and generate many opportunities that none of their competitors can contend with. Their focus is sports, entertainment, and games, which they keep in mind when hiring or delivering their daily tasks.
"I am proud to be on a journey to the future with our STARS team!" states Helena. "We use the Culture Amp platform for employee engagement surveys and proudly benchmark ourselves against the world's top 10 percent best entertainment and recreation companies. I am delighted to note that the Olympic group team engagement is above the benchmark."
Providing employees with the right attitude & motivation
Helena mainly focuses on the employee journey and build-up processes to ensure they are exceptional. She observes that a company can be successful only with an engaged crew, employees who are inspired and motivated to contribute their time and efforts to its success.
However, they will only do it provided with the right attitude and motivation; and only if they're well taken care of and aware that each one of them plays a vital role. You can create fancy strategies and have fantastic partnerships and future plans, but if the people do not believe in them, none are worth more than text on PowerPoint or posters on the wall.
"I love our company, truly! I see so many fantastic opportunities we can offer our employees. I have been in the company for almost three years, during which we've implemented and executed many changes to make the employee journey transparent and clear while supporting them in building their careers," states Helena.
She finds leading an organization across seven European countries an amazing opportunity to learn about different cultures, empower employees to grow as individuals, and enlighten them to see that there's much more out there and that the possibilities are limitless.
"I honestly feel successful whenever I see happy, smiling, and inspiring people around me. It tells me that I've chosen the right path for myself, being able to influence the lives of others as an HR lead," says Helena. "Every day of life is worth celebrating – each small win, each display of appreciation and gratitude. If someone comes to bless me with a hug or 'thank you at least once a day, that's already a success."
Thanks to their partnerships as an entertainment business, the company can provide customers with Money- Can't-Buy Experiences. They can take their customers to football matches, meet the players, see the stadium, visit vineyards, and deliver other unforgettable experiences around the globe.
"The same goes for our employees because I believe we cannot motivate them but rather inspire them by finding ways to unleash their motivation. Besides overwhelming and exceptionally great internal employee events, we also choose ten outstanding employees across the group each month and fly them to one of our partnership events so that they can have the same life-changing experience as our customers and they would be the ambassadors of the company," says Helena.
This way, they can meet co-stars from other countries, collaborate, share best practices, and boost each other. The opportunities to work together as a team across the group, relocate to other countries, or shadow their dream position, motivate the employees to deliver their very best. "It's all about the right attitude," states Helena.
Being a leader is a privilege
Even in the male-dominated gaming industry, there's an increasing understanding of the importance of employee engagement and leadership diversity. For example, Olympic Entertainment Group's leadership team is very diverse, and the overall female- male leader ratio in the organization reflects gender equality.
For Helena, being invited to be the first female keynote speaker at the 10-year- old Casino Operations Summit (COS) in Riga, Latvia, was a huge honor. She used the opportunity to highlight the softer topics of employee motivation and leadership for gaming industry leads.
"I want to believe that I influenced at least a few leaders in the audience of 250. After my presentation, the producer of the COS, Lucien Wijsman, said: "Being somewhat of a public speaker myself, Helena glued me to my seat for 45 minutes. This was not a presentation; this was a TED-talk, mesmerizing and amazing."! That's probably one of the proudest moments in my life. 15 years ago, I would faint if forced to speak even in front of a small group of people. I overcame my fears and felt confident in the topic I'm passionate about and strongly believe in," Helena states.
She considers her greatest achievement as becoming a member of the board of the Olympic Entertainment Group, along with the Chairman and CEO, Corey David Plummer. "I think we form a great 'tandem' to make things happen for the better," says Helena.
She also notes that, as an inspirational leader, Corey boasts an extensive resume of knowledge and gaming background, a magnificent network, and high authority in the industry. He has significantly impacted their business expansions and brought them partnerships with the best-known brands on the planet, such as the NHL, NBA, and football clubs, like Real Betis in Spain, Fiorentina and Juventus in Italy, and many more to come.
"While he takes care of the business and expansion opportunities, I take care of the people who can execute the ideas and make the dreams come to life. I like to say that 50 percent of the board focuses on people. So, whenever I talk to someone, I emphasize that people are our most valuable resource and an asset to the success of this company," says Helena.
She points out that they care about each person as an individual; strive to hire the right people; support their growth; manage personal development; engage them by unleashing their motivation and empower them to be part of their journey of success.
"I believe that the reason why we, as leaders, are successful is only because of our team. I believe that being a leader is a privilege to influence the lives of your team members as individuals. If we fail, then we fail because of ourselves personally," Helena observes.
A leader who opens the doors for her team
For Helena, her work is her lifestyle. She keeps herself and her employees motivated with continuous innovation and transformation that improves their experience.
"I love my job, I love people, and I love change for the better. I like to think that I've changed the cultures in the companies I've worked for. I believe in endless opportunities and that culture drives behaviors. I support people growing, shaping their personalities, uplifting their voice to be open to speaking up, sharing their thoughts, and feeling comfortable in their roles," she says.
Helena is the leader who opens the doors and lets her team drive through them at full speed. She believes and likes to emphasize that if candidates go through a challenging recruitment process and we finally decide to hire the best of the best, leaders should also allow them to do their best once they join the team.
"We cannot kill the enthusiasm and willingness to contribute, drive projects, or implement new ways of doing things. We must trust and let them learn as they do. We need to learn from mistakes, but we tend to learn best from our own mistakes. To be successful and deliver results with satisfaction, it's important to hire someone way smarter than us," she affirms.
Helena is always up for transformation because it brings new ideas and prospects, encourages innovation, and thinking differently. "It's well-known that the greatest stupidity is to do things the same way every day and expect change," she states.
Another quote she resonates with comes from innovation scientist Dr. Tamara Tilleman: "You must believe you can. If anyone else can do this, you can do this as well. Yes, you can!"
Change starts with oneself
Helena believes that change starts with oneself, so she prefers to focus on solutions or what changes are required.
"One of the things I despise the most is whining when something does not work the way it's supposed to," she remarks. "It's important to support and look out for each other, work as a team, come up with ideas and have a can-do attitude. Innovation is change, implementing new things, and removing legacy or the things that don't serve a purpose. If we can't answer the question 'why,' then why are we doing it?"
Helena connects integrity in the company to one of their STARS core values – Responsibility and notes that there are many aspects to responsibility. The first is cooperation with regulators and only entering highly-regulated markets.
The second was creating a new position in the group – Responsible Gaming Lead- a topic always asked about in interviews. The third is CSR (Corporate Social Responsibility), which encompasses things that they, as a company and team of individuals, can do to give back to society.
One of their initiatives was to take care of the environment by participating in World Cleanup Day (www.worldcleanupday.org ) with the slogan: "I am the Star and I care!" During the event, employees across the group, in all seven countries, gave their personal time along with their families and children, to clean up waste, increase awareness of the issue, and make the world a little bit better and cleaner.
At the beginning of the year, their group leadership team updated the company's three-year five-pillar strategy that focuses on its employees, customers, and expansions as a business.
Roadblocks are there to overcome
Helena believes that roadblocks are there to overcome, even if it seems impossible initially, or some people don't see the need to remove them.
"They would rather take out their paint brushes and color them, hoping it will make everything nicer. In those cases, I take my time, analyze the circumstances, gather facts, think about what I can do to present the real situation, and ask the question "What if?" to unleash the creativity to change. But, unfortunately, sometimes the roadblocks are there to stay, and in those cases, we need to accept, bring the best out and wait for the right time," she reveals.
Helena's most valuable lessons have taught her to be patient, use her imagination to find creative ways to approach it, and understand the "why". She admits there's no such thing as a regular day at work, as her days are never the same, there's no routine, and quite often, it's hard to stick to the plan.
"I'm flexible and know how to prioritize. My teams are scattered across the group, with me being the main point of contact. Besides regular one-on-one calls, there are daily topics in need of being solved, negotiated, initiated, or executed. As much as there are people, there are matters to cover," she observes.
Since the company is also en route to improving their employee life cycle, other things on her plate are ensuring they're on track and satisfied with how things are going, that they're compliant with regulations, and the country specifics they need to take into account in corresponding countries.
She often gets involved in meetings ranging from customer loyalty topics, responsible gaming, marketing, legal matters, and company strategy to employee-related questions, engagement, and employer branding.
Helena's daily tasks also include traveling, and she's constantly been on the road once the world was reopened to fly after the pandemic. As her work is her lifestyle, it all fits her rather well. She loves to walk in the woods and along the seaside to help her deal with tension, gather her thoughts, and generate new ideas.
"I have always been a happy person who believes in the goodness of people and sees things positively while still being a realist, staying humble, and rather behind the scenes. If you asked me what I consider my biggest success, it would be my life as it is," she says.
Helena considers herself highly successful as a single mom of two fantastic daughters, Eva and Liisbeth, who share their thoughts with her and often choose to spend their spare time with her.
She successfully managed to balance work and her personal life. With the support of her parents, she raised her daughters, juggled work and home, and is doing her best to find balance – the time for girls, herself, and her job.
"I'm very proud of where I am today. I am proud of my daughters, who mean the world to me, who are both working on their future, believe in kindness, and are my best friends. They inspire me to move further, stretch my boundaries, and keep on smiling through rough times," Helena states.
She admits that there are challenging moments that make her want to drop everything and leave it all behind, but she likes to think that we're given exactly as much as we can carry and that the obstacles placed in front of us are there to overcome. "We simply need a reason and inner motivation. I have that drive and hunger in me, which is why I'm a lucky one," reflects Helena.