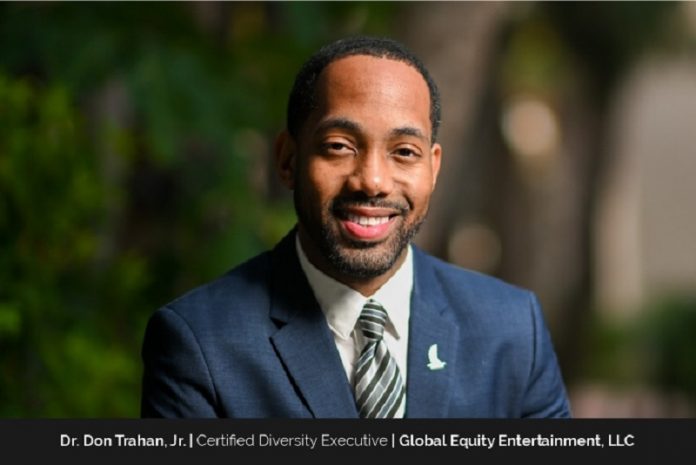 Being authentic and real is what defines Dr. Don Trahan, Jr., Global Diversity, Equity, & Inclusion Practitioner at Global Equity Entertainment, LLC. "If I'm not showing up as me, how can I expect others to do that? It creates psychological safety and a level of rapport that, without question, has made a vast difference in my career," he declares.
The foundation of Dr. Don's commitment to DE&I came from a hate bias crime that took place on a university campus. With a Ph.D. in counselor education, his original plan was to see clients. "Black men in the mental health industry at large are few and far between. I was very mindful that I needed to use my clinical lens to provide counseling, and earlier in my career, I always had a full load of clients, because many people who looked like me felt that I'd understand what they were going through," he explains.
Dr. Don practiced in a college and university setting, and his specialty was with that demographic. The turning point was a racist hate bias incident on campus where a student had a pickaxe slammed into their door with a noose at the end of it and the word "nugga" written above it.
As a scholar studying counseling, Dr. Don was asked to provide insight into the situation. This helped him realize that he needed to shift gears and do something different.
"I called into question what we were looking at – a weapon in the door of this student's dorm room, clear evidence of a noose, and the misspelled word. It made me realize that I had to use my understanding of the human experience, of active listening skills, to advance equity, because had I not been there, this traumatic experience may not have been addressed. So, I thought, let me learn more about diversity, equity, and inclusion," he recalls.
Dr. Don partnered with the Vice President for equity and inclusion to learn more about the industry and how he could use his lens as a clinician. His love of being a licensed professional counselor helped him realize that he would use his degree differently, and his first job post-Ph.D., was as the Director of Diversity and Inclusion at an institution on the east coast. "For 15 years, I've had the honor of traveling all over the world, working with businesses and different disciplines, integrating DE&I, and the foundation of it came from the hate bias crime," he reminisces.
DE&I is an Ongoing Evolution, a Journey with No Destination
As a Global Diversity Practitioner and Business Strategist, Dr. Don looks at the work of DE&I as an ongoing evolution, a journey with no destination. With his extensive experience working in the fields of higher education, government, corporate, and not-for-profit organizations, he views success as the continuation of policies being reviewed and adjusted as needed, with people from various backgrounds, experiences, and geographical locations being part of a forward-thinking team.
"I view it as being able to create work or explore markets that otherwise may not have been explored; as true inclusion, where we're being very mindful of what voices are missing, and looking around and creating an opportunity for individuals to share their insight and have their insights incorporated into decisions being made within an organization," he maintains.
He believes that while it's critical to celebrate the wins, we're never done in this space and that when there's a disconnect with the business or bottom line of the organization, we run the risk of misunderstanding the importance of DE&I. But when DE&I is positioned and operated the same way as any other critical business function, it leads to business processes and outcomes.
Dr. Don points out that the influx of Chief/Senior Diversity Officers emerging after the murder of George Floyd was reactionary. That needs to be avoided with DE&I, which requires a baseline understanding of where the organization is as pertains to equity and inclusion, and what has to be prioritized to ensure alignment and integration.
"I'm very careful with DE&I being limited to surface-level action items that lead nowhere or are unsustainable. You have to identify key stakeholders to gain their buy-in and support and understand where they are. If you don't have that, especially from the C-suite or senior leadership, you run the risk of not having sustainable work or integrating DE&I corporate-wide, university-wide, agency-wide," he insists.
The Benefits of Active Listening in Gaining Trust
Having seen that not everyone believes having diverse voices on a team is an advantage to help innovate and drive change, Dr. Don learned to be willing to listen actively and understand, instead of hearing to respond. "I welcome unreadiness now, because it doesn't mean someone is against me, but perhaps they don't understand what we're trying to drive, especially from a generational dynamic," he explains.  "I have to communicate in a slightly different way for Baby Boomers or early Gen Xers because I'm a millennial. It taught me not to be on guard, but to welcome that unreadiness. As a result, I've been able to work with many different people and reassess and use my clinical skills. I've learned to use active listening to demonstrate that I'm listening and allow them to clarify."
By doing that, Dr. Don was able to gain the trust of senior leaders and key stakeholders and create a space where they could be vulnerable with him, to acknowledge that they didn't know what their challenges were. "That's how I got into executive coaching with CEOs because they need someone who's not going to criticize or judge them. One of the key elements I learned is that everyone has an opportunity to learn. Since then, it's been foundational and instrumental being able to drive the work in this way," he clarifies.
For Dr. Don, being recognized as one of the top global leaders at the World Diversity and Inclusion Congress was the most fulfilling achievement in his career, especially as there were over 200 different countries represented, and being able to get up and speak about DE&I from a global lens was rewarding. It reminded him to listen to understand and meet people where they are, to understand the cultural context, and create a positive workplace experience.
Another badge he wears with honor is his Certified Diversity Executive Credential. With his executive understanding of how to drive DE&I work, he found it tremendously rewarding to be among esteemed colleagues committed to the same type of work. "When I first started studying, I was fascinated by this different take on DE&I. When I obtained that credential last year, it was the epitome. There's no other credential in the DE&I industry higher than that," he declares.
Making the Business Case for DE&I
When he was speaking to certain audiences, Dr. Don learned that understanding the invested interest of different groups was the best way to connect with them, especially from a revenue-generating perspective. So, he learned the business case early on in his career and managed to wrap his head around it through the mentorship of other DE&I experts.
When he graduated with a doctorate in business administration in 2021, he added another layer of truly understanding executive business, evidence-based management, data analytics, and management theories, to make a connection with business outcomes and understand the framework.
"I learned to model how we can make money, save money, and optimize our position in the market to improve productivity and outcomes. When I was able to make that connection and show how DE&I can advance acquisitions and mergers, or be a part of demographic shifts and trends in the marketplace, it led to a very different argument, and the attention of various executives shifted because I now could speak their language," he remarks.
A Unique Approach to Teaching DE&I Principles
Dr. Don's love of music and the arts guided him to create Global Equity Entertainment, LLC, and develop a unique approach by infusing everything that was part of him into a business. For example, when he gives keynotes or does workshops, he doesn't believe in just talking at his audience but incorporates music or some form of media as an attention-getter, to trigger an emotional reaction, grab them, and help to paint the picture at the foundation of his talk, workshop, or panel.
Dr. Don recalls that when he first moved to the east coast in 2014, R&B artist Tamar Braxton, invited him on stage at her concert and the audience went wild when he sang a snippet of her song.
"It reminded me to find a way to merge my love for the arts and music into what I do as a professional. Global Equity Entertainment became my way of doing that. It allowed me to combine what I thought I was going to be doing with my life, which was singing. I got a doctorate to navigate the other side of the workforce, but I love music and entertaining," he says.
This has enhanced Dr. Don's DE&I work especially when he gives talks, because he doesn't try to push concepts down his audience's throats, but makes learning fun and entertaining, keeping people on the edge of their seats. It's his way of showing up authentically and teaching with safety, vulnerability, and fun.
"It moves and excites me to have that element be a part of what I do, while simultaneously being a practitioner in this space. I can still be me and drive change in a way that people are engaged, versus being another lecturer or feeling like they're being talked down to. People want to be valued, respected, and supported. They want you to meet them where they are, and to know that they're learning differently," he observes.
DE&I Must Go Beyond Race
Dr. Don recalls that the DE&I space started with affirmative action or Equal Employment Opportunity (EEO). Then race and gender became the focus. Then intersectionality and unconscious bias were introduced into the demographic diversity and training. However, he believes that there's too much emphasis being given to demographic and racial diversity.
"What does someone's race tell you about the person? You can have someone from a different racial group, but that doesn't mean their mindset, lived experiences, educational background, work experience, is different," he insists. "If you bring a group of people that have very different intersecting identities, socioeconomic status, and religion, their mindset may be very similar, and the fact that there are different races is irrelevant. But when you're looking at truly putting together diverse people, including race and every other component that people present with, now you have diverse perspectives that can be integrated to advance productivity, creativity, innovation, and your bottom line."
Having seen organizations adopt the mindset that DE&I is more than just a program viewed as a strategy, but is contingent upon the business, Dr. Don notes that while some understand equity and inclusion, they still have a long way to go because, in the United States, there's still an emphasis on race.
Offering Clients & Students Actionable DE&I Strategies
For Dr. Don, the beauty of his work as a consultant is looking at the bottom line and finding ways to integrate DE&I tactics into the organization, train leadership, executive leaders, others within management, and even frontline employees, to promote a shared understanding of the framework of DE&I work.
His day-to-day involves understanding, conceptualizing, and sometimes designing a climate assessment to develop a foundation of where his clients are, why they exist, looking at their mission and vision to comprehend the bottom line they're trying to adhere to, and then showing leaders or individuals how DE&I can be reimagined in that space.
As a university professor, he's also involved in training students and preparing lesson plans to ensure they're getting real-life applications in the classroom. "I want my students to leave with tangible skills they can apply. I don't want them to quote a theory without understanding how to activate and/or apply it in real life," he insists.
Dr. Don is adamant about creating real-life experiences in the classroom environment, and his students love it, with many reaching back to thank him for the concepts they learned and are using. "While I don't need that recognition, it does feel good to know that what I'm doing, and the reason I'm doing it, is being received by my students, as well as colleagues within the industry, and that's something that I do value," he reflects.
Pushing the Boundaries of DE&I Work to Drive Change
What drives and motivates Dr. Don is being able to change lives, using his voice to drive change, and seeing the direct impact of that change on people's lives, in the way they navigate a work environment, be their authentic selves, do their best work, feel cared for, or have a sense of belonging.
He's not afraid to have difficult conversations or call a thing a thing. He calls out problems and is not afraid to use data and insights to point them out. "If I don't do it, then who will?" he asks. "Even though it's not always well-received, I know it's having a sustainable change within the organization and directly impacting the people's well-being. For that, I'll always be motivated, excited, and looking forward to being the person who pushes the boundaries of this work globally."
Dr. Don takes it as his responsibility as a practitioner in this space to drive sustainable change, have difficult conversations, and make people uncomfortable, as an asset and a simultaneous disruption. "If I'm not disrupting and everything is safe and sound, then something is wrong. I view myself as responsible for driving that change," he maintains.
The Process Is the Prize
In terms of work-life balance, Dr. Don admits that he would be lying if he said there were not some sacrifices. He had to give up certain aspects of his life in terms of getting married or having children to get a second Master's, obtain a Ph.D., and make a name for himself in the DE&I space. "Not that you can't do it simultaneously, but I chose not to because I wanted to be committed to my work and not have anything to stop me from being able to prioritize me," he states.
However, that did not stop him from living a full and satisfying life that includes traveling and taking the time to practice the true essence of self-care, which means disconnecting, not answering the phone, and not running back to an email. "It means me putting myself first. Even as a professional, that's something I've been intentional about because, for me, the process is the prize," he insists.
Dr. Don prefers to reframe his frustrations and focus on the lesson, or how it influences or impacts where he's going, and part of that is navigating growth opportunities.
"What I've learned is that you have to also find time to intentionally disconnect and do things that make you happy. For me, that's being near water or in a different setting, and it's nice to travel and see different elements in the world, or even across the United States. I'm very intentional about my work-life balance. That's how I've kept myself grounded and remained motivated because I'm taking care of myself and intentionally avoiding burnout," he explains.
Dr. Don admits that although he's achieved academic success and recognition in the form of awards throughout his career, he's always eager to learn and grow and knows there's more to do.
"It's easy to sit back and say I made it and get comfortable. But I'm the type of person that never gets comfortable. I'm always looking at systems I can disable to develop an understanding of hidden, covert forms of oppression, and understand that my responsibility is to be that beacon of support, to be the change that you want to see," he states. "I've achieved success, but I'm not by any means done. I look forward to what's to come. The process is the prize because now I'm able to help other leaders and inform them on things that they can do."
Sharing The Man Behind the Scholar
As the sole proprietor of Global Equity Entertainment, Dr. Don's plans for the future of the company are to scale the business with a team that's innovative, forward-thinking, and just as excited about impacting this space as he is. "They don't have to even view DE&I in the same way as me. That's what's going to make it exciting as we scale because it's going to bring different perspectives," he remarks.
The other thing that excites him as he continues to grow and mature as a leader, is to finally finish the book that he's been writing since 2016, called 'You Think You Know Me, But You Have No idea: Journey to Ph.D. and Beyond.' He explains that the delay is because the "beyond" part keeps growing.
"There are so many lessons learned with corporate America or how to navigate life or just me as a person. I've had so many talks where I've done subject, matter, expertise, work, and then people will say, 'What about you, Dr. Don, what was it about you?' And the more I've been asked that question, the more it helps me realize I need to talk about the man behind the scholar," he shares. "I think if people understand where I've come from, how I've navigated, and what kept me motivated, it'll give them an understanding of who I am as a person, why I do the work I do, why I'm willing to take on the responsibility of others the way I have, why I'm a giving person, and why I still like to have fun because that's important."
Dr. Don observes that people have a certain image of what they think a scholar ought to look like, but he has fun like everyone else. So, when people finally have an opportunity to read his book, they're going to have a different respect for what he's been able to do and understand how, despite what he's gone through, he remains grounded and committed, which has been instrumental in his success.
He notes that it's easy to want to bypass how you've gotten somewhere, but if you can take the time to understand the journey, how it contributed to the result, and how it's a continuation, it's going to help people.
"There are things everyone goes through that people don't want to talk about, but I needed to share my story because all the elements contribute to why I'm the person I am today and how I've had the success I've had globally. I'm going to be the wave that will continue to drive change in this space and other spaces as well. I'm looking forward to some things that people will not expect from me. I'm excited about the future and my face lights up when I think of what's to come," he proclaims.
Understand How DE&I is a Framework for Business
Dr. Don shares some profound words of wisdom for aspiring leaders in the DE&I industry, as follows:
Take time for yourself. Make sure that you're in the right state of mind because this work is very difficult. It's not uncommon for an organization to expect a chief diversity officer or senior diversity officer to solve all of the problems they've had from inception. My mentor will typically say, they want a unicorn and it's unrealistic. So, take care of yourself and make sure you're clear on where you are. Get into the mindset of understanding the business case for DE&I.
There's nothing wrong with programming or project management, but if not careful, they can be viewed as one-offs. What has to happen in the DE&I space is sustainability, something that's beneficial to the business's bottom line. So, future leaders or practitioners in this space have got to understand the bottom line of the business, understand the business case, and the key stakeholders that are instrumental to driving this work, including the C-suite and frontline employees. Because it takes everyone and there has to be an understanding of equity and inclusion.
I'm emphasizing equity and inclusion because the D in DE&I can take people down a path where they're not driving diversity, equity, and inclusion. Once you understand how to advance equity and inclusion and understand the bottom line of the business, that lets you create a roadmap and strategies and adopt tactics that can lead to sustainable change.
Let the data tell your story. Don't try to convince people of anything, because it doesn't matter if it's the right thing to do. The data will tell the story, provide insights, and show you correlations that exist. Qualitative data, such as focus groups or one-on-one interviews, will give you an in-depth understanding of what your team means by X, Y & Z; this is where you need to double down, to create a sense of belonging in the workplace.
As a leader in this space, you've got to understand all of those moving pieces and connect them to a strategy that's aligned with the business strategy. When you do that, you're more likely to succeed in this space, in terms of sustainability and buy-in. Many people are rolling out programs, projects, and training, but if the training is not done in a way that activates behavioural change in the workplace, it's a one-off. So be very mindful of that and connect this understanding with that bottom line.
Another critical aspect is a priority-based implementation model. You cannot do everything at once, it's impossible. That's where a lot of DE&I leaders fail. They're trying to roll out so many different things, not giving themselves time to put a beta in place or do pilot testing.
If you connect the change management process to anything you're driving, you're more likely to have sustainable practices that evolve, and your work will have lasting change within the organization. That's the way I would encourage and challenge leaders coming into this space. When you understand how DE&I is a framework for business, you're more likely to succeed.