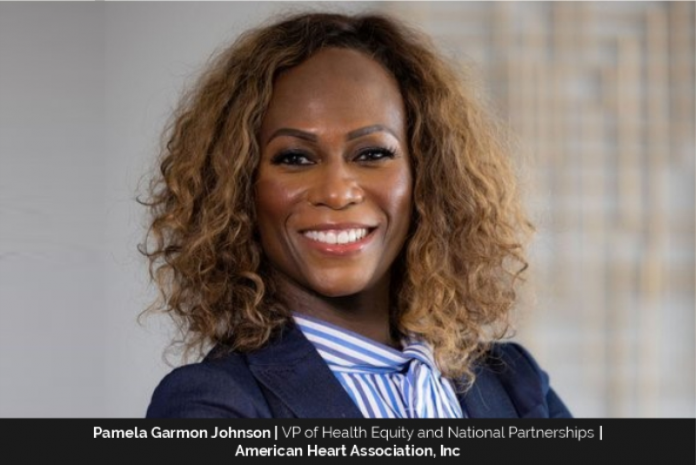 Unveiling the story behind the esteemed Pamela Garmon Johnson, Vice President of Health Equity and National Partnerships of American Heart Association, Inc. (AHA), this enlightening feature dives into her journey and the unique knowledge imparted along the way. Pamela's story is a testament to the power of determination, hard work, and a commitment to achieving equity. Her leadership and advocacy have already significantly impacted the health equity landscape, and she continues to inspire and empower others to join her in this important work. It's no surprise why Pamela Garmon Johnson is on the list of The 10 Most Influential Black Corporate Women to Watch in 2023.
As the VP of Health Equity and National Partnerships, she comprehends that she represents more than just herself and recognizes the significance of representing numerous women, particularly women of color, whenever she steps out. Therefore, she feels responsible for identifying opportunities to help bridge the gap and facilitate ease for others in the coming years.
Considering heart disease and stroke are the primary causes of death for women, Pamela realizes that her job is to close the existing gaps in accessing heart health resources. Over the years, her perception of success has changed as she has progressed in achieving her goals. She is focused on imparting her knowledge and experience to aid young women and men in achieving their goals, thereby setting an example of success and leadership. She recalls the wise words, "imitate the behavior of those who have been successful," and firmly believes in doing the right thing with unwavering integrity.
As the Executive Director of the National Hypertension Control Initiative (NHCI), Pamela has the privilege of managing numerous crucial initiatives to mitigate the Social Determinants of Health. The NHCI's primary goal is to increase awareness about high blood pressure and to create sustainable systems of management and prevention through integrated community and clinical approaches. The team works closely with Community-Based Organizations (CBOs), Community Health Centers (CHCs), and Community Health Workers (CHWs) to provide necessary awareness, counseling, and self-monitoring tools that aid people in controlling their blood pressure.
The EmPOWERED to Serve initiative is another integral part of Pamela's portfolio, which falls under the Health Equity domain. By bringing together social entrepreneurs, nonprofits, and individual agents of change, EmPOWERED to Serve provides community-based solutions that aim to address issues such as food insecurity, transportation, access to healthcare, STEM, and youth education. This program has significantly impacted in the past five years through Business Accelerator, HBCU (Historically Black Colleges and Universities), and HSI (Hispanic Serving Institutions) Scholar programs. EmPOWERED to Serve recognizes that the definition of community varies among people and is committed to helping families, neighborhoods, churches, cities, towns, organizations, and schools. Pamela is proud to lead these diverse efforts and contribute towards bridging the gaps in health equity. She says, "I am proud to help lead these different efforts."
"Let's Make it Happen" – Pamela Urges Understanding of Family Health History!
Pamela, a passionate advocate for managing blood pressure, stresses the importance of understanding one's family health history to control and prevent high blood pressure. She highlights that high blood pressure is more severe in Blacks than Whites and develops earlier in life. Pamela believes people must be aware of their health risks and take action earlier in life to prevent permanent heart damage caused by high blood pressure, also known as the "silent killer."
Pamela expresses her dedication to her work: "Overall, I work very hard to convey the kind of passion that I have for my work. It is my hope that this desire will keep people motivated." She also encourages an open dialogue with those she works with, saying, "I want people to feel comfortable being able to come to me with their thoughts on how they feel something can be accomplished. If they think or feel there is another way to accomplish a goal, I'm all for it."
Pamela's motto, "Let's Make it Happen," inspires and motivates those around her to take control of their health and work together towards a healthier future.
Dream to Passion: Pamela Garmon Johnson's Journey to Healthcare
Pamela shares that when she was growing up, she dreamed of becoming a lawyer and using the law to advocate for the disenfranchised. While she did not pursue a career in law, she married a lawyer and remains connected to that dream. However, her passion for healthcare grew due to the high mortality rate in her family and community. She witnessed family members losing limbs and eyesight due to obesity and realized they could not access better food and exercise options.
Pamela's family had a history of serving their country, including being the first African American engineers to migrate to California, integrating school systems as teachers, and serving in a segregated military. Her father even received a Purple Heart during WWII. Despite their service, they did not have access to quality healthcare and food. Pamela was motivated to address premature deaths from the lack of quality access to healthcare. Through her work in the healthcare industry, she hopes to positively impact the lives of those in her community and beyond.
Breaking Barriers: How Pamela Overcame Challenges as a Female Leader
According to Pamela, "not being seen" and dealing with limited resources were significant challenges she faced as a female leader. She had to learn to have meetings before the actual meeting and allow others to bring forward ideas and support them. Despite the constant advocation for equity being daunting, she knows that change will only happen if she advocates. Pamela maintains her composure in adversity and perseveres through barriers to alter management to produce outstanding results. She explains, "you hold your head high even when others try to "not understand" or create barriers to not enable change management."
American Heart Association, Inc. services
The American Heart Association, Inc. is a non-profit organization that aims to improve cardiovascular health in the United States and worldwide. The organization provides various services related to heart health, including public education and awareness campaigns, professional training and certification programs, scientific research and publications, advocacy for policies and programs that promote heart health, and support for individuals and communities affected by heart disease and stroke. The American Heart Association's services are designed to help prevent and manage heart disease and stroke, two of the leading causes of death in the world.
The VP of Health Equity and National Partnerships conveys that the American Heart Association has publicly declared its commitment to being a champion of health equity. This commitment is reinforced by the issuance of the 10 Commitments for Health Equity, which the employees are holding themselves responsible for.
Gaining Insights and Bringing Change – Lessons Learned by Pamela Garmon Johnson
As stated by Pamela, understanding others and new techniques is crucial for leaders to create change. She suggested that her team get involved with local organizations and bring back the insights to impact the company's strategies. This process helped them prioritize innovative and sustainable projects by using data to inform their strategy. As Pamela says, "data informs strategy. You cannot show up with your feelings but must come forward with the evidence and models that support your positioning." These professional roadblocks taught Pamela valuable lessons that helped her and the company grow through the years.
From Accounting to Health Equity: Pamela's Journey and Achievements
Pamela Garmon Johnson began her career as an accountant in the telecommunications and durable medical equipment industries. Her analytical abilities have been integral to her greatest achievements, including being recognized as a thought leader in health equity and presenting on various national, regional, and local panels. Pamela was awarded the 1st AHA Guiding Value for Ensuring Equitable Health for All. She considers it a privilege to work for an organization focused on improving health outcomes and leading a team willing to push the boundaries to achieve equity. Pamela also states, "it takes a team and the support of others to be able to achieve your goals, and I'm grateful for the amazing team I work with.
Contribution to Healthcare Industry and Roadmap for Strong Healthcare Partnerships
According to Pamela, she is most proud of her work leading Powerful Partnerships to drive sustainable and effective outcomes in the healthcare industry. She believes in bringing various organizations and thought leaders to address huge challenges, emphasizing the need for collaboration between the public and private sectors and philanthropists. Pamela emphasizes that investment in community-centered strategies is crucial for better health outcomes. She articulates, "we know the elements to better health outcomes, so let's work together to invest in communities that contribute to 80% of a person's health outcomes."
The NHCI team puts this work into action everyday through their collaboration with community organizations around the country like Black Nurses Rock, Catholic Charities of Southeast Texas, Central Maryland Area Health Education Center, Florida State University Center on Better Health and Life for Underserved Populations, Jack and Jill of America, Inc, and The Links Foundation, Inc. Their work helps to make the crucial connection to reaching people in community.
A Vision for the American Heart Association, Inc. 
& Motivational Techniques for Team Success by Pamela 
"I am very deliberative and advocate for AHA's Health Equity vision with internal and external stakeholders," says Pamela Garmon Johnson, the Vice President of Health Equity and National Partnerships at the American Heart Association, Inc. (aka AHA). According to this veteran female leader, she supports the Organization's 10 commitments for Health Equity which focuses on the amplification of strategies to improve cardiovascular health for all Americans, which a particular emphasis on reducing deaths from heart disease and stroke. Additionally, she believes in spreading awareness of the pervasiveness of high blood pressure in African Americans and people of color.
Pamela advocates for setting clear goals and prioritizing employee development to keep her team motivated, stating, "I often set daily and weekly goals for myself and my team. We celebrate the small wins and seek growth opportunities." She also emphasizes the importance of creating a culture of collaboration and open communication, noting, "I think the trick is to create a culture of respect and trust where team members feel valued, listened to, and are held accountable for their work."
Looking Ahead: AHA's Future for Lifesaving Work and Equitable Health
When advancing its mission of fighting heart disease and stroke, the American Heart Association Inc. (AHA) team has big plans for the future. As Pamela, a leader within the organization, cites, "we have developed the Second Century campaign as we move into the next century, which is focused on the relentless resolve for the future of our lifesaving work and equitable health for all people."
Pamela adds, "our work is never done, but with our eyes fixed on the future, we are more determined than ever to make a meaningful difference in the lives of all people."
For the AHA, this means continuing to focus on research and innovation to help prevent and treat heart disease and stroke while ensuring that all communities have access to the resources and support needed to stay healthy.
Pamela's personal objectives for the coming years
As a person, Pamela hopes to keep making an effect on national health equality efforts and tackling their underlying social factors. To maximize the impact of their combined efforts, she plans to keep lobbying on behalf of national alliances.
Striking a Work-Life Balance: Flexibility is Key
Juggling personal and professional commitments can feel like walking a tightrope at times. When asked about her secret to managing it all, Pamela shares her secrets to achieving a work-life balance.
"I am a mother and wife first," she says, "So, my days are busy. However, what I have learned with handling my most important job, which is family, is that to balance both effectively, I must be flexible and know how to pivot when needed."
For Pamela, the key to maintaining balance is a constant process of attentive listening. "It's probably the greatest gift and asset I can have," she notes. "And it's a never-ending process." In addition, Pamela emphasizes the importance of self-care, including getting enough sleep, exercising, and eating a balanced diet. She expresses, "it goes with the AHAs life's Essential 8."
As we navigate the challenges of our daily lives, Pamela's focus on flexibility and self-care can inspire us all to strike a healthy balance between our personal and professional responsibilities.
Pamela Garmon Johnson Advises Aspiring Black Professionals: "Be Authentic and Build Your Village"
According to Pamela, being true to oneself is key to success. "Do not be afraid to be yourself," she advises. "Being authentic is very important to being successful." To progress in your career, she also stresses the importance of networking and developing a group of mentors and supportive individuals. "Everything is about relationships," she notes. "It's the key to anyone's success because no one gets to where they are by themselves. It does take a village."
Pamela also highlights the significance of having great bosses and being open to coaching. "Always be willing to ask questions and accept coaching," she advises. "Be sure not to undervalue the worth of having a great boss(es). Because more than likely, they will play a huge role in your development, growth, and career." And when you reach a level of success, Pamela encourages giving back by providing mentorship and sponsorship. "It gives me great pride to see the accomplishments of those I have mentored/coached and to see a little of yourself in them. It is a blessing," she adds.
Aspiring black professionals and businesswomen can learn much from Pamela Garmon Johnson's advice. By being true to themselves, building a supportive network, seeking coaching, and paying it forward, they can achieve great things in their careers.