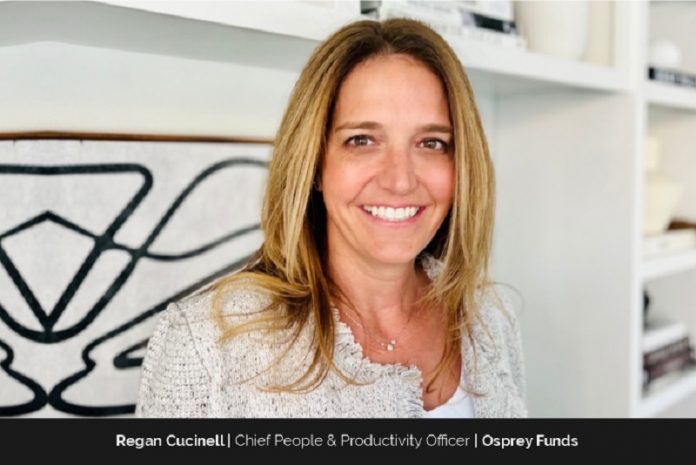 As Chief People & Productivity Officer of Osprey Funds, Regan Cucinell believes that a successful people program is the product of expertise, experience, critical thinking, creativity, and active investment in business alignment.
Regan is known for turning this belief into tailored and measurable HR programs which attract, retain, and upskill great talent.
After graduating from Trinity College in Hartford, CT with a B.S. and Psi Chi Honors in Psychology and a minor in Neuroscience, Regan started her career at Montgomery Asset Management in San Francisco, and later returned to New York City to acquire an MBA from Fordham University.
Regan eventually landed at Bridgewater Associates where she worked for 15+ years, most recently as the COO in HR and Talent working alongside the Chief People Officer. After leaving Bridgewater, Regan invested in growing her experience and expertise by consulting as a Fractional and Interim CPO for domestic and global companies in various industries, eventually joining Osprey Funds full time.
"It's incredibly important for small to midsize companies (and the companies investing in them) to have access to same high caliber thinking and people strategies as the larger firms; but the cost of top talent is a factor," she observes.
Designing innovative & impactful HR strategies
Regan's innovative and impactful HR strategies take companies to the next level by maintaining an effective mix of the human side and the resource sides of HR.
"Periodically the pendulum swings more toward Humans or Resources. My goal isn't to change the swing of the pendulum, it's to maintain standards while keeping an eye on what's to come" she remarks.
Along her career journey to becoming an HR leader, Regan acquired several HR skills and specialties, including:
Roadmaps to attract and retain forward-thinking, bright talent who are enthusiastic about hard work and making big ideas a reality.
Quantitative and qualitative insights to support data-informed decision-making on spans and layers, employee engagement, productivity, talent management, and succession planning.
Culture and wellness programs to support an authentic and respectful culture where teamwork-oriented, collaborative work sits with a sense of belonging, personal accountability, and psychological safety.
"Several colleagues once told me that emphasizing psychological safety within the company culture risked lowing standards. I disagreed then and I still disagree today. Psychological safety is how you hold high standards."
Focused on business-aligned HR
Regan notes that when HR is done extraordinarily well; it is highly regarded, respected, and sought out as a service to the company.
"When HR is done extraordinarily well it is highly regarded, respected and sought out as a service within the company. On any given day I know how well I am doing in my role based on the quality of my relationships with other parts of the business"
Elaborating further, she explains that when HR leadership has expertise, quality relationships, and a road map to support corporate strategy and identify employee needs, so business leaders can make good decisions about people and the workplace, it's operating at its best.
Regan's use of the term 'road map' is intentional. The visual imagery of a roadmap is a reminder of the parallel paths and intersections required to implement and deliver exceptional HR impact.
"The Roadmap starts with Mission, Vision, and Values. It intersects with Implementation and Change Management, and progresses on Communication, Collaboration, and Business Alignment," Regan affirms.
Looking from the outside in, the lack of a business aligned road map is the first sign of an issue, followed by insincere relationships and intent-based programs. In other words, Business-unAligned HR.
Success is the entire package, not just the outcome
Regan notes that success is often equated with an accomplishment, which implies a focus on the outcome. "We often congratulate people on their new job, promotion, school admission. My definition of success includes how you got there," she maintains.
Regan observes that success is better defined as the combination of the process which leads to the accomplishment. While not this simplistic in reality, you can look at success in a binary way: were you lucky or not? The former is fantastic (everyone deserves good luck sometimes); the latter is better because you built the resilience and ability to do it again.
"What I like about my view of success is that it's not all or nothing, and attaches value to points along the journey," Regan clarifies, admitting that she came to this view after working through difficult times in her career.
"If you go back to the idea of a business aligned Roadmap, I have stories of personal struggles at each stage. At one point in my career, I would declare a reasonable Monday morning a roaring success," Regan laughs.
"Success is the combination of the process which leads to the accomplishment. Did you get lucky or not?"
Turning companies into places where employees thrive
Regan believes in the power of quantitative and qualitative insights to inform a decision or debate. She notes that when she first pivoted her career into HR, it was with a focal point on People Analytics.
"I never believed the computer would make a better decision than a human, but I am deeply connected to the idea of confirming and disconfirming information as both a counter to conscious and unconscious biases, and a way for good managers to be even better," she declares.
Regan also found that you do not need piles of data or complexity, and in fact, too much data muddies the insight. Most small to medium companies have 60% of the data they need, and they can inexpensively create the remaining and extract what they need using Excel.
"The key (and where people analytics fails) is the planning and committment to go from data-analysis-insight to program-implementation-change management to oversight; and back again. Impacting behaviors and mindsets is far harder than building a model or producing analytics," she states.
"Impacting behaviors and mindsets is far harder than building a model or producing analytics."
Seeing resilience as a development opportunity
Regan agrees that challenges are a necessary part of life and a career, but notes that when challenges strike an employee, it can become an exponential event.
"We need to talk more about resilience. Building it, maintaining it, and sharing it with others. Resilience is a necessary foundation for wellness to thrive," she maintains.
She also observes that development programs should include resilience as a competency like any other and develop employees accordingly.
"We have to acknowledge that not everyone is or wants to be resilient. It's not a judgement of them, just a workforce development opportunity worthy of addressing creatively."
Technology has given HR its rightful place in the 21st century
Regan remarks that the changing landscape of the HR industry, HR Software, and technology advancements have enabled HR to take its rightful place in the 21st century. She believes that, when HR tech is implemented as part of an overall HR roadmap, processes are more efficient and effective, improving efficiency and experience at all levels.
One problem today is the saturation of the market. There are so many offerings it can be difficult to know if the choice is right.
"I rely heavily on the Jeff Bezos one-way and two-way door decision making framework. You can only go through a one-way door in one direction, you cannot undo your decision and come back, and I always work closely with the lawyers to mitigate risk," says Regan.
While she has many accomplishments that she's proud of in the hire, retain, support, and upskill space, Regan insists that there is so much more that she wants to do and contribute to the profession.
"I have three passions right now. #1. I'm piloting a fractional-CPO model to up-level HR at small and midsize companies. Those who may not have the resources or want to prioritize the resources to pay for top notch HR talent. The key piece of my design is that we are not a threat, we are a partner to the existing HR teams. #2. I'm also looking at how we can be more inclusive and utilize different ways of thinking (divergent thinking vs. convergent thinking) to identify new ideas and problem solving, and #3. I'm educating myself on how to best attract and retain employees who happen to have disabilities," she reveals.
"I don't think I've had my greatest achievement yet; I have many accomplishments I am proud of, but there is so much more I want to do and contribute to the profession."
Life is not a balance, but a juggle
As far as work-life balance goes, Regan remarks that she does not refer to it as such. "Anyone who works and has a life knows it's not a balance. It's a juggle. Sometimes all the balls are flying through the air in a coordinated show of beauty, sometimes one or two drop, and sometimes they all may fall on your head," she says.
Regan notes that a reasonable goal is for any ball that drops to bounce back into your hand to be tossed back up into the flow. "The key to a beautiful juggle is knowing the people in your life who will catch a ball or two, toss a new one to you, or help you pick them all up off the ground and start again," she observes.
Regan's parting advice to aspiring leaders in the human resource industry is to build a baseline of HR knowledge and gain experience on the business sides. She advises HR leaders to learn about psychology, neuroscience, corporate strategy, finance, and technology.
"Work in other facets of the business in addition to HR, it gives your perspective and the ability to relate to what others are going through. Study talent development but learn how the different functions of the brain work and interact. How positive feedback, negative feedback, and stress impact the brain. Understand psychological safety and why it matters in your workplace," she suggests.
Regan also urges leaders to talk to people, understand their story and stay informed. "HR is not a heads-down job. More often than not your head is on swivel. We have to respect that whatever is going on in the macro and microenvironments of our employees is coming to work with them (or even happening at work). We have to be masterful agile problem solvers but have the humility to know we can't solve everyone's problems. It's our job to have the infrastructure and frameworks in place to support managers and employees, while also looking ahead for what may come at us next," she recommends.