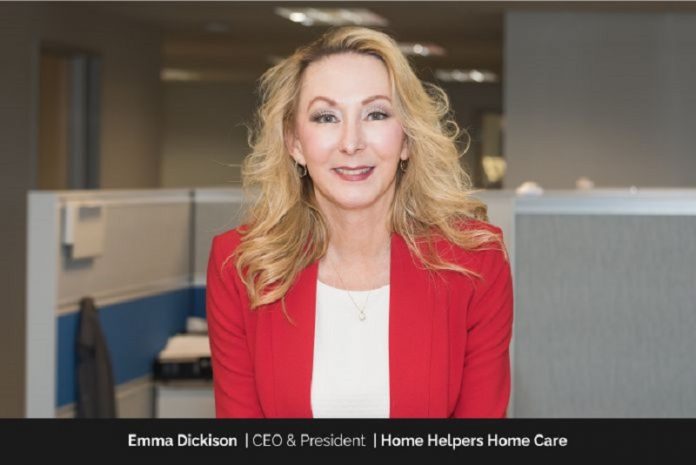 Home Care franchises offer independence and dignity to both seniors and Caregivers by providing essential home care to those who need it.
Emma Dickison, CEO & President of Home Helpers® Home Care, is a successful franchise industry veteran, with over 30 years of experience in franchise leadership, that includes helping build two of the country's iconic franchise brands.
As Vice President of Franchise Services for Sylvan Learning Center, she was responsible for over $660 million in revenue and more than 1,000 franchise units worldwide. She also spent 14 years working with Blockbuster generating more than $1B in annual system wide sales in both corporate and franchise business units, serving the last six years as National Director of Domestic Franchise Operations.
In addition to her role as CEO & President of Home Helpers, Emma serves as a Board Member at Home Helpers® Home Care, President of the Board of Directors for Home Care Association of America, the country's largest trade association. She is currently a member of the global Women's Presidents Association and a former board member of the Women's Franchise and Distribution Forum. A Certified Franchise Executive, she is also active in the International Franchise Association.
Building the Top Home Caregiving Network
Home Helpers® Home Care is a leading brand in the burgeoning $75 billion senior home care industry, which has been ranked by Entrepreneur as a top 5 most profitable franchise sectors. The company, which celebrates their 25th year in 2022, offers the most comprehensive care program for individuals who need assistance with activities of daily living.
"Home Helpers® Home Care continues to be driven with a spirit of innovation  in home care," recalls Emma. "When we started over 25 years ago, consumers didn't know what home care was or how you'd find it. We helped educate consumers, business owners, and the healthcare industry about home care's role in the continuum of care. I believe our emphasis on education and advocacy has helped us maintain that leadership position."
The Franchise Times Top 400 (previously called the Top 200+), an annual ranking of the 400 largest franchise systems in the United States by global system wide sales, recently ranked Home Helpers® Home Care #224, up by 30 placements from the prior year, in their ranking of the top 400 U.S. franchise brands.
Home Helpers® Home Care was also ranked the #1 Senior Care Franchise and "Best of the Best" by Entrepreneur magazine for 5 straight years, and is continually ranked in the Top 10 Home Based Businesses. It has achieved double-digit compound annual system revenue growth over the past 10 years.
The Home Helpers® website serves as a great resource to consumers, clients and families to quickly find the answers and information they need, from exploring long-term care options and choosing the right Caregiver, to the latest research in senior care and medical monitoring systems.
With a presence in more than 1000 communities in North America, Home Helpers® Home Care is expanding its Caregiving network to be "the extended family when the family can't be there."
Providing exceptional care for seniors and others
Despite the best intentions, most adults find it difficult to provide the quality care and attention that aging family loved ones deserve, while managing a career and raising a family of their own. With the population of people age 65 and older expected to double by 2030, the need for reliable, affordable home care is growing exponentially.
Studies have shown that nine out of ten Americans over the age of 65 would choose to stay at home as long as possible, and 80% believe that their current home is where they will always live. Older adults prefer to remain in their own home and maintain as much independence and dignity as possible for as long as they can.
"With help, this desire can be made a reality," says Emma. "Home Helpers® Home Care helps people achieve this goal by offering the exceptional care and assistance they need in the comfort of their home, wherever they call home"
In fact, elderly Americans receiving home care generally need fewer trips to doctors and hospitals. Studies show that seniors using paid in-home care reported 25% fewer doctor visits each year than older adults who did not have such care. As a result, home care reduces overall health care costs, while also creating jobs in a new and growing sector.
"We offer the helping hand that many seniors need, which can, in turn, allow them to live longer and happier lives. While the majority of clients we care for are seniors, we also help people recovering from illness or injury and those with life-long chronic conditions," says Emma.
Providing World-Class Round-the-Clock Care with Cared-4™ –
Home Helpers® Home Care has always been a premium home care company, which means as clients' needs and wishes change over time, they keep innovating their services to be ahead of these trends.
"Our Cared-4™ comprehensive care program is a perfect example," says Emma. "It allows us to start with someone much earlier in their lives and scale care as their needs change over time. This allows for greater relationships with our clients and their families and enables our franchisees to capture additional revenue."
The comprehensive Cared-4™ program provides overall round-the-clock care that includes personal care and companionship, meals and  nutritional support, wellness calls, and 24-hour monitoring to ensure  clients are safe and able to enjoy their best lives.
"I believe we've redefined what it means to be genuinely 'Cared-4™' when it comes to home care," says Emma. "We have led the industry into more innovative offerings and developed better ways to recruit the best talent. Through our recognition program, Exceptional Care, Exceptional Caregivers, we showcase what makes someone on the team genuinely exceptional."
With this kind of comprehensive care, both families and those in the healthcare industry refer to Home Helpers® as the company making a difference in people's lives every day by enabling individuals to live independently at home for longer than otherwise possible.
A Profitable Business Franchise that Makes a Difference
As an essential business, Home Helpers® Home Care helps seniors stay healthy and safe during in every economy or health event.  As the nation's population continues to age, the demand for home care services is expected to have significant growth as well.
"The home care industry has proven to be one that is reliable and consistent," says Emma. "40% of adults over 65 need daily assistance, and 70% will need help at some point. With these numbers, there is no doubt that our services will always be in high demand."
The Home Helpers® Home Care franchise has a mission that matters and is perfect for those looking to start their own business while making a positive difference in the lives of seniors. It provides a system of comprehensive training, ongoing support, and wold-class marketing tools to support franchisees in achieving success.
"Our franchisees have helped us expand our care in the past ten years to serve over 1,000 communities today," says Emma. "Our mutual success has fueled greater interest in the brand and continued growth. We also see our franchisees as a vital part of our personal accountability at the National Support Center. It  drives our team to constantly strive to enhance our offerings, leverage technology for greater efficiency, improve average unit volume and support our franchisees to grow profitably."
Franchisees begin their Home Helpers® Home Care journey providing private-duty in-home care services that yield higher margins and allow them to develop a strong financial foundation. They can also expand their service offerings to include in-home care for individuals that might include veteran benefits, Medicare Advantage plans, Long-Term insurance or various other home care programs.
Additionally, a Home Helpers® Home Care franchise has the opportunity to expand and develop additional Home Helpers® Home Care markets.
"As a leader at Home Helpers® Home Care, I define success in two simple ways," says Emma. "1. Are we helping more clients live independently and happily at home? 2. Did we help our franchisees accomplish their professional and personal goals of owning and operating a business?"
Sustaining a Culture of Integrity and Compassion
For Emma, integrity and compassion is core to the company's values. "That's true for our franchisees' relationships with clients and also with our relationships with franchisees," she says. "We focus on doing things right and doing the right thing." We know clients and franchisees expect that of Home Helpers, and we expect it of our franchisees, vendor partners and key stakeholders."
For over 25 years, Home Helpers® Home Care franchise agencies has brought compassionate care to families across the country. "At the National Support Center, we bring that same mindset as we work with our franchisees. The franchisees' role and relationship is essential. We're here to help support them to achieve greater success," says Emma.
By sharing their franchisees' stories and how they do their job, Home Helpers® Home Care has seen a different type of candidate apply to their franchise. This recognition and approach to recruitment has allowed them to sustain a culture of integrity as they expand their care services throughout the country.
"We share with one another. We celebrate each other. We help one another. When you have this level of connection in your organization and your team members, your drive to succeed for the team is innate," says Emma.
But what she is personally most gratified by is seeing their franchisees' success. "I have been with many of them through many important life experiences such as marriages, kids college graduations, transitioning out of jobs, the growing pains of building a successful business, loss of loved ones, and welcoming grandkids. For me, this is a very personal journey, and I am so glad to have shared in these challenges and joys," she declares.
Adapting to the Challenges of the Pandemic
"I would agree challenges make you stronger. We've certainly had our share since the onset of the pandemic," says Emma, recalling that the pandemic challenged Home Helpers® Home Care to adapt their operations, find new suppliers, enhance their staffing and evolve their business.
"We could not have navigated this so well if it weren't for the personal commitment of our team at the National Support Center and our strong community of franchisees. All worked countless hours to ensure our clients' and employees' safety," she says.
Emma admits that without strong communication and relationships with their franchisees and a shared focus on their mission, Home Helpers® Home Care would not have grown through the tough times.
"I am so proud that our organization has experienced double-digit compound annual growth rate over the past ten years, with our franchisees averaging over $1 million in revenue in 2021," she says.
Having previously helped franchisors, including Sylvan and Blockbuster, develop core processes and train teams, Emma believes that, with the right systems (both technology and standardized operating procedures) and world-class training, Home Helpers® franchisees will experience continued strong performance.
"Success isn't easy. It takes focus, attitude and discipline," says Emma. "When I decided to join Home Helpers® Home Care as their next CEO, I knew two things. One, this is a great concept and so needed in every community. I have personally been a family Caregiver, and I know first-hand the impact of having exceptional Caregivers for a loved one. And two, this company could grow exponentially."
A Strategic Plan for International Growth
With an average franchise owner growing to over $1 million in annual revenue in the past three years, Home Helpers® Home Care has been recognized by Entrepreneur, Franchise Times, Franchise Business Review, and many more as a top franchise over the years.
"All of this recognition showcases the work of our incredible team at the National Support Center and the willingness of our franchisees to implement our business model consistently," says Emma. "As the CEO, you are always looking forward. What's next? How can we improve? How do we help our franchisees grow? Questions like these force me to take a moment and realize how far we've come."
The U.S. home care market is expected to continue growing through at least 2050 with the aging of the population. Home Helpers® has identified a number of markets across the U.S. that do not currently have Home Helpers® as an exceptional home care option and plans on expanding to these locations with the right future franchisees.