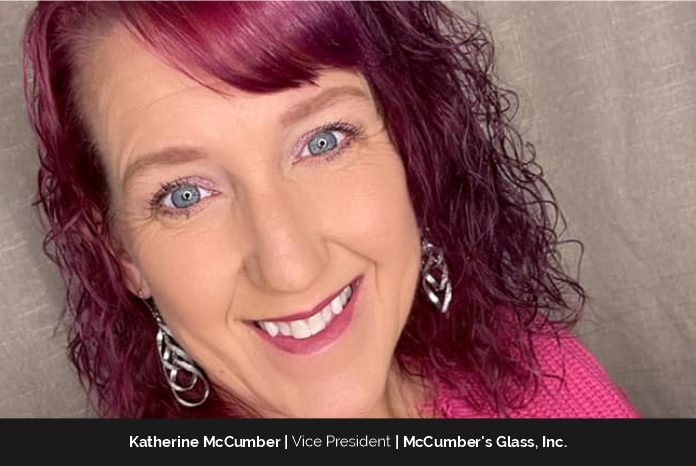 Meet Katherine McCumber, the vice president of McCumber's Glass, Inc., who is carrying on her father's legacy with a deep sense of pride and passion. Katherine's work ethic is a reflection of her father's, but she has taken it to new heights by fostering a family-like team environment within the company.
Katherine firmly believes that relationships are crucial for the company's success. For her, it's not just about connecting with customers; it's about building meaningful connections with everyone she works with. Whether it's suppliers, team members, or customers, Katherine focuses on building strong relationships that will benefit the company in the long run.
Beyond the workplace, Katherine is dedicated to empowering team members to become future leaders. She attends Women in Construction events and even sponsors them to inspire women to pursue their dreams and not hide their talents.
Katherine's commitment to her team extends beyond work hours, as she encourages them to unplug, unwind, and enjoy their personal lives. Katherine understands the importance of maintaining a balance between personal and professional life, and she encourages her team members to do the same.
With Katherine's leadership, McCumber's Glass, Inc., continues to thrive and be recognized as an amazing glazing company. Through her dedication, she has earned her position as a successful businesswoman, and her message to other women in business is to never give up and keep pushing forward.
True Success is Giving All You Have
For Katherine McCumber, success is not just about achieving big milestones or reaching lofty goals; it's about the everyday moments where you give it your all. Success is showing up each day and putting in the hard work, no matter how big or small the task may be.
Katherine's commitment to hard work is a reflection of her father's legacy, who instilled in her the importance of a strong work ethic. She believes that success comes from consistently showing up, putting in the effort, and striving to be the best version of yourself.
Continuing the Legacy
When Katherine's father, Lou McCumber, started McCumber's Glass, Inc., his dream was to create a business that would leave a lasting legacy for his great-grandchildren. He wanted to build something that would provide for his family for generations to come. Katherine shared her father's vision, and when he passed away in 2014, she vowed to continue his legacy and honor his wishes.
For Katherine, continuing her father's legacy means more than just keeping the business running. It's about upholding the values and principles that her father instilled in the company, such as hard work, dedication, and a commitment to building strong relationships with customers, suppliers, and team members.
Every day is a New Challenge
"We always rise above each challenge, our crew thinks outside the box, and we educate ourselves on any new techniques that may arise with new products," says Katherine.
As the Vice President of McCumber's Glass, Inc., Katherine McCumber knows firsthand that challenges are a daily occurrence in the construction industry. However, she believes that how we handle those challenges says a lot about our character and determination.
Katherine acknowledges that being a female in a male-dominated industry can bring its own set of challenges. However, she doesn't let that discourage her or hold her back. Instead, she shows up each day armed with the knowledge and experience she has gained over the years and proves herself time and time again.
McCumber's Glass, Inc.
McCumber's Glass, Inc. was founded in 2001 by Louis McCumber, who had been in the glazing industry since he was 18 years old. Louis was always eager to learn new techniques, which he generously shared with his team and colleagues along the way. His passion for the industry was infectious, and he was dedicated to providing the highest level of customer service to every client.
Louis built the company's concept on the foundation of putting customer service first, and that principle still guides the company's operations today. Even after his passing in September of 2014, his legacy lives on through the dedication and hard work of the McCumber's Glass, Inc. team.
The team at McCumber's Glass, Inc. continues to hold themselves to the high standards set by Louis. As a result, they have been recognized for their outstanding work in the industry, winning the award for Best Subcontracting Glazier in Northern California for the last four years in a row.
For the team at McCumber's Glass, Inc., winning the award is a testament to their commitment to providing exceptional customer service and high-quality workmanship. It's a recognition of the hard work and dedication they put into every project they undertake, and a validation of the legacy that Louis McCumber built.
Louis' legacy is one of hard work, dedication, and a commitment to customer service. It's a legacy that the team at McCumber's Glass, Inc. is proud to uphold, and one that they will continue to build on in the years to come.
A Brave Soul
Katherine's journey to success at McCumber's Glass, Inc., has not been an easy one. She has faced and overcome immense challenges, including 32 brain surgeries. But even in the face of adversity, Katherine remained determined to come back stronger and better than before.
While still recovering from her surgeries, Katherine earned two degrees in accounting and business management, all while working full-time. Her dedication to her education and her company is a testament to her strength and resilience.
Katherine's perseverance and hard work have not gone unnoticed. She has become an inspiration to her team members and peers in the industry, proving that with determination and hard work, anything is possible.
Ensuring Safety First
Katherine ensures the safety and productivity of all her employees every morning before proceeding to check and respond to emails, update ongoing bids and estimates for upcoming projects, manage ongoing projects, and review the financial status of the business with the bookkeeper. Finally, at the end of the day, she expresses gratitude to her crew for their efforts and encourages them to have a fantastic evening.
Processing to Align Work and Life
Katherine is currently striving to balance both her personal and professional lives, as she recently experienced a tragic loss when her husband passed away in December 2021. Following this event, she immersed herself in work to cope with the loss. However, she is now making a conscious effort to disconnect after work hours and spend quality time with her grandchildren, creating cherished memories with them. Weekends are reserved for having fun and exploring new adventures. Additionally, she maintains a regular workout routine at the gym and enjoys tending to her garden at home. As a caring employer, Katherine and her team make sure to express appreciation to their employees every day, knowing that this fosters a stronger work ethic among them.
More Growth and Success for the Future
Katherine shares the same vision for the company as her father did, which is to leave a legacy for their grandchildren and to give their best effort each day to foster growth and success. Their goal is to become a highly reputable glazing company that is in high demand among general contractors. As a successful businesswoman, Katherine's message to other women in business is to persist, never give up, believe in oneself, and continue to push forward. They have earned their position through hard work and determination, and they should never lose sight of their goals.