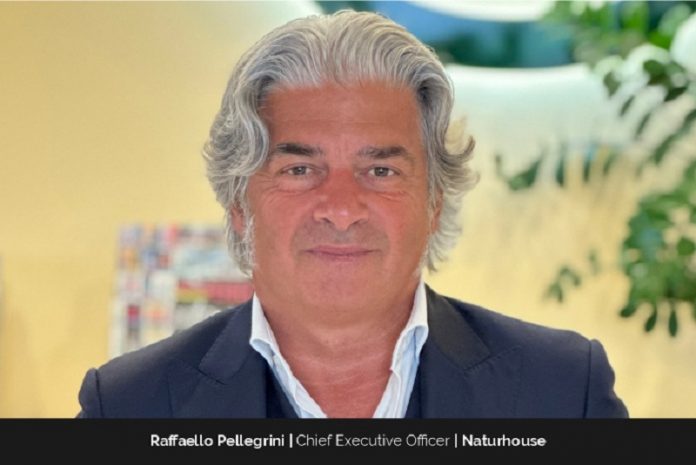 Raffaello Pellegrini, the revered Chief Executive Officer of Naturhouse, has been recognized as a visionary leader for his innovative weight management and wellness approach. His remarkable achievements have earned him a coveted spot among 'The 10 Most Innovative CEOs to Watch in 2023.' The fervor that drives Pellegrini in his profession stems from the efficacious Naturhouse approach, which entails dispensing gratis nutritional tutelage weekly, complemented by entirely natural and reasonably priced nutraceuticals. Naturhouse, under his astute leadership, has revolutionized the diet and nutrition industry by prioritizing enduring outcomes and imparting to patrons the significance of consuming by their individual way of life. Having earned over 18 years of experience within the organization, Pellegrini has encountered many obstacles. However, he has demonstrated exceptional leadership by consistently endeavoring to learn from his errors and assembling a team of top-tier individuals. As the CEO, he bears the onus of overseeing all operational facets of the organization, with a keen emphasis on streamlining established revenue streams, nurturing emerging ones, and strategically investing in untested ventures. Pellegrini's fervent desire to traverse the world has been actualized via his endeavors with Naturhouse. He persists in motivating others with his pioneering and progressive methodology toward weight regulation and overall well-being.
Perspective on Success: Aligning Passion with Purpose
Successful leadership is not a one-size-fits-all concept. When asked about his thoughts on success, Raffaello Pellegrini draws inspiration from the wise words of Confucius- "Choose a job you love, and you'll never have to work a day in your life."
He venerates his job and is proud of his company, Naturhouse's work. The "Naturhouse method" has helped over seven million clients since 1992, teaching them how to improve their dietary habits and enhance their quality of life.
According to the CEO of Naturhouse, conducting business by promoting activities that improve people's well-being is a matter of great pride. In addition, the company's operations generate a plethora of employment prospects for individuals who have dedicated their professional lives to the fields of weight management and wellness.
Overview of Naturhouse and Raffaello Pellegrini's Leadership
Naturhouse has an ingenious business format that provides free weekly dietary education from seasoned nutrition experts and affordable nutraceuticals, resulting in a highly effective and natural approach to weight management. The brand is distinguished by its ability to equip clients with cultural tools that promote long-term maintenance of results, as well as personalized dietary recommendations tailored to their unique lifestyles.
Since joining the company in 2005, Raffaello Pellegrini has been instrumental in developing the Italian retail network, which has grown from the ground up to 500 openings in just 60 months. By 2015, when the company was listed on the Madrid stock exchange, the Italian market had become the second largest in terms of turnover, with the Italian branch boasting the best EBITDA. Following 18 years of service, the founder, Felix Revuelta, recently appointed Pellegrini as CEO, entrusting him with complete oversight of global operations.
Expertise and Company Success: Naturhouse's Unique Approach to Diet and Nutrition
Naturhouse's CEO asserts that the diet and nutrition sector is predominantly based on the "rebound effect." The crux is that the majority of weight management programs fall short in tackling the root causes of weight gain and neglect to offer viable, long-term solutions. Clients typically regain weight after following the program, resulting in frustration and dissatisfaction.
In contrast, Naturhouse has redefined the diet and nutrition sector by providing a revolutionary and personalized approach to weight management. The company empowers its clients with cultural tools and knowledge that enable them to maintain their results in the long term. Their expert team provides free weekly nutritional education to their clients, teaching them how to eat appropriately based on their lifestyle. The firm continuously improves its approach to better suit its client's needs, ultimately leading to healthier eating habits beyond the individual to their families.
"As a matter of fact, through alimentary education, we help to prevent the so-called "dysmetabolic diseases" Giving a public service every day is more important as overweight and obesity are growing worldwide at a pandemic pace," says Pellegrini.
Lessons from Roadblocks: Reflections on Professional Growth and Leadership Recognition
Reflecting on his professional journey, Pellegrini shares that his book, "From Zero to 500," is a best-seller in Italy's franchising books niche, in which he documents the numerous roadblocks he encountered throughout his career.
Like everyone else, he gained the most insight from his failures and setbacks during his lengthy tenure at the same organization. The triumphs of this experienced executive can be attributed to the individuals he has encountered throughout his journey and his unwavering commitment to constructing a formidable team by procuring superior talent to augment it. He takes pride in that his core colleagues have remained with him for over 15 years, a testament to their shared passion and hard work.
For Pellegrini, the best recognition he has received is his colleagues' continued loyalty and commitment. As a leader, he is grateful for their support and recognition, which he receives daily. Through his journey, he has learned that resilience, humility, and dedication are vital to overcoming challenges and achieving success.
Entrepreneurial Roots: Raffaello Pellegrini's Journey Before Naturhouse
Raffaello Pellegrini's journey to Naturhouse began in a rather unique way. After spending seven years in Cuba, where he worked in the hospitality real estate sector during the touristy boom of the Caribbean Island, he returned to Italy.
During this time, a headhunter approached him about an opportunity with a Spanish company. They were searching for a country manager with entrepreneurial experience and fluency in Spanish to develop a new business format in Italy.
Reflecting on that moment, he says, "I applied even though I'd never walked into a herbal shop before in my life."
This decision marked the beginning of his journey with Naturhouse, a company that would change his life and redefine the nutrition and diet industry.
Leading the Way: The Responsibilities of Naturhouse's CEO
As the Chief Executive Officer of Naturhouse, Raffaello Pellegrini carries great responsibility. With full accountability for all operative aspects of the company, he is tasked with implementing and executing its strategy.
It involves consolidating the "cash cows" of the company, developing the "rising stars," and betting on the "question marks" decided by the founder of Naturhouse. In addition, Pellegrini also oversees the company's day-to-day operations, ensuring it is functioning at peak efficiency.
As the leader of a large and successful company, he understands the importance of creating and maintaining a positive corporate culture. He is committed to fostering an environment of teamwork, collaboration, and respect where every employee feels valued and supported. Ultimately, his goal is to continue to drive growth and success for Naturhouse while upholding the company's values and mission.
Childhood Dreams and the Power of Persistence
During formative years, people have numerous aspirations. For Raffaello Pellegrini, world exploration was a childhood dream.
"I always wanted to explore the world, but I was born at least 150 years late to have the chance to discover new countries and to have money out of reading my travel memories at the Royal Geographical Society."
However, fate had other plans for him. Today, as the CEO of Naturhouse, his globetrotting aspirations have become a reality. He travels the world, expanding the company's reach and empowering people to live healthier.
Raffaello Pellegrini in ONE word!
This accomplished executive initially contemplated defining himself as a "LEADER." However, he recognizes that it would be more appropriate for others to eventually use that term to describe him. Instead, he defines himself in one word: "CURIOUS."
Pellegrini's success in the industry can be attributed to his insatiable thirst for knowledge and his relentless pursuit of understanding the workings of the business world. This unyielding curiosity has led him to explore new ideas and approaches, enabling him to stay abreast and make informed decisions.
Striking a Work-Life Balance
Maintaining an equilibrium between personal and professional life can be daunting for many individuals, particularly those in leadership roles. Raffaello Pellegrini's family is his most treasured possession, and he strives to merge his personal and professional life to be the best father, husband, and manager possible.
As he shares, "Live as you have to die tomorrow. Behave as you'll never die." This quote exemplifies his approach to life and reminds him to cherish every moment with loved ones while passionately dedicating himself to his work.
Pellegrini's unwavering dedication to his job stems from his love for work and insatiable professional inquisitiveness. He advocates his motivation comes from within and does not require external factors to stay driven. He follows the mantra of being the first to arrive and the last to leave, doing whatever it takes to ensure things are in order.
For Pellegrini, motivating his employees is about building trust and leading by example. He believes his team's motivation comes from knowing they can reach their professional and financial goals by trusting and following their CEO.
He adds, "I'll always be ready to support them in solving any problems they may have, even on their private side."
The Impact of Technology on Nutrition 
Naturhouse's CEO asserts that modern technology has revolutionized the diet and nutrition sector by introducing new gadgets, applications, and innovative machines that emerge in the market daily. Nonetheless, he emphasizes that the most effective, natural, and cost-efficient approach to resolving weight issues and sustaining long-term results is adopting appropriate eating habits tailored to individual lifestyles.
Creating a Culture of Integrity and Innovation at Naturhouse
At Naturhouse, the focus is empowering individuals to lead healthier, longer lives. Raffaello Pellegrini believes that working at Naturhouse is a "mission" that requires a solid commitment to excellence and customer service. This dedication to quality ensures that every customer seeking their services receives the highest level of care and attention.
Innovation plays a crucial role in the success of Naturhouse. By constantly improving its services and offerings, the company can provide its customers with new and exciting reasons to continue their healthy lifestyle journey. Whether through in-person consultations or online interactions via Zoom, Naturhouse is always looking for ways to enhance its customers' experiences.
Reflecting on Achievements and Aspirations at Naturhouse
Raffaello Pellegrini's vision for Naturhouse extends far beyond his current accomplishments.
"The day I'll do it, I'll find a new company for a new challenge," he expresses. "I still have a lot of work to do and many countries to colonize with the "Naturhouse method."
Pellegrini envisions many countries worldwide as potential markets, including the United States, 'where within 2030, more than 50% of the population will be obese.'
At Naturhouse, the focus is helping individuals improve their diets and enhance their health using nutraceuticals. This unique approach has proven successful in over 30 countries since 1992 and is highly adaptable to various regions around the globe. The secret to sustained success lies in selecting the right individuals to join their team and providing them with thorough training.
Despite the challenges, Pellegrini remains optimistic about Naturhouse's future. For him, the journey with Naturhouse is far from over, and 'the challenge has just begun!'
Driving the Future of Naturhouse: Raffaello Pellegrini's Vision and Personal Goals
A singular goal drives the CEO of Naturhouse – to help people worldwide achieve a better life quality by improving their health and well-being through the Naturhouse method. He is steadfast in expanding the reach of Naturhouse, bringing its services and products to more people in need worldwide.
On a personal level, Pellegrini's goals are equally important to him. He aspires to continue strengthening his relationship with his wife, Silvia, by making her fall in love with him every day. Additionally, he hopes to spend quality time with his 13-year-old son Pietro, playing golf together every weekend.
Words of Wisdom for Aspiring Innovative Leaders
Raffaello Pellegrini offers valuable insights for aspiring innovative leaders. His message is clear – success requires a humble and resilient approach.
Pellegrini cites Confucius, who said, "The man who moves a mountain begins by carrying away small stones." For him, this quote represents the idea that achieving great things often requires taking small, consistent steps toward a larger goal.
He emphasizes that aspiring leaders should never lose sight of this fact and remain humble throughout their journey. In addition to humility, Pellegrini underscores the importance of resilience. He believes setbacks and failures are inevitable. But one must be prepared to face challenges and remain persistent in adversity. Finally, this veteran leader stresses the importance of treating others respectfully and kindly. He believes leaders must lead by example and set the tone for their teams. Aspiring leaders can create a positive and supportive work environment that inspires and motivates everyone to do their best by treating others as they would like to be treated.