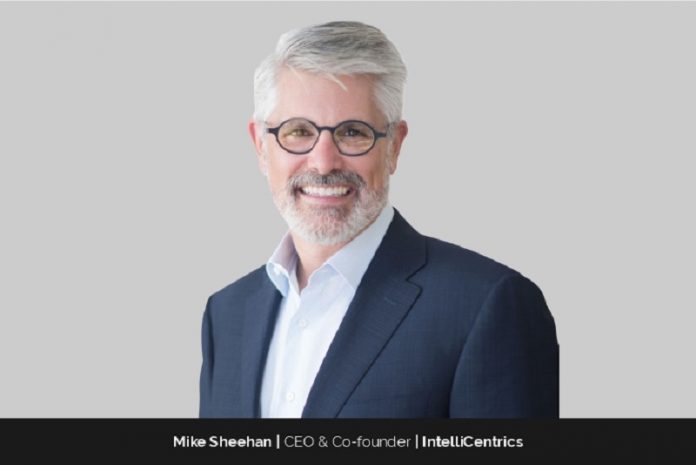 Building trust through digital credentialing is essential to help providers, vendors and patients navigate the changing landscape of healthcare.
With healthcare changing daily, policies need to be updated fast, and Mike Sheehan, co-founder & CEO of IntelliCentrics, is on the cutting edge, developing technologies that can make a change and communicate it in seconds.
Credentialing is how trust is cultivated within the healthcare industry, and medical credentialing is used by locations of care and health insurance companies to verify a provider's background information, skills, and competency levels. It is essential for providers seeking clinical privileges to be allowed to practice onsite.
"IntelliCentrics' mission is to use trust to make high-quality healthcare as accessible as a good cup of coffee," says Sheehan. "We believe in the role of technology in delivering that promise and created our SEC³URE Ethos platform, as well as our services around that promise."
Delivering trust as a technology
After years of global travel and visiting dozens of countries where he had the opportunity to talk with and hear from hundreds of individuals, Sheehan discovered a universal truth about healthcare that is intrinsic to each of us and transcends age, gender, faith, culture, and geography.
"That universal truth is that we're all in search of the best possible care for ourselves and our loved ones," he says. "At the end of the day, we're healthcare consumers who desperately want to trust the clinical conclusion and treatment handed to us."
Sheehan believes that we all want higher quality at a lower cost, access to in-person and remote care that fits our schedules, and above all else, the ownership and control of our individual health data. "We are giving patients all of these while helping locations of care improve patient safety, revenue growth, and clinical outcomes," he says. This universal truth is also why IntelliCentrics' vision is to be the world's most trusted solution for trust.
"Trust is the force capable of increasing quality of care while lowering costs for everyone. We are using trust to transform how healthcare is delivered, received, and paid for," says Sheehan. "IntelliCentrics delivers trust as a technology, through the SEC³URE Ethos platform, which will be essential to ensuring the safest care environment as we navigate through the changing landscape of healthcare."
Sheehan believes the highest level of trust can only be achieved when an independent third-party is part of the equation. IntelliCentrics' SEC³URE Ethos is a technology platform that plays the role of the independent third-party for healthcare by creating trusted interactions between all stakeholders across the continuum of care.
"When there is trust in everyday healthcare exchanges between doctors, patients, vendors, locations of care, etc., it forms a partnership that delivers personal, professional, and financial benefits," he says.
Creating the largest healthcare community built on trust
Ultimately, these ideas led IntelliCentrics' to deliver 'trust as a technology,' creating innovative solutions that transform people from passive recipients of care into active consumers making value-based decisions.
"Our core values are to create 'provocative and innovative solutions.' It inspires us to build better solutions and architect our future. As an entrepreneur, I believe that's how you meet a demand, disrupt a market, or influence a change," says Sheehan. "Instead of accepting what's considered 'trust' in healthcare today, we challenge that status quo by asking questions about how we receive care, such as: Why am I forced to lose valuable time while waiting in the doctor's office only to be told my health is stable? Why am I required to complete so much paperwork every time I go see a doctor? Who is helping me trust that my family is getting the best possible care?"
IntelliCentrics believes that technology is essential for healthcare to move forward, but it must be technology that ensures trust across the spectrum of care and delivers value much faster than the paper-based, error-prone process. The SEC³URE Ethos is the only end-to-end integrated platform in healthcare, built on three guiding principles – neutrality, transparency, and independence.
"Simply put, we are the most trusted solution for trust. We make the world a safer place by adding trust to the entire continuum of care. And the SEC³URE Ethos community is the largest healthcare community built on trust," says Sheehan. "It means that everyone wins when healthcare interactions are trusted; that we will never sell or share user data for our gain; and that we will govern our platform impartially, without bias and free from undue influence. Technology that ensures trust results in the highest quality of care for us all."
Building trust with IntelliCentrics' SEC³URE Ethos platform
The SEC³URE Ethos platform is a fully optimized, cloud-based technology platform that delivers trusted interactions between all stakeholders across healthcare. It is jam-packed with technologies that locations of care can rely on to stay ahead in the post-pandemic era.
"Our innovations, enabled by the SEC³URE Ethos, include credentialing services for providers, vendors and facilities, scheduling service and wearable technology, serving 11,000 locations of care across North America, the UK and China," says Sheehan. "Additionally, we are developing an advanced telehealth solution that allows individuals to own, control, and benefit from a personal healthcare record, connecting the supply side of healthcare with the demand side."
Digital credentialing systems, like IntelliCentrics' SEC³URE Ethos platform, help locations of care, providers and vendors migrate from the time-intensive, manual, paper-based process to ease the strain of credentialing and develop trust amongst key stakeholders.
Not only does it give subscribers a trusted status, it also makes compliance easy and portable. Providers who leverage the SEC³URE Ethos reduce their credential expenses by up to 90 percent and see the 120-day average credentialing process significantly reduced.
Healthcare facilities in the SEC³URE Ethos have implemented a culture of safety and compliance that results in world-class care for the communities that they serve. Their medical staff and suppliers are completely trusted to provide care.
Doctors, nurses and clinical contractors in the SEC³URE Ethos are credentialed and able to see patients in days, not months. Patients in the SEC³URE Ethos are seen sooner, discharged faster, have fewer re-admissions and access to personalized and timely healthcare delivered by only the most trusted physicians.
Vendors in the SEC³URE Ethos are trusted to support patient care. They have met the strict requirements of the locations they visit and as part of the SEC³URE Ethos, have the portability to move from facility to facility without having to be recredentialed each time.
Setting new standards with IntelliCentrics' SEC³URE Passport
IntelliCentrics' SEC³URE Passport has set the new standard for what it means to be trusted to do business with healthcare facilities. Subscribers each receive a SEC³URE Passport to store their digital credentials when they register with the SEC³URE Ethos community.
A SEC³URE Passport is the world's most trusted passport in healthcare and is accepted by all SEC³URE facilities (i.e., locations of care using the platform), condensing the process of submitting credentials, to national and international locations of care, down to a few simple clicks.
The SEC³URE Passport allows physicians, nurses and clinicians to start seeing patients sooner across all facilities using the SEC³URE Ethos platform. It also allows vendor representatives to request and be scheduled for meetings with facilities, no matter where they take place – onsite, offsite or virtually. SEC³URE Passport is the only passport in healthcare that can generate revenue for subscribers.
Shining bright through the COVID-19 pandemic
During COVID-19, when facilities were forced to source new vendors for essential materials, IntelliCentrics' technologies helped them find vendors that could be trusted.
They also introduced a COVID-19 vaccine credential that offered locations of care greater configurability in defining their policies and raising the level of compliance, based on experiences gained from leading the community through SARS, H1N1, and other vaccine/titer-based policies. Most recently, IntelliCentrics has added the ability to capture the manufacturer and date of vaccinations and booster into its COVID-19 credential.
"Our biggest challenge by far has been the COVID-19 pandemic," admits Sheehan. "But we didn't use it as an excuse. On the contrary, we are a solution to healthcare through it all. I believe the power of the IntelliCentrics community shines brightest when faced with a complex, ever-changing landscape as presented by COVID-19."
IntelliCentrics has continued to grow and create value for its customers during the pandemic. "Business is a battle, and we make bold and difficult decisions every day. They come with stress, but the success tastes so much sweeter when you overcome seemingly insurmountable obstacles," says Sheehan.
Making the world a safer place
As an entrepreneur and a CEO, Sheehan thinks of success as doing what you're passionate about and creating solutions that bring value to customers and benefit the entire healthcare system.
"I am deeply passionate about making the world a safer place by letting people in – people that we trust. That's why we have built our entire community on trust, and our technology solutions help locations of care create the most trusted and safest care environment possible," he says. Focusing on extreme value for customers and how they interact with our platform defines how IntelliCentrics moves forward – a value shared by all their employees globally.
Quoting Jedi Master Yoda from Star Wars, Sheehan states that IntelliCentrics adheres to the mindset of "Do. Or do not. There is no try," when it comes to customer service. "For our locations of care, they have a dedicated team of Heroes that are part of their extended team, working side-by-side to get the most out of our technology," he says.
For individual subscribers, IntelliCentrics can process a new credential within four business hours – the fastest turnaround in the industry, among other services – to ensure they are always trusted to work with locations of care.
The company remains dedicated to its slogan of "always have and always will" despite the challenges throughout the pandemic. They have processed over 30 million pages of credentials over the past 12 years without missing a deadline and are committed to delivering technology solutions defined by extreme value to customers.
"Our employees are able to accomplish these because we have an employee recognition and retention program built on '3 Cs' – career development, culture, and compensation," explains Sheehan. "Employees feel motivated when they know that the company is invested in their growth and success, rewards high performance, and fosters a culture where they are heard and valued as individuals."
Including loved ones in the healing process
Sheehan believes that all innovations start with an idea and that encouraging creative ideas is critical to their business.
"When we think about which ideas to bring forward, we always look at the future," he says. "For example, I believe one of the biggest transformations in healthcare will come from integrating medical and life sciences with the love and support from family and friends, ultimately resulting in the highest quality of care. We had incorporated the idea of including loved ones in the healing process into our next innovation long before the pandemic started."
Sheehan also believes that as the complexity of healthcare grows, people will naturally turn to family and friends for assistance to make the best possible decisions.
"Our technology makes this easier by providing the ability for patients to include trusted family and friends early on, and more profoundly, in the healthcare process," he says. "When family and friends are involved, the patient's ability to follow the care regimen prescribed by doctors increases significantly, setting them on the right track for improved health. The driving force to integrate love and science into a patient's path to recovery stems from the premise that when both influences work together, we can be healthier, stronger, and happier."
Leading the world in vendor credentialing
Sheehan recalls that it was about a decade ago, in 2010 to 2011, when IntelliCentrics was growing rapidly in the vendor credentialing space and acquired two direct competitors at the time – Vendor Clear and Status Blue.
"We knew we were on our way to becoming the leader in vendor credentialing," he states. "Now we've ventured into medical credentialing, expanded our locations of care to homes, and built our telehealth solution, which has been recently adopted in Taiwan in response to the international telemedicine policy of Taiwan's Ministry of Health. But we continue to maintain our leadership in vendor credentialing while growing our platform exponentially to serve our customers worldwide."
Investing in innovations for the future
Sheehan believes that micro-epidemiology will be the greatest asset in improving the quality of care while lowering costs and is a main driver to innovations for the near future.
IntelliCentrics has already begun creating micro-epidemiology insights by leveraging exponentially greater data sources inclusive of environmental data. "Our early work is proving to be very promising," says Sheehan.
Being on the front lines and fighting the good fight
As CEO of IntelliCentrics, Sheehan's responsibilities include oversight of its global operations, which span three continents.
"My days are usually divided over a variety of work, including people and relationships (my executive team, employees, and customers), strategy and business reviews, and organization and culture," he says.
Because IntelliCentrics' geographic footprints cover multiple time zones, he admits to almost working around the clock, though he does set aside personal time during the day, such as workouts and family time, to recharge.
"I think the best part of my job is being on the front lines and fighting the good fight for our employees and customers," he concludes.