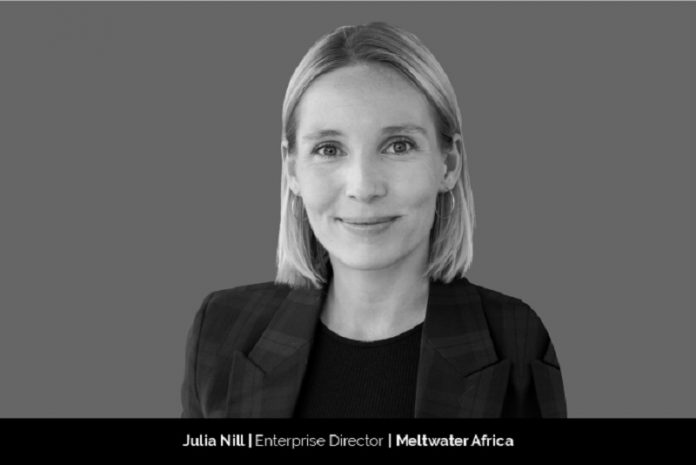 The Magic of being real
Have you ever wondered what it would be like to work with a team that values authenticity over anything else? What it's like to be welcomed into a workplace that is the epitome of ethics, integrity, fun, and joy? What possibilities can align when people with great minds and equally empathetic hearts, come together to make a difference to the world? Meet Julia Nill, Enterprise Director at Meltwater. She is no ordinary woman. An invincible sense of purpose permeates her personal and professional life. Assertive, focused, curious and empathetic at the same time, Julia knows what it takes to be a leader. When asked to define herself in one word, she confidently remarks – 'Real'. Her personal values of passion for excellence, insatiable curiosity, and kindness spill over to her professional life and make her a remarkable leader.
In this exclusive article, Julia shares her views on success, challenges, her company's vision, women in the tech industry, and more. She also talks about her initiative and provides a glimpse of her life outside her day job.
Meltwater Journey
Meltwater is a credible SaaS (Software-as-a-Service) solution that enables marketing and PR teams to monitor online media and gather insights that influence their digital strategy and enhance market performance. A global leader in AI-driven media intelligence and social analytics, Meltwater takes pride in partnering with more than 30,000 of the world's most respected brands and organisations.
Founded in Oslo, Norway, Meltwater has more than two decades of experience, 55 offices across six continents, and a workforce with an unquestionable work ethic that has contributed to the brand becoming a global player. Julia shares, "We're at the forefront of technical solutions in our industry, leading the way in strategic acquisitions that help us stay ahead of the curve and improve the overall product offering. We've completed 10 acquisitions over the past 3 years". A recipient of several awards including being voted as the number 1 Media Monitoring Software by G2 Crowd subscribers, top 50 best products for marketers 2020, best Company for Happiness, Best company for Women (2020,2021), Best Career Growth and Best CEOs for Women, Meltwater created a huge impact in the tech world.
Julia's twin passions, technology and leadership, have found a home at Meltwater. Soon after joining the company as an international management trainee in 2015, Julia became one of the influential women leaders in Africa's technology landscape. Nill's rapid rise to the top can be attributed to clear objective setting. During the early years of her career, Julia envisioned where she wanted to be – working for a global tech company that had yet to establish itself in Africa. The challenge and charm of introducing a new product in an unknown environment and market further intrigued her. The thought of helping clients at Meltwater engage successfully with innovation, disruption, and change was what fueled her – and thankfully, this is now a key part of Julia's role.
Success Is a Journey and Challenges Are Lessons

What does success look like? What thwarts it? What are the guiding principles behind one's phenomenal growth? When do we know we have succeeded? Julia believes that 'Success is a journey and not a destination'. Her success philosophy is grounded in constantly striving, creating a purpose-filled life, uplifting others; and a self-belief that 'you don't need to take criticism from those you wouldn't ask for advice in the first place'. With an educational background in African Studies, Economics, and Politics; and having worked in the Africa & Latin America division of the German Investment Corporation, Julia began to nurture her love for problem solving and technology; and never looked back.
While success may sometimes look linear, it is not always so. According to Julia, there have been myriad pivotal points that marked the beginning of her career. She believes that all little conscious decisions, like studying a particular field or joining the tech industry, have contributed to her long-term vision.
Two winning traits that Julia possesses are her tenaciousness and being self-driven, Julia has a unique take on life and business challenges. She refutes the conventional fear and fright associated with challenges and shows that with the right perspective and attitude, we all have the potential to change every challenge into a breakthrough. "I think that the word 'challenge' often has a negative connotation, as it's commonly viewed as something that one has to work against or somehow 'overcome'.  I see challenges as lessons; something that you need to pay closer attention to learn from or redirect your efforts. When you think of challenges like that, suddenly they become positive influences in your life rather than setbacks".
Refusing to bow down during difficult situations, she recalls how one of the challenges that benefitted her greatly was an insight that "it doesn't matter what anyone else is doing or what their career looks like. Comparison is the thief of joy".  She believes that investing in yourself is the single most significant investment that you can, and will ever make in life and quickly learned early in life that she needed to keep a laser focus on her passions, purpose, and strengths and never let anyone else define her milestones and successes.
Strong Commitment to Work Ethics
Julia measures her success not only in terms of Meltwater's progress and astounding growth, but also in the relationships that she creates through her work. Her humility and a strong commitment to a great work ethic can be best described in her own words, "The best recognition I've received is when I develop relationships with clients both inside and outside of work. When they speak to me about personal things, I know we've connected on a much deeper level and we consider each other true partners".  Julia's work ethics are in sync with Meltwater's work culture. The company allows people to redefine the meaning of terms like growth, success, teamwork, and innovation.
Meltwater's work culture can be summed up in an acronym 'MER' which means 'more' in Norwegian. Meltwater cherishes their humble Norwegian heritage, which can be seen in their values 'Moro', 'Enere', and 'Respekt'. 'Moro' is Norwegian for fun. The work culture and environment at Meltwater are amiable and fun-loving. The idea is to always deliver collaborative happy experiences to the clients and know that a happy workplace is a desirable workplace.
'Enere' translates as Number One. Julia says that her team constantly strives to be on the top of their game while ensuring that everything they do is constantly driven by ethics, righteousness, and kindness. Everyone is always ready to go that extra mile for others. Offering world-class services and products, they also utilise their strengths and go beyond the comfort zone quite often.
'Respekt' is the Norwegian word for 'respect'. Julia always functions from the context of trust and shared goals, giving total freedom and respect to all team members and clients, she comments, "We believe that it matters how a company or an individual becomes successful. We are not willing to achieve success at any cost, and we believe that there is always a right way to become number one. We have a strict 'no sharp elbows' policy, and we should treat all of our colleagues and customers with respect and humility". Further, the measure of success at Meltwater is customers' happiness, transformation, satisfaction, and growth.
Celebrating every little achievement, and continuing to march ahead to accomplish and innovate is an integral part of Meltwater's work culture too. One concrete example of innovation is Meltwater's product 'Roadmap' which is constantly adapted in sync with the industry's needs and expectations. Valuing everyone's voice and a tight-knit collaborative environment keeps the company going as they work hard to come up with novel ideas and strategies to transform the digital world. "Meltwater exists to help companies make better, more informed decisions. There's information everywhere, we help you frame it. Our vision is to continue bringing AI-enabled insights to organisations and help them navigate changing environments, better understand their audience and ultimately, grow".
Creating Ripples of Transformation

Julia's typical day at Meltwater involves engaging with clients, internal coordination on deliverables, and staying connected on LinkedIn so that she is well informed of industry events and updates. She believes more in the idea of 'Prioritising' than 'Balancing' issues of work and personal life. In her words, "I feel that balance is an illusion. What is possible, however, and very important to me is prioritising. I make sure to block my diary for daily workouts, meditation, and time to think alongside meetings, internal calls, and other tasks. I also find that having another big project outside of my day job gives me a lot of energy that spills over into my work at Meltwater (at the moment my partner and I are renovating a 120-year old Victorian house in Cape Town)."
Women as Leaders in Tech Industry
Women are still underrepresented in the tech industry, more so in leadership positions. Law firm Fenwick & West LLP's report, published in 2020, noted that women hold just 11 per cent of executive positions at Silicon Valley companies. When asked, if it has been difficult thriving in the industry as a woman in lead, she said, "I feel privileged to say that for me, it hasn't been any more difficult to thrive in the tech space as a woman than it would be as a man. I've only ever found it to be fun and rewarding, but I know not all women are fortunate enough to have the same experience as me. My advice here would be to seek a workplace that either has females in leadership positions already or to take initiative wherever you can and whatever topic you are most passionate about to bring about change".
In sync with her personal beliefs and commitment to women-centric issues, Julia also co-founded the 'Meltwater Women in Tech' initiative where she hosts quarterly events and invites fellow inspirational females to share their advice and wisdom with those trying to break the industry for the better.
The Road Ahead

Julia sums up her future personal goals in two simple yet powerful words – to 'Aspire and Inspire'. She looks forward to the day when the 'Meltwater Women in Tech' initiative is on the 'world stage' and hailed as the symbol of what gender parity and equality look like in a global tech company. Her message is simple yet potent, "The grass will always look greener on the other side until you start watering the side you're on."
A connoisseur of technology, a woman leader with purpose and passion, and a warrior at heart, Julia has committed her life to excellence; and in her words, she likes to keep it real!