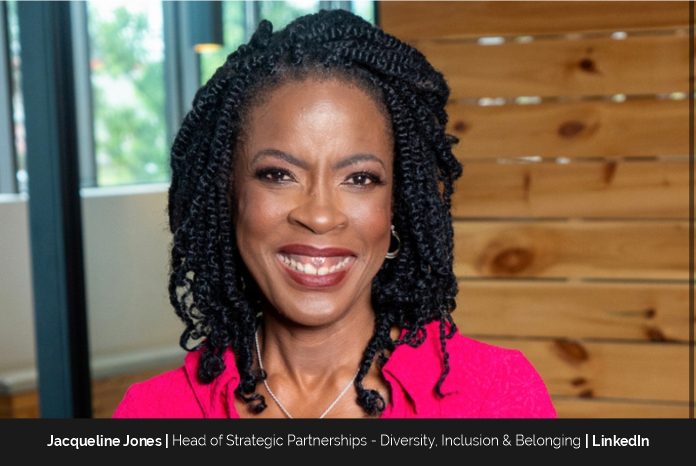 Deeply inspired by LinkedIn's vision and mission, Jacqueline Jones took up the role of Head of Strategic Partnerships – Diversity, Inclusion & Belonging, with faith and confidence in the leadership team and the culture that has been created within LinkedIn. Her role is to unlock significant economic opportunities for diverse groups via thought leadership, partnerships, and new product offerings.
Known for her collaborative approach and skilled leadership of cross-functional teams, Jacqueline creates synergies between business partners to open new opportunities, products, and markets. Her areas of specialties include business development, product management, strategic planning, market research, sponsorship design, and content marketing.
Jacqueline has a strong belief that diverse teams and perspectives lead to better business results and most of all – innovation. "Having all of us at the table is essential to solving humanity's most pressing challenges, such as equal access to economic opportunity, climate change, etc." she says.
Alignment is crucial to achieving success professionally.
For Jacqueline, success is defined as living in alignment with her purpose and having a significant impact on the community, all within a framework that supports her well-being. She also believes that a holistic view of life is critical and has personalized Gallup's framework, which emphasizes 5 essential dimensions of well-being – Career, Community, Social/Family, Financial and Physical Well-Being. "Having these areas in harmony is also critically important," she says.
Jacqueline further states that she has found LinkedIn to be an incredible platform and work environment to support her personal and professional goals.
LinkedIn – its services and Jacqueline's role in the company
LinkedIn is a social media platform with more than 875 million members, and 50M+ companies in over 200+ countries around the world. The company's vision is to create economic opportunity for every member of the global workforce.
Via its Economic Graph initiative, LinkedIn is also creating a digital representation of the global economy, which enables them to partner with leaders to prepare the global workforce for the jobs of the future. This information is especially critical for underrepresented communities around the world. 52M job seekers visit LinkedIn Jobs every week, and 8 people are hired every minute on LinkedIn.
LinkedIn has received several awards for its culture and is one of the best places to work.
As the Head of Strategic Partnerships for LinkedIn's Global Diversity, Inclusion, and Belonging (DIBS) team, Jacqueline cultivates relationships with organizations and companies that share their focus on creating diverse and inclusive workplaces across the globe. Today, the LinkedIn partner ecosystem has grown to more than 45 participating partners and is followed by over 1.5 million LinkedIn members. By providing key insights into the needs of communities, collaborating with partner organizations has been significant to Linkedin's mission to provide economic access to every member of the global workforce.
In addition to her leadership role within the DIBS team, Jacqueline contributes to the core team for LinkedIn's Equity Strategy, Center for Global Impact, and Steering Committee for our Diversity Supplier Network.
Successful growth in the DEI industry
In Jacqueline's lifetime, she wanted to play a role in creating new systems and work environments that will lead to diversity, inclusion, and belonging, along with equitable outcomes for everyone. She also believes that DEI practices create new markets and opportunities for everyone. It is not a zero-sum game.
The defining moment – During the Obama Administration, Jacqueline was invited to the White House by Kathryn Finney to participate in a program spotlighting tech inclusion. After learning more about the industry and the profound impact that it will continue to have on communities of color, she moved to Silicon Valley to join LinkedIn.
Challenges bring great opportunities to learn and grow.
Jacqueline explains how she has learned to be grateful for the roadblocks of her life, they have been consistently the greatest opportunities and teachers. For example:
My experience with racism has strengthened my ability to tap my inner vision for inspiration and resilience and to cultivate a rock-solid ecosystem of professional and personal networks. Being deeply connected to my core belief and spirituality as an "African/Caribbean American" has been critical. In 2019, I returned to Ghana for the "Year of the Return" and launched an inquiry into my history which has returned unbelievable dividends, including the launch of a new book next year.
Navigating several recessions (2001, 2008, and current economic uncertainties exacerbated by the pandemic) has taught me the importance of agility, economic prudence, the importance of strong professional and personal ecosystems, and the necessity of having several backup plans.
Health challenges in my teens / early 20s created a high reverence for well-being and maintaining a healthy lifestyle, which includes involvement in the community and my extended family. Yoga, meditation, and martial arts are a part of my regular practice.
A strategically planned vison for growth and success
Jacqueline created this role about 5 years ago to strategically support Linkedin's vision to create economic access for everyone in the global workforce.
She noticed that the objectives of their partner organizations, such as the National Urban League, Out Leadership, and Prospanica, who are also dedicated to serving the needs of target demographics, were aligned with LinkedIn's core mission. They are connected to leading Fortune 1000 corporations and, in some cases, have over 40+ years of DEI expertise.
"I have found that LinkedIn can play an important role for DEI organizations by providing them with visibility, connecting them with career and industry data via the economic graph initiative." Together we can make an impact," she states.
LinkedIn is collaborating with these organizations to create a platform where diverse groups can thrive. Specific initiatives include product feedback councils, investment initiatives, educational programs, and opportunities for exposure (e.g., LinkedIn Top Voices/Influencer Programs).
Jacqueline's vision is to create a strong and vibrant partner ecosystem strategically that supports the growth of an inclusive culture within the company and on the platform.
Moving forward, my core objectives include:
Partner with organizations to support our DIBS strategy at LinkedIn – Collaborate with partners to build and cultivate our network of talent and develop our employees and leaders (including allies).
Amplify the voices of Diverse Leaders and Influencers.
Continue to collaborate and highlight Equity Thought Leadership
To provide additional exposure to these rich resources, LinkedIn launched the Diversity, Equity, and Inclusion Resource Hub on our LinkedIn Talent Solutions site, which contains links to top DEI research orgs. The LTS site is accessed by over 500K companies globally.
Work-life Integration
"A consistent holistic wellness practice is at the core of maintaining balance" – this is what Jacqueline says is her way of maintaining a work-life balance. She also strives to keep her team motivated by prioritizing their personal and professional growth. "My job is to not only help them win in their careers but to win in life as well," she explains.
In 2023, Jacqueline plans to continue partnering with internal teams. "I am grateful for the collaboration with team members across our Talent, Product, Sales and Marketing organization – without them – it would be impossible to move the needle."
Jacqueline's advice to aspiring business leaders is – Take the time to align your career, your personal/professional environment, and your relationships with your CORE values. It will pay unbelievable dividends throughout your lifetime.