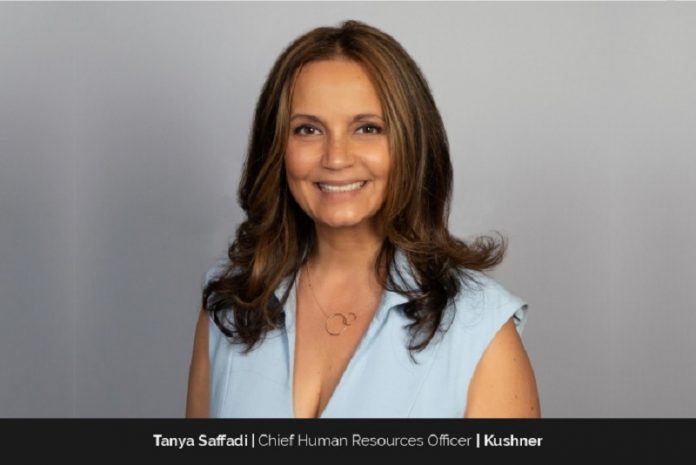 Kushner's Chief Human Resources Officer, Tanya Saffadi, is firmly embedded in her role, which has positioned her among one of "The Top 10 Most Inspiring HR Executives to Follow in 2023." Her innovative and creative approach has crafted a thriving work culture at Kushner that has led to increased team member retention. Tanya leads the HR team in organizational design, team relations, well-being, compensation, benefits, talent acquisition, retention, as well as training and development. Her impact can be seen throughout the success of the entire organization and has resulted in countless positive team reviews.
Tanya's definition of success is being able to follow one's passions daily while being supported by others who share the same goals. In order to thrive, she believes it's essential to prioritize being inspired and satisfied both professionally and personally.
"I also believe it's important to collaborate with others and bring others up with you along the way. None of us can get here alone," she says.
Kushner and its various services
Kushner is a multi-generational real estate development and management company headquartered in New York City. The company's varied portfolio spans residential, commercial, retail, hospitality, and industrial buildings, with 12.9 million square feet now under development and over 25,000 apartments across thirteen states. Kushner's approximately 600 professional and talented team members are integrated in every phase of the development and management process, producing a seamless experience for its commercial and retail tenants, residents, team members, and investment partners.
Tanya's inspiring journey to the HR industry
Sometimes you need to turn off your concerns and apprehensions to believe that your feet will take you where you need to go. From a young age, Tanya and her siblings, the children of Italian immigrants, were never pushed to pursue higher education and were instructed to adhere strictly to traditional gender norms. Tanya, however, had other plans. Interested in understanding people and their motivations, she pursued a double master's degree in organizational and counselling psychology from Columbia University. Her career plans would take a turn after an internship at New York Hospital where she realized that clinical therapy wasn't the right fit. She pivoted to organizational psychology and discovered the world of Human Resources, a field she felt she could make an impact in. Tanya had to carve her own path and seek out mentors to guide her along the way. She considers herself fortunate to have had many incredible experts to learn from in various industries throughout her career. She now embraces the opportunity to mentor others and give back and is in the process of planning a mentorship program within the company in 2023.
Initial roadblocks as valuable lessons 
Like many highly motivated and eager professionals starting out in their careers, Tanya was keen to take swift action in accomplishing tasks right away. However, over time, she came to see patience as one of the most valuable assets. A little patience, she says, can help us see the answer more clearly in moments of ambiguity when we aren't sure what to do next.
"I know it sounds simple, but it took me quite a bit of time to follow my own advice."
Challenging challenges contributing to her success
In the face of overwhelming odds, Tanya believes we can learn to be more understanding and compassionate of others to gain the insight we need to mature and develop our capacity to feel empathy for others' plights.
"I absolutely agree that the challenges we face throughout our lives can make us stronger and wiser if we approach them with the right attitude," she said.
Being in the business of people, we must navigate through uncertainty, and it's not uncommon that we need to support people during their most challenging times. When people have problems, knowing how to help them can be difficult. If handled with honesty, consideration, and human connection, she asserts that we can help solve the most challenging situations.
Tanya's touch to transform the HR industry
When asked how she plans to make an impact on the field of HR, Kushner's CHRO says she sees herself as a true partner and trusted advisor to the leadership team and all her team members. Tanya prioritizes the "human" in human resources in her everyday interactions. The care and well-being of her team members are a top priority.
Regarding human resources, she is aware of the importance of being ahead of the curve in terms of knowledge and technology. However, equally important, the team must also be kind and easy to communicate with. Everyone in the organization, from executives to frontline team members, should feel comfortable consulting the department for support.
Views on modern technology's effect on the HR industry
Tanya observes that it's undeniable that the industry has benefited from technological advancements which have freed HR professionals from a great deal of lengthy manual processes. It has also enabled them to refocus their time and energy on the well-being of the business and its team members.
Despite the benefits of technology, Tanya cautions that HR professionals should be mindful of the importance of maintaining a human connection with their team members and clients.
Instilling a culture of integrity and innovation at Kushner
Integrity is fundamental to Kushner's operations and is driven both from the top down and the bottom up.
"It's about doing what you say you will do," notes Tanya.
The real estate industry is a close-knit community. To succeed in this field, one must be someone who can be trusted to keep their word. Relationships between their leaders and teams often extend to multiple generations.
"You cannot have these types of relationships if you do not operate your organization with integrity," she adds.
She notes that Kushner's fundamental values of being best-in-class, accountable, solution-oriented, and caring are emphasized throughout the company's onboarding and leadership training.
"We strive to live these values every day."
Kushner's strategies to stay abreast in a competitive world
Tanya notes that Kushner's leadership group is focused on fostering creativity and expansion. They are equipped with exceptional critical thinking skills that allow them to comprehend and evaluate a situation by considering all relevant factors and data. They follow a basic but effective list of excellent analytical questions that has helped them focus on their most pressing demands and propel the company forward.
Some examples of the questions are: "What else can we build, where are people moving to, and why should we be there? How could our new builds be better, smarter, and more environmentally friendly? How do we go into the market and find the best talent? How do we keep the wonderfully talented people we have working with us now?" explains Tanya.
To continually encourage innovation and creativity, Kushner holds retreats to create an environment for team members to brainstorm about the future and how to overcome various challenges. Leadership believes everyone can have a brilliant idea regardless of age or experience. Thus, at Kushner, everyone's voice is heard and respected. Teams are tasked with thinking outside the box to maintain the company's forward momentum and adaptability.
The best recognition as a leader 
"In HR, we don't look for recognition, but are working to support the organization and the team behind the scenes." conveys the CHRO of Kushner.
She elaborates by saying that she and her HR team prefer that leaders and managers be honored more than they are.
One recognition she received this year was personal. Her daughter Ella completed an internship in the HR department at Kushner over the summer. As a working mother, Tanya was delighted by her daughter's acknowledgment of the hard work she and her HR team put in every day and describes this as the most significant praise she has ever received. Ella observed that the company is always looking to be the best, by either preventing fires or plotting their next big move.
Tanya Saffadi: in one word!
Tanya picked the word "sunshine!" She likes to look at the bright side of things and see the glass as either half full or overflowing.
The secret to striking a Work-Life Balance
It's easy to allow the demands of our jobs to overwhelm us to the point where it impedes into other areas of our lives. The pressure to achieve professional success can lead us to neglect our own needs. However, it is essential to integrate work and personal life, balance isn't enough anymore. Our personal lives are still going on while we are at work, and work often is a part of our personal lives. We must find a sustainable integration of the two in order to boost our physical health, emotional stability, and mental acuity. Together, this will benefit both our professional and personal development.
These challenges are often amplified for many working moms who become experts in juggling multiple responsibilities at once. Tanya is no exception.
"I continuously work hard to exceed expectations. I multitask, I always have. My work, my family, my work family, everyone is important, so there are a lot of balls in the air at the same time," she adds. "Prioritizing is truly the key. Who really needs what, and when? Who can wait? And also, as a working mom, who can help me? Because we can't do it all on our own."
The Formula to keeping herself and her team inspired
Working as a team leader can be very satisfying. It's possible to follow one's heart while helping others reach their potential through mentoring and coaching. Tanya is a true example of it.
She says that she stays motivated because she genuinely enjoys her work. She is constantly pushing herself to improve and to take on more responsibility. Tanya takes great pleasure in making necessary repairs, believing there is always room to grow.
"I motivate myself by loving what I do. I love fixing things, there is always something that can improve."
She is a self-described perfectionist and keeps perfecting any work until it reaches her set benchmark.
"I love the satisfaction of completing projects, and I am constantly giving myself, my team, and my family more to do. I love change and evolution. I never want to be bored," she describes.
The CHRO adds that she finds out what drives each team member individually and uses that to inspire them. She's well aware that everyone is different. While some aim for the top of the corporate ladder, some want more time off to be with their families. Others choose to stay out of the limelight and do the behind-the-scenes work. Tanya believes that a good leader inspires others by catering to their specific needs and desires in the workplace, while also communicating the big picture vision and mission of where the organization is going, and how they are an integral part of getting there. Such an approach makes moving mountains appear effortless. Everyone benefits when the team members and the company can both achieve their goals.
What's in store for Kushner!
When asked about what's in store for Kushner's future, she says the company is expanding rapidly and is constantly looking for new ways to build the best communities. She echoes the leadership team who often says that Kushner is a company that dreams big and executes even bigger.
She plans to continue communicating the company's vision through clear leadership and purpose to help the organization achieve its goals.
Advice from Tanya to budding HR professionals
Years of experience have taught Tanya that genuine interest in the business is essential to be successful. Aspiring HR professionals and leaders need a lot of drive to make their brand the finest company it can be. Understanding the inner workings of what makes successful businesses tick is crucial. One must have patience and be prepared to play the long game. It's important to remember that instituting organizational changes or bringing about personal transformations for significant populations is lengthy and sometimes daunting.
The HR team, in her opinion, can only execute its job well if it has a close working relationship with the company's top executives and is fully connected with the front-line team members. She also emphasized the importance of constant development. Nothing can be accomplished by resting on one's laurels from the previous year or employment. Things don't stay the same forever; people change, businesses evolve, and technology advances. She concludes that one must constantly watch over the company's and its employees' development.