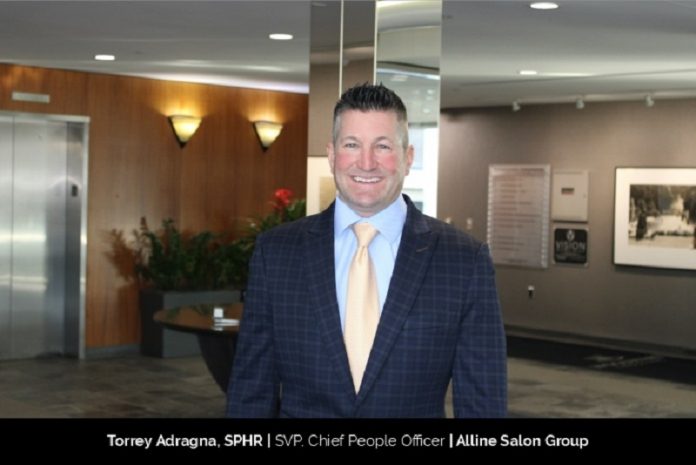 Torrey Adragna, SVP and Chief People and Culture Officer at Alline Salon Group is truly an influential leader in every sense of the word. He identifies talent even in the most unlikely of places and provides them the opportunities to unlock their potential and grow. As a mentor, Torrey equips his protégés with the confidence and skills needed to succeed. For many, they experience progressive advancement and attain leadership positions. Empowering them to develop, improve, and grow in their careers is an extremely rewarding accomplishment for Torrey, who has mentored many individuals over the years.
Early in his career, he defined success in terms of personal accomplishments. As his career has matured, Torrey's primary focus is on the success of his team and the organization. He takes a lot of interest and pride in propelling his teammates towards excellence. Torrey firmly believes that the right team is paramount to success. For him, doing the right things, listening, challenging, and developing them is the highest level of achievement, especially in a time when it is extremely tough to hire and retain talented individuals.
Just over 2 years ago, Torrey was out to dinner with his family celebrating his daughter's birthday. On this night, he met a gentleman that happened to be their waiter – Torrey too had once waited tables. He had an aura about him and a great personality, which prompted Torrey to initiate a conversation. His focus was to learn about the person behind his talents, and his personal goals. When he discovered that the gentleman had just graduated from Oakland University with an HR degree, Torrey gave him his business card and asked him to reach out if he was interested in working on this team. Interestingly enough, Torrey paid for college by working in the food service industry and is also an HR graduate of Oakland University. The parallels were undeniable. Later, after an interview, Torrey offered the gentleman an internship opportunity at Alline, where the gentleman went from being an intern to becoming an HRCI PHR (Professional in Human Resources) Certified HR Representative within two years.
Torrey recalls that on his path to graduation from Oakland University, he did fieldwork as well as an internship. During those experiences he developed long term relationships and learned the invaluable gift of mentorship. At that time, he committed to himself that he would offer such opportunities to others once he became an HR leader. In his first position, Torrey invested in hiring two interns, both from Oakland University. He also dedicated himself to the challenge of earning his HRCI SPHR (Senior Professional in Human Resources) Certification.
Journey: From Washing Dishes to Becoming an Influential HR Leader
At the age of 15, Torrey began working in the food service industry. He started out washing dishes and bussing tables. Soon, he moved to the kitchen and then to the floor – where he waited tables, bartended, and ultimately led a team. Torrey derived immense satisfaction from his interaction and contact with people.
When he began his college education, he was focused on the goal of starting a company of his own. He was taking accounting, math, and business-related classes in college. Torrey was going down the road of business administration when he realized that without people, there was no business. It made him strive to follow his passion – helping people.
"I could continue to learn how to do financial statements and accounting but working with people and understanding that part of the business was imperative to me," Torrey says. "So, I changed my major to human resources development." Luckily, at the time, Oakland University offered two distinct HR tracks – training and development and human services. Human services mainly focused on counseling, psychology, and human behavior versus training and development, which was more about developing training criteria. "I was fortunate to meet a counselor at the time who helped me blend those programs," Torrey recalls. "That gave me probably the best educational experience I could have."
"I have always gravitated towards being with people and leading people. It is something I have been doing since I was fifteen, and I love it," he adds.
Dealing with Different Challenges
In a career spanning 25 years in the HR field, Torrey has faced a lot of different challenges; many were influenced by external factors. While working in the auto industry, he saw both great days and bad days. There were times, according to Torrey, that were highly profitable with increasing demand, they couldn't hire enough people. Then, there were also phases when they had to restructure due to economic downturns. "Those are circumstances I experienced a few times," Torrey says. He also faced challenges originating from significant organizational shifts influenced by the strategies of new executive leadership.
Even though he has endured and overcome several challenges throughout his career, Torrey was not prepared for the test he encountered during the COVID-19 outbreak. Just 30 days into his tenure with Alline, the pandemic made Torrey and his team reinvent and re-establish their goals and objectives. "Everything that I had done before was instantly transformed into something a lot different. In a very short period of time, we were not only involved in changing the way we were doing things, but we also became the epicenter of how we handle COVID, the business impacts, and how to keep our employees safe," he says. That challenged his team as well as the organization's leadership.
Torrey points out that Alline's leadership strategies shifted overnight because of the disruption caused by the COVID-19 pandemic, and there was a significant fallout as a result. "It is probably the biggest challenge I ever faced in my career," he adds. It was imperative that regardless of the demands and requirements set forth, he and his team had to figure out how to protect their team members while preserving a culture that was tremendously loyal.
Torrey has never allowed challenges to negatively affect his career; he has learned from them and grown as a leader. "While trying to retain people or improve the culture, you make mistakes, and you find out later that what you thought was the best strategy was not working, so you discover ways to pivot and employ something different, listen to your team members, talk to colleagues, and conduct research," he explains.
Playing a Great Role in Alline Salon Group
In February of 2020, Torrey joined Alline Salon Group as Vice President of Human Resources. He started at a time when the organization was seeing rapid growth following several acquisitions that led to an increase in the number of salons from 68 salons to 380. The team had grown to nearly 3,000 team members. At that time, Torrey had just an HR generalist on his team, and his job was to figure out how to service and improve a remote population and culture. "We have salons in 7 different states including Michigan, Ohio, Pennsylvania, Maryland, New Jersey, West Virginia, and Delaware," Torrey says.
When he joined, Alline didn't have a strategy to effectively communicate with the teams. So, Torrey started looking at how they were structured, and he noted a very adverse relationship between the office and the field teams. "It was something I knew right away that we needed to address," says Torrey.
He began to look at the landscape and how the teams were being serviced, and he started developing plans to promote a better posture. Unfortunately, just a month into his tenure, the COVID-19 pandemic hit the world. "We had to furlough all our stylists," Torrey explains, "Almost 3000 people."
The pandemic interrupted what Torrey and the HR generalist were trying to do. So, during the time, when the salons were closed for several months, they looked at how they could strengthen the organization. The executive team, led by Torrey, also conducted a talent assessment, and determined how they were guiding and supporting their teams. "I developed a concept of creating an intranet and other tools for our team that they could access on a regular basis even in a remote setting," Torrey points out. "So those concepts were born, and when we came back to work, we continued to work toward achieving those goals."
As Alline had grown quickly in a short time, there were a lot of gaps in the baseline requirements including an employee handbook, procedures, and policies, that weren't very consistent in the organization. So, they began to create durable core business processes – including payroll, operations, and communication. Having experience with several continuous improvement methodologies, Torrey was integral in those improvements. "I was involved in all of those," Torrey says. "My role here [at Alline] grew very rapidly."
Torrey is someone who views HR as pivotal to business success and has been able to execute strategies that leverage all his talents and the talents of his team. The HR generalist is no longer working under him, but he now leads a larger team. Torrey employed a Payroll & Benefits Manager, an HR manager, as well as the HR intern that worked his way up to be an HR Representative. Torrey has cultivated the HR team and empowered them to work in tandem with him to support the field and operational teams.
Torrey is working to establish a very solid foundation for his group. He works with the CEO and Chief of Staff, and his involvement is not limited to HR-related operations. He is actively involved in several business processes, including solving operational issues and making challenging decisions. Along with directing several working groups at Alline, Torrey is also leading operational changes and formulating strategies. He is responsible for everything related to leadership recruitment and retention as well as leadership development. He also assists with Alline's branding efforts.
"It has been a great role for me," say Torrey. The work at Alline has been challenging, but it has also offered him the opportunity to apply what he has learned throughout his professional career. Torrey is tapping into his experience to move the organization forward.
Career Summary:
Torrey is a Senior HR executive and business partner with progressive leadership experience marked by his proven ability to execute business alignment, improve profitability, and drive operational excellence. Having served in C-level roles in the automotive, service, and waste industries, he recognizes that evolution is paramount to achieving sustainable growth. He executes every level of human resource support and leadership to accomplish the organization's mission, vision, and business objectives. He leverages his passion, creativity, and problem-solving abilities in leading the organization. He is a nationally recognized leader in the HR community who has been consistently acknowledged for his transformational approach to identifying and developing talent, implementing change, and achieving results.
Torrey is a multifaceted HR professional who has served in progressive leadership roles. Beginning in the automotive industry as a generalist and quickly taking on a leadership role, his journey began. Several years later, he went on to leading operational and HR teams servicing fortune 500 clients using a multitude of benefit platforms. From there he took his talents to the HR consulting industry. He formed and led several teams servicing multiple clients in various industries. In his next chapter, Torrey returned to a more traditional role as an executive Human Resources leader for a large national waste hauler. Finally, he has taken his experience in every level of strategic HR leadership and talent development to his current role with Alline Salon Group.
Greatest Achievements: Mentoring and Developing People
Torrey considers mentoring and developing people his greatest achievement. He believes that he would never be where he is right now if people had not taken the time to personally mentor him and teach him the basics of listening to and developing people or how to apply the concepts he learned in school. Because of his mentors, Torrey is now committed to giving back to the HR community and people in general.
Torrey points out that people may hate leaders even if they are successful at meeting their goals. "That is not a good career," he adds. For leaders, the best career is when there is mutual success and when they know when to be a leader, when to be a friend, and when they need to practice tough love and push people towards excellence. Torrey is proud that he knows and understands all these aspects that make leaders successful, and he is constantly working to improve his leadership style.
"I like to balance the humanity aspect of things with the leadership part and the business part," Torrey says. "You can never lose the human element." He also says that each individual needs different things, and a leader showcases his skills by adapting accordingly and giving them what they need. "And, when you give it back, you see growth, and that growth is your success. I 100% believe in that," adds Torrey. Sharing in the success of his team illustrates his personal success as a leader.
In addition to mentoring and developing multiple individuals to succeed, Torrey has achieved very tangible and impressive accomplishments throughout his career. One being his development and implementation of a successful national program for a large fortune 500 company. Additionally, HR Unite presented Torrey with the national Inspire Award in 2022 for his highly influential impact as an HR professional.
Days Never the Same, But Core Remains Unchanged
As the SVP and Chief People and Culture Officer of Alline Salon Group, Torrey's continued focus is on developing the culture and improving the organization. Every day, he and his team run the core HR operations including benefit administration and improvements, supporting the team members, and being the champion of several different task forces and committees facilitating them to continue to move forward and set strategies for taking the business to the next level.
Torrey's responsibilities also include constantly pioneering where the organization is going next. "Leading through the changes post-COVID that impact our business – it is something that never goes out of my mind," he says. "We continue to develop tools that are more effective and consistently develop our leaders."
Torrey also points out that his days are never the same yet the core of what he is trying to accomplish does not change. He is always looking forward and always looking for improvements. Simultaneously, he remains steadfast on mentoring and challenging his team.
Even after spending 25 years in the HR field, Torrey continues to be relentless and still has a penchant for learning. He learns every day, even from his team and the people he works with. He enjoys not only talking but also listening to new ideas and perspectives. Torrey tries to understand how those ideas would work in the industry and impact him as a leader. A huge part of his job is also to know how to adapt when there is a new leader or team member – based on what motivates them.
Future Plans from an HR Perspective
Torrey does not like the vernacular "in the office" or "in the field." He plans to oversee the change in culture so the company as a whole can truly believe that they are moving in the same direction. "Our core values are ones I truly believe in. We are all in to be the best for ourselves, which requires us to be the best for each other – as a team," Torrey says. "And I know that if we are the best in these aspects and also the best for our clients, then together we will shape lives."
He expects to see everyone at the organization support each other, be responsible, and be accountable. "We also have to support the team and be there for them," Torrey says. "It's only when you do all that, you give the best experience to your clients and those in your organization."
There Is Still a Lot to Achieve
In his extensive and successful career, Torrey has achieved a lot of things. Although he is pleased with some of his achievements, he does not feel that he has achieved everything he formulated in his dreams. "There is a lot more that I am prepared to do," he says. Torrey aspires to not only survive, but flourish post-COVID-19, be ready for the next challenge, and sees his role evolving. He also anticipates seeing his team continue to develop and be ready for their next challenges.
"I look forward to seeing this organization achieve success that it has never seen before. I want those who aspire, and are not yet leaders to become great leaders," says Torrey, adding that he also demands to continue developing and pushing himself every day so that he becomes the model of success for others.
He firmly believes that the term 'HR business partners' needs to become the norm and expectation. "I continue to fight for that," Torrey says. It is because no organization exists without people. He states, "If HR business partners don't do their jobs and cannot impact employee experiences in the organization, they haven't accomplished anything." Torrey's approach to HR is to break down the stigma that it is an administrative profession only. He has a passion for impacting the business, core processes, strategic planning, and key decision making as an HR professional.
"I am always looking forward to the next phenomenon. If I get to the point where I'm stagnant and I'm not looking forward, it's probably time for me to not do this job anymore," Torrey says. "But I'm still excited and I'm still motivated every day."
Message to Aspiring HR Leaders
"Always look forward to tomorrow and your future," Torrey says in his message to aspiring HR leaders. "But never forget how you got where you are and never stop giving back because if we don't develop our people and future leaders, then what you have learned and given in your career is lost. Developing future leaders is paramount to the future of this profession. Also challenge yourself to become comfortable being uncomfortable, be willing to get involved in projects that are outside the "traditional" HR scope and push yourself to continue to learn."
"If we have gained, then we have to share," Torrey adds. "We have to be selfless when it comes to giving back because that is where the nourishment comes from and that is what makes us successful professionals."
Alline Salon Group Overview
We love people. We love hair. We love doing people's hair.
We've proven it.
At Alline Salon Group, we put relationships first. We create meaningful relationships with each of our stylists, and they share that same experience with their clients.
It is this simple fact that has made us the salon group of choice. With nearly 400 high-quality, affordable hair salons throughout the nation, we partner with passionate, innovative stylists who love what they do.
Alline Salon Group was founded on the principle that high-quality hair care should be affordable, accessible, and personal. We hire stylists who not only share that same mantra, but who are enthusiastic about their craft. We know that a haircut is never just a haircut – it can be a therapy session, a life renewal, or a milestone marker.
With salons in Michigan, Ohio, Pennsylvania, West Virginia, Maryland, Delaware and New Jersey, Alline Salon Group is the employer of choice for stylists via our brands: Supercuts, Cost Cutters and Holiday Hair. Our passionate commitment to stylists is demonstrated in ongoing support, opportunities for upward mobility and consistent care for each and every employee.