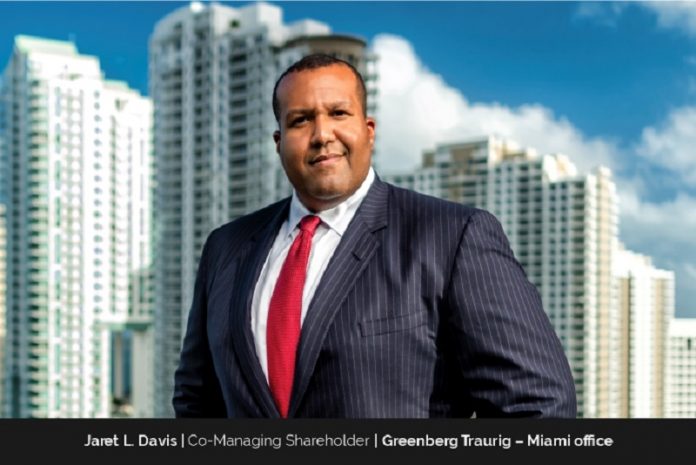 Jaret L. Davis, co-managing shareholder of Greenberg Traurig's Miami office, sees the law both as a noble calling and a business focused on delivering value for clients.
Greenberg Traurig, LLP is a Am Law Global 100 firm and one of the 20 largest firms in the United States based on annual revenue, as ranked by The American Lawyer, the leading legal industry periodical, published by ALM Media. The firm is known for its philanthropic giving, innovation, diversity and pro bono efforts.
Every leader has a unique definition of success. Tell us about your thoughts about success.
Success always has a definitional and a jurisdictional aspect. Whether it's a top company or a government agency, it's about correctly assessing the environment and industry and amassing the right team to take advantage of all available opportunities. The next step is leveraging that team to arrive at the right strategy, executing correctly, and most importantly, ensuring the team grows and learns from the experience – and still has fun along the way.
The hope is that you have all the pieces in place to ensure replication, because once you can get that structure and the right team in place, you can rinse and repeat. In South Florida, where there's a technology boom, you see the same process repeating over and over.
There's a great book called The Culture Code that focuses on well-functioning organizations, including the Navy SEALs, The Walt Disney Company, and a few other examples. You see this same theme repeatedly. At the end of the day, you're seeking to have a meaningful, positive impact in your environment, which must be sustainable and replicable for the life of the organization.
What inspired you to choose the law as your profession?
I went directly from college to law school, which in hindsight I don't recommend, and majored in economics, finance, and computer science – a combination of subjects that directly led to my career as a lawyer focused on technology.
I loved the analytical aspect of each of these subjects. But I'm also a fairly social creature, and I like people a great deal, so I wanted a field that was the perfect amalgam of analytics and involvement with people. For my personality, my preferences, and the kind of life I wanted to live, law was the optimal choice.
What were the challenges you faced when you first began your legal career?
One challenge that most lawyers face is how to master technical skills – the detailed-oriented research and analysis, statutory and contractual interpretation and of course writing — the profession requires, while still keeping the big picture in mind. It's easy to get bogged down in technical details because it's important to make sure everything complies with the law and is structured correctly. But you also have to simultaneously maintain a global perspective. So, you're dealing with dual perspectives which are often contradictory to each other, and you have to be very good at both. That's one of the biggest challenges of law, particularly as one becomes a leader in the field and has significant interaction with business leaders.
The other challenge that's common today is the evolution of the practice of law from a profession to a business. We see it as a noble calling. But clients often think of us as a partner in providing the legal advice to achieve their business goals. To be successful, we must always ensure we are delivering value and in a cost-effective manner.
Our Chairman provides a great illustration of how legal services have changed over the years – he describes the provision of legal services as one that can be graphed out on a scale of 1 to 10, with 10 being the very high-level strategic items and 1 being the most simple. The battle has been lost for levels one through three because there are alternative legal providers and other vendors who have harnessed technology to provide those services. More than 20 years ago, those services would have been done by law firms and would have generated a significant amount of revenue. Items seven through 10 are the high-level strategic stuff, which right now are a key part of the work clients want us to handle. But items four through six, the intermediate items of legal analysis and legal work, that is where the battlefield is today, particularly with the evolution of AI.
How to embrace some of today's rapidly evolving technology also presents another challenge for the legal profession. Right now, one can use ChatGPT to draft a basic merger agreement, even if it is not a very good agreement. When our younger attorneys ask what this means for us, I tell them that when I started in the profession, PDFs didn't exist. We had to do physical mailings. Then PDFs came and changed our world. It made us ten times more efficient. It didn't make me obsolete. It made my life a lot more convenient and easier.
It's on us as a law firm and as a profession to figure out how to take advantage of new technology to work more efficiently. If you don't evolve along with technology, you'll become obsolete. I think smart firms will continue that evolution.
Tell us in brief about Greenberg Traurig, LLP, and its services. What marked the beginning of the organization as a recognized brand in the legal industry?
As a 'Highly Recommended Law Firm' ranked in BTI's Most Recommended Law Firms, Greenberg Traurig, LLP is consistently among the top firms on the Am Law Global 100. From a humble beginning with three lawyers in Miami in 1967, the firm has grown to over 2650 attorneys in 45 locations, the United States, Europe, Latin America, Asia, and the Middle East.  We like to jokingly note we were one of Miami's first "unicorns."
Greenberg Traurig, LLP is a full-service law firm practicing in nearly every area of law. It has strengths in a wide range of areas including mergers and acquisitions, private equity, real estate, litigation, privacy, technology, environment, engineering, energy, intellectual property and more. During the firm's rapid growth in the late 90s and 2000s, the firm was recognized as the fastest-growing law firm in the United States and among the Top 10 law firms in the country. Since then, it has become a powerhouse that has grown rapidly year after year.
Miami is one of 15 Greenberg Traurig offices located in emerging tech hubs. As the city began to build out this tech hub in the early 2000s, Greenberg Traurig focused its legal energy on that sector, recruiting attorneys with experience in biotech. digital media and advertising, medical devices, healthcare, intellectual property, and telecommunications. Today, the firm is recognized as the go-to firm in the tech sector locally. In addition to local expertise, it taps into its global network to bring the experience needed to provide 360-degree client service in this sector, ranging from advising on financing and labour and employment issues to litigation. The firm has advised some of the most successful tech companies in South Florida in their journey from start-ups to established enterprises.
Greenberg Traurig Miami is uniquely positioned to continue to play a critical role in the future growth and development of not only Miami, but also South Florida. The firm brings together its deep roots in the community, its established position as a business leader in South Florida, and its strong ties to economic development organizations such as the Miami-Dade Beacon Council and the Greater Fort Lauderdale Alliance.
We combined this unique background and experience in the creation of our Florida Relocation Task Force during the pandemic to assist companies relocating to South Florida.
Greenberg Traurig's role in the evolution of the Miami technology market dates back a decade to its representation of Terremark Worldwide in connection with its acquisition by Verizon Communications in a deal valued at approximately $2 billion. At the time, it was ranked as both the largest pairing of a telco and a colocation provider and the largest transaction in the cloud computing space, as well as Verizon's largest acquisition since its purchase of MCI in 2005.
That led to a wave of acquisition activity between the major telecoms and IT infrastructure companies in subsequent years. Greenberg Traurig has also been blessed to represent a number of the other top unicorns in Miami. It's something we're very proud of.
As a leader in the industry what would you regard as the firm's greatest strengths in the region?
Globally, Greenberg Traurig has a massive footprint, and domestically you would be hard-pressed to find another firm that has our breadth and reach. The firm is located in every major metropolitan area, a fact that our clients appreciate.
We're one of the only major law firms with three distinctive attributes: We have the experience required to handle complex, sophisticated matters in just about every practice. We have deep penetration within South Florida, a fact that's appreciated by many of the major corporations, tech companies and the venture capital, growth equity and private equity funds who have established a base here in the last few years. South Florida is our backyard, our town, and with all humility, we helped build it. And because of our global network structure, we also have international reach.We sum it up this way: "Miami Roots, Global Reach."
If you talk to most people within the local tech space, they'll cite Greenberg Traurig for the impact that our Venture Capital and Emerging Technology Practice has had on the South Florida tech ecosystem.
Greenberg Traurig has been a major mover over the last 20 to 25 years and played a part in almost every tech initiative, including the formation of one of the most consequential tech conferences held in the U.S., eMerge Americas. The annual event brings together business leaders, government officials, investors, and entrepreneurs from across the globe to discover and discuss the latest advancements in technology that are fueling future innovation. The firm is a founding partner and sponsor of this annual conference, and I have had the honor of serving as its general counsel since its inception. People are usually shocked when they attend the conference every year and see a massive booth by a law firm. We're proud of the role we played in building this event, and we're proud of the effect that it's had on South Florida and beyond.
As tech companies relocate to South Florida, one of the other areas where they turn to Greenberg Traurig is in the real estate arena. Our real estate, land use and environmental attorneys have worked with most of the major developers locally and nationwide, as they have brought projects to life that reshaped Miami and significant portions of South Florida. We were here when Miami was just a sleepy southern town, and now it has become a major force to be reckoned with – a true 21st Century City.
Because of Miami's position as a connection point for Latin America businesses and investors, Greenberg Traurig has a multi-disciplinary team of attorneys in its Corporate and Latin America practices who help match companies seeking funding and investors looking for good opportunities.
How do you keep your team and yourself motivated to deliver the best services?
What keeps us motivated is the impact we're having on our local jurisdictions. We're very proud of the impact we've had on the skyline of Miami, how we pretty much helped build that, and our impact on the technology ecosystem here. I see my job as one of bringing resources to my peers, expanding the firm's market share and presence within the technology community.
It's all about maintaining the firm's preeminent footprint in South Florida, given all the powerful changes occurring in our community as new entrants come into this market.
We want to make sure that we maintain that scrappiness, that willingness to serve our clients. None of us see what we do as simply a paycheck or a career. We see it as a vocation, a calling. Very few people can say every single day that they're having a material impact on the community in which they live. I think that's a big motivator for our people.
How do you ensure a culture of integrity and innovation in your team? What are the core values of Greenberg Traurig, LLP?
Greenberg Traurig's core values consist of absolute excellence and expertise, coupled with sensible, pragmatic, business-minded, legal advice. Of the top 20 US law firms, we're by far the youngest, and with that comes a scrappiness, an innovative spirit, which truly captures our culture.
Greenberg Traurig aspires to be the law firm every CEO, CFO, and board member is seeking: a legal advisor who understands your business, and provides well-informed legal advice, through a lens of what works in the real world.
Everyone has a nightmare story regarding that lawyer who only knew how to quote the law, rather than serving as a partner. But Greenberg Traurig seeks to flip that paradigm on its head and truly support its clients. Our goal is to inform them about what's happening in the market and give them meaningful perspectives on a variety of industries, whether that's infrastructure, real estate, international transactions, or technology.
We focus on maintaining a culture of innovation and integrity by being incredibly disciplined in our hiring process. We train our attorneys from day one and recruit lateral hires. Cultural consistency is a strong criterion. Often our recruits self-select because they research our culture.
How do you maintain a balance in your personal and professional life?
When discussing the term "work-life balance," I subscribe to a principle outlined by Amazon's Jeff Bezos, where he distinguishes between work-life balance and work-life harmony. The former implies that there's a discrete period in which you work, a discrete period in which you have your personal life, and the two shall never overlap, which is completely unrealistic.
Instead, my mindset is built around structuring my life so that the energy generating within each sphere enhances the other. I can't distinguish between my work, my civic activities, and my personal life, and I find that enriching. For example: I'll bring family members to an event in an inner-city school where we teach tech.
It's impossible to separate the components, but the energy generated from each one tends to be accretive. It works in terms of my spiritual health, my mental health, my emotional health, my family life, and keeps me well-rounded and multi-dimensional. You cannot be a one-dimensional person or you'll burn out and won't have a fulfilling life. Multidimensionality has kept my life very happy.
If I could go 25 years back in time to when I began my career, I would be extraordinarily happy to know that my life is where it is today. I think the more you achieve, the more interesting the life you lead. I can almost guarantee, however, that you're going to always move the goalposts, and though I've achieved everything that 25-year-old Jaret Davis wanted to achieve, 50-year-old Jaret Davis has a lot more goals in mind.
How do you wish to influence a change in the upcoming generation in leadership?
Leaders must be curious about the people they lead. It's a toss-up between being curious and seeking impact, with the latter being the most important. It's about impacting people, your organization, your community, and society in general. The way you accomplish that is through curiosity.
For example, when I raise a toast to honor the attorneys, we have elevated to partner status every year, I share titbits about every single person, from their personal life to their practice, and inevitably they're all shocked that I know so much about them. But of course, how could I lead without knowing all this stuff about you? I want to know about your family, about your dreams, what you're trying to achieve, because it's my goal to help you do all that.
I'm curious about the community, about my industry – technology and where it's going in South Florida. And that leads me to have maximum impact, which is the ultimate goal. So, I would say the two key words to drive future leaders are to be curious and impactful.
What is your message to aspiring people of color in business and leadership?
My advice to people of color aspiring for success in business and leadership is that they should never shy away from the difficult. Always go towards the challenge because that's where the opportunity is. We tend to gravitate in the direction that everyone else is going because it feels safe. The problem is that's the crowded ground.
If you go towards the challenging, you'll always have a market. And as you distinguish yourself in these challenging fields and rapidly grow, you develop a toolkit that is easily translatable to the safe areas. In the process, you can make yourself a resource to all those you lead and keep growing yourself.