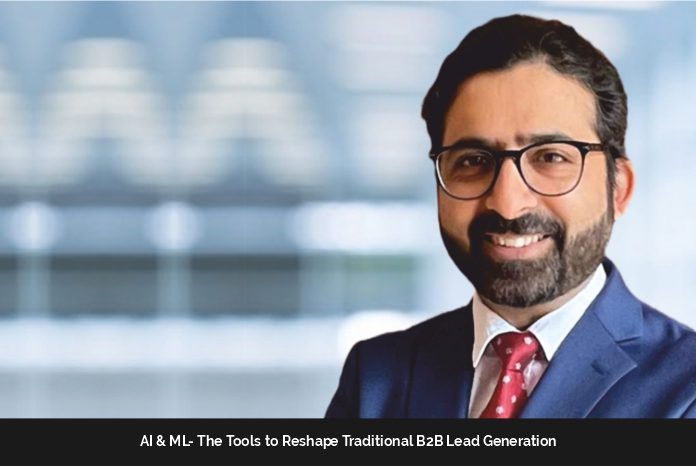 Deloitte research revealed that 73% of marketers believe AI is critically important for their business growth, while 64% say AI has enabled them to establish a lead over competitors. Another research by McKinsey reported that AI can automate most sales & marketing activities, improve efficiency, accuracy, and customer experience, and moreover, cut short the sales cycle. This results in higher ROI and business outcomes.
The above stats highlight the increasing importance of AI in sales & marketing. Additionally, after the COVID-19 pandemic, customer expectations and buying behavior have changed drastically. They expect a seamless experience from the discovery to the buying phase. The key lies in proactively identifying their expectations, preferred mode of communication, and desired solutions they are looking for. The importance of personalization is parallel to none. Many B2B organizations are struggling to deliver personalization, enhanced customer experience, and seamless buyer journey.
It would only be possible to deliver on those promises if marketers are sticking to the traditional customer engagement and lead generation methods. The expectations have changed, the times have changed, and so should your lead generation strategies.
AI and ML technologies help you create an Ideal Customer Profile for your products and services and provide insights into customer behavior and the influencing factors that impact their buying decisions. It helps you cater to their needs and personalize your marketing campaigns. Moreover, you can easily automate your marketing and sales funnel to increase the conversion rate.
Here are some interesting statistics that make a strong case for inclusion of AI and ML in your marketing strategies:
How AI & ML is Reshaping the B2B Lead Generation Landscape
Automating Marketing Operations
Today, customers expect instant communication and redressal of their queries. They are more likely to engage further with a brand if the communication channel is quick and interactive. AI and ML tools help you automate most of the marketing processes including lead tracking, qualification, follow-ups, personalized communication and content creation.

The AI-based predictive models can simplify your predictive analysis process and help you identify high-propensity prospects. This will ensure you optimize your time, efforts and resources by focusing on prospects that are more likely to make a purchase. Thus, increasing your B2B lead generation ROI.

Capturing & Analyzing Intent Signals
In today's digital-first world, it is critical to understand what exactly your target audience is looking for. Strategic use of AI and ML technology can help you gather valuable intent signals from search engines and social channels to improve the quality of your leads. AI gathers insights from multiple data sources to create personalized intent profiles for leads, prospects, and customers.

AI utilizes the gathered datasets as a base model to learn about the prospects and train the algorithm accordingly. Once the AI model is trained and tested, it requires some validation sets to ensure the final outcome is in line with the expectations. The more data fed to the algorithm, the better it understands user intent through mapping datasets with the validation sets.

Extracting intent data from raw datasets involves data engineering, machine learning, validation, and eventually, data visualization. This intent data can be a great asset to understand where exactly the prospect stands in the buying journey.

You can proactively contact customers exhibiting higher buying intent before your competitor does. It goes without saying, you should cater to their exact need and offer a customized solution that will help them solve their problems. Moreover, AI will also help you establish a connection with your customers over their most-preferred platform through the content- format they tend to consume the most.

Dynamic Personalized Ads

Customers tend to engage more with a brand that understands their needs and preferences and provides just the information they need to make better informed decisions. AI can analyze search intent and buying history to recommend personalized Ads for enhancing engagement and improving the buying probability.

AI gathers and analyzes various contextual signals, such as the content on the webpage, the format of the content, device used to access the content, the user's journey to reach the content, user location, previous purchasing decisions, to determine what information would be most relevant for the user. This helps the algorithm understand which ad can better serve the user's purpose.

Conversational Marketing & Chatbots

Through conversational marketing strategies, you can engage customers through dialogue and focus on building relationships with the customers through a conversation in real-time. This helps the customers understand your business offerings better and find the solution they are looking for.

To enhance the customer experience, many marketers are deploying AI chatbots. They not only understand user behavior but also adapt to the user's behavior, intention and communication pattern. It's safe to say that AI chatbots don't just chat but they think and respond to build a helpful conversation with the user. The obvious benefit of a chatbot is its ability to respond instantly at any time.

Dynamic Pricing

AI and ML tools can quickly process huge volumes of historical data, sales numbers, pricing trends, and current market demands. Moreover, they also analyze influencing factors that impact the product demand and understand the possible requirements of the user.

AI considers all these factors before offering a dynamic and customized pricing plan to your prospects. Dynamic pricing is the best way to speed up the buying process as your prospects already have a better understanding about the products and services they need along with the cost.

Amazon, the eCommerce giant, deploys dynamic pricing strategies. It leverages the large datasets collected about users' purchase behavior and market trends to update their product prices every 10 minutes. Moreover, Amazon also alters its product prices by up to 20% when competitors offer discounts. It's been claimed that Amazon increased its profits by ~25% by leveraging dynamic pricing strategies in 2016.

Another example is Uber. Uber's dynamic pricing algorithm adjusts the ride fares based on time and distance of your journey, traffic and peak hours, and current rider-to-driver demands in and around your location.

Voice Search Marketing

Voice search dominated the search landscape in the past few years and revolutionized the B2B lead generation strategies. It offers great convenience to users to simply speak to their device instead of typing into the screen with a keypad to get answers to their search queries. The exponential rise in the adoption of voice search has led to the term 'screenless internet.'

There are about 133 billion smart speaker users around the world. Voice search marketing has presented a new opportunity for marketers to reach their target audience. AI and ML can optimize your website content for speech search so that you don't miss out on the audience base that prefers voice search to gain information.

Honeywell, a multinational conglomerate, is elevating warehousing & inventory management with their voice search marketing tool – Honeywell Voice. It is a voice-enabled search service by Honeywell to improve accuracy and efficiency of users' search commands. Similarly, SAP's integrated ERP software depends heavily on voice search technology. It enables users to send voice commands to search for any business-related information in detail – sales data, client information, revenue forecast data, market trends and more.

Account Based Experience

Account-based marketing has been a prominent part of every lead generation strategy. AI and ML technology can take ABM one step further. With AI tools, marketers can easily gather, store and analyze buyer intent data and draw valuable insights about the target accounts. These insights help you create a personalized marketing strategy specific to that target account and thereby, enhance the experience. This counts as ABX – Account-based experience.
Conclusion
AI and ML technology has come a long way over the last decade. It is safe to say that the use of AI in marketing has proved to be a breakthrough for marketers and organizations. AI tools not only streamline your B2B lead generation process but also help you find better leads with lesser efforts. However, the integration of data from various sources with business goals can take time and effort. Simply gathering and storing data will never be enough, businesses need to strategically utilize the AI & ML tools to extract valuable insights that will help them elevate their business outcomes.
Organizations should start small and then scale up their AI and ML strategies. It is necessary to monitor these strategies' challenges, performance, and outcomes. Implementing all the aforementioned strategies can be overwhelming, demanding and probably not help you reach your goals instantly. Starting small can give you the breathing space to understand what works and what needs to be changed. This will require patience, efforts, resource utilization and tech expertise.
Alternatively, you can partner with an AI-driven lead generation service provider. This will enable you to leverage their expertise, experience and technology to boost your business outcomes. Not to mention the time and cost you will save! Moreover, you can then utilize your internal resources for other business-critical functions by simply offshoring your demand generation process.
The AI revolution has already hit the B2B world. It won't be long before your AI & ML expertise and strategies will have a bigger impact on your sales & marketing outcomes. The best time to adopt AI & ML technologies and revamp your sales & marketing function was yesterday!
Gartner Predicts that by 2025, organizations that use AI across the marketing function will shift 75% of their staff's operations from production to more strategic activities.
The choice is yours – Lead the change or be pushed to change when it's too late.
About The Author –
Sumit Mahajan – Global Chief Sales Officer
Sumit heads the global sales, pre-sales, marketing, and accounts management as part of his Chief Sales Officer position at Datamatics Business Solutions Ltd.
He is a seasoned business leader with over 25 years of experience in leading high-growth business development & delivery spread across diverse markets & industries. He has held leadership roles in different sectors, including Retail, Consumer Packaged Goods, Media & Entertainment, Manufacturing Etc. As a business leader, he has been primarily responsible for developing Business process management, research & analytics, business optimization, strategic partner/alliance management through transformational program planning and execution.
Sumit has held key Leadership positions at Syntel Inc. (now Atos), Ariba Inc. (now SAP), Standard Chartered Bank, and Tata Motors.
Sumit is an IIT, Delhi (B. Tech, Mechanical Engineering) & IIM Bengaluru (MBA, Finance & Marketing) alumnus. He also is an Executive Leadership graduate from Cornell University. A passionate runner & a golf enthusiast, Sumit is actively involved in several humanitarian works, including volunteering at the animal shelter and contributing to Plano Alzheimer's center.