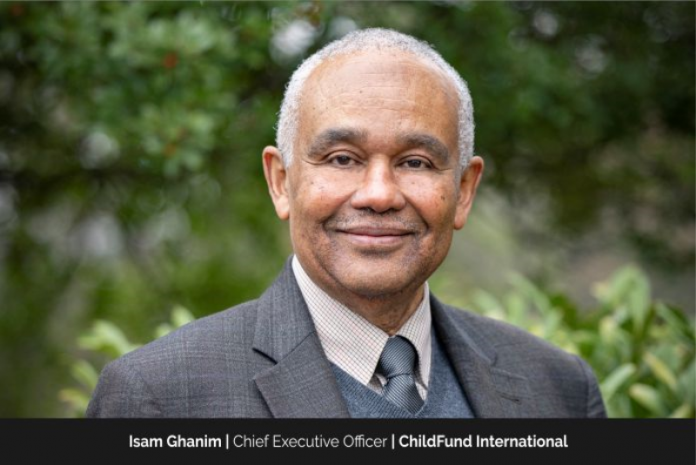 As President and CEO of ChildFund International, Isam Ghanim is a values-driven leader of an organization that works to connect children with what they need to grow up healthy, educated, skilled, and safe, no matter where they are. Isam is responsible for the overall health and sustainability of ChildFund, including its long-term strategy, the acquisition and stewardship of resources, and its relationships within the international development ecosystem.
Founded in 1938, ChildFund works throughout Asia, Africa, and the Americas — including the United States — to support children to reach their potential. Last year, ChildFund reached 21.1 million children and family members around the globe, and Isam is currently leading ChildFund in its Growing Connections 2030 strategy, with the bold goal of reaching 100 million vulnerable children and family members worldwide.
"The evolution and development of the organization are definitely a primary responsibility for me," says Isam.
"The evolution and development of the organization are definitely a primary responsibility for me."
A pathfinder striving to make a positive difference. 
Isam was born and raised in central Sudan. After graduating with distinction, he spent the first two decades of his professional life with CARE, another international organization addressing poverty, for which he worked in Sudan, Somalia, and India and at the regional level. He joined ChildFund for the first time in 2007, leading operations in the Africa region and eventually becoming executive VP for programs in 2011. That was his role until he left ChildFund in 2018 to serve as president of Search for Common Ground, an organization that works to transform how the world deals with conflict, before returning to ChildFund as its president in 2022.
"I just always like to find the most creative ways into the future," Isam says. "That's why I always feel that the future is in the present." With that mindset, he enjoys working with teams to solve problems and set directions to help ChildFund succeed in its mission.
ChildFund has clear directions for its way forward: to build on and strengthen its child-centered programs; to influence the child development ecosystem, which includes government actors, local organizations ChildFund works with, and its many and diverse partnerships; and to grow new capabilities for the organization to scale its impact, including diversifying financial resources, enhancing its organizational culture of engagement and inclusion, and improving its digital capabilities. "I was very happy to rejoin ChildFund in time for all of this," says Isam.
ChildFund – a culture of learning under Isam's leadership
ChildFund is a global organization working directly in 20 countries. Through ChildFund Alliance, a global network of 11 child-focused development organizations, they reach 70 countries.
ChildFund's operations are managed predominantly by national staff, with support from global staff who share knowledge and experience. The organization is funded by diverse donors ranging from sponsors, who stay with the organization for a long time and dedicate resources to children; to governments, including the U.S. government, that award them grants to achieve specific developmental impacts to improve children's well-being; to companies, corporations and foundations that provide resources to help ChildFund innovate and scale up activities to reach more children and communities effectively.
"We pride ourselves on being very efficient in the management of these operations," Isam says, "as well as on being highly transparent in terms of our successes and failures. We are in a continuous mode of learning and exploration in our operations." ChildFund also actively seeks partnerships and is now moving to embed digital methods to deliver programs and services. "The experience during COVID definitely helped organizations and individuals to overcome their fear of being digitally proficient," says Isam. "Therefore, ChildFund needs to stay relevant to the context of this digitally native generation, and to equip ourselves with the digital means and culture that will allow us to thrive in the future."
ChildFund's emphasis on "learning and exploration" continually shapes the organization's approach to helping children and families improve their well-being. Isam remembers an important lesson from several years ago: "When we consulted children, the list of their needs did not match the list we had developed as development experts," he says. "They wanted us to help them with education, with health, with employment, et cetera. But at the top of the list, they wanted us to focus on violence." And so, ending violence against children – at home, at school and in communities – became an important priority for ChildFund, which recast its approaches in its health, education, livelihood and other types of initiatives to include a child protection component in all activities. Most recently, with children going online more than ever, ChildFund has been leading the charge against online sexual exploitation and abuse of children.
Character development owing to grandfather's teachings
Isam was born and raised in central Sudan, in a very big family. His maternal grandfather was a tribal judge whom Isam credits as one of very few pioneers for women's education in Sudan during the '40s and '50s, when education for girls was not yet accepted or appreciated. "He insisted that all his daughters should get educated," says Isam. "In fact, he focused on educating his daughters more than on his sons, but he had one condition for them: that they need to graduate, and whatever field they graduated from, they had to go into teaching." At one point, Isam remembers, he had 10 aunts in the teaching field along with his mother.
So, Isam was raised by a working mom, a teacher who went on to become a school principal, and his father, a civil servant, who together instilled in him both discipline and a curiosity for learning. They also encouraged a balance between academic and social skills, which Isam honed through sport.
Isam recalls an experience from his childhood, from age 5 to 7, "that really shaped me": His grandfather, the tribal judge, selected Isam and another young cousin to come to court every Tuesday and Wednesday and stay there from 8 a.m. until 5 p.m., listening to the proceedings and doing nothing other than to bring water to their grandfather if he needed it. "I hated that experience," Isam says, smiling, and acknowledges the value he realized much later. "That experience at an early age exposed me to very sensitive and complicated family issues, social issues, and relationship issues. I think it allowed me to have a good jumpstart to understand life in a better way and to be more mature early on. That really shaped my life and my perspective about how I conduct myself and how I approach things."
Isam's inspiration to help children
One experience that really cemented Isam's drive and commitment to helping children happened in his early days with ChildFund, on a visit to Guinea. After a big celebration with dancing and everyone expressing their gratitude for the support provided by ChildFund staff and donors, the team was about to leave for the three-hour drive back to Conakry, the capital, when a community member stopped Isam: "Sir, someone wants to talk to you."
By then they were running very late, and the staff did not want Isam to take time for another conversation, but he felt compelled to answer the call out of respect for the community and the person. When he did, he found a young boy, about 8 or 9, in a wheelchair by a house near where the celebration had been held. "He was so happy that I came to see him," Isam says. The boy told him, "I tried to come and see you, but I couldn't because there were so many people. The only thing I wanted to say is that I want to thank you and thank ChildFund because they brought to me this wheelchair, so now I can do some daily activities easily compared to before, when I was confined to a room in my house."
The memory remains fresh a dozen years later. Now, every time Isam feels low, he says, "I remember the joy and I remember the face of that child when he was thanking me for the support he got. And since that time, I made a commitment that I will devote the rest of my life to helping children in whatever capacity that I have."
Creating work-life balance by setting boundaries
As committed as Isam is to do all that he can to help children improve their situation, he tries his best not to separate his personal and professional life too much; he feels that his professional life is part of his personal life, and his personal life is part of his professional life.
To sustain his productivity and engagement on the job, Isam takes time off and vacations on a regular basis. He also finds setting strict norms and time boundaries to be very useful. For example, he does not work on weekends unless there is an emergency or some other extreme necessity. He does not work after 6 p.m., and no matter where he is, he starts his day by 5 am.
"The first hour is non-negotiable: That is for my spiritual life," says Isam. "And then after 6 o'clock I exercise – whatever is nice: elliptical, jogging, running, walking when the weather is nice, stretching, whatever is on my mind on that day. After that, I attend to my breakfast and work or meetings. For about five years now, I have not worked beyond 6 p.m. Once I close shop, the rest of the time is for my wife and my family, full stop."
"I made a commitment that I will devote the rest of my life to helping children in whatever capacity that I have."
Moving forward: shifting power to the local level
A key piece of ChildFund's work worldwide is to support communities to drive their own social change. Says Isam, "We need to shift the power and decision-making in international development to local organizations and local leaders while supporting them sometimes with the technical know-how and sometimes augmenting their resources to allow them to manage their own development."
This is not a new concept in international development, but Isam sees it taking on significant momentum. "Call it localization, call it local empowerment, but I think it is a very important transformation in the international development sector," he says. How to facilitate this? By working at different levels: transforming mindsets at the local level so that local leaders can play their role well; influencing the broader ecosystem by helping local leaders connect at the policy and advocacy levels; and influencing donor perspectives about how their money is spent.
Since ChildFund's earliest days, it has always worked with local organizations and always supported local leadership and decision-making. ChildFund channels funding through its sponsorship programs specifically to ensure that these local organizations have access to the resources that will allow them to manage their work with children and families.
While localization may be new to other agencies, it is part of ChildFund's DNA. "We are making sure that we will accelerate and deepen our engagement to support and help local actors empower themselves so that they can manage their development in the best possible way."
Success is never just about yourself
Success to Isam is enabling another person to succeed in life, and that person should feel fulfilled because of that success. "That success needs to be sustainable, to even transcend a generation," he says. This is how he looks at success personally, in raising his own children, as well as more broadly in how he works as a leader and in achieving organizational goals.
"I feel strongly that when your efforts are focused on the future and on the generation that will make that future, any problem that comes up in our work will be trivial, any struggle will be enjoyable, and any success or achievement will be fulfilling — short-term and long-term." Isam finds this focus extremely inspiring.
How does Isam encourage that point of view in his organization? "When you look at the child," he says, "you don't see just that innocent, smiling, curious face. When you look at a child, always, always remind yourself this could be the future president, a future leader, a neurosurgeon, an advocate for equality and inclusion, a superstar in sport or art. This could be a person who changes a nation in the future or the parent of the person who may change a nation. Anything is achievable.
"Never, never, never underestimate children," he continues. "Never underestimate their potential, and never underestimate the small things that you do for them and with them. When you make a positive, lasting impact in their life, you never know whether that is your contribution to making a nation, a company, or a breakthrough in medicine or science or anything else."
What really keeps Isam motivated – and what he frequently reminds his staff is to remember that as they work for and with children, they are creating the future that they want for their own children as well as the world at large: "There is no better investment one can make at an individual or national level than helping children and helping them develop the skills that will allow them to transition to adulthood and become productive citizens in the future."
"Never, never, never underestimate children. Never underestimate their potential, and never underestimate the small things that you do for them and with them."
Meaningful recognition and a meaningful career
One day years ago, while he was based in Addis Ababa, Ethiopia, Isam received visitors in his home. They wanted to have coffee and talk to him about how ChildFund had helped them help their family. Isam didn't realize that his children were overhearing the conversation. Later, after the visitors had left, one of his daughters expressed that she was very proud of Isam as her dad. "I just felt, this is the peak of being a leader," he says. "In addition to the moment with the child from Guinea, this story also was extremely meaningful to me."
Asked if he has achieved everything he has dreamed of, Isam exclaims with a laugh, "Absolutely not!" He explains, "In the work of assisting children and families in under resourced countries, there is no point where one can say, 'The work has been done' or 'All the goals and objectives have been achieved.' And why is that? It is because the needs and aspirations of children and their families evolve through time. It is a story, something that has no end to it. It is an ever-evolving situation. In development jargon, this is called 'progressive realization.'"
Isam's personal goal is to make sure that he creates opportunities for all staff to have a fulfilling, productive and enjoyable experience. His message to aspiring leaders is this: "Always remember it's not about you, it is about others. Make sure that you become a role model, and that you connect with the front lines because that's how you know the true story. Always ask yourself what the right thing is to do."