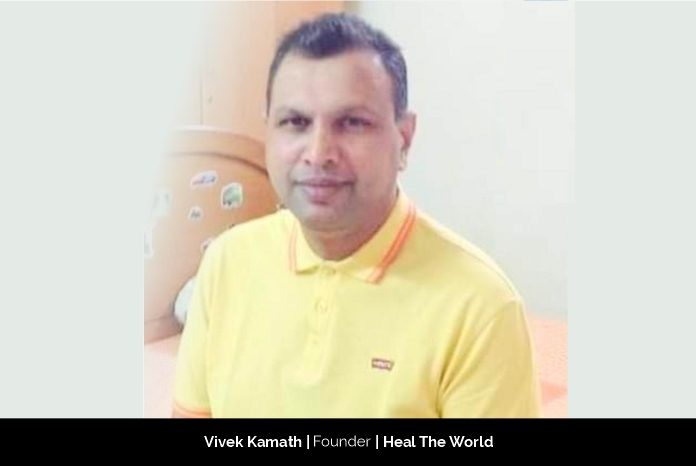 Vivek Kamath, Founder, and CEO of Heal the World found his success in watching his patients heal and become disease-free and that too without medicines. The best thing he loved was that he helped his patients recover from illnesses in just a short span of time using alternative therapies. For him, success lies in defining the organization's objectives and achieving them with consistent efforts.
He shares, "Initially, I tried applying the healing methodology on myself and my family members and it was remarkable and we saw instantaneous results in healing especially using Reiki distant healing and Mexican Healing methods. This made me work on healing diabetes disease as my mother died of the deadly disease "killer diabetes"." Then, he started learning diabetes and then, all types of diabetes (Type2, Type 2 insulin-dependent diabetes, Type1. Type3/LADA, gestational diabetes, etc.) as well.
Comprehensive services of Heal the World
Heal The World mainly focuses on body, mind, and soul healing with the help of a plethora of natural energy healing methods such as Reiki Healing, Mexican Healing, Melchizedek healing, and Crystal Healing methods.
Being the experts in healing patients remotely via "Distant Healing", they use Reiki/Mexican Distant healing method or commonly known as the "Alpha state mind healing" technique to heal their patients residing anywhere on the globe. In this, the patient and his healer may reside in any part of the globe and there is no physical connection or contact required during the healing session.
Their specialty lies in following the "No Medicine Approach" and using treatments that are beyond science and are based on quantum physics theory as per research conducted by quantum physics theory experts.
Vivek's contribution in global healing
During the beginning phase, many people have no faith in alternative therapies, he found it difficult to get patients on whom they could carry out their tests and experiments. Also, many patients were not transparent in showing their actual results owing to various reasons. He slowly overcame all the hurdles on the path and became a remarkable name in the industry.
Now the company has healed many stage 4 cancer patients across the globe. Also, they are conducting research to heal multiple patients living in both India and abroad. Mainly it involves one healer healing multiple patients living overseas.
He further shares, "We were successful in completing the pilot project for diabetes disease and multiple diabetic patients. The same concept will be tested on stage 4 cancer patients who are living across the globe. We were also successful in automating the healing procedures by developing in-house cancer healing products (named LV2CCD) and various other products."
With this, they could save the healing time of most patients and also, conserve the precious time of their healers. Through their cross-skill training program, they educate all their staff in terms of culture, innovative ideas, knowledge sharing, sharing of testimonials, new challenges in disease management, automation, etc.
Their team knows all the success factors and thus, always works in integrity to attain the organization's goals.
As a visionary, he has a unique vision for Heal the World. He says, "The world is full of people with a negative mindset. They don't have faith in themselves. People are relying on medicines and for every small infection, they are depending on medicines. The biggest challenge we have in this world is to remove the negative mindsets or mind blockages people are suffering from and making people disease-free without any dependency on any medicines."
Awards and Accolades along the way
Vivek has recently been shortlisted as "Most influential & dexterous leader of the year 2021" by many renowned business magazines based in the USA. His firm "Heal The World" has been shortlisted as the most innovative health care company in the world by many business magazines based in UK, Asia, India, and the USA. Not only this, they have even been shortlisted as one of the "20 fast growing brands in Asia" by the CNBC Asia TV channel.
He says, "I am also honored to receive the invite as chairperson, keynote speaker for many medical international conferences across the globe. More than 33 countries have sent invites to attend the international conferences." In addition to this, he is asked to publish the healing articles in many medical journal companies based in UK, USA, and Europe. Right now, he is the editorial member for a few oncology medical journals based in the USA.
Life before and After becoming the CEO
Having worked as a software engineer in the IT department across different MNC Banks across the globe, Vivek has a rich experience of almost 23 years in the IT industry predominantly managing large IT programs/projects in MNC Banks. He even worked as a freelancer in UK, USA, India, Japan, Singapore, Bahrain, Australia, and Germany.
As the CEO of Heal the World, Vivek shares, "I am responsible for Patient relationship management, Healing Team Management, Research & Development Team Management, Organization management (HR, Finance, administration, etc.), Software & IT team management (our in-house software team), Vendor Management, Publishing new articles in Medical Journals, Our New Partners/promoters relationship management, New Disease learning & research, Healing Automation Procedure, Learning New Healing Methods and Benchmarking testimonials with our current healing methods."
He feels that self-healing is the crucial aspect that is necessary to be done before healing other patients. For that, he always takes out his me-time to embrace his hobbies and spend time with family. He considers every new day as an outstanding opportunity to learn new disease or behavioral patterns of the patients in response to various energy healing methods.
He firmly believes in the fact, "Accepting the challenges and executing them with a solid plan is the key for running any successful business." Thus, he keeps overcoming all the challenges to stay physically and emotionally fit in day-to-day life. He personally desires to empower youth and energize elderly people to carry out their daily tasks without any difficulties.
The Face of Heal the World in Future
Setting up Heal The World Training center and healing centers across the globe to make the entire world disease-free and heal the patients across the globe without any medicines and side effects is Vivek's chief goal. The company just wants to aid people to lead a happy and peaceful life.