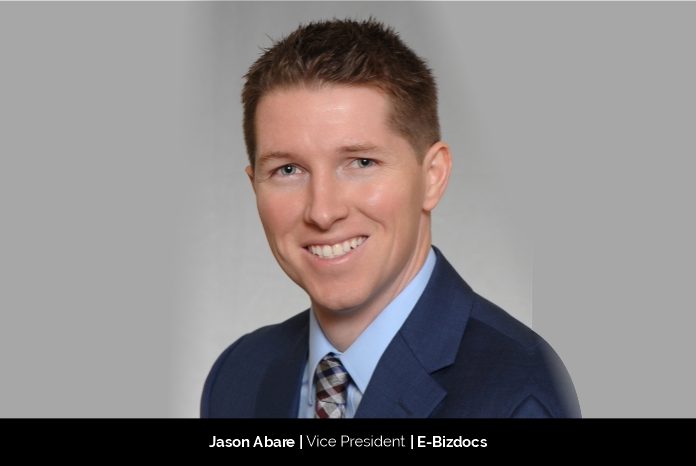 Jason Abare, Vice President of eBizDocs believes in learning every day and not just the destination. The journey must be enjoyed as well. He shares, "Some say: if you love your work, you will never work a day in your life. To me, life is more than loving my work. I want to also enjoy family, hobbies, and friends. I can only achieve success by allocating quality time to all aspect of my life. Spending too much time on one area takes away from another. Therefore, it is important to also dedicate quality time to accomplish more."
He found that by empowering the team, all the members will give their best to attain customer satisfaction. He says, "I saw eBizDocs had tremendous potential and was an opportunity I could not ignore. That was over 16 years ago. Now I am honored to be part of the leadership team creating opportunity for others."
Clearing the hinderances along the way
Facing challenges always makes you come out stronger. eBizDocs assists its customers to get over their document-related challenges so that all customers can relinquish the inefficient management of documents. So, it will help customers to get solutions at their fingertips without facing any stress.
Jason adds, "The last 12 months of COVID presented an entire new set of challenges. We thought creatively and adapted where necessary to keep being a safe and a friendly environment for our employees to work. Every challenge is an opportunity to improve. In many ways, COVID challenged us to write a new playbook."
eBizDocs Exclusive Services and culture
eBizDocs proffers results-driven document scanning and management solutions. It is SOC2 Type II certified and caters to the needs of public as well as private-sector organizations. They also provide scanner sales and service, paper and microfilm conversion, process consultation, content capture and document management solutions.
Jason says, "I would not say we are redefining the industry, rather, we are bringing the industry to customers in a way that solves problems. The process starts with listening to the customer. We approach each customer as a clean slate." Further, the team tries to understand the customer's perspective to give their best solution for their customer's problems.
Leading The Success Route
eBizDocs has completely transformed Jason's life. He shares, "Life before eBizDocs seemed like a lifetime ago. Being here for 16 years has created a significant chapter in my career, and life in general. Prior to eBizDocs, I was consulting with small businesses helping them with their technology challenges."
Jason has been the former board member of the Capital Alliance of Young Professionals. Currently, he is the board president of Ethos Executives, and even coaches soccer to youth.
He adds, "The best recognition I have received isn't actually an award or a plaque. It is the continued recognition of the value I bring to the table at eBizDocs. Each day all employees, management and staff, are trying to do their best to help our customers and, and I play a small part in that."
What keeps him moving is unwavering spirit to deliver the best. He adds, "I stay motivated knowing and seeing how eBizDocs is making a huge impact on our employees' lives and our customers' operations."
Jason's Role As The Vice President
Working as Vice President, he closely works with the eBizDocs team to formulate all long-term business strategies. His role mainly focusses on delivering the top customer focused document management solutions in the entire industry. He helps manage sales and operations and reports directly to Howard Gross, CEO of eBizDocs. He feels privileged to own a cooperative and talented team that can take onus and handle everything without any external help.
Also, he tries to analyze the client's pain points and deliver the best solution to achieve maximum client satisfaction. He adds, "I really enjoy seeing satisfied customers, and my role in this area is very rewarding. From a head count perspective, our scanning and document conversion services is a large part of our operations and occupies a sizable footprint of our production floor."
Key to staying always Motivated
Having a diverse workforce really helps to impart high inclusion levels. This helps all employees to keep their A-game on and work at ease to feel a part of the entire project.
He shares, "My message to aspiring business minds is rather simple. Maintain balance between your personal and professional life and put your customers' and employees' interests first. Doing this brings inner peace, satisfaction, and significant financial rewards."
He feels highly motivated employees work far better, deserve an excellent wage, and reach a higher level of independence. All this reflects in their attitude towards work and helps them perform with more passion and dedication.
He further says, "New York State Industries for the Disabled, Inc. (NYSID) recognized eBizDocs as its "Corporate Partner of the Year", citing its inclusive business culture that pairs workers, having physical and/or mental health challenges, with the right job. I stay motivated knowing and seeing how eBizDocs is making a huge impact on our employees' lives and our customers' operations."
Promising Future Plans for the company
Planning is pivotal for Jason. He shares, "I am always planning in all aspects of my life. Defining short, intermediate, and long-term goals help keep me stay on track professional and personally. However, it's not just me, we work as a team in defining eBizdocs' business goals."
He feels proud of his team as everyone on the management team share their individual perspective on the table. As the prime users of paperless filing and automated workflows, they want to actually change the mindset of people using paper intensive processes. This huge metamorphosis is made possible via their commitment to establish trust and helping customers in applying leading paperless solutions produced by their firm that actually enhance the efficiency and don't cost much on your pocket.