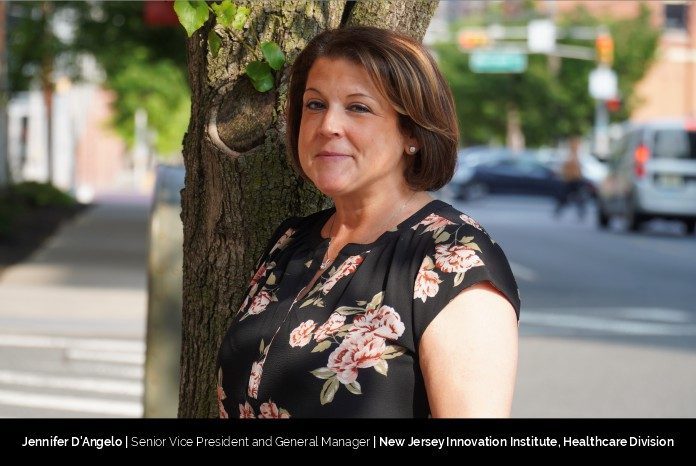 In the ever-evolving landscape of healthcare, there's a critical need for leaders who can bring the right mix of people, process, innovation, and technology to impact patient outcomes positively. Jennifer D'Angelo is one such visionary leader, with over 20 years of experience as a CIO and healthcare executive. Currently, she serves as Senior Vice President & General Manager for New Jersey Innovation Institute (NJII)'s Healthcare Division.
Jennifer's vast experience spans across service lines and continuums of care, including Senior Living, Acute Care, Behavioral Health, Substance Abuse, Veterans, Emergency Department, inpatient, and outpatient care. As the SVP & GM of NJII's Healthcare Division team, Jennifer has leveraged her expertise to grow the organization and develop strategic and operational plans that meet the needs of those they serve.
Journey to Success through Collaborative Work Environment
Jennifer began her early career exploration in the education field with a goal to shape and help improve systems for future generations. But, after finding herself in the finance sector working in a healthcare facility, she discovered an unexpected and deeper passion for healthcare technology. Her technical-minded personality and love for dismantling and rebuilding things, along with her initial goal to serve others, allowed her to flourish in the industry and she hasn't looked back since.
Although her leadership journey was not linear, each new opportunity led to the next step, and she is grateful for the support of people who believed in her and allowed her to learn and grow.
Jennifer now continues to nurture her strong desire to pay it forward to the next generation and places a high priority on mentorship through active participation in boards or associations and speaking with students at New Jersey Institute of Technology (NJIT). She understands the impact of someone opening a door you didn't know existed, having benefited from colleagues and leaders who believed in her.
Jennifer's viewpoint is that success is primarily based on the people and work environment she associates herself with rather than the end results. While accomplishing a significant task is great, her sense of accomplishment is highest when she has a competent team and can deliver truly meaningful work. As a leader, she finds nothing more rewarding than collaborating with a group of individuals she trusts and who also relies on her guidance. Achieving a sense of harmony like this within an organization makes the work process itself a success.
Breaking Barriers and Fostering Innovation
The healthcare technology sector has historically been and continues to be heavily male-dominated, and when Jennifer began her career, the mindset around technology and team management was more traditional and rigid. As a young female professional pushing boundary, Jennifer found it challenging to be taken seriously by her peers. Her unconventional approach was sometimes perceived as a threat. Despite this, she persevered and worked harder to overcome these obstacles.
Through these experiences, Jennifer was able to recognize the value of collaboration and partnership. She now strives to always offer her teams and organizations a fresh perspective by actively and profoundly engaging with them. Jennifer believes that leading with a narrow mind is the fastest way to stifle innovation and always tries to avoid it.
Successes as a CIO in Healthcare Organizations
Jennifer's previous career involved serving as a Chief Information Officer at various healthcare organizations. In this role, she worked closely with physicians and care teams to improve their efficiency and effectiveness.
Throughout her career, Jennifer has achieved many successes, including modernizing operations, implementing EHR systems, and leading HIPAA and privacy initiatives. However, her proudest accomplishment to date occurred earlier this year when NJII received Centers for Medicare & Medicaid Services (CMS) Medicaid Enterprise System (MES) certification. This achievement was the result of her team's tireless effort, and it will enable them to continue making a valuable impact in New Jersey.
Advancing Healthcare Through Interoperable Health Information Technology
The New Jersey Innovation Institute (NJII), a New Jersey Institute of Technology (NJIT) subsidiary, was founded in 2014 and helps turn ideas into workable solutions across four divisions: healthcare, entrepreneurship, defense and homeland security, and professional and corporate education. NJII combines the vast resources of NJIT, industry and government relationships, and proven methods for building industry centric ecosystems to help drive innovation and deliver solutions that make a direct impact on the economy and the health and welfare of its participants.
On behalf of the New Jersey Department of Health, its Healthcare division operates and manages the New Jersey Health Information Network (NJHIN) – the State Designated Entity to advance interoperable Health Information Technology services to support health information exchange. It is the only network that facilitates digital exchange of protected patient information across the state of New Jersey.
Promoting Interoperability and Data Sharing in Healthcare
The healthcare industry has experienced significant changes post- pandemic, with a much faster pace of development than ever before. Jennifer finds this evolution fascinating, given her early adoption of the electronic health record (EHR), which played a significant role in the digital health revolution.
Having been instrumental in the digitization of operations in past organizations, Jennifer is well aware of the vast amounts of data collected at every point in the healthcare journey. From the beginning of her career, Jennifer was curious about how data could assist providers in delivering the best possible patient care, and this has remained a core focus throughout her career. As an advocate of interoperability and data sharing in healthcare, she is delighted to make a genuine impact in her current role by promoting interoperability at a state-wide level.
Leading to Driving Transformation
Jennifer's Healthcare Division team focuses on federal and state grant initiatives aimed at enhancing healthcare delivery. In this capacity, she operates similarly to a CEO, managing a team of roughly 70 individuals who work on the health information network. Additionally, Jennifer oversees the activities of NJII's for-profit subsidiary, Healthcare Innovation Solutions (HCIS), which assists clients in identifying novel approaches to enhance healthcare delivery while reducing expenses.
Interestingly, Jennifer began her career with NJII as a client and has since gained a distinct perspective on what it takes to improve healthcare. Consequently, her primary objective as Senior Vice President & General Manager is to continue to push the boundaries and facilitate significant transformations in health information technology.
Appreciation for Workplace Culture
Jennifer has a deep appreciation for the culture that she and her team have established at NJII. She values building meaningful relationships with individuals and taking the time to acknowledge personal accomplishments, in addition to professional successes. In an industry as demanding as healthcare, it's crucial to foster a workplace that recognizes employees as humans first and professionals second. Jennifer also emphasizes the importance of maintaining a broad perspective. It's common for individuals to become consumed by daily details and feel as though they're not contributing to the larger picture. By reminding herself and her teams that they're making a significant impact on healthcare at a state-wide level, Jennifer builds great motivation.
Expanding Access to Medical Records in New Jersey
Jennifer and her team have prioritized expanding statewide access to patient medical records. Their goal is to innovate and create more efficiencies in New Jersey's healthcare landscape, ultimately reducing the cost of care for patients across the state. Jennifer is excited to continue growing as a leader in this role and exploring further opportunities for NJII to make a positive impact.
Unleashing the Limitless Potential
Jennifer feels beyond blessed in her career journey and loves sharing her experiences to help shape all future women in leadership roles. Her advice to women is to believe that they can achieve anything they set their minds to.
To Jennifer, the image of success has various faces. She has experienced first-hand the joy that can come from accomplishing a professional milestone and from being a positive role model to her kids.
She encourages women to recognize that every experience and role in their life that they're passionate for, whether it's being a mother, wife, daughter, or CIO, has valuable lessons that can help them grow and lead them to success. By fostering and considering each as an important element, individuals can discover new strengths and support systems, and the possibilities become limitless.