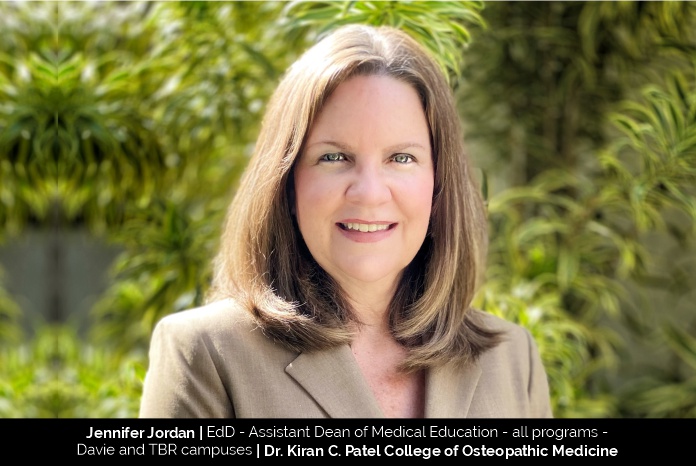 "Success is a reflection of one's happiness. People often equate success with a measure, but success for me is simply achieving positive things for the greater good; when people come together to achieve great things," says Jennifer Jordan.  She is the Assistant Dean of Medical Education – all programs – Davie and TBR campuses at Dr. Kiran C. Patel College of Osteopathic Medicine. She feels proud to be a participant in the creative projects that came out of collaboration, such as increased faculty development programs, enhancements to student resources and ways in which the team supports students, and even the creation of programs that were burgeoning areas within the field. She believes that individual success feeds community success.
As per Jennifer, she is very passionate about education and has always wanted to be in the education field. Although, there might have been a time when she wanted to be an archaeologist in Egypt. She says, "I truly can't remember a time when I wanted to do anything else but be in education. For me, education is a journey of discovery, curiosity, and life-long learning."
Jennifer identifies that the education industry has so many facets to experience from teaching and leadership to communication and finance. She adds that it is a very dynamic and organic field; there is never a dull moment.
Roadblocks that Lead to Personality Enhancement
Jennifer considers that challenges are merely opportunities to demonstrate own strength and perseverance. She realizes that reflecting on those challenges helps one to grow in his or her journey. She says, "I have learned along the way to sit back and try to reflect on each lesson that I may need to learn. I believe that everyone has a path, and the challenges we experience are trying to teach us something."  She further adds, "Roadblocks that I experienced in the form of difficult situations and personalities helped me to sharpen my conflict resolution skills and always try to work towards a positive solution."  
Journey to Becoming Assistant Dean of Medical Education
Before being at the college, Jennifer was in another educational leadership role that included supporting faculty and students. This role helped to prepare her for her current leadership role at the college. The former position was experiencing many internal challenges that truly afforded Jennifer the opportunity to reflect on her leadership responsibilities, practice persistence amidst difficult situations, and be a part of positive change.
Jennifer sees her tenure at the college as an amazing journey of growth and opportunity. As the college has many formidable women in leadership roles, she finds working alongside these women has truly sharpened her skills and reinforced the importance of supporting and nurturing women in education. Jennifer's department is comprised of amazing women as well who have helped support the college in its growth and success. Some of these successes are the creation of a robust advising system that supports student academic/career success and promotes wellness from their initial point of entry into the program through their graduation that effectively prepares them for residency.
She says, "We have created a vigorous faculty development program that incorporates the emerging topics in medicine, research and scholarship practices, and current trends in teaching practices." In addition, the team has created a faculty mentoring program that nurtures the passion of every teacher and helps them reach their potential. Due to its incredible management team, the college has also seen an increase in cutting-edge educational and simulation technologies incorporated into the curriculum.
A Support Point to Help Students
From the beginning of her career, Jennifer has always been very passionate about supporting student success. She states that the importance of student support has grown in education over the last few decades, with the realization that wellness and balance play a vital role in achieving academic success. Focus on learning styles, study strategies, and the ways in which students process information has become important to educators. Promoting student reflection and educating students on their own self-reflection helps them to modify their studying habits to bring about success. The medical school presents a rigorous curriculum, and students face many challenges along the way, so student support is critical.
As per Jennifer, at the college, the team has focused to enhance the student support program by incorporating valuable learning resources into the advising program to support students. She points, "We train our faculty in understanding how students learn to better assist them in the presentation of medical content."
No Stoppage on Education Even if There is Pandemic
This pandemic forced much of the education industry to re-evaluate the mode of instruction and find alternative ways to engage students, promote learning, and maintain operational function. At Dr. Kiran C. Patel College, the management immediately mobilized specific teams and taskforces of support for faculty and staff on how to effectively work remotely. Also, training was provided to faculty on how to utilize educational technology to present the curriculum and engage students.
Throughout the lockdown situation, the administration held regular online meetings with students to provide guidance, listen to their concerns, and ensure their seamless education. The team utilized online teaching technologies to deliver a seamless curriculum that began offering online advising which maintained student connectivity, but also allowed for more flexibility in scheduling and came together as a community by finding ways to keep connected in such isolation. Jennifer adds, "Our college dean communicated via email every day for the entire duration of the pandemic by sending interesting, thought-provoking, and humorous information which maintained a sense of community among all of us. Even as we transition back to a more campus-based program, much of what we have built will continue to be an integral part of the curriculum due to its success."   
Focused to Achieving Goals
The One word that can perfectly portray Jennifer's work ethic is persistent. She is the kind of person who does not give up easily and sees a project through to completion and fills in the gaps when needed.
Jennifer's responsibilities at the college are providing foundational support in the areas of student learning, faculty development, curriculum and assessment, and data analysis. She considers herself fortunate to have a team comprised of amazing women on both campuses who support her in this mission.
According to her, a regular workday functions like many in reading and responding to emails, attending office meetings, and troubleshooting issues. However, aside from those routine functions, the job provides an ongoing stream of creative possibilities in collaboration with colleagues. This creativity and collaboration motivate Jennifer and reminds her true essence of education.
Helping others is the way of Keeping Balance
"Finding balance can be a challenge, but I am mindful of achieving as much balance as I can through my family, friends, and fur-babies," says Jennifer. She believes that being around animals are a great way to remind the importance of being in the moment. Gardening is also a way to regain balance. She follows the motto 'stop and smell the roses. For Jennifer, nature is the best way of energizing herself. Whenever she feels discouraged or frustrated, she counts her blessings and asks what she can do for someone else. She emphasizes, "I find peace in helping others." 
Creating More Innovative Ways for Improve Educational Program
Jennifer wishes for the continued growth of the programs that support the faculty and students at the college. The team is continuing to find new and innovative ways to enhance student advising programs and to finalize the completion of an 'academic academy' to promote creativity and a collaborative spirit among faculty.
Jennifer says, "My personal goal as an educational leader is to continue to inspire others to teach, reach explore, and enjoy." She wants to see an educational system that is driven by a thirst for knowledge and advancement, free of prejudices and discriminations, an industry in which quality education drives change.