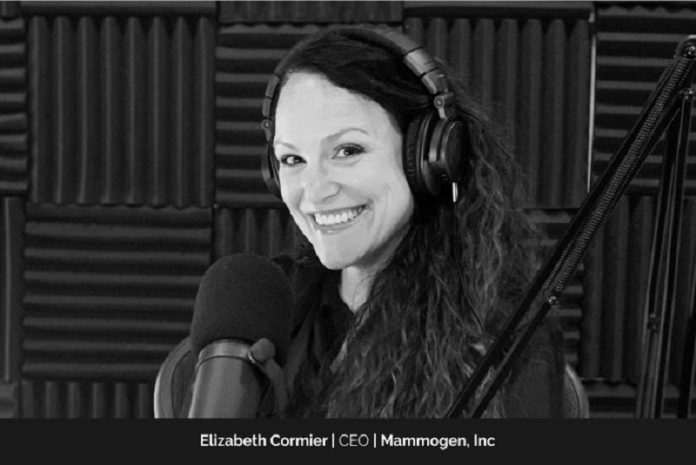 Elizabeth Cormier-May, CEO of Mammogen, Inc., is a life science and diagnostic industry veteran whose personal and professional mission is to unlock true precision medicine by focusing on the intersection of Artificial Intelligence, Diagnostics, Clinical Research and Life Sciences.
According to the World Health Organization, as of 2021, breast cancer was the most common cancer globally, accounting for 12% of all new annual cancer cases worldwide, and it is the most commonly diagnosed cancer among American women.
Mammogen's revolutionary technology is changing the way we fight breast cancer, and their cutting-edge technology could help save millions of lives.
Making a start in early discovery oncology
"I grew up believing that I wanted to be a physician, a pediatric oncologist specifically. Cancer always struck me as painfully unfair, even as a child; and I couldn't think of a better way to contribute than to fight it at the front lines," says Elizabeth.
As her education progressed, she realized that it was the underlying science that really intrigued her the most, specifically organic chemistry and system biology. As her goals evolved, she decided to focus on the pharmaceutical industry, ending up in early discovery research for Novartis Institute for Biomedical Research.
Starting as an oncological medicinal chemist specializing in early discovery oncology, Elizabeth's early focus was on linking synthetic pathways with system biology. It was here, in her early career, that her mission to drive towards personalized medicine was solidified.
Discovering a passion for the novelty and disruption of start-up
Elizabeth left the lab because she felt too far away from the patient and wanted to bring tangible, meaningful change to the healthcare journey. At this point, she used her scientific expertise to launch an extremely successful career in sales and marketing.
"As I advanced in my early career, I realized that I needed a combination of science and patient interaction to be truly fulfilled, and I found the best of both worlds in the diagnostics industry," she recalls. "I also learned fairly early on that the novelty and disruption of start-up was really what fueled my passion."
Working with all of the stakeholders in this industry, Elizabeth has focused on commercializing novel, disruptive technologies into both new and existing markets across the globe.
For almost 20 years, she has been developing new markets, products, and companies, with one shared goal – to introduce novel options and technologies that enhance patient experiences and save lives.
Offering women a chance at early and safe diagnosis with Mammogen
For women whose lives have been affected by female cancers, every new day comes with a fear that it may return. Elizabeth aims to close the gap between science and support, starting a new conversation about the fears, anxiety, depression, marital challenges, and body shame issues that come hand in hand with breast cancer – while forming a strong new community with the power to make a real difference.
"For me, success is defined by the amount of meaningful change our companies can bring about for the world we live in, and that is coupled with the more traditional business metrics of success: fundraising, fiscal health, strategic planning, as well as growth and exit strategies," says Elizabeth. "In my mind, true success requires both paradigm-shifting impact AND value generation."
Mammogen is on a mission to improve the EARLY detection, diagnosis, and treatment of women's ailments. It is starting with their genTRU™ suite of breast diagnostics. The two early detection tests within this flagship program are based on 26 mRNA biomarkers.
The first is genTRU™-EDT (early detection test), a non-invasive, simple blood test being designed to rule women who are not currently eligible for imaging into mammograms, earlier and more often, to diagnose breast cancer at its earliest stages.
The second test, genTRU™-PID (post imaging diagnostic), is a test designed to rule the correct women out of invasive breast biopsies. The genTRU™ suite of products have been validated on both blood and saliva and offer best-in-class performance.
The technology has the potential to reduce false negatives and increase early screening among women, while also reducing false positives and allowing for the safe monitoring of suspicious nodules.
Ultimately, Mammogen's goal is to offer every woman, regardless of age, background, financial situation, or genetics, a chance at early and safe diagnosis, potentially saving millions of lives.
The focus of 2022 is continuing their clinical development and speeding towards commercialization, so that early breast cancer detection is a reality for the 96 million women who would be appropriate for these tests.
In addition to breast cancer, Mammogen will continue to innovate around other women's health indications that have a defined unmet clinical need — like endometriosis, for example. Mammogen's focus on building community, and continuing to offer non-clinical products, will remain a top priority as well.
"Mammogen's goal is to innovate around the most critical convergences of diagnostics, therapeutics, and technology within a woman's continuum of care," says Elizabeth. "Our tests are meant to be the most powerful complement to existent care paradigms and trusted technologies."
Challenging the status quo of the biotech industry
Mammogen's innovative multi-gene expression signature is non-invasive and painless, and it's poised to bring regular, accurate screening to women who are underserved by current guidelines.
In addition to Mammogen, Elizabeth is also the CCO (Chief Commercial Officer) of IV BioHoldings (IVBH), a bio innovation studio that conceives, creates, and develops first-in-category RNA bio platforms that radically improve the detection, diagnosis, and treatment of disease.
IV BioHoldings has created three first in class new liquid biopsy programs, eight clinical stage diagnostics, and discovered over two hundred novel RNA biomarkers. Together these could save a billion lives worldwide!
"The work we're doing at Mammogen and IV BioHoldings, the ecosystem of which Mammogen is a part, is defined by challenging the status quo of the biotech industry," says Elizabeth. "We're rearranging the pieces of company creation, R&D, product development, and commercialization to create a far more efficient model. And we're doing ALL of this in order to speed best-in-class products to the patients we're serving, with the mission of meaningfully improving the care continuum."
As CEO of Mammogen, Elizabeth's role is to simultaneously create value for their patients, communities, shareholders, and partners. This requires a number of different roles and responsibilities.
"Ultimately, I think it distils down to three things: a desire and ability to rearrange the traditional pieces of success to create more efficient models, a level of transparency (across all things) with myself, my employees, our patients, my Board of Directors, our investors, and our community, and a willingness to truly listen to those I surround myself with," she says.
These three responsibilities are chief among what Elizabeth considers to be the soul of her and Mammogen's success. It is these same three things that guide her in her role as SVP and CCO at IVBH as well.
"The IVBH companies approach data and technology in entirely novel ways, which absolutely allows us to 'see' things that others haven't been able to see," says Elizabeth. "Our total approach rearranges the pieces of R&D, productization, and commercialization in a way that allows our companies to reduce time and risk, and induce efficiencies that others just cannot capture."
Encouraging others to be the most valuable version of themselves
Elizabeth remarks that, while she has been very fortunate to have received much recognition as her career has advanced, her most cherished achievement is having people choose to follow her, as she begins new companies or grows existing ones.
"This is the ultimate validation that I am encouraging others to be the most valuable version of themselves," she says. "I hope that people choosing to work with me is proof that I am creating an environment of growth, meaningful change, and novel value creation."
Elizabeth affirms that challenges not only make us stronger, but are also absolutely necessary for growth and success.
"I've had roadblocks in nearly every job and step in my career, but I would say the most valuable of those were the ones that made me define my boundaries," she notes. "The hurdles that forced me to develop a strong voice, those that tested my limits, and the challenges that motivated me to think differently, are all defining moments."
Putting family first at any and all cost
Elizabeth admits that maintaining a balance between her personal and professional life is a constant work in progress.
"This is something that, sadly, I failed at when my kids were babies and toddlers. As they are getting a bit older, I have to make very conscious decisions to be present, because it's so easy to get lost in the entrepreneurial journey," she says.
Elizabeth points out that she is very fortunate to have partners who share a very healthy mindset when it comes to this balance.
"I have found that the more I insist on being present in both aspects of my life, the better mother I am, the better leader I am, and the more successful I can make my ventures," she says.
The rule at Mammogen, as it is across all of Elizabeth's companies, is simple: Family First at any and all cost!
"In my experience, this inspires an incredible sense of accountability amongst our teams, and people perform at their highest levels when they feel their employers are invested in what should always be the most important part of their life," she says.
Dream big and to listen to your gut
Defining herself as tenacious in professional life, and grateful in her personal life, Elizabeth believes that the most important piece of advice she can share would be to dream big and to listen to your gut. If you know you can execute on an idea or innovation, do NOT let others tell you that you cannot.
Devise your plan, surround yourself with people who believe in you and your vision, and DO NOT QUIT!  Expect failure, expect No's, expect others' doubt in your ability or idea, and use all of those things to fuel your passion, and to make you work smarter to prove them wrong.
Elizabeth also believes that the greatest gift we can give one another is the gift of opportunity. "I would say that the concept of women's empowerment is limited not only by social and professional norms (which are thankfully advancing), but by our own peers," she says. "Women need to stop viewing other women as competition, but rather view them as potential partners, mentors, students, and crucial pieces of their success."
Her views on empowerment are: You cannot wait for others to empower or validate you. You have to do it for yourself! Be honest about your strengths and your limitations. When you have "mastered" this, turn around and empower others.
"My personal goals as a leader are rather simple. I want to inspire other women to take a chance on themselves: to start new companies, to focus on innovation, to try something new, and tap into undeveloped skill sets. We never know our limits until we challenge them," she states thoughtfully.