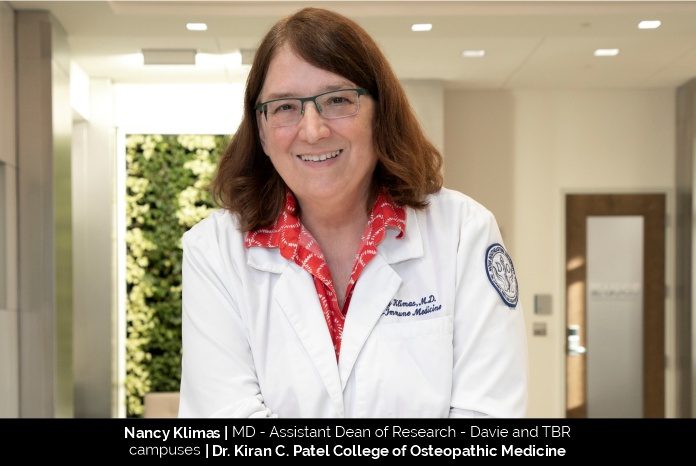 "Moving the needle – basically advancing knowledge and implementing this new knowledge into medical education and clinical care," says Nancy Klimas. She is the MD – Assistant Dean of Research – Davie and TBR campuses, and Director of Institute for NeuroImmune Medicine KPCOM NSU. 
At work, Nancy encourages the faculty to successfully integrate research into their scholarly activities. According to her, the INIM's mission is to better understand and successfully treat complex neuroimmune disorders, like Myagic Encephalomyelitis, neurotoxic injuries sustained in military service, and most recently Long COVID.
Prior to joining the institute, Nancy went to the University of Miami college of medicine, then completed her internship in med/peds at Baylor college of medicine. Later, she transferred back to Miami to complete her internal medicine training then a UM-based National Cancer Institute fellowship in clinical immunology, joining the faculty at UM in 1984, just as the HIV epidemic was becoming a crisis.
She mentions, "Much of my next 20 years was spent caring for HIV patients and doing HIV research at Uma and the Miami VA medical center, while I was also developing an interest in the illness ME/CFS. ME/CFS is a neuroinflammatory illness that follows viral infections like infectious mononucleosis. It impacts women more often than men and has had a rough road politically, often dismissed as unimportant despite it impacting more than a million people in the US, and often disablingly severe."   
Passion for Being an Educator
"My own mentors during medical school and my residency instilled an obligation to pay it forward," says Nancy. She adds that these women opened the doors that she walked through and passed on the sense of obligation that would help keep the doors open for those that are underrepresented in higher education and in clinical care. However, no journey can call complete without challenges. Nancy's biggest roadblocks were the ones she created, perhaps by setting high goals. She mentions, "But there were plenty of bumps along the way. Resilience seems to be the most important trait that has helped with my own personal professional success and a tremendously supportive family as well." 
Working at Dr. Kiran C. Patel College of Osteopathic Medicine 
Nancy left her tenured professorship at the University of Miami 10 years ago to join KPCOM and develop the Institute for NeuroImmune Medicine. The leadership at NSU and KPCOM understood that putting together a research institute with laboratory science, computational science, translational medicine and clinical care in KPCOM would fit the osteopathic principles that are the basis of the medical school. The institute's integrative research approach that knits together all of the systems to understand complex illness mirrors the key osteopathic principle of whole-body medicine. As Nancy describes that it's been a great fit, and she is very glad she made the big leap 10 years ago.
Contribution in Redefining Education
Nancy believes, "Education integrates into the whole of everything we do. Passing it forward we have students in the labs, the clinics, our faculty teach in the courses. But I am not a course director, rather I find ways to help students catch the passion of research through providing opportunities to play a role in our research program."    
Nancy's days are characterized by zoom meetings from dawn to dusk. She moves from one study team to the next reviewing study progress and plans, mixed in with collaborators who would like to do work with investigators at NSU KPCOM, and mentoring time with young investigators and students working on research projects
Leaders of Modern Medical Education System 
As per Nancy, it's changing fast to use all of the amazing tools that put so much knowledge at their fingertips. Now it has become necessary to give students the ability to find new knowledge, discriminate what is useful and when to apply it. Basically, they have to leave lifelong learners. She states, "The best role model for this is Dr. Elaine Wallace  
DO MS MS MS MS MS MS (I think I got that right). But in our own clinical group, every single provider in our group has added one or more specialty certifications in the short time we have been at NSU and shown national prominence in the field. Dr Irma Rey received her board in Environmental Medicine 5 years ago and was national president of that professional organization 2 years later. This is several decades after her Internal Medicine certification. That's just one example – come visit us sometime and get the inside scoop."  
Pre and Post Effects of Pandemic on Education System 
Enter COVID stage right, and now perhaps for the first time, people realize how a viral infection can have devastating and lasting effects. So now, INIM has assembled 14 interdisciplinary scientists and clinical investigators who are in the Long COVID research space with a solid 30-year head start. "We also work with the neurotoxic injury, Gulf War Illness, which presents with very similar symptoms as the ME/CFS patient population and also has neuroinflammation at the core of the illness," says Nancy.
As per Nancy, she will defer to the folks who had to move with the times, with revised schedules, curriculum adaptations, etc. Her space is research and the team had to stop all of the human studies while they carefully reviewed each one. She says, "Wherever possible we shifted to virtual platforms for assessment, home visited for blood draws. But studies that involved immune modifying medication are only now getting back off the ground, and then only in vaccinated people." 
Keeping Balance with Steady Focus    
On any given day, one can find Nancy riding the seesaw that pays attention to the family then work. Sometimes, she writes grants late at night, but mostly compartmentalizes well enough to turn off work and pay attention to her family on evenings and weekends.
She says, "I could do better with taking vacation days. But I've been at this a long time, and I think my 40-year partnership, 3 grown kids, my beautiful grandkids are a testament to doing something right. That and the satisfaction of working with an amazing team of scientists and clinicians truly dedicated to finding the answers needed to help people with these terrible illnesses." 
Progress with the Current Position 
As an MD – Assistant Dean of Research, Nancy Klimas to works with the faculty at the South Florida campuses and hopes to help the Clearwater campus establish a successful research program. With the help of the dean and the faculty research committee members, the institute has developed a mentoring system, and developed so much infrastructure to help investigators be successful with grant writing assistance, scientific writing help, professional help with the medical library, statistical support, and most recently help to establish the platforms investigators use to collect their data. So the research dean position has seen considerable progress.
Nancy considers Institute for NeuroImmune medicine her baby and visions to use its success in computational biology methods and intensive laboratory and clinical assessments in complex illnesses to create models of complex systems in the computer and use the models to run "in silico" clinical trials. She asserts, "We have used this method to predict treatments for these illnesses and would like to move the methods to areas like autism and neurodegenerative illnesses next. I'm incredibly proud of our team – with 13 different languages of birth, and skills developed in many cultures and situations, we are taking the best of the best to answer these challenging problems."