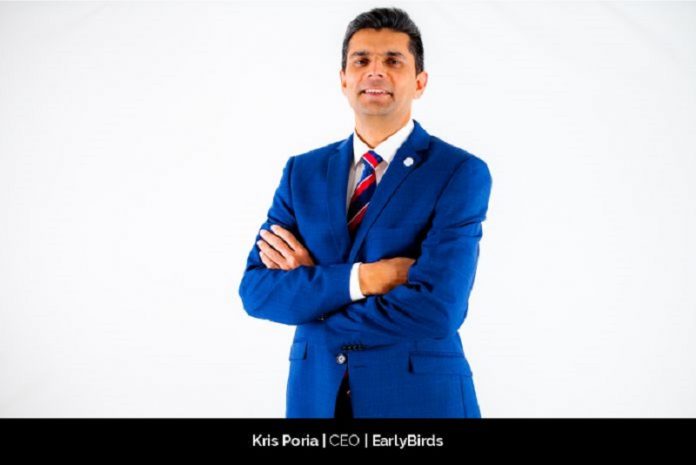 EarlyBirds, Co-founded by Kris Poria and Jeff Penrose, has made a huge splash in a short time. And the global EarlyBirds open innovation ecosystem platform, launched in 2019, has quickly gained the tag of the most innovative platform, and it is seeing an explosive increase in the number of innovators and organizations joining it. The platform has more than 4 million innovators, 600 plus early adopter organizations, and 100 plus Subject Matter Expert (SME) Consultants. Its customers include tier-1 public sector customers and ASX 100 and Fortune 500 organizations.
In this financial year, EarlyBirds is tracking around 400 percent revenue growth, and it expects to scale the growth further next year. Last year as well as this year, the company has been recognized by various media across the globe. It has been listed among "10 Australian Startups to Watch in 2021", "50 Most Trustworthy Companies of the year 2021", "Most Innovative B2B Consulting & Collaboration Platform 2021," and "Most Innovative B2B Startups Innovation Platform – 2022."
Story of the Founding of EarlyBirds
EarlyBirds connects organizations – Innovators, Early Adopters and SMEs – to accelerate capacity, speed, and culture to innovate and solve business and technical challenges. The idea to found the company germinated when Kris and Jeff came to the same realization while working for different companies in Australia. At the time, Kris, CEO of EarlyBirds, was working with a global systems integrator on a large multimillion-dollar project, while Jeff, who is the company's COO, was working for a local startup.
A customer of Kris needed a solution that Jeff's startup had and could easily provide. But, instead of partnering with the startup, Kris's company decided to develop the solution from 'scratch'. This outcome had no real winners, as the customer did not get an immediately available, off-the-shelf proven solution, developed  on strong R&D. The startup also missed out a great opportunity to obtain a good customer and the ability to commercialize. This made both Kris and Jeff realize that they should do something that had the potential to make the situation beneficial for multiple parties. They felt that the customer, who is an Early Adopter, and the startup/scaleup Innovator should not miss such considerable opportunities.
The realization led to almost a year of research to understand the Innovator and the global Early Adopter market. Kris and Jeff tried to find out why innovators struggle to cross the 'valley of death' and why Early Adopters struggle to be innovative. They noted that their experience was not an anomaly. It was a global issue, and almost all Early Adopters and Innovators encountered it daily.
Kris and Jeff also found that a plan for an open innovation ecosystem with a platform and services was needed in the market. And, thus, based on their research and personal experience, they created the award-winning global EarlyBirds platform and supporting services, such as the Challenger and Explorer programs.
"The beginning of the company as a recognized brand in the industry happened with the launch of the EarlyBirds Platform in September of 2019," says Kris.
The availability of some initial cash allowed the co-founders to invest in sales and marketing so that they could quickly scale their sales enablement.  "This has worked well after a few false starts,," Jeff points out. "We now have a great team in Australia and are building a similar team in the U.S. This has resulted in obtaining traction, customers, and adding to brand recognition quickly in Australia."
At the time of establishing the company, Kris and Jeff decided on a few things, which have enabled them to build a scalable, global platform. Prior to cutting the first line of code, they drew up some fundamental principles for growth. This included recruitment of executive team members who have global commercial experience and bold plans for the future.  Kris and Jeff also decided that the technology underpinning the EarlyBirds platform would be world leading, highly scalable with maximum uptime.
"We are using world leading solutions, and this is paying dividends in scaling and continuously adding new capabilities or pivoting to seize opportunities," says Kris.
Initial Challenges
Initially, EarlyBirds failed to attract the attention of investors. Kris recalls that after they had invested considerable time working with Accelerators and Incubators across the world, they realized that a "build it and they will come" approach was not working.
"We also recognized that we needed to have a critical mass of either Innovators or Early Adopter businesses, so we went after the Innovators," he adds. "As a result, we invested in AI and ML and quickly had about 1 million innovators in our open innovations ecosystem." This number has now grown to over 4 million, and both the cofounders are positive that it will continue to grow as they continuously improve their platform capabilities.
Arranging funds was another challenge that Jeff and Kris faced when they started EarlyBirds. They needed sufficient funds to keep the business going, enhance the platform, and chase customers. Fortunately, Kris and Jeff received some initial funding to achieve their early objectives and secure initial customers. EarlyBirds now has customers in both the private and public sectors, and it is making its initial steps into the U.S. market after some good traction in Australia.
Core Capabilities and Achievements
EarlyBirds has two core capabilities: the open innovation ecosystem platform and services, such as the Explorer and Challenger programs, which they can deliver with SMEs or teach their customers how to run them. The subscription-based platform offers access to over 4 million Innovators, plus the ability to buy solutions for Proof of Concepts, trials, and more, and list challenges for Early Adopters or claim their Innovation and update information about their company and solutions.
Kris explains that the core capabilities of the platform include sophisticated search option that helps users to find innovators based on their names, capability, maturity, and geographic location. A comprehensive results list is displayed for each search, with a summary of each Innovator . The platform also lets users find more details about each innovator's capabilities.
Additional platform functionalities include Innovation Project, Innovation Pipeline, and Innovation Maps. The Innovation Project is where users can manage the Challenger Program, which is designed to solve one challenge at a time working in collaboration with invited participants.  These are short, focused projects that can be completed in two to six weeks.
Innovation Pipeline, used by central teams, is for managing corporate, branch, and personal Innovators, ranging from Interested to Contracted or by using personal Tags. Innovation Maps, on the other hand, are based on an industry or technology theme, using accepted themes and sub-themes, to collect and aggregate global innovators.
As leaders, Jeff and Kris are proud of many achievements. They consider the introduction of the platform after a year of research and development as one of their key achievements. Securing initial customers who believed in them and their platform is also an important achievement for them, as this led to securing some early investment that pushed EarlyBirds forward, enhanced sales and marketing, and expanded the capabilities of the platform. It also enabled them to secure private sector customers, which is helping them expand into the U.S. market.
Staying Abreast of Competition
Kris and Jeff ensure that they stay abreast of the competition. They continuously read the market and are always prepared to pivot to seize opportunities and remain relevant. Kris says that they also understand how to scale their business across all areas and proactively use automation where practicable.
"While the core principles of EarlyBirds have remained unchanged since launching the business we have pivoted many times and will continue to pivot," Jeff points out. "In such a dynamic customer environment where things are changing all the time, there will always be the huge competition you must be able to pivot and outmaneuver your competitors and provide value to the customer."
From the beginning, Jeff and Kris have had a mantra of evaluating everything they do, identifying whether it will scale or not, and determining if they can automate it. For example, the cofounders could not wait for Innovators to find their platform as their customers were impatient, and therefore, they created capabilities using AI and ML to find the Innovators. "We now have over 4 million and that number increases every day," Kris says. "We are continuously automating capabilities in the platform and services we are delivering to our customers."
Changing Environment
Since the last few years, the industry has been changing rapidly. The pace and scope of change, however, have significantly increased in recent times, with no sign of it ever stopping, notes Kris.
"Our view is that you need to be part of the changing environment and not a passenger," he adds. "We have customers who are early adopters and want to experiment with high-risk disruptive solutions, and on the other hand, there are also customers who cannot or do not want to take a risk and need mature proven solutions."
The design of the EarlyBirds business model, platform, and services is such that they can move and pivot with the ever-changing industry landscape. Kris and Jeff were the very early movers in the open innovation area, as this is the core business of their platform and services. "Some large multinationals are now openly talking about their major pivot to open innovation with some great case studies that can be found on the internet," Jeff points out.
He adds that EarlyBirds is contributing to the changing landscape by providing its Early Adopter customers, large and medium public and private sector organizations, with the scalable frameworks, tools, and capabilities they need to operate in an open innovation ecosystem. Kris chips in that the early signs that they saw in this market, when they were establishing EarlyBirds, are now surfacing in their target markets.
Early in their journey, he and Jeff recognized Early Adopters needed assistance with solving business and technical challenges. Some customers had real difficulty defining their problems and drafting the challenge statement and creating solution curation requirements, while for some, having assistance to create these was a breakthrough in their journey. It was a good indicator of how they nurture a culture of innovation with their customers, says Kris. Similarly, the Explorer Program, Innovation Maps, and Innovation Pipeline are outcomes of working with customers and recognizing what they need to build their capabilities for continuous improvement, resolving challenges, and exploring disruptive solutions.
"For over 4 million Innovators, including startup, scaleup, and mature companies, on the platform, we are offering a new and exciting way as a route to market," Kris adds. "Our Early Adopter customers are continuously looking for either leading-edge technology or those with proven solutions to solve their challenges or to seize new opportunities."
Culture of Innovation
EarlyBirds nurtures a culture of innovation by being sufficiently agile to pivot and taking presented opportunities to provide the capabilities that Early Adopter and Innovator customers need for their business outcomes.
Both Kris and Jeff believe that they, too, must be innovative; for example, tap into AI and ML, to manage their large pool of Innovators, Similarly, they like to provide novel ways of working with their customers that complement and enhance their capabilities and work with them during their journey. Jeff says that all these help nurture a culture of integrity within EarlyBirds, where they are open to respecting the opinion of others and taking on board the many ideas they come across when engaging with customers.
"This is demonstrated in how we have shaped the platform and our services plus we have a pipeline of ideas we are either working on or considering," he adds. "For our customers, it is all about providing practical real-world solutions and outcomes that they can implement. We take the complexity out of how they address their challenges or procure solutions."
One of EarlyBirds's core values is solving challenges with actionable innovation.
Global Future
As Kris and Jeff believe that EarlyBirds's global future is bright, they have ambitious plans to expand their global footprint.  They had established plans for a global future at the time of founding the company, and from the start, they had been working to scale the business and platform globally. "If we had not taken these steps then, we would not be thinking about a bright global future," Kris says. "Similarly, we spent considerable time understanding the global addressable market for the EarlyBirds platform and services."
Jeff adds that their plan for spreading their platform and service globally is based on their scalability capabilities and how they execute them. The platform features built-in highly scalable, globally recognized solutions and the services are highly repeatable. The challenge now is to find compatible business partners and employees with whom the cofounders can work to scale EarlyBirds and achieve their objectives. Jeff says that they spend considerable time talking to and evaluating businesses and people they could potentially work with.
"On many occasions, you have to walk away as they are not the right fit or do not believe in your plans," Kris adds. "However, we have found some amazing businesses and people to work with, and we will continue with this approach."