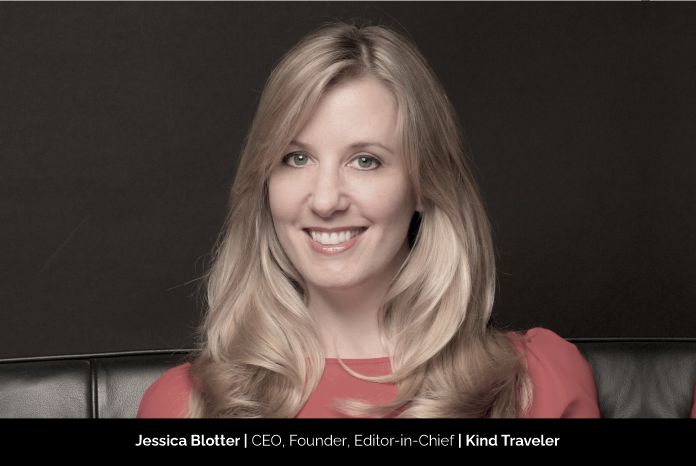 Answering the call of human and animal communities suffering a lot due to lack of resources, Jessica Blotter, Co-founder and CEO of Kind Traveler, acted on kindness and created a platform that empowers travelers to positively impact the communities they visit and at the same time fulfill a greater need and desire that with both the hotels and travelers resonated.
Kind Traveler's Give + Get hotel booking model is simple. Travelers get exclusive rates and perks from curated Kind Hotels upon a $10 donation to a locally vetted charity that positively impacts the local community or to a charity of choice. The best part is that 100% of donations go to charity.
All Kind Traveler charities are aligned to address the UN Global Goals, working to fight poverty, advance environmental sustainability, or reduce inequality. While travelers may donate to any charity, the local charity that addresses challenges in the community visited is always highlighted and is the default charity. To date, Kind Traveler is partnered with 90 charities in 22 countries.
Stepping into the travel industry
Jessica started her career with a master's degree in education as an earth teacher teaching 130 students per day at USCD's Preuss School, a unique charter school serving underserved students. This experience allowed her to explore the side of sustainability. She adds, "It is also what gave me the confidence to spread my wings, take a leap of faith, and explore other careers because I knew I could always return to teaching should I wish."
Later she joined a publishing startup, a lifestyle consumer magazine focused on fashion and travel. She states, "After spending ten years in publishing, working with other magazine startups in fashion and travel, not only did my passion and interest for travel grow, but I was also longing for a deeper purpose in life."
Having worked alongside different founders of other startups, the entrepreneurship world was reaching out to Jessica. Moreover, she was even influenced by her father's entrepreneurial spirit at a young age. So, eventually, the calling connected a deeper purpose in her life, and she decided to listen to her intuition and follow her gut.
She expresses, "When my calling for travel, entrepreneurship, and purpose became clear, I started taking steps to immerse myself in as much education and experience as I could. Anything that spoke to me that sparked my deep interest, I would go further in that direction. I started taking classes at UCLA Extension on business plan writing as well as travel journalism. Soon after, I secured my own travel column with CBS Los Angeles and began visiting hotels and destinations. I also started volunteering with animal rescue organizations locally. It was through volunteering that I found an immense amount of joy and connectivity."
She believes that success is the sweet spot where passions, skills, and talent align with the purpose. When this alignment is in place, the person will be best positioned to grow exponentially and be in an organic flow with life. It can take years to find this alignment. However, investing in education, volunteering, travel, and self-development are excellent paths to uncover one's path to success.
Brewing reality in the Kind Traveler concept
During a vacation to Belize, witnessing families living in shacks next to polluted swamps and emaciated dogs roaming the streets, Jessica and her partner Sean Krejci, had an experience that changed them.
While visiting the Mayan ruins, the bus stopped at the last spot to refill the supplies. At the moment, rib-protruding dogs approached everyone in the bus begging for food with eyes of despair. As animal rescue volunteers in America, Jessica and her partner simply decided to buy food to feed the dogs. Unintentionally, this action inspired the other travelers to do the same thing. Rather than doing nothing and living with the sadness of the situation, people acted, and suddenly the moment went from somber to joyful.
She states, "We made a choice to help, and it turns out, we weren't alone. The other travelers wanted to help; they just needed a catalyst. The feeling from our small act of kindness stayed with us for a long time, and we wondered how we could use our entrepreneurial skills and passion for travel to make it easy for travelers to make a difference while they travel, and in turn, be filled up with a sense of purpose and happiness from their travels resulting in a more meaningful and memorable vacation."
This sparked the idea of Kind Travelers, and both Jessica and her partner worked hard to blow life into it.
Roadblocks are a part of every journey
Jessica does not believe in the notion of overnight success and knows that the journey to achieve the end goal can be longer than what a person anticipates in the beginning. It is important to stay determined and resilient while facing the challenges on the way.
She stresses the point by adding, "If I didn't 100% whole-heartedly believe in my purpose and vision with Kind Traveler, it would have made it extremely difficult to get up every morning and keep going. If you truly believe in yourself and your vision and have taken the time and due diligence to carve a meaningful path forward, the journey will be worthwhile, regardless of how long it takes."
Leading Kind Traveler to attain a Kinder World
Sharing Kind Traveler's vision, she says, "We aim to transform the incredible collective of everyday travelers (the 1.4B travelers who took trips pre-Covid-19) into a financial force that furthers the UN Global Goals for Sustainable Development."
With the tourism industry having $10 Trillion in GDP, it is the world's largest service industry with the employment of 1 out of 10 people worldwide. Thus, it can create meaningful community impact, advance environmental sustainability and address the world's greatest challenges.
Serving as the Board of Directors of the Center for Responsible Travel (CREST), she is privy to ample knowledge about understanding the greatest challenges of the world and travel industry. She never misses sharing these resources with her team, partners, and stakeholders.
As the co-founder and CEO of Kind Traveler, Jessica recently graduated from the Blue Startups/Blue Ventures accelerator program that aims to position scalable tech companies to unleash their true potential. Currently, she is looking for the most aligned impact investors with the company's core values of fostering wellbeing, environmental stewardship, and education for scaling Kind Traveler.
Additionally, she is also striving hard to lead all business development efforts and making consistent efforts in evolving and growing the sales team to promote kinder traveling around the globe.
Taking Kind Traveler Ahead
Jessica and the entire team have been concentrating on Kind Traveler 2.0 for the last six months. They are working on updating the app with a more interactive UI/UX for travelers. She is happy to share that the new 2.0 version will have 30 new hotels, charity partners, and many more exciting opportunities to create a positive impact.
She further says, "Kind Traveler 2.0 will launch with many new partners including nine of the Six Senses properties, Wynn Las Vegas & Encore at Wynn Las Vegas, our first partner in Switzerland, Cervo Mountain Resort, properties in North Lake Tahoe and in The Beaches of Fort Myers and Sanibel, Charleston Place, a Belmond Hotel, The Tides Inn, a Chesapeake Bay Resort, along with many other hotels in destinations currently not represented on Kind Traveler. Also, this November, we will be going to Switzerland as Kind Traveler was selected as 1 of 15 startups to participate in the World Tourism Forum Lucerne Innovation Camp and World Tourism Forum in Andermatt, Switzerland."
Inspiring Message for Aspiring Women Leaders
Jessica states, "Investing in yourself and believing in yourself will always be the greatest gift and bet you can make in life. Seek out as many educational experiences as possible and never underestimate the power of travel to transform your life and open the door for new opportunities and perspectives."
Moreover, focus on volunteering with different charitable organizations. It will make your purpose crystal clear so that you can move further in pursuing the greater good of the planet.