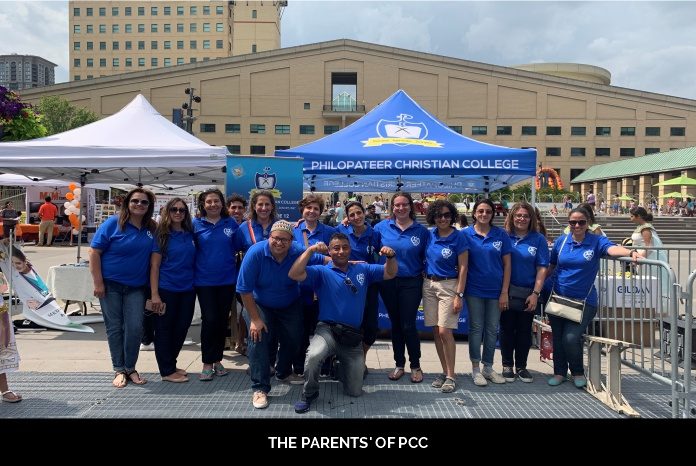 PCC is a safe, second home that nurtures well-rounded children in an environment based on Christian values and beliefs.
The parents of PCC appreciate the school for many reasons, the primary ones being the family environment and the focus on Christian values, which make PCC akin to a second home for their kids. Here are their stories in their own words.
Dina Sokkar and Ray Yousef
Dina Sokkar and Ray Yousef, are the parents of Anna Maria Yousef (Grade 7) and George and Mirola Yousef (Grade 2). They chose PCC when they were looking for a school that would support their life at home, in terms of the morals of a Christian environment.
They feel that PCC cares about each child individually and supports them in many ways, and that the family environment makes PCC different, as the teachers know all the students, and the principal knows all the kids in the school. Moreover, PCC offers a 'safe' environment for their kids, explaining world ideas in a Christian context.
They also appreciate PCC's teachers and school administration for doing their best to make online classes interesting for the kids and keeping them engaged by giving them fun activities as homework to break the struggle of learning online.
As their experience with PCC was very positive, all their kids are now enrolled with the school. They are happy that their kids are learning manners and respect for others, as it is more important to be a good human being.
Angy Hanna and Sherif Tawfik
Angy Hanna and Sherif Tawfik, parents of Karim Tawfik (Grade 9) and Ramy Tawfik (Grade 6), who have been students of PCC since pre-Jk, feel that their children have a second home at PCC and would never imagine themselves in any other school.
They find the staff and administration at PCC very helpful as they go out of their way to make sure that both parents' and students' concerns are addressed in the best way possible.
Teachers and parents work hand-in-hand sharing concerns and helping each other do what is best for the student. PCC is a unique school, unlike any other education institute, and students are more likely to succeed academically because they feel connected to the school.
Beside its academic strength, building a well-rounded personality is a priority and the main foundation of PCC. As parents, they believe that academic excellence is not everything in a child's life journey, but that proper mental and spiritual well-being are also crucial aspects to be supported and enhanced daily.
They also appreciate that bullying among students is not tolerated at PCC and that the school takes immediate measures to deal with such incidents, if they occur, and ensures that they don't recur.
Besides behavioral and spiritual enhancement, they also appreciate that students are offered various extracurricular activities such as sports, to enhance their athletic skills, and the annual play in which every single student in the school, from JK to grade twelve, participates and displays their talents.
They feel that the charitable activities organized by PCC are one of a kind, where all students and staff participate as one big family, helping those who are less fortunate both in Canada and overseas.
Students get to go on many adventures, from visiting the most famous historical places in countries like Egypt, experiencing a civilization that is over 7000 years old, to going on missionary trips and helping those in need.
As a result, the students bring home great memories that they treasure for life. Over the years, the school has adopted various new education techniques and pathways for students, like the French stream program in which students who do not speak French as a first language receive instruction in French in most subjects.
The school also introduced the Pre-AP and AP program for high school students, which is a great option to strengthen their studying skills and academic learning. So, PCC gives every student the chance to excel in their own way.
In addition, they appreciate how, during the pandemic, the school did all it could to help students and parents cope, promptly offering online assistance and starting virtual learning to make sure students don't fall behind.
In addition, as students gradually went back to school, PCC strictly followed all the health measures to make sure that every student and staff member was protected and felt safe to be back in person.
They also feel very privileged to have such an amazing environment where their precious children have spent most of their childhood and early teenage years, and are growing into strong students and being shaped into unique, confident, and happy individuals, eager to give back to society and the world.
They look forward to their new baby becoming a member of the PCC family soon, and sharing many more memories with PCC.
Nora Ragheb
Nora Ragheb, mother of Diago Melo (Grade 9) and Bella Melo (Grade 6), has been a PCC parent since 2010, as she wanted to raise her children in a solid, faith-based environment that also focuses on their academic success.
As she and her husband worked long hours, PCC practically helped her "raise" her child, because he was at school from 8 am to 6 pm and with her for less than 2 hours, which included dinner, homework, and bedtime routines.
She believes that the school's influence has a lot to do with who her kids are today, at the ages of 15 and 12. The values, faith, ethical, and moral code she lives by and tries to instill in her children are also carried out and implemented by the school.
"We enrolled my son in 2010 in JK. He was extremely excited to start and I was extremely nervous! I will never forget the surprised look on his face when I came to pick him up… he wanted to stay longer! From that moment, I knew we were in good hands," she says.
She believes that starting him off with the right tools to succeed from a young age paid off tremendously, along with the passionate teachers who have proven time and time again that they not only come to work to teach and do their job, but they also LOVE their students, love the school, and strive to help her children succeed.
Nora loves the balance of academic, religious, and social aspects that PCC provides, as it has competed and won not only numerous academic awards, but also sports championships.
She notes that PCC teaches students to put 150% effort in all they do, and other children are surprised at the level of the studies provided. When her kids wrote an exam issued by the publicly funded school board, they excelled and received marks in the 90's.
During the COVID Pandemic, when schools suddenly had to adapt to online learning, it happened to be her busiest season at work and she did not have the time to educate her children and work during the day.
But she was beyond impressed with the transition at PCC, where the teachers were organized, well-equipped and present at all times for the students, and were able to finish the academic year without having to alter or dismiss any sections of the curriculum.
Nermin Iskander
Nermin Iskander, mother of Carlos Nasr (PCC Alumni), Maria Nasr (Grade 11) and Gabriella Nasr (Grade 3) is a pharmacist. She confirms that without the help of the teachers in school her children would not have achieved their academic success.
PCC has very high academic standards and helps her kids emphasize all the manners and behaviors that she and her husband teach them at home. Her oldest son graduated last year from PCC with honors and a 4.0 GPA, and is currently studying Pharmacy in the United States having maintained almost the same GPA, which he could not have achieved unless he was previously well prepared.
Her middle child also has excellent academic achievements, maintains a high average, is involved in many humanitarian causes, and participates in activities such as sports tournaments and the annual drama plays.
Even her youngest daughter is well rounded with a lot of knowledge that exceeds her age expectations, and has gained a tremendous amount of confidence that allows her to engage in public speaking competitions.
In the last few years, PCC merged with the French Christian School, which gave an amazing opportunity to parents who preferred that their kids study in French. She also finds the diversity at PCC appealing, as it has students from different countries and backgrounds, yet they all show respect to each other.
To embrace each and everyone's culture, the school engages every year in multicultural days, where students represent different countries around the world and showcase different cultures, food, and clothing from these countries.
"PCC is practically a second home to my kids. I never have to worry about them going to school as it is a safe place for them. There is no place for bullying there; they care about the students as if they are their own kids, which I respect," she says.
The teachers at PCC not only teach well, but also show care and support and go above and beyond to make sure every student is on track. They don't mind if the students ask additional questions, and if they see one struggling, they may spend more time with them.
During the pandemic, she found PCC very supportive to the kids, always going the extra mile to make sure that they were mentally and academically on track, and always supporting and awarding the students for their outstanding achievements.
She recalls how, during the pandemic, most if not all the schools cancelled their graduation ceremonies, but this did not stop PCC from celebrating every student's achievements by preparing a drive-thru celebration and giving every student a balloon and a T-shirt as a surprise, at the front doors of their home. They acknowledged every student for their achievements, which significantly impacted the students and even parents, especially during the lockdown.
The staff members at PCC are very friendly and supportive; whenever there is an issue, they take it very seriously, handle it professionally, and work effortlessly to make sure everything is going the way it should. Principal Wasfy is very helpful and supportive and always on top of everything.
PCC has never failed to impress the parents every year by performing an extraordinary Disney play production in the Living Arts Center, which exceeds all expectations.
In addition to the play, PCC arranges humanitarian trips for high school students to visit different places where they are needed. They manage to support people in those areas by putting a smile on the faces of sick individuals in hospitals and kids in orphanages who cannot get enough of the students.
Sandy Iribal
Sandy Iribal, mother of Penelope Iribar (Grade 1) is very pleased with both the staff and the curriculum at PCC, and her experience as a parent has been nothing less than delightful. Her daughter looks forward to school every single day and is motivated to learn, as she is often challenged to bring out her best each and every day.
Though the teachers at PCC instill discipline, they are also kind and encouraging to the students. Her daughter, knowing how to read, write, and speak well at a young age, is often given opportunities such as reading short scripts for the school and guests, making announcements, and leading prayers. This helps boost her confidence.
Over the years, they have built great relationships with both the staff and students at PCC, and can always count on a strong support system, in both times of celebration and difficulty.
The small class sizes are a positive factor, and she feels an indescribable sense of comfort and security sending her daughter to PCC, where she knows she is well cared for, loved, and treated equally.
She is happy with PCC's teaching strategies as she sees positive results through her daughter's behavior and knowledge every day. Her daughter comes home every day with a positive story about what she did that day, who said what, and how the teacher taught a lesson and more.
It brings her joy that her daughter enjoys waking up each morning to attend PCC. She loves her teachers and peers dearly, and that tells her the school is doing something right.
Amgad Doss
Amgad Doss is the father of Daniel Doss (Alumni) and Samuel Doss (Grade 6). His son, Daniel, joined PCC in Grade 4 after they moved from Australia, and with such a big change, he needed great support to keep his son on track, not just academically, but emotionally as well.
He is grateful that Daniel was warmly welcomed by the school administration, teachers, and peers, who made him feel comfortable and happy. The nurturing environment and care gave his son a chance to excel and bloom in the following years till he graduated.
"PCC was not just a school, but a second home for my both boys, where their minds were shaped and matured beyond the classroom and the curriculum," he says.
PCC molds the students' hearts with great love, and highlights all the talents and amazing hidden capabilities that the students themselves don't see, and that sometimes even the parents have no idea about, and this was exactly what happened when he saw Daniel on stage in the school yearly musical, Mary Poppins.
"He was singing, dancing, acting …. to my astonishment as a main character!" he exclaims.
Daniel also contributed to all the humanitarian trips the school organized outside Canada, which were an eye-opening experience and had a great impact shaping his personality to be the young man he is today.
His son graduated from PCC, where he received the principal's award, and left to pursue his dream and join the University of Detroit Mercy for the seven years Dentistry program.
During the pandemic, it was very challenging to keep his son engaged in online learning with all the boredom and negative news all around. As time went by slowly, the students were starting to lose interest.
Amgad was contacted through the school platform, Edsby, and attended a virtual meeting with the teachers who showed great understanding and shared their plan to help engage his son in the interactive class learning.
"It was great to see how the teachers were always caring to send feedback and follow up updates about the continuous success of my son," he says.
The school administration is always attentive and caring with each and every student. Principal Wasfy knows her students by name, always empowering, raising, and supporting her leaders for tomorrow.
The teachers and staff are very professional, willing to help and support in every milestone during their learning journey, hand-in-hand with the families, not just to the best of their abilities, but even beyond.
PCC delivers values and academic excellence to each and every student and is a beacon for the next generation, shaping unique personalities throughout their learning journey.
At PCC, the school administration leads a pivotal role in impacting the students' success and learning growth, and the school is an effective incubator where each student is not only educated, but nurtured and encouraged to bloom.
The school administration has a sense of transparency and shares the purpose of their mission with parents, staff, and students to develop well established successful students in their careers as well-rounded community members.
Mobola Adekunle
For Mobola Adekunle, parent of Tanitoluwa Adekunle (Grade 5), Ayomikun Adekunle (Grade 7), and Eniaraoluwa Adekunle (Grade 8), the experience with PCC over 10 years has been wonderful.
"We have not for one day regretted the journey. Philopateer Christian College is a big, happy family committed to delivering quality education without compromising Christian values. This is one of the reasons we are still here. Someone is always willing to listen to you and follow through," she says.
There's a saying where she comes from and it goes, "It takes a whole village to raise a child". The academic and administrative arms of PCC both work hand in hand with parents, to raise exemplary children.
"Online school was quite new to many of us parents and it was initially challenging getting the children to focus. My husband and I ensured the children got ready for school every day like they would if they were attending in-person. We all got ready every morning and came downstairs for work and school; no bedroom study was allowed," she recalls.
Change and growth are very important in life and her family is satisfied with PCC techniques, while embracing positive changes as they come.