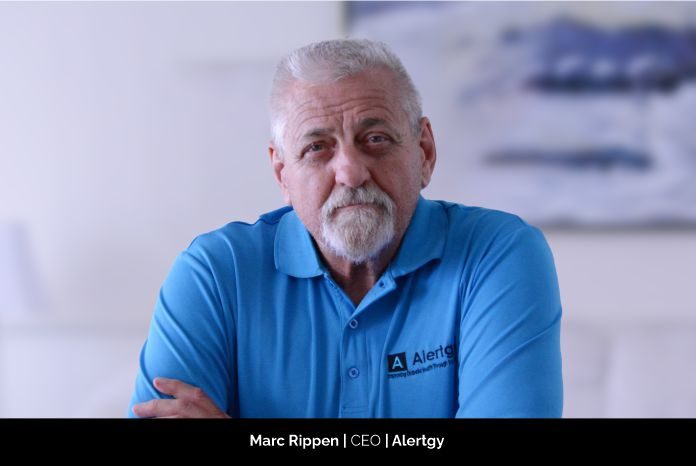 Digital health technology, particularly in digital and health applications, is rapidly evolving to help people manage their diabetes. Numerous health-related applications are available for use on smartphones and other wireless devices to assist people with diabetes who need to implement lifestyle changes or make medication modifications in response to glucose-monitoring data. However, laws and standards that would standardize how mobile health applications are vetted and monitored for patient safety and clinical validity have yet to catch up with the booming profession.  
Marc Rippen, CEO at Alertgy, launched the company with a small group of inventors who had worked together on difficult technological initiatives over the years, with the goal of addressing the greatly wanted capacity to test blood sugar levels with an external wearable sensor device.
Alertgy is now a market leader in non-invasive continuous blood glucose monitoring technology. Alertgy's DeepGluco wearable gadget can correctly monitor blood glucose in real time, up to three times per minute, thanks to its proprietary radio frequency sensor. Most significantly, DeepGluco's patented AI system can offer users and their chosen HCPs with vital, up-to-the-minute life-saving notifications. Alertgy, unlike other CGMs, removes interstitial latency as well as the painful and unpleasant side effects of patches, needles, and implants. The DeepGluco wrist band can easily be fitted into an existing smart watch form factor, and future versions might be much smaller. Following FDA clearance, these will be available to customers.
An Emblem of Proven Track Record
Marc was a former army officer who most recently served as the director of engineering at Stanford Research Institute's (SRI) International's Marine and Space Technology Division. His degrees are in microbiology, analytical chemistry, and aeronautics. Marc began his career as a material engineer at Pratt & Whitney, where he oversaw advanced research and development initiatives that supported the development of innovative materials for jet and rocket engines. He then moved on to work as a field engineer for leading atomic and molecular spectroscopy companies, where he provided turnkey materials analysis solutions for a wide range of industries, including agriculture, environmental, manufacturing, and advanced research and development at leading research institutions. He went on to become the head of the FIU College of Engineering NASA tech transfer center, where he assisted firms in commercializing NASA innovations. In this role, Marc assisted small businesses in raising venture capital and applying for SBIR and STTR programs to fund the commercialization of their technologies. Marc then co-founded an Internet start-up firm, financed $1 million, and was finally able to acquire the company and take it public. He states, "The combination of my education and experience allowed me the means to launch Alertgy and bring it to where it is today."   
The inception of Alertgy was due to a tragedy; Marc found his wife nearly slipping into a diabetic coma and becoming unresponsive due to being in a prolonged low blood sugar state. After he was able to rehabilitate her, he found out that no technology existed anywhere that would alert him for future similar events, so he decided to do something about it and started Alertgy. He describes that "Alert" to alert me "g" for glucose "y" because we need it.
A Habit of Solving Challenges
Marc was born in Tripoli, Libya, in Africa, where his father was stationed in the US Air Force. He has travelled and lived all around the world since then. He's always been interested in how technology can be used to address difficult challenges. In high school, he was a member of a lab research program, where he would travel to the University of Miami Medical School every afternoon to help with the study and development of their teachers, which counted as one of his scientific electives. He recalls, "One professor was studying the bio-limiting factors in Biscayne Bay to determine the effect of pollutants on algae blooms, and another was developing methods to quickly identify fungi by the morphology of their fungus when examined by a microscope." Marc went on to do a Peace Corps Project in Guatemala where he vaccinated several hundred small children in villages and plantations in the highlands of that country for several months.
In his first 4 years, Marc worked as a sales engineer for Thermo Electron Corporation in the Atomic and Molecular Spectroscopy business, achieving the #1 "Top Gun" worldwide sales status in the first 4 years, taking the territory from worst to best in sales. Then he transitioned to Director of Technology Transfer Center at FIU College of Engineering, where he supported commercialization of technology and pursued venture capital for start-ups to take technology to market. He left to co-found an internet technology company and took it from start-up to public in 2 years with 1 million dollars in seed funding. Marc returned to government R&D, first as Engineering Manager for Concurrent Technologies Corporation, then as Director of Engineering at SRI, where he oversaw 30 million dollar Applied R&D contracts.From there, Marc started Alertgy when his wife also went into a diabetic coma. This was the defining challenge in Marc's life, which appeared not to be well focused until this time. He says, "I could now connect all the dots and realise that this was my training for the job I now have."
As the CEO of Alertgy
Marc is a visionary leader, a highly talented engineer, scientist, and technical sales and marketing expert with a track record in product development, program management, and sales. Marc's job is 24 hours a day, 7 days a week, since he is dedicated to making deep gluco accessible to the billions of people worldwide who suffer from diabetes. He is doing this by speaking with firms and researchers all across the world at various hours of the day. He works with his technical teams on a regular basis to offer them guidance when needed and to make sure that everyone on the team has a chance to succeed. Marc's job is to lead his team and make sure that everyone puts forth their best effort.
Marc is in charge of identifying each person's capabilities, assisting them in achieving their professional and personal objectives, and giving the vision required to steer the organization in the right direction. He has a responsibility to the company's investors to ensure that they receive a decent return on their investment, as well as to offer hundreds of millions of diabetics a system that will considerably improve their quality of life and relieve their loved ones of concern. He opines, "I would say that I am an innovator."
Leading Simple and Focused Life
Marc makes it a point to spend as much time as possible with his family every day. He normally cooks a crock pot supper before leaving for work on a regular day. He goes to work and completes his tasks, then returns home to prepare dinner for his wife and their disabled youngest daughter, before going to bed and repeating the process. He may ride his slingshot motorcycle to work on nice days to take advantage of the pleasures of living in Florida. He mentions, "I stay in contact and visit with our other three children and my three grandchildren, as well as my mother."
Plans for the future of Alertgy
Alertgy is unique in its products' ability to generate a human spectrum that can be used to measure critical biochemical markers in the body that can be used to determine the quantity of specific molecules, such as glucose, in the blood stream continuously. Marc sees Alertgy's technology being used to measure other markers for cardiac, cancer, Alzheimer's, and viral infections for treatment, and early diagnosis.
As per Marc, Alertgy's technology will significantly affect the lives of over 90% of the 420 million diabetics in the world population by providing a way to manage their disease easily and effectively. Marc says, "We will also help the 2 billion borderline diabetics by giving them the knowledge to prevent themselves from becoming diabetic through better awareness of how their lifestyle affects their glucose levels." He further adds that the company will also save their lives as they will know when they become diabetic so they can seek proper treatment before the damage is done and they have to go to the hospital.
A Note on Leadership
To date, it has been to get Alertgy where it is today. Marc motivates people by leading by example, by understanding what is important to them and giving them an opportunity to meet their needs through their work assignments.
Marc's message to aspiring business leaders is to have humility, honesty, empathy, open mindedness, honor, passion, the ability to listen, care for people that work with you, always be open to learning, be willing to fail and learn from your mistakes, be forgiving, and never give up on something that is important.