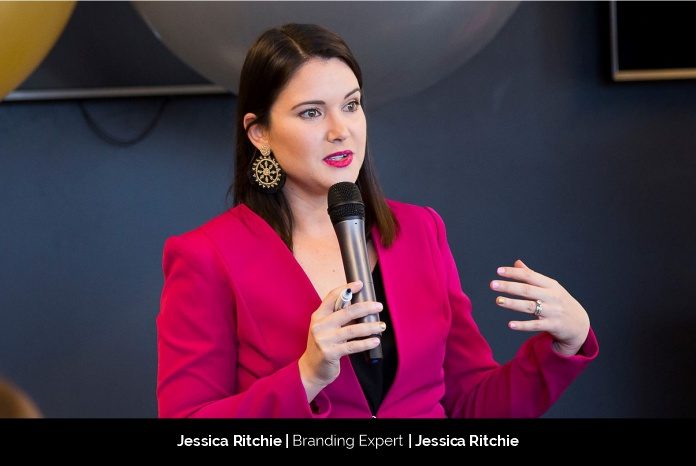 With the fire to achieve different goals in her life, Jessica Ritchie, Branding Expert, is steering her career in the right direction. Jessica chose a career to play all the roles that she wanted to be in her childhood: actor, doctor, business owner. She is a branding expert helping people amplify their personal and business brands, through strategic marketing and personal energy management, she is playing all the roles in some way by helping high performing people.
She states, "I must admit that in my own unique way, I have fulfilled my multi-faceted childhood dreams through owning my own business, being a speaker on stage, and through helping people professionally (often in a great time of need and to also heal personally) in their business."
Behind the curtain
From the start, Jessica wanted several things from life. So, first, she focused on expanding her knowledge base and adding more arrows to her quiver.
She completed her Bachelor's degree in Business/Commerce, Marketing, Human Resources, Occupational Health & Safety with distinction from Griffith University in 2006. This prepared her to fill the appetite of the business owner side of her personality and seek out iconic Australian brands.
In 2017, she became a Reiki Practitioner, and in 2018 she became an Internationally Certified Coach & Practitioner in Neuro-Linguistic Programming. Jessica also became a life coach and Reiki Master, which fed to the hunger of the doctor and helping people side.
As she progressed through her professional career in the marketing domain, she realized that the industry doesn't have the best reputation for integrity and trust. So, she took matters into her own hands to bring a change in the industry and broadcasted transparent and creative service under her own name.
Jessica states, "I am passionate about helping (in particular) high-performing women in their business and careers through a transformational process that allows them to become more connected to themselves both personally and professionally. I do this through bolstering their marketing strategy whilst creating a wellbeing management plan to help conserve yet amplify their personal energy."
Revamping the industry with her services
Jessica creates transformational personal and business brands, businesses, individuals, and teams through strategic marketing and personal energy management.  She has worked with some of Australia's leading brands such as Golden Circle, Tony Ferguson, Easternwell, Supercheap Auto, BCF, Rays Outdoors, Goldcross Cycles, Supergifts, Gloriously Free Oats, Tourism & Events Queensland, as well as hundreds of SMEs.
She expresses, "What makes me different from other marketing professionals is that I am also a Reiki and Neuro-Linguistic Programming Practitioner and a life and business coach.  This allows me to use my superpower of discovering and harnessing the unique energy and essence of a brand or business and amplify it in their marketing and communications."
Handling several management roles in Marketing, Public Relations, Operations, and Communications in ASX listed businesses through to SMEs Jessica has helped transform some of Australia's leading and most recognized brands. This vast experience has allowed her to get deep insights into the market with which she can offer better services to her clients.
She states, "My obsession with branding businesses has led me to also work with individuals in building their own personal brand. I have the ability to extract the unique energy and essence of a brand and person – and amplify it throughout their marketing collaterals and branding. This allows my clients to stand out from the crowd and have the clarity, connection, and confidence to rock their business, career, and life."
Jessica specializes in consulting, speaking, and mentoring high-performing women in business, emerging leaders, and entrepreneurs who wish to have a connected branding and marketing strategy that amplifies their identity and essence. She provides a red carpet to the aspiring leaders and entrepreneurs to make their presence in the world. To Make their Mark.
She feels motivated with all the things she has achieved till now and now aims to dream even bigger. She comments, "The moment that I realized that my hard work had paid off is when my best-selling program consistently performed over six figures annually. The Australian government approved it as a program and process that successfully assists people and businesses."
She further adds, "Winning several awards for marketing and business coaching and being judged by internationally recognized experts in my field is humbling. Being acknowledged for my achievements by such high-caliber experts fueled my passion further and solidified for me the confidence I have in my skill set and ability to help others. I am determined to be better than who I was the day before. I keep to my own lane, which removes competitiveness from my personal arena. When you stick to your own lane, you're always on your own mission to help serve others and forging your own unique path."
Core values behind the services
Jessica believes that integrity, trust, transparency, and care are the four strong cornerstones of her business. To get in touch with her creative and innovative side, she indulges in some downtime away from work. She either spends some time with her family in nature or loves a cup of tea and a good book.
Achieving work-life balance
Achieving balance at all fronts has a different definition for Jessica. She finds it like a juggling act where she needs to be fully present and mindful in the moment so that she is her best version in each arena.
She stresses the point by expressing, "The key to surviving the juggling act is knowing which balls are a priority.  As Rumi famously wrote, "Life is a balance of holding on and letting go."  This way, you know which balls you can drop (and feel comfortable in dropping them) to keep the others in the air. I learned which balls are made of rubber and will bounce back if dropped and which ones are made of glass and can shatter. I am now clear on my priorities and boundaries that help with the juggle, but I still don't always get it 'right,' but that's life!"
Next steppingstone for the business
Jessica's plan for the future is to build a business and wellness retreat on her family property that resides in the rainforest halfway between the Whitsunday's and Mackay in Queensland, Australia.
She further adds, "I have a new marketing method that I plan to launch at the end of this year and the launch of my first book (I have two others that are already in the works), which is a lifelong dream that will be fulfilled."