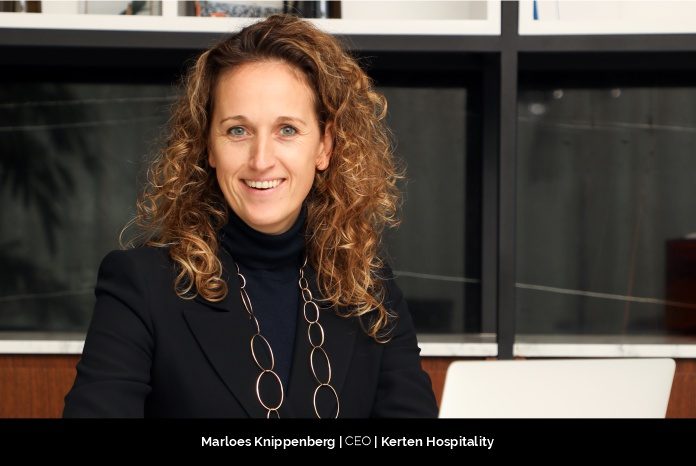 Hospitality has always been a collaborative space that allows like minded, passionate and driven people to nurture their creative skills. Intrigued by the operations of this massive industry Marloes Knippenberg, CEO of Kerten Hospitality, stepped into this space to find her career path. She soon recognized her passion for hospitality and pursued a successful career in this field leading her to become one of the most influential personalities in the industry. The success of Kerten Hospitality as a renowned brand, a mixed-use and lifestyle operator in the marketplace, speaks volumes of Marloes' contribution as a leader. In an exclusive interview she shares her incredible journey with the global hospitality group and speaks of the roadmap that lies ahead.
What motivates you to get up every morning and keep on doing what you do?
My biggest daily motivation is triggered by all the new initiatives we are launching, diversity, the young people I work with, as well as the world's ongoing challenges, because it is essential to take action. We believe that if we don't do something promptly, no one will!  We are constantly en route to drive change and development and that has been the key reason I had to spend 90% of my time on planes shuttling from project to project, prior to the World pushing the Snooze button.
The vibe and the experiential part of our industry has continuously motivated and fascinated me since the very first moment I have been exposed to hospitality making it my career choice and my true passion – something that would remain unchanged.
Could you introduce Kerten Hospitality?
Kerten Hospitality is a mixed-use and lifestyle operator managing and operating hotels, branded residences, serviced apartments, workspaces, transforming destinations through impactful collaborations both with our own and other Food & Beverage, Retail, Art and Wellness brands with a focus on building Ecosystems, and unique community-centric destinations that empower entrepreneurship, economic growth and the socioeconomic space in the projects where we are present.
A division of Kerten, an Ireland-headquartered investment vehicle, Kerten Hospitality manages a portfolio of 11 owned brands including Cloud7 Hotel and Residence, The House Hotel and Residence, The House Residence, Ouspace – a collaborative Social Hub and serviced offices concept. We have a suite of in-house designed Food & Beverage offerings and employ and collaborates with world renown Michelin-starred chefs. All our brands have an edge, a story and a purpose, which we can adapt and integrate into any project.
Five years ago, we started with one brand in 1 country – The House Hotel brand. Today, we have 11 aspirational brands, a pipeline of 30+ projects across 3 continents and a number of openings scheduled this year alone.
We operate lifestyle destinations, from resorts to urban locations, communities and new spaces in mega developments and we take on green field, brown field and conversion projects, with and for any owners who understand that hospitality can be applied in many ways, and many industries such as retail, hospitals, living and beyond.
What part of your leadership journey and experiences have shaped you to become the leader you are today at the steering wheel of Kerten Hospitality?
Being an agile hospitality operator that needs to continuously adapt to the industry's evolving requirements through our Lifestyle brands requires keeping the pulse on trends but remaining truthful to your key value proposition: helping people with tailored experiences, contributing to entrepreneurship and building communities through transformational collaborations and partnerships with global best in class organisations. The constant learning curve is what keeps you focused on the key objective.
Collaborating with the new generation, having a front row seat to their innovative ideas, the understanding of sustainability and the real solutions provided by young millennials and GenerationZers have been a big part of this learning journey. Being a Co-Chair of the Sustainable Hospitality Challenge – a global sustainability and innovation competition between the Top Tier global hospitality schools mentored, judged and supported by leading C-Executives from the industry has taught me how important it is for all to collaborate for the greater good.
Tell us about Kerten Hospitality's core values and share how do you ensure a culture of creativity and innovation in your company and how do you manage to keep the team motivated?
Our key pillars are Innovation, Mentorship and Sustainability all combined in initiatives that empower entrepreneurship and support the local communities and the reason we build brands with a purpose and create destinations that help people build communities based on wellbeing and locality. We always seek to work with visionary owners who seek to make a difference and create Ecosystems across.
Those pillars have been recognized for its merit and impact – an assessment that comes from the multiple global recognitions we received in the last 2 years: Disruptor of the year, Most Innovative Company, Leading Hotel Group, in addition to multiple team recognitions and the most coveted award for Best Recruitment and Onboarding Strategy by the Future Workplace Awards 2020 for our newly launched Remote-ship programme that was created to support the young generation of industry leaders.
Sustainability, women in hospitality, and supporting the new entrepreneurial generation are some of our key ESG activities that we do out of passion, and believe that only in this way we can make a difference in the industry.
Kerten Hospitality is now engaged in some of the largest development projects in the Middle East and Eurasia regions and is striving to push the envelope of innovation, to create meaningful partnerships and collaborations and to contribute to the local Communities where we are present and where we are going to have our openings.
What does work-life balance mean to you and how do you juggle both?
When it comes to family and work-life balance, there are always choices to be made. I feel these choices happen naturally with their own challenges and ups and downs. Every day I am beyond thankful for the inspirations and the opportunities presented and this keeps my pulse on the role to achieve my utmost to be an example, mentor and supporter to anyone who shares the same drive!
Outside of my day job, I have become a contributor to large industry boards: as Vice Chair of GRI's Hospitality Club connecting C-Suite real estate and Infrastructure leaders from around the world as well as Bench Advisory Board – an industry powerhouse that gathers Thought Leaders driven by impact, IHIDC – Vienna, AHIC – UAE, IHIF – Berlin, are just a few engagements. Across all these engagements, the stimulating industry discussions we share keeps me motivated and future-focused.
Additionally, being part of the Women in Hospitality [WiH] – a best in class community of women that provides an outstanding support to Women leaders through mentorship and engagements – has been an enriching experience that highlighted a gap in our industry: the need to mentor the future female leaders and to also be mentees.
Would you chart for us Kerten Hospitality's expansion and growth trajectory for the future?         
Kerten Hospitality has a number of projects opening shortly including: The House City Yard Jeddah , the first true mixed use hotel, serviced office, community and F&B destination in KSA,
The House Hotel Al Khiran in Kuwait, The House Hotel Old Tbilisi in Georgia – one of 3 projects in the country and a second phase of the recently opened Cloud7 Residence Ayla Aqaba project in Jordan. Additionally, the first phase of Kerten Hospitality's projects in Egypt – part of Tatweer Misr's mega developments in the country.
Our current pipeline includes 4,000+ keys, and some 20,000+ m2 of serviced offices and collaborative Social Hub spaces and a variety of purposeful Food & Beverage concepts in projects across the Middle East and North Africa, Europe and Eurasia. We have a robust expansion in the GCC region with more signings and projects that are under negotiation now and are going to be announced soon.
Kerten Hospitality is geared up to redefine hospitality in their own unique way with Marloes being at the forefront of the industry influencing the future generation with passion and innovation.