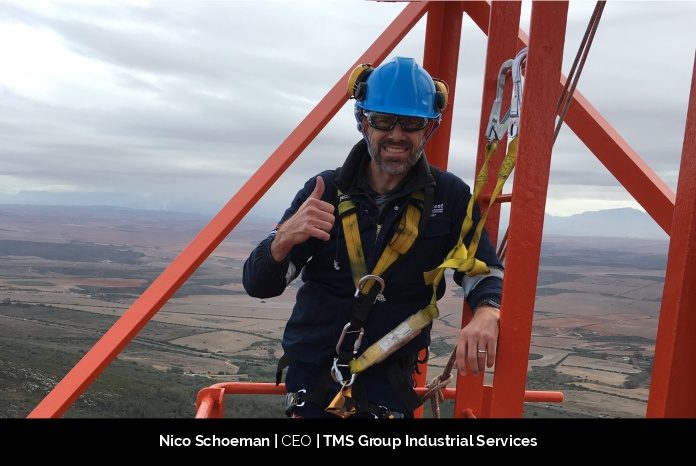 Nico Schoeman, the CEO of TMS Group Industrial Services, is an accomplished professional with a successful track record of leading in several responsible and complex positions. Under his leadership, TMS has invented and re-invented their service delivery towards achieving a 10/10 service, manifested a culture of zero harm and diversified TMS's industrial services offering, to realize their vision to 'Enable Industry in Africa Safely and Sustainably'.
Leading A Company
Before starting at TMS, Nico faced an important decision – continuing his career as a management consultant at Deloitte or taking a step of faith into a new industry unbeknownst to him at the time. The swing factor was advice as a consultant vs. being the strategy owner and having direct control over and influence over strategy and outcomes. The latter was more appealing as an opportunity to exhibit a culmination of his 25-year career informed by project management, mining, entrepreneurship, consulting, and post-graduate management qualification. Thus began his position as a CEO of TMS.
Safe, Client-centered Service Solutions
TMS Group Industrial Services is an industrial services company established in 1998. They are a mainstay provider of industrial cleaning, access scaffolding, insulation, coatings, catalyst handling and other industrial services to many critical and core industries, especially in the energy, petrochemical and mining sectors of South Africa. TMS is proud to be one of the founding companies of the Sekta Group, www.sekta.co.za – "For our people, for our nation, for our African continent."  At TMS, they take pride in their safe, client-centered service solutions as they strive for incident-free, 10/10 service delivery, all the time. They value the environment and respect lives. Their ISO accreditation for an Integrated Management Systems (IMS) is proof of their commitment to quality and environmental safety. The people at TMS are trained and passionate and have expertise in understanding the work and identifying what is needed.,
At TMS, they are all about relationships and keeping promises, not only to their clients but also to their employees. Honesty builds trust.   They appreciate everyone equally.Their value of 'everyone counts', encourages participation and innovation and creates an environment where all feel empowered to contribute and to be heard.  They recognize that they are only as good as the people around them; they endorse a culture of encouragement rather than punishment.
Serving Safely
The motto at TMS is Serve Safely. They believe deeply that delivering the best service with no harm to their people, will always differentiate them from the others.  At TMS, they are motivated by their slogan 'Serve Safely'; a daily pursuit to be better towards that 10/10 service value, safely.
As a services company, Nico believes they largely have control over the outcomes. They believe in 'Controlling the Controllables' i.e., to own what is in their control.
An Accomplished Track Record
Nico studied Civil Engineering at the University of Pretoria. He pursued a career in project management and was certified as a Project Management Professional (PMP) and Professional Construction Project Manager (Pr. CPM) before he joined Simmer and Jack, a then Johannesburg Stock-Exchange Listed Gold Mining Company as a management consultant in 2017. He became CEO in 2010 before Simmer and Jack was taken over by Village Main at the end of 2010. Thereafter he joined First Uranium Corporation, a Toronto Stock Exchange-listed company for a year, as Business Development Director and Corporate Growth. In 2012, he co-founded GrnQ Environmental Solution, focused on fine coal trading and concept development and fundraising for a coal briquetting plant. In 2017, he joined Deloitte as a part of the mining optimization team at Impala Platinum.
Challenge Builds Trust
The roadblocks Nico has come across along his professional journey have been at a hierarchy, relationship and knowledge level. They taught him several valuable lessons. First, it is not about your title.  Everyone's contribution, at all levels of the business, is equally important to the success of TMS.   Second, one has to be open-minded for contributions and sharing at all levels. Third, challenge builds trust, self-belief and confidence.
An Achiever And A Leader
Initially, at TMS, Nico's responsibility was dominated by restructuring the business and returning it to profitability which he did over 18 months. For the next 12 months, he focused on embedding the structural changes and creating a unique cultural identity. This laid the foundation for organic growth, footprint expansion,venturing into projects and additional multi-year contract opportunities. His work is dominated by strategic thinking for an expanded services offering, , continuous improvement, ideation, fit-for-purpose organization design and training investment in TMS's leadership team. The culture at TMS is defined by Visible Felt Leadership and as a result, Nico frequently travels to his operations for the leadership team, workforce and client engagement. Covid restrictions, have posed a challenge for Visible Felt Leadership, relationship building, nurturing and culture maintenance.
A Family Man
Though Nico confesses that personal and professional life balance is a challenge, he manages to balance it very well. During the week, his attention is focused on work and activities related to his role at TMS. His day starts with an hour of mindfulness traing, Bible study and prayer and physical exercises.  Supper with his wife and 2 children, aged 13 years and 16 years is a religious family routine. Before bed time, e also invests time for daily learning like reading a book or engaging with e-Learning leadership content. Weekends are for family and me-time. He starts weekend mornings with quiet time, prepares breakfast and then spends time with the family at home or out-and-about, mostly followed by a late afternoon run and braai on Saturday evenings. Sundays are mostly spent with the family, with planning for the week ahead on Sunday afternoons or evenings.
Learning And Leading
Personally, as a leader, Nico humbly acknowledges that he still has much to learn. He is particularly interested in Neuro-based leadership and how it can be applied to the largely blue-collar workforce for TMS to make it a stand-out industrial services provider in Africa and in developing individuals to become better than they think they can be.
His message to aspiring business minds is, "There is no replacement for hard work, nothing is ever too much to ask, own your destiny, Google is your friend, get a business coach, find the balance between managing and leading, surround yourself with people better than yourself, make time for your family, know your strengths and that of your team, dream big, care about your people, everyone is equally important (it is about contribution, not position), drop your ego, have a plan, be vulnerable (no one expects you to know everything), get things done as if there is no tomorrow, Trust God, Always!"
He asserts that success has a wide variety of interpretations and can be measured at many levels, be it physical, spiritual, academic, business or family. He explains that success can be that first attempt at baking a chocolate cake, turning a business around and restoring it to profitability, completing an academic qualification or achieving a sports goal; each with a goal and achieving that goal. For him, each of these accomplishments can uniquely be claimed as a success.