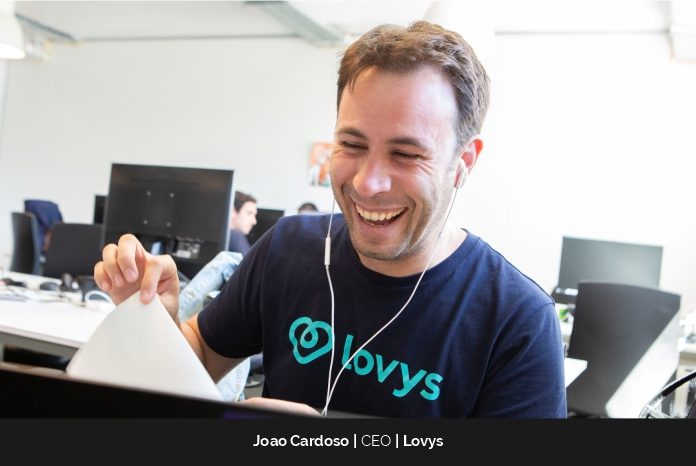 João Cardoso is the CEO and founder of Lovys. João was born in Leiria (Portugal) and has lived in 6 different countries. He started his career in London, at Morgan Stanley.
It was with the ambition of "changing the consumer experience in insurance" that led him to create the company in 2017. Until then he had already created 2 other start-ups in Brazil: TaCerto, an insurance comparison site that is today the market leader in its sector, having reached a monthly turnover of 1M$ within the first 2 years. The second start-up, VisionX, is a platform that allows Brazilian real estate agencies to market insurance proposed by insurers.
Lovys' growth and contribution in the insurance space under João's leadership
João proudly says that Lovys contributed a lot in the insurance space in France. It was a very old-school industry where the client didn't have that much freedom. Their very first challenge was to dust off this sector. They wanted to provide more freedom by allowing clients to cancel their contracts anytime and to pick the guarantees and options they really needed. They also provided more transparency by clearly explaining each guarantee and by getting rid of the useless ones.
"The most important thing for us is that our clients know what they are paying for. As a founder who is still in office, it is galvanizing to see the progress of such a project and to see so many talents making it their own," states João.
So far, as an insurance company, Lovys has managed to have a very significant growth following their values and goals. When they started selling their very first policies they had one client every 15 hours, and now, it's a huge number of them per minute. "Of course, we expanded a lot; we started with one product in one market. Today we are selling our products in France, Spain and Portugal. We have 6 products and it's only the beginning!" João exclaims.
Every leader has a unique definition of success.
João's definition of success is far from the ones that are plastered on social media or in the press for example. "It's true that I've founded the company, but you sort of always associate the start-up with the CEO. For example, 'Tesla is Elon Musk'. Whereas there must be thousands of incredible people in there to make those things happen," he explains.
He sees his success as intrinsically linked to all of his teams. "At Lovys it's always we before me," João's states.
Challenges help you learn valuable lessons and grow in your professional journey.
Every entrepreneur faces challenges of all sorts, literally every day. The challenge that taught João the most is also one of the first he had to face when creating Lovys: believing in his idea.
In 2011 João moved to Brazil and created a start-up called TaCerto which quickly became a huge hit and the number one insurance comparison website in the country. When he decided to move back to the old continent, he knew he wanted to shake up the insurance market and that's when the idea of Lovys came about.
João talked about it with some friends, but he says that he was struggling to believe in the idea himself. It's not that he didn't think it was a good one but doubted whether it would work or even interest people. "After all, if the insurance market hasn't evolved in centuries there's probably a good reason for that!" he states. When his friends sent him a link to apply to a TechStars program (literally 24 hours before the applications closed), that's when he realized people were rooting for him to make this happen and it gave him a huge boost of confidence. João ended up submitting his application and got accepted.
Best recognition that João has received as a leader.
João states that his best recognition is to see so many people united around the same project. It may sound cheesy but when building a start-up, one of the hardest things is making your vision so clear that anyone joining the company can make it its own.
"You have to be clear about where you are headed so that everyone jumps on board. It is also incredibly empowering as a leader to see the Lovys employees come and talk to me openly about the subjects that are important to them. It's one thing to say your door is always open and another one to actually welcome everyone openly," he further states.
João's responsibilities at Lovys
"I am the CEO, but I can't manage and control everything. That's why I am grateful to be surrounded by such an amazing team," says João.
A few months ago, they put in place a rotating co-CEO position. Every six months, someone elected by the management takes the role of co-CEO. It's a very interesting way to create an environment that's very ambitious and collaborative at the same time, which is hard to find. This system is an opportunity for the most senior people in their team to step up and have even more empowerment and autonomy. It's a win-win in the end.
João defines himself as a resilient person in life; and one must have this quality as an entrepreneur. Facing challenges means you might not win all the battles, but the important thing is to keep trying and improving.
Future plans for Lovys
João says that he has not yet achieved everything that he has dreamed of. However, he further states that they have already built more than a company, they managed to build a solution that really helps people, and he considers that as his biggest reward.
At Lovys they know they have a strong impact on the market. João is a strong believer in the "dream bigger" mindset, so he is convinced that the best is yet to come.
For the future, João really want Lovys to expand even more in order to become the number one digital insurer in Europe.
Staying motivated to maintain a work-life balance.
João is convinced that balance comes from unbalance. Most of the time you don't control the times you feel more productive. "You need to face times where work takes on more importance which ideally coincides with the greater needs of the organisation we are leading. Similarly, we must try times of introspection, stepping back and rest," he says.
He also tries to respect the rhythm and needs for balance and imbalance of the people he works with. He believes that the most important thing for a high-talent profile is not to try to be changed and to be given a context and environment conducive to great performance.
João's message for aspiring entrepreneurs would be to just go for it! Do your research and start running! But remember this is not a sprint, it is a marathon.