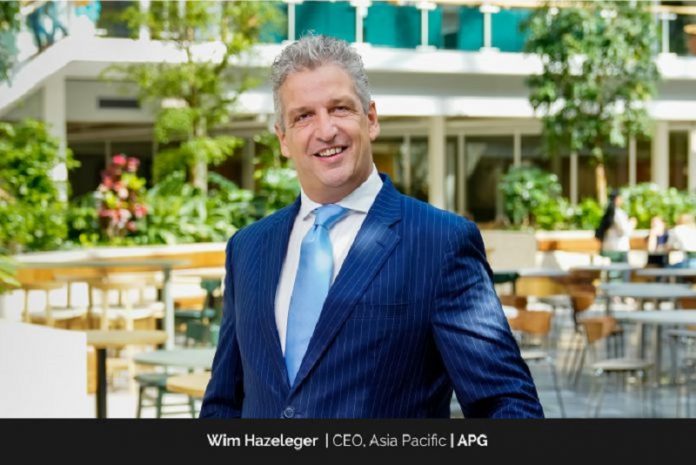 As CEO, Asia Pacific, of APG Asset Management, Wim Hazeleger is a purpose-led leader at one of the world's largest pension investors, and the largest pension provider in the Netherlands and Europe.
APG strives to provide a good pension in a livable world for all pension fund beneficiaries. "Together we work on a sustainable future in which we look not only at prosperity, but also at societal well-being," says Hazeleger.
An adventurer at heart
A lawyer by training, Hazeleger joined global law firm Allen & Overy in 2000, and advised financial institutions, stock exchanges, and governments on banking and securities laws, listing and trading regulations, corporate restructurings of banks and asset managers, and real estate fund mergers and acquisitions.
Shortly after returning to Amsterdam from London in 2004, he left Allen & Overy to become one of the founder members of Linklaters' Amsterdam office.
At Linklaters, Hazeleger initially co-developed the capital markets practice, advising large corporates and investment banks on a broad range of equity and debt capital markets transactions. He subsequently established and led the financial regulatory and investment management practice.
After 13 years in consultancy and private practice, Hazeleger was offered the position of General Counsel at APG Asset Management in Hong Kong.
"I have always been a bit of an adventurer and drawn to the region, having traveled through China and Southeast Asia extensively during my university years. So, when I was offered the opportunity to go to Hong Kong, it wasn't a difficult decision as these opportunities do not present themselves often," he says.
The journey from product specialist to CEO
In 2012, Hazeleger was appointed CEO for Asia Pacific, a bigger decision than moving in-house. As General Counsel, he was a product specialist who had to transition into a general management role.
A year into the role, he realized that he would benefit from gaining a broader understanding of various functional areas. So he decided to pursue a dual executive MBA at INSEAD and Tsinghua University School of Economics and Management to fill the knowledge gaps in strategy, operations, and talent management, and better equip himself with the knowledge and skills to succeed in his new role.
When Hazeleger took on the CEO role, APG Asset Management's operations in Asia Pacific were still relatively small, with about 25 employees focused on real estate, infrastructure, and listed equities investments in Asia Pacific. In 2015, the business embarked on a growth strategy in Asia.
Since then, it has added new asset classes, including high-conviction strategies in global emerging markets small and midcap equities, China A-shares and fixed income, private equity, and natural resources. APG also expanded the existing real estate, infrastructure, and responsible investment and governance teams, and established offices in Beijing, Shanghai, with  plans to set up another office in Singapore later this year.
Now, ten years later, the total number of employees in the region has expanded to more than 90, and the invested capital has increased more than fourfold, to about €30 billion.
Global asset manager with strong Asia business
APG provides executive consultancy, asset management, pension administration, and pension communication and employer services. The firm works for pension funds and employers in the sectors of education, government, construction, cleaning, housing associations, sheltered employment organizations, medical specialists, and architects.
With approximately 3,000 employees, the firm works globally from multiple in Heerlen, Amsterdam, Brussels, New York, Hong Kong, Shanghai and Beijing. At the end of May 2022, the assets that APG Asset Management managed for its pension fund clients and their 4.8 million participants, in total, represented a value of approximately €576 billion.
In Asia, they provide discretionary portfolio management and advisory services to parent company APG Asset Management in the Netherlands. These services are in relation to active, fundamental, global emerging markets equities and listed real estate securities in Asia-Pacific.
They also provide services related to fixed income credit investments in China, private real estate, infrastructure, and natural resources investments, in Asia-Pacific. In addition, APG serves APG Asset Management's office in the US in relation to private equity in Asia-Pacific.
"Real assets are a growing and key contributor to meeting the ambitions of the Sustainable Development Initiative (SDI) policies," Hazeleger observes.
In executing its investment philosophy, APG Asset Management employs a direct and platform-style, partnership-based, investment strategy for its private real estate and infrastructure investments in Asia-Pacific, with club deals, joint-ventures, managed platforms and (listed) company interests being the preferred route to implement clients' investment targets and SDI policies.
The guiding thematic for portfolio construction is based on the megatrends of continued urbanization, demographics, digitalization, climate change, and resource scarcity. This includes, for instance, investments in road and mass transportation, telecoms infrastructure, renewable energy, logistic warehouses, data centers, retail,  rental housing, senior living, and health care facilities.
At the forefront of responsible investing
APG Asset Management is at the forefront of responsible investing, with a view to deliver sustainable risk-adjusted returns to its pension fund clients and their beneficiaries.
The firm has been active in responsible investment and stewardship in Asia Pacific since 2009, with a dedicated responsible investment team in Hong Kong providing technical expertise to support the portfolio management teams, and leading engagements with its portfolio companies.
Their ambition is to achieve attractive and sustainable investment returns for the firm's pension fund clients and their beneficiaries. Given the scale of the assets they manage, they wield the kind of clout that enables them to put sustainable investing into practice.
"We want to make sure that our pension funds can provide their participants with a good pension. We also want to contribute to a sustainable world, with good quality of life for current and future generations. To be able to offer people an attractive pension – now and in the future – we invest participants' pension premiums in a responsible way," Hazeleger states.
He points out that responsible investing does not mean compromising on returns. In fact, they believe that by embedding environmental, social, and governance (ESG) aspects into their investment processes, and actively engaging with the companies they invest in to improve on certain ESG metrics, they not only contribute to a sustainable world but create a competitive advantage and value.
For every single investment, regardless of the investment category, APG weighs the ESG criteria, meaning that they decide on whether to go ahead with an investment based on environmental impact, social impact, and good governance requirements.
Becoming more comfortable with ambiguity
"My first mentor told me that you pick the most beautiful flowers on the edge of the cliff. This has stuck with me for 25 years," recalls Hazeleger.
He does not really think of challenges in terms of roadblocks, but approaches them as opportunities for growth and improvement. "It's all about mindset. Challenges happen every day – big and small. It is important to be pragmatic, roll up your sleeves, and be solution-oriented," he says.
He acknowledges that navigating the unprecedented COVID period, of the last 2.5 years, was uniquely challenging, both personally and professionally. "I, like many leaders, have experienced an increased sense of responsibility to help employees and their families' with their anxiety and psychological well-being," he notes.
From being separated from loved ones for extended periods, and missing seminal life events, to prolonged and ever-changing travel restrictions, Hazeleger observes that these challenges taught him to be more empathetic and comfortable with ambiguity, and the power of perspective.
Encouraging people to dare to be different
Hazeleger believes that leaders are successful only when the people they work with are successful. It starts with a focus on attracting people who are intrinsically motivated to contribute to the company's mission and align with the company's culture.
Much of his time is spent on enabling teams with the necessary resources, tools, and skills to perform their responsibilities, so that they may succeed.
"Our culture is built on the company's values of building real human connections; delivering results and exceeding expectations; team collaboration; making decisions under uncertainty and ongoing improvement," Hazeleger says.
He notes that APG Asset Management in Asia Pacific has cultivated a balance of being both, a friendly and performance-driven company. "We look for people who are humble, respectful to each other, and recognize that performance is not the result of an individual, but a collective effort," says Hazeleger.
They continuously work on creating an open and transparent culture where people feel safe to speak their minds in a constructive manner, fostering teamwork and cross-team collaboration.
They also continuously develop a diverse and inclusive work environment, encouraging people to dare to be different, and dare to be themselves.
"We expect our employees to have the highest integrity. It must be part of everyone's personal values," states Hazeleger.
Developing an entrepreneurial spirit as a core competency
Five years ago, APG Asset Management started its digital transformation journey with the aim to systematize its decision making and embed technological skills across the organisation.
Digital "savviness" has since become part of the required core competencies and the firm offers a broad range of online courses through its "Digital Academy".
In addition, one of the core competencies that APG looks for, or tries to develop in their employees, is an entrepreneurial spirit. They support their employees by developing their confidence to push boundaries, try new things, and take calculated risks to achieve business advantages.
Many of the new initiatives are developed "bottom up" to address real challenges and, where possible, to scale for use by other asset classes and teams, in any of the other offices.
Building the Digital Portfolio Manager
Hazeleger provides an example where the digital skills and entrepreneurial spirit came together for APG Asset Management in the development, by a team in the Netherlands, of a proprietary platform: the "Digital Portfolio Manager".
Over the years, APG Asset Management has extensively standardized its investment modeling for its real estate portfolio, moving from Excel to cloud and enabling efficient scenario analysis and optimal transparency of underwriting assumptions.
The investment models are fed by the platform with relevant third-party references for underwriting assumptions. Next to that the Digital Portfolio Manager self-constructs default values for key underwriting assumptions – based on principles discussed within the Real Estate team.
This leads to improved underwriting quality. The output of the investment model is highly standardized, and forms the basis for each investment case, supplemented by automatically generated portfolio overviews.
APG Asset Management's ambition is to extend upon this "digital brain" that is fed by the knowledge of each team member to make explainable investment decisions alongside those of the portfolio managers. Each decision made by both the "brain" and the human managers is compared.
If the platform misses context, it can be added so that the integrity of the reasoning grows. On the other hand, human cognitive biases can be addressed by the computer's parallel decision-making. The platform helps overcome those limitations with codified human logic, reason, and understanding. In this way, the human and computer teams both grow together in a highly complementary way.
Hazeleger notes that the ever-evolving platform supports decision-making; the human portfolio manager is the one that ultimately makes the assumptions and decisions. The portfolio manager is supported by the platform. The platform and concept are designed around a philosophy to accelerate decision-making.
Hazeleger offers the example of physical climate risk. With an indirect portfolio of some 30,000 holdings, it is crucial that the appropriate assessments per building are undertaken. For each building, the various physical climate risks are scored, such as flooding risk, wildfire risk, storm risk and drought risk.
Once the initial analysis is complete, it is fed into the platform to create a data pipeline and codify the subsequent analysis that will enable the team to update the analysis real time without any additional efforts.
Besides the overall investment portfolio, each new deal is screened on physical climate risks. The platform is now fully integrated in its investment decision making to uncover the best opportunities for its portfolios with greater accuracy.
Building a company where people enjoy working
As the CEO, Hazeleger is responsible for overseeing the execution of APG Asset Management's growth strategy and business activities in Asia Pacific.
A key focus is also keeping employees engaged by facilitating personal and professional growth and development and creating a diverse and truly inclusive environment where people can be their true self – a company where people enjoy working.
Hazeleger notes that the best recognition he receives is the trust that the APG Asset Management employees in Asia put in him.
"There are only a handful of people that will be truly influential in any person's career. My hope is that, one day, a few people might look back on their careers and think of me as one of those people who made a mark in their career," he says.
The future vision for APG's growth
Of paramount importance for APG in the next few years, is preparing for an unprecedented, rigorous pension reform in the Netherlands. APG plays a crucial role in that transition to a new system. All pension funds must have switched to the new system by January 1, 2027, and some pension funds want it sooner.
"We have three years to build up a completely new policy and capital administration to which the data and the accrued capital for those millions of participants will be transferred safely and smoothly. This will also impact the future investment activities in Asia Pacific," he notes.
Hazeleger points out that APG Asset Management is in the process of redefining the skills and attributes that its employees need to continue to be successful for their pension fund clients and their beneficiaries in the future.
"By 2025, we want to be the leading digital and sustainable investment solutions provider, becoming an increasingly modern data, communications, and information technology driven company, striving to continue to provide high-quality services to our pension fund clients and their beneficiaries," he states.
Hazeleger also aims to  set-up a new Singapore office as a gateway for private real estate and infrastructure investments, in new high growth markets in South and Southeast Asia.
Balancing the Yin and Yang
Hazeleger observes that the balance he maintains in his personal and professional life is best described through the philosophical concept of "Yin and Yang", which highlights how opposite or contrary forces may actually be complementary, interconnected, and interdependent.
Either of the two major aspects may manifest more strongly in a particular context, and that's how it is with his personal and professional life, where sometimes one is more prevalent than the other. "It really comes down to time management, prioritizing, planning, and organizing work, family, and time for myself," he says.
Hazeleger feels privileged to work with an incredibly talented team of professionals who relentlessly work every day to achieve APG Asset Management's mission.
"The motivation comes from knowing that we serve a purpose: delivering a good pension for the millions of pension fund beneficiaries who rely on us for their monthly income and contributing to making this world a better place for our children and future generations," he concludes.