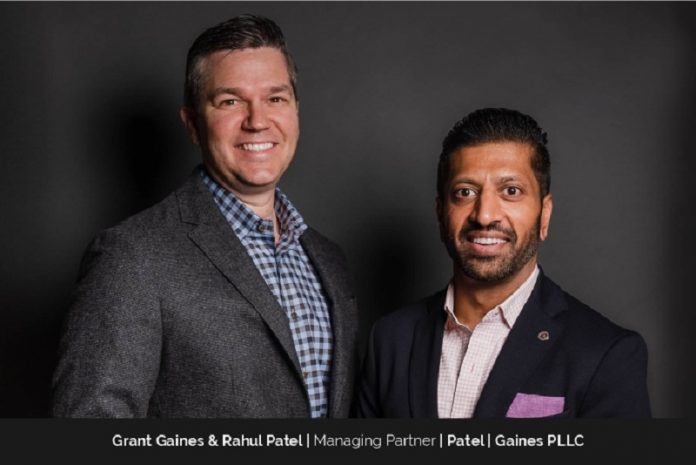 "Simplicity is strength" – that's the overriding principle that Rahul Patel, Grant Gaines, & the team apply to all aspects of their practice. As co-founders of Patel | Gaines PLLC, they have earned a reputation for devising "out of the box" solutions and fearlessly advocating for their clients.
Together, this formidable team has created a smart, aggressive, and talented legal group that combines Rahul's real estate law and business expertise with Grant's real estate, business, and forthright litigation skills, to provide the ideal balance for clients seeking representation in a wide range of commercial real estate and transactional, commercial litigation, and property tax appeal cases – their primary practice areas.
Finding creative solutions to complex legal issues
Rahul Patel and Grant Gaines founded Patel | Gaines PLLC to address the community's need for creative solutions to complex legal issues, from client management to litigation strategy. Unlike most traditional law firms, they bring a unique blend of business savey and agressive legal knowledge and skill to put their clients in the best position possible.
But what was it that inspired them to take the step of faith and enter the legal industry? For Rahul, it was the desire to be different and truly change the narrative of what it means to be a "lawyer". As he notes, most lawyers believe that success comes from having a big office, fancy suit, and a wall full of diplomas.
"But the reality is, we as attorneys are truly counselors – there to help our clients achieve their goals and often times protect them from failure. That made a much easier path, knowing there wasn't a recipe that had to be followed, rather one that we were going to create along the way," Rahul remarks.
Grant recalls being written up on the bus in elementary school for "acting like lawyer," for standing up and arguing for a kid that he felt had not done anything wrong. "Ever since that point, I felt like that was what I need to do in life. I've always been one to bet on myself, and my business partner and I felt there were things that could be done better, so we set out to do just that," he observes.
Building the nation's fifth largest-growing law firm
Patel | Gaines PLLC is a modern law firm that represents business owners, franchisees, landlords, entrepreneurs, startups, real estate developers, and investors who are faced with complex business decisions or other challenges. Their attorneys are motivated by simple and precise solutions that are tailored to even the most complex client needs.
Patel | Gaines PLLC has created a simple, straightforward structure that provides their clients with the most efficient and effective service. They offer industry-leading technology, extensive experience, meticulous preparation, and extensive knowledge — all with the goal of achieving the best possible outcome for their clients' cases and businesses.
Rahul notes that the firm started with simple principles – that of helping business owners achieve business success, whether that is in property tax relief, real estate and business services, or business litigation.
"Focusing on a business owner's needs truly laid the foundation for what was important to us as a firm and as attorneys. Today, we help business owners for almost anything they need to truly grow and scale their business," he elaborates.
Grant notes that it was building the firm around three main principals – attention to detail, thinking outside the box, and ability to work as a team – that helped it grow into the nation's fifth largest-growing law firm.
Rahul recalls that one of the greatest moments in the Patel Gaines brief history was building, constructing, and moving into their 21,000 square feet headquarters in San Antonio, Texas, where they were founded.
"It was a true sense of achievement for us – from a small 80-square-foot box to building our dream 'home' truly served as a sense of achievement – for our entire firm. As for proud moments, seeing others go from law clerk to partner with us truly was a sense of satisfaction. Seeing those around you hit goals and become a true fabric of the business really means we have the legs for this to go beyond one person," Rahul affirms.
Achieving success with integrity and teamwork
Rahul points out that the factor that helped in the growth and success of Patel | Gaines PLLC was truly spending time and attention to their team. "Without the people that make up Patel Gaines, nothing we do is possible. So, knowing how we operate as a team, what our collective needs are, and tuning in to what our individual needs are, makes it much easier to grow and achieve success as a firm," he observes.
Rahul remarks that Patel | Gaines PLLC stays abreast with the competition by focusing on the client. "It is the singular most important aspect of our business, and if you find yourself doing everything you can to help your client, it really becomes irrelevant what the competition is doing," he states.
Rahul also notes that, while success is mostly defined by objective accomplishments and items – like awards, luxury items, and revenue for your business – to obtain true success one has to truly reach a state of mind that focuses on achievements that bring genuine satisfaction day-in and day-out. "That is where a true feeling of 'success' comes from – measurements of passion, happiness, and satisfaction in and on your mission," he clarifies.
Grant reiterates that success is not money, titles, accolades, articles, or awards – success is unique for each individual, and what makes them happy and fulfilled, with one common thread – whatever it is you chose to do to be "successful" you should do it with integrity and morals. "If you accomplish your goals with integrity, then you're successful in my opinion," he declares.
Adapting to the challenges of COVID to grow at warp speed
Both Rahul and Grant credit the challenges presented by the COVID-19 pandemic with helping the firm grow faster. Rahul believes that challenges are required to get stronger, better, and closer to achieving success; and that growth cannot occur without challenges and obstacles.
"At each stage or state of mind where comfort is obtained, that's when you're most likely to face real stagnation in your business and life," Rahul observes, noting that the best roadblock they faced till date was the COVID pandemic.
"It really allowed us time to reflect on what was important, how we did things, and what things we were doing, and what things we needed to shift gears or away from in order to keep pace," Rahul recalls.
Grant points out that it's not the challenge itself that makes you stronger, but the response to that challenge (whether big or small) that makes you stronger – especially how you react when you fail at any specific challenge.
"I don't think there was any one specific roadblock that taught me a valuable lesson. Life tests you at every corner, and your ability to learn, grow, and adapt to each challenge or roadblock will determine if you succeed or fail on your professional journey," he reflects.
Grant remarks that the growth that the state of Texas is experiencing has brought both new opportunities and new challenges.
"I don't think the legal industry at its core is changing – it's more so how we interact and communicate with clients, courts, etc.  The digital age was coming, but COVID turned on the warp speed – so making sure you can adapt with this new reality, but at the same time not losing the people skills, is key to success," Grant elaborates.
Rahul agrees that technology has helped Texas grow even faster as a market. "Technology has allowed many that were often reluctant to do business in Texas to truly open the lens and see what is deep inside of Texas – culture, consumer demand, and a business-friendly climate," he states.
Commenting on the innovative ideas that Patel | Gaines PLLC brings to the table to accelerate growth and redefine the legal industry, Grant notes that Patel Gaines's ability to grow, adapt, and succeed comes from the coulter and the team they foster.
"The law is the law, it's the people and process that make the difference," he declares, explaining that his vision for the firm is "to grow and adapt so that we continue to provide the best possible service for our clients while staying true to our family culture."
"Be yourself. Be unapologetic. Be unafraid to be bold." – Rahul Patel
Influencing the new generation as powerful business leaders
As an energetic, inspiring, and powerful business leader, Rahul declares that he feels blessed to have an amazing team and some incredibly talented partners. "The group allows me to really focus in on our business, growing our business, and continuing to build the culture and climate that makes Patel Gaines the best in the state," he remarks.
Rahul also observes that, as attorneys and counselors, they have a day-to-day impact on the business world and community, and states that, "Often, clients are reluctant to visit with lawyers, and for me, influencing change would be for the world to stop seeing attorneys as simple billing machines that make life challenging, and rather one that serves to protect what is most important to the men and women that work so hard every day, and that is their business."
Defining himself as driven, Grant admits that he used to be one of the generations that thought shortcuts were a substitute for hard work. It wasn't until he realized that wasn't the case that he was able to move towards what he wanted, and to become successful.
Grant's vision for influencing the younger generation is to just try to (re)instill in them that there's no short cut or substitute for hard work, and that instant gratification does not lead to long-term success.
"This sounds cliché, but my goal is to inspire the next generation (especially my own kids) to work hard and define what success means to you. I think today's fast-paced, digital, online world has set a false understanding of what is required to be successful for most people," he remarks.
Focus on what's important and never settle
When it comes to maintaining a sense of work-life balance, Rahul credits his exercise routine with improving his well-being.
"About three years ago, when we discovered F45 (a business we now own and are growing) it changed my life and the lives of many around me. You'll rarely see me skip a 6 a.m. workout. That energy, that movement, that sense of community sweat creates the energy balance and tone for the remainder of the day. It allows me to eat better, feel better, and move with more purpose through my day," he declares.
Grant admits that maintaining work-life balance is hard, but he tries to be present in all his kids' activities and life events – which means leaving work at work the best he can.
Rahul observes that, at this point in his career, and that of the firm's growth, they don't really focus on micro plans for the future, rather ones that can allow those within the structure to continue to maintain self-satisfaction, and those now a part of their team to reach and hit their individual goals.
"For anyone who is an aspiring business leader, my advice would be to truly focus – focus on what's important to you for your sustained, long-term happiness. If you are happy, your team and people will also see that and seek to achieve it," Rahul recommends.
Grant's advice is to never settle (unless your attorney advises you to) – every day has new achievements and goals to be had, and who knows – the next day's achievements may end up as your greatest achievement.
"I don't think I've reached my greatest achievement yet – still a work in a progress and still growing, learning, and achieving new things every day.  Your greatest achievement can only be determined in the end when looking back on all your achievements," says Grant.
Rahul's parting advice for aspiring business owners is to: "Focus on yourself and less on the actions of others. The more you seek internal growth, the more powerful your message and spirit for business becomes. Find positive moments in the worst or tough moments of your business. There's much to be learned there, and far too often we focus on the negative, rather than why the negative occurred, how the negative can be corrected, and how we can avoid that in the future."
Rahul leaves us with these wise words, "Be yourself. Be unapologetic. Be unafraid to be bold."